Morning Safari at Rhino Safari Camp, Lake Kariba, Zimbabwe
I wish I could bottle this feeling...
Wow, what a morning! Gary and I were the only lucky takers for the 6:30am game drive today. Everyone had headed home, and it was just the two of us, until further fortunate guests arrived by boat later from Kariba, just as we had done the previous day.
Sunrise in our lodge at Rhino Safari Camp
It's so difficult to explain in one word how it feels being here (so I'm going to say several), as it is peaceful, exhilarating, thought-provoking, heavenly, back to nature, an escapement, idyllic and enchanting.
If you love African wildlife, I can't imagine there are too many better places to wake up to each day than here, you just smile every morning.
Morning glow at the camp edge
So, we jump in the open truck, breath the morning African air and embark on the adventure. We leave our lodge across the bouncy tracks and head in the direction of Matusadona National Park, weaving our way through the bush, spotting impala, and colourful birds along the way.
The lumpy and bumpy terrain is all part of it, I'm glad I didn't splash out on a massage before we left Blighty.
Preparing for your safari?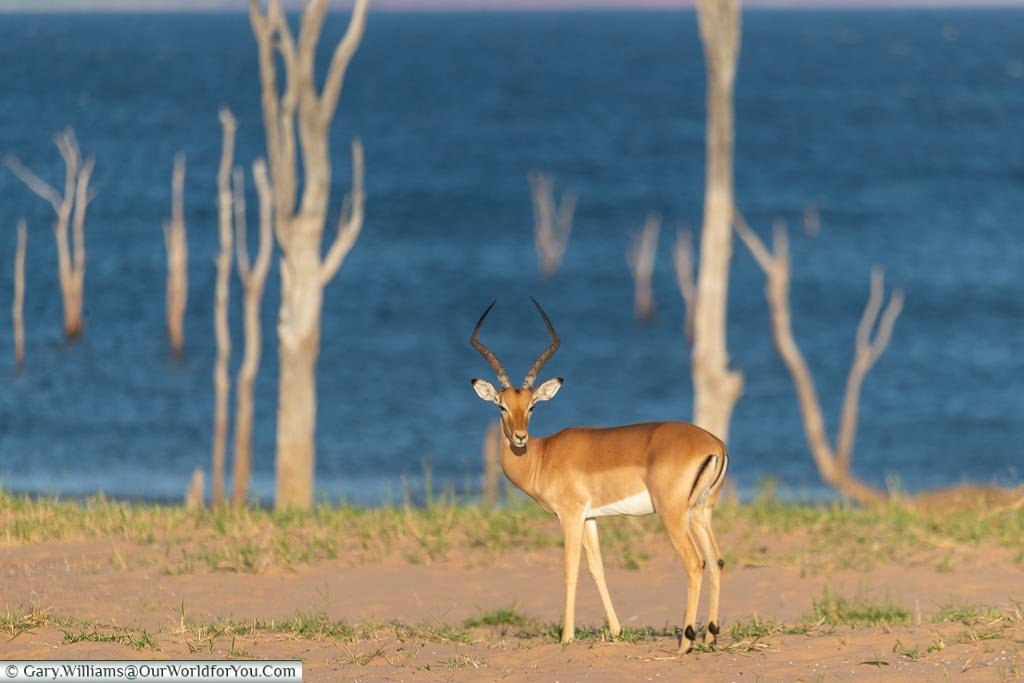 Our first impala of the day
We head across the dry causeway, which in previous years has had water over it. Unfortunately, not this year, as the water levels across Lake Kariba have dropped.
We proceed through the break in the bush and have rocky terrain facing us, great fun. We drop to low ratio and the truck marches ahead as if we are climbing up steps.
Just near the top of the rocks, we stop in our tacks, there's an elephant, this is magical.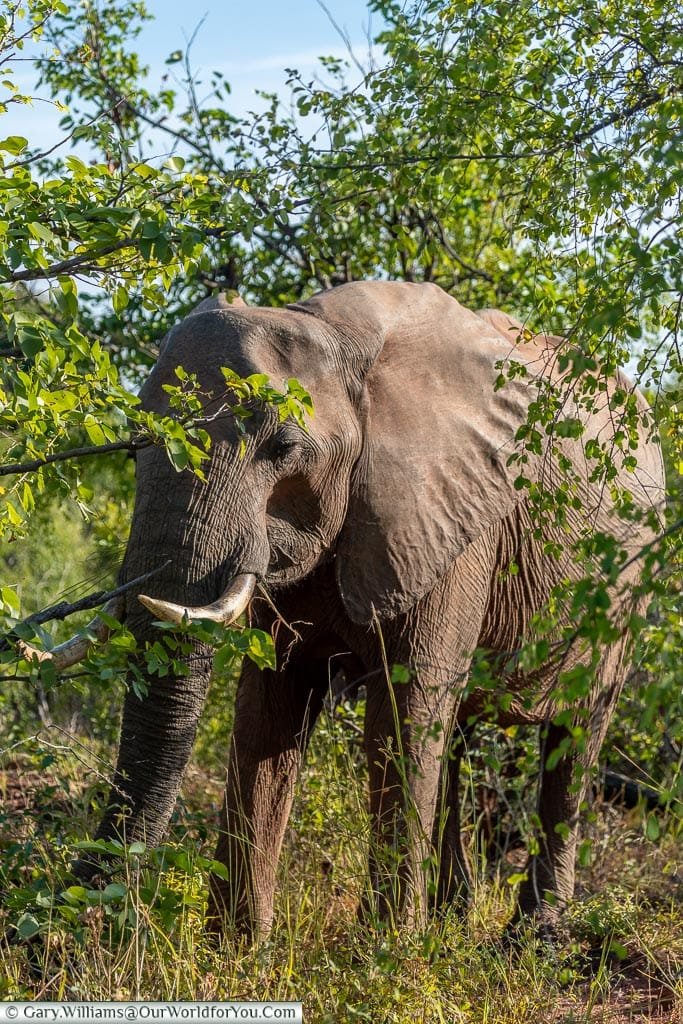 We sit and watch the elephant for a while, all the time our guide Mark, in a whisper, is sharing his incredible knowledge about these magnificent creatures. We move on a bit more stopping and starting when we see more animals, tracks and birds, big and small.
Don't take it for granted
Some days you'll see a rare sight and some days maybe not, but hey that's the fun of a game drive you never know what you're going to come across.
Often you are just so unaware what is going on around you, and beneath you, there are some amazing termite hills here.
Who knew how these little mites created their own colony, with workers, soldiers and protectors of the queen? And if their worker or soldier numbers dwindled in any way, they would only produce that particular type of mite.
Fancy heading to Lake Kariba for an unforgettable experience?
Lake Kariba is around 356km (221 miles) from Harare, at present there are no scheduled commercial flights, so your best option is to drive. Allow 5 to 6 hours for your journey, the roads are tarmac, however, can be slightly hectic at times. But don't let this put you off Lake Kariba is a magical experience.
There are also two tolls en-route which are two Zimbabwe Bond each.
Off on our way again we really can't believe how special this place feels, we'd visited other safari camps, but Rhino Island felt unique.
We continue down the track, and Mark spots a cheetah jump up ahead of us, firstly, with initial trepidation it walks across the track about 25 metres in front of us. Gary incredibly manages to get a photo. Mark is just as excited as we are, as cheetahs are very rare, the owner of the lodge has only seen them on three occasions in 17 years.
Mark proceeds a bit quicker down the track to see where it headed off to, as it has picked up a bit of a stride now. As the cheetah got deeper into the bush, it stopped by a tree and turned around and just stared at us for about 5 seconds, and as quick as it appeared, it was gone.
Being checked out by a cheetah
Etched in our minds forever, as this is a rare occurrence around here, how special a moment was that.
If you're considering a road trip through Namibia, then your in for a holiday of a lifetime. I always find it incredibly useful to plan our trips with the help of a guide book.
Take a look at this informative Bradt guide, it will give you great tips and advice.
This safari drive is becoming such an education, in this region of Zimbabwe, there are some incredible fossils, from fallen trees. They initially appear to still look like wood but are actually as hard as a stone. Mark explains that from research there was a catastrophe many, many years ago as it seems that it was a sudden impact on the landscape and the trees collapsed and preserved where they landed. It's estimated this happened between 200 & 300 million years ago.
Continuing on we smile at each other in disbelief; we head further along, and a plain opens out before us. I know it sounds corny, but it is like a scene from Jurassic Park. With dead trees protruding from the earth, lush green pastures and animals grazing in the distance all around, it's beautiful.
Although, we are constantly well aware that there could be lions lurking under trees by the bushland edge. Who knows whether they have had breakfast or not?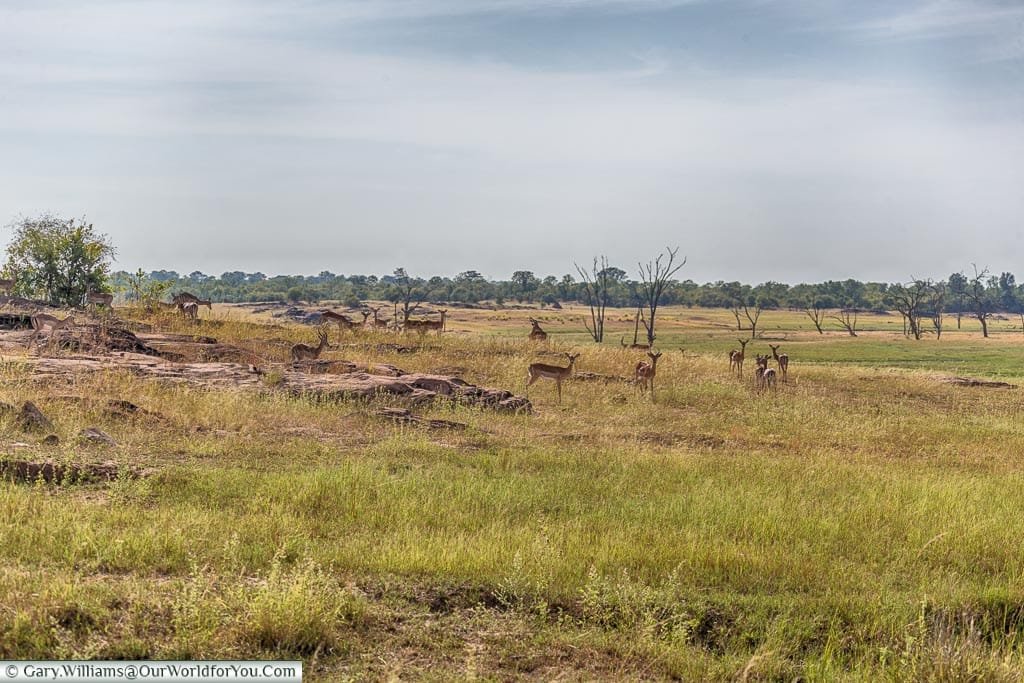 Not that I want to dilute the importance of impala's but, Zimbabwe certainly doesn't appear to be short of this species.
However, you can't tire of looking at them, they are perfectly manicured and not a hair out of place (unlike me, where's my Frizz-ease?)
The female groups of impalas are usually quite sizeable and seem to be breeding and surviving pretty well, so I imagine the herds are only going to get larger.
This may sound stupid, but, make sure you put sun cream on your knees. You'll be out for a few hours, and the sun is going to track you down.
Mark drives us to a higher point on the plain, and we jump out of the truck, to enjoy the view and the surroundings and take on some refreshments. The morning sun is gradually starting to become more intense, and a hat is a must.
All too often we are looking out for the larger wildlife; however, the birdlife here is equally fascinating. Although Gary and I can spot birds, the names are far from our minds. Mark points out African Fish Eagles, Goliath Herons, Secretarybirds and Hornbills, to name a few. Saying that we have become familiar with the Guinea Fowl, there's no mistaking their distinctive look.
We chatted to Mark about our previous trip to Lake Kariba and how we visited a couple of large protected Rhino pens. Also, a rhino out in the bush with its own 24-hour armed guard. Mark explained to us that Rhino Safari Camp had had something similar, so he took us to the now derelict pens that they used to use to adapt the rhinos to their surroundings, prior to releasing them.
Unfortunately, their rhinos had long gone, as they had been poached for their horns. Now due to greedy folk in this world, there are no longer rhinos around this area.
Rhino Island and Matusadona NP are not playgrounds, this is pure nature and believe me, we are just visitors to wilderness world.
Two mornings later we headed out for another AM safari drive, this time with the guide Tatendah. We were hoping to see the herd of buffalo we had come across on our bush walk the previous day. Not too lucky on seeing the buffalo, but we came across a beautiful herd of elephant, complete with their own little "eleies".
What a magical sight, we sat and watched them for about 10 minutes, although I could have sat and watched them all day. I felt really safe in the truck, they knew we were there, and if they chose to come closer, it was them being inquisitive about us rather than us approaching them.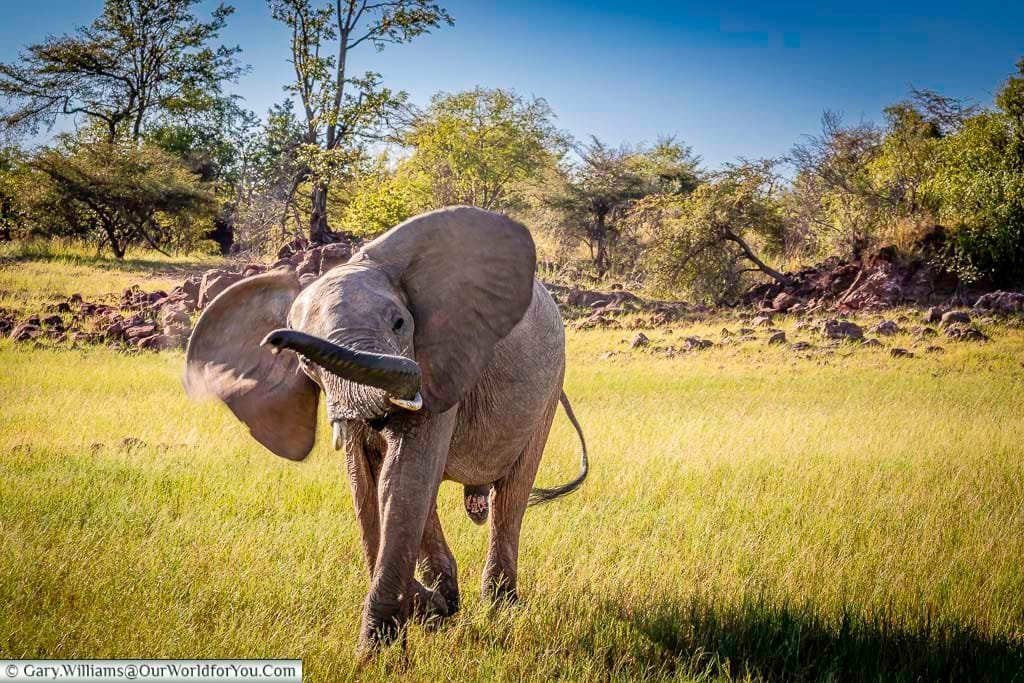 An elephant making a display
I know I am repeating myself slightly, but these kinds of moments do not come along every day.
On Rhino Safari Island, it is quite a common occurrence to see hippo sauntering by the water's edge, but for a girl from Kent, it truly isn't. And as hippos are one of my favourite African mammals, I couldn't have been happier than seeing them wallowing in pods by the lakeside.
And giving us the evil eye from a distance.
Lake Kariba is the largest man-made lake in the world. After the Zambezi River was dammed and Kariba Dam was built, the lake was filled in the late 1950s. Lake Kariba is now over 223kms (139 miles) in length and up to 40kms (25 miles) in width.
We'd been informed how the wildlife within the lake had changed over the years, and there are a lot more crocodiles lurking within the shores. Although this was the case, they are pretty shy, so as soon as we spotted one and slowed down, they shot off into the water.
They were not up for posing for the camera.
Gary and I were also able to see a magnificent Baobab tree that is so often synonymous with Africa, the older examples are incredibly imposing.
Would you like a little more?
We have created a little YouTube video of Our Morning Safari(s)
Why not subscribe to our YouTube channel and get the latest clips as we post them?
Another great reason to visit Zimbabwe
Start creating your own adventure and visit the enchanting landscape for yourself.
We chose British Airways, and it was all done with a few clicks, a brief stopover in Johannesburg, and our luggage was there waiting for us on arrival at our end destination in Harare.
Inspired to visit Rhino Safari Camp on Lake Kariba?
I assure you, you won't regret visiting Rhino Safari Camp, it's a once in a lifetime experience, you'll be longing to repeat.
Search for your flights in one easy place with
ebookers.com
and open up a world of options. Over 400 airlines are scanned for your favoured routes and chosen dates.
(Why not Pin It for Later?)
* This post may contain links to affiliated sites where we earn a small commission at no additional charge to you.