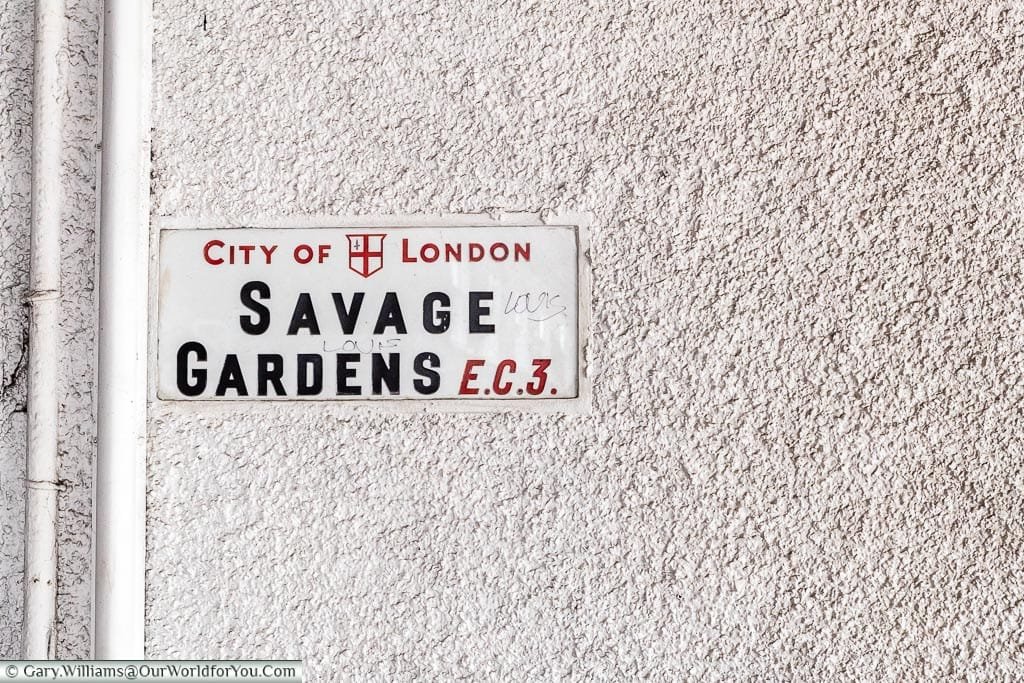 Names behind some of the Streets of London
Let me take you by the hand….in the words of Ralph McTell
Have you ever wondered while wandering the streets of London, where some of the unusual street names originate from?  
Little Britain in the City of London
I must admit I certainly have, and the City of London where I worked for 27 years has some of the strangest, I've ever seen.
So, my curiosity got the better of me, and I dug a little deeper, into some of the City of London's quirkier street names.
No, not the Australian pop duo….Savage Gardens is in EC3 near Tower Hill and Trinity House.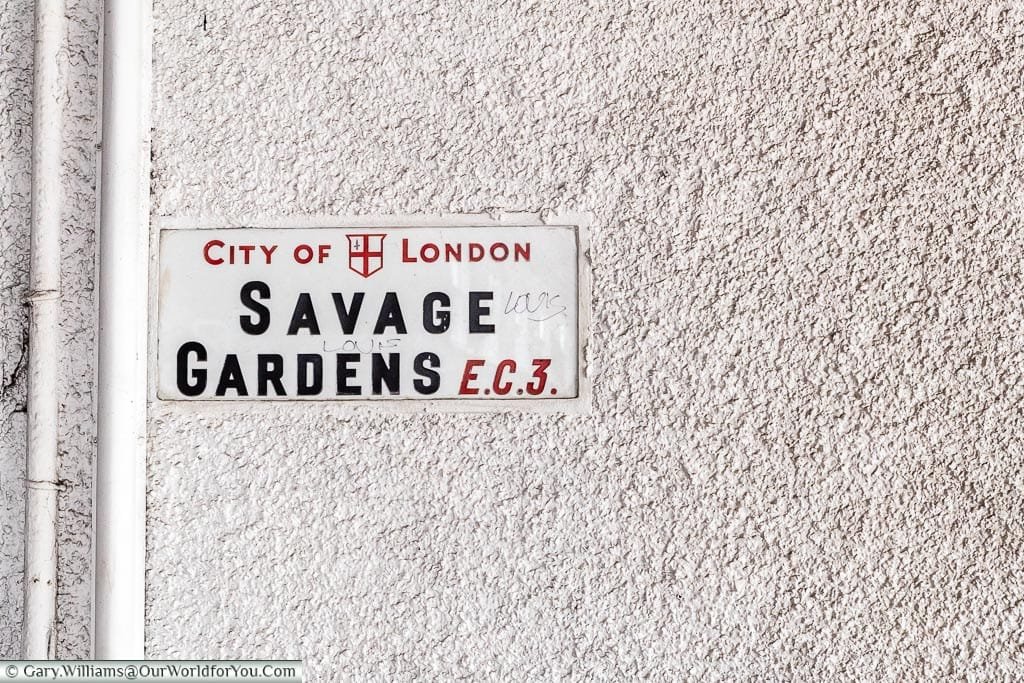 The street takes its name from Sir Thomas Savage, who lived near here in the 1620s and was an English peer and courtier in the court of Charles I. He amazingly had 19 children.
Want to discover more than about London?
We have a little book on our shelves that we sometimes delve into when we're about to hit an area of London.
Packed full of historical facts, and broken down into the different regions of London, it's a great resource to help you see what's hidden in plain sight.
Available in Kindle & Hardback editions, it's an excellent addition to anyone's collection who loves London.
Pope's Head Alley in EC3, is named after a 13th-century inn, the Pope's Head Tavern that once stood here.
At one end of the alley is in Cornhill and the other in Lombard Street. Lombard Street is actually named after Italian wool merchants that would have traded here, who were from Lombardy Italy.
Cornhill is quite a prominent street in the City and is located at the highest point in the City of London, at 58 ft above sea level.
Not only was there once a corn market here, but also in 1652 London's first coffeehouse was opened in St. Michael's Alley which is just off Cornhill.
Just on the City of London's boundaries, Chancery Lane in WC2 takes its name from the historic High Court of Chancery.
It is also the former site of Edward III's office of the Master of the Rolls of Chancery.
What's with the Blue Plaques?
While discovering the streets of London, why don't you search out the 
Blue Plaques
 of your heroes & heroines? You'll find out some incredible stories. 
Bow Lane and Bow Churchyard
Bow Lane and Bow Churchyard are named after the nearby St Mary-le-Bow church. It was formerly known as Hosier Lane, after the local stocking making trade.
This historic church was rebuilt by Sir Christopher Wren due to the Great Fire of London in 1666.
According to London tradition to be a true Cockney you must be born within earshot of the sound of Bow Bells.
Austin Friars and Austin Friars Passage in EC2, just near London Wall, is named after the Augustinian Friary, that once stood here.  
The Friary was established in 13th-century during the Medieval period, the nearby Dutch Church is the only remains of the ancient Friary, which dissolved mid 16th-century.
This is a pleasant spot to wander around and soak up the history.
Threadneedle Street in EC2 is perhaps now more well-known for it is the home of the Bank of England. The street was initially known as Three Needle Street for quite some years.
The Merchant Taylors have had their guildhall located here since 1347, so it's not surprising that the name was derived from this occupation.
Cloth Court and Cloth Fair, just near Smithfield was named after a long-running trade fair that was formerly held in the area.
The fair was for the woollen and drapery industries, with Italian and Flemish cloth merchants.
There's so much history just within this small region of London, take a look at my Smithfield post.
Oddly too, is the weird fact that the City of London doesn't have any streets or lanes that are named "roads". They all end in things like 'Alley', 'Passage', 'Yard' or Lane.
Little Britain got its name from the Dukes of Brittany who built a house here in the 15th century. From 1575 – 1725 there were mostly booksellers on the street until they all moved to Paternoster Row where it was free to sell books.
Little Britain is also mentioned in Charles Dickens' novel Great Expectations as the location of Jaggers', Pip's surly lawyer office.
Ohh, I can't go without mentioning the hilarious sketch show by Matt Lucas and David Walliams. Not that it was filmed here, I just had to say it.
Cock Lane in EC1 doesn't have a very upbeat history, as it is thought to be named after cockfighting and cock breeding that formerly occurred here.
Although just on the corner with Cock Lane is the "Golden Boy of Pye Corner". 
This golden memorial was erected in memory of the Great Fire of London in 1666. It is ascribed to the Sin of Gluttony.
The Golden Boy once sat above the "Fortune of War" pub, which was pulled down in 1910.
Pudding Lane derived its name from the term 'pudding' meaning animals' entrails. During Medieval times butchers would transport their 'puddings' from Eastcheap down Pudding Lane to boats on the River Thames. Doesn't sound too pleasant to me…
Although now Pudding Lane is more noteworthy as it was from a baker along here that the Great Fire of London started in 1666.
Change Alley in EC3 leads off in various directions, and once was the site of the King's Arms Tavern. 
Originally this little cut through was called Exchange Alley, due to the Royal Exchange on the opposite side of Cornhill.
* Watling Street in EC4 is the ancient Roman road which runs from Dover on the Kent coast, through Canterbury, London, St Albans and onto Wroxeter in Shropshire. 
The length of this road is around 276 miles (444km). It is believed that the Romans paved Watling Street during AD 47 and 48, so this has undoubtedly seen some footsteps.
* Confession time: I've since found out that this section of Watling Street wasn't actually part of the original Roman road. Apparently it is close by; however, not quite on this spot.
Passing Alley in EC1 near Clerkenwell was once known as Pissing Alley, I'm not going to pass judgement, what went on along this alley.
However, the Victorians changed its name to Passing Alley.
This is another interesting part of the City of London, take a look at our Clerkenwell post, for little more, behind the scenes.
Jerusalem Passage also in Clerkenwell, has been a little trickier to find out about.
I understand it has been called Jerusalem Passage since the 17th-century.
It was named after the St. John of Jerusalem tavern which up to 1720 was at the northeast corner of the lane.
This lane partially gained its name from the 17th-century community of French Huguenots, that lived in the area.
The 'ordinary' part refers to a 'cheap eating place', which were common during the 17th & 18th centuries and served meals that all cost the same price.
A French-style Ordinary stood on the site of the court in EC3.
I had to include Friday Street in EC4 as this is where I worked for 24 years. Legend has it that it was named after the Friday fishmongers' market that was held along here weekly. 
The reason I liked the name was that in my opinion, Friday is the best day of the working week.
If you are not a London dweller, then one of the easiest ways to get to the capital is by train. Catch all the routes into London here and find your most convenient itinerary.
* This post may contain links to affiliated sites where we earn a small commission at no additional charge to you.
Inspired to visit London?
Why don't you grab a pair of comfy shoes and take a wander, you'll be amazed at all the history at your feet?
(Why not Pin It for Later?)
If you enjoy what you see, and you'd like regular updates then join us for a monthly newsletter.