8 Places to visit in Croatia
There are so many beautiful towns to discover
If you're thinking about visiting Croatia for the first time, or you're a regular returner, you'll know how attractive the country is. Also, that it still has some true gems, that feel like that they are yet to be truly discovered. In which case then, perhaps I should just be quiet and keep them to myself.
Protecting the old harbour at Dubrovnik
Ok, so there may not be any islands mentioned on this list.
We did drive through a couple which we reached by hopping on a car ferry, but Gary and I are saving them for another visit to Croatia.
We just couldn't fit anymore in during our two-week road trip.
Zadar was one of our favourite locations in Croatia. It wasn't just for the sounds of the melodic Sea Organ, or the mesmerising Greeting to the Sun evening light display, but the incredible history.
St. Mary's Church under a beautiful blue sky
The Venetian influence is so prominent to see, along with where the Romans let their mark through Zadar's symmetrical streets. Flagstone pathways, so shiny with centuries of footsteps passing through. It was such a heart-warming city I could return time and again.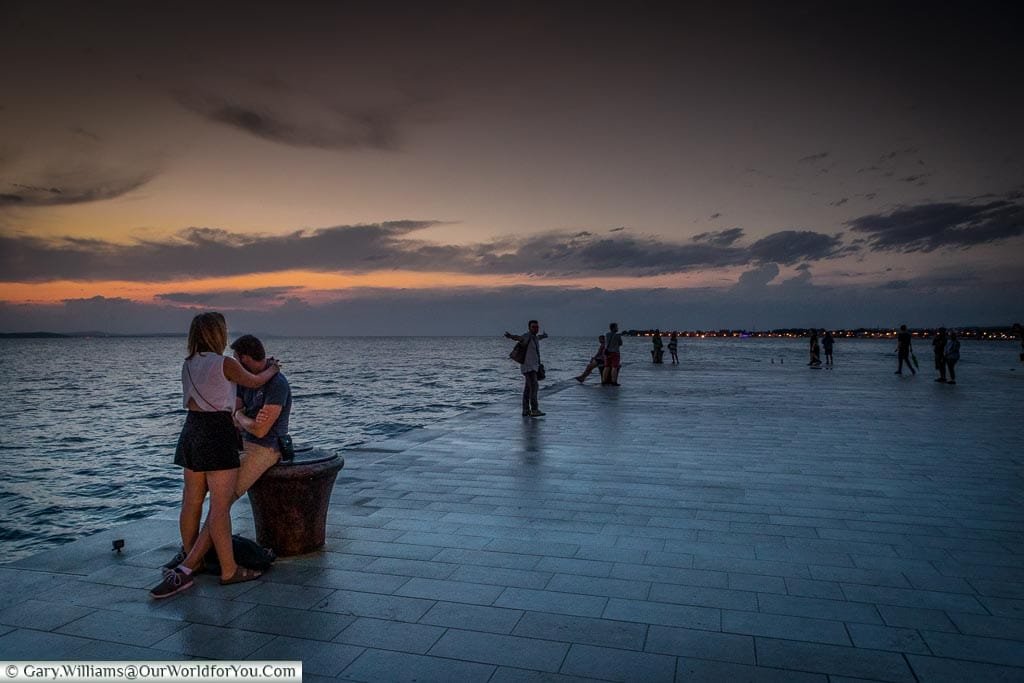 Entranced by the Sea Organ
Trogir is a small historical town just north of Split, I was initially unsure whether to stay here or Split, but as our road trip was more or less a circular route, we decide to visit one heading south and the other heading north. I am so pleased we did, as I actually preferred Trogir to Split, mainly for its size and number of visitors.
Trogir, with it's Venetian influences
Don't get me wrong Trogir is reasonably popular as it has an incredible maze of ancient lanes and courtyards within its walls. However, of an evening it became a very peaceful and delightful place to sit and watch the sunset across the evening sky.
Oh, and it was where I had my favourite meal of the trip, "Brodet" which is a seafood stew.
Of late Dubrovnik has been getting a bit of a bad rap for its number of visitors, quite often from cruise ships, although the city has started to address this. In my opinion, try not to let this put you off, it is a beautiful city and incredibly picturesque, particularly the view you get when strolling around the top of the city walls. Across the rooftops below and the crystal-clear waters beyond the shores.
View from the old port of Dubrovnik
My advice with Dubrovnik is to stay overnight; definitely, the streets and restaurants become quieter, and there is such a lovely warm atmosphere to enjoy.
When visiting Split, you are immediately drawn to its pleasant waterfront, and you just want to enjoy a promenade along the Riva or is that just me? Sitting elegantly on the edge of the Adriatic Sea, Split is a city that you just have to go and dig deeper into.
The Diocletian palace, Split
Gary and I couldn't wait to discover the ancient Diocletian Palace, its intriguing warren of historic lanes and its beautiful little courtyards filled with tiny restaurants. The palace in the heart of the old city is free of charge to wander around. Which is fantastic considering the centuries of footsteps you are sharing it with.
Strolling along the Riva in Split
Plitvice Lakes National Park
If you are planning a trip that involves travelling beyond Croatia's cities, then Plitvice Lakes National Park needs to be on your list. It is absolutely beautiful and will take a whole day to truly appreciate its wonder.
The Plitvice Lakes are always beautiful
Just to let you know that Plitvice Lakes, does seem to have its own microclimate, so although it may be sunshine and blue skies a few miles away, Plitvice may be completely different.
The atmosphere that the park creates is magical, as you wander by gushing waterfalls, across wooden paths over ponds, the eerie peaceful presence is wonderful.
We were given advice by a local, to start at the top of the park and make your way down.
There is a bus that runs you to the north, it's easier wandering down and also a lot quieter, to begin with.
Water flows at Plitvice Lakes
On the Istrian Peninsular in the north of Croatia is the colourful fishing port of Rovinj and a wonderful town to use as a base to discover the region.
View from the harbour front
Rovinj is so picturesque, take a stroll through the pedestrianised streets to the Baroque Church at the top of the old town, the view is beautiful.
The cobbled lanes of Rovinj
A climb through the old town of Rovinj
Rovinj is so picturesque, take a stroll through the pedestrianised streets to the Baroque Church at the top of the old town, the view is beautiful.
Start creating your own adventure and discover the delights of Croatia and its beautiful coastline for yourself, easyJet & British Airways are just a couple of options.
We visited Pula on one of our days out from Rovinj, as the thought of the amphitheatre and all its history relating to the Romans was too much of an opportunity to pass up. Within Pula's main square are the Forum and a magnificent temple, which was built during the 1st-century and dedicated to the Roman Emperor Augustus.
As if Pula didn't have enough history, take a wander through the Arch of the Sergii, and you'll see a bronze dedicated to James Joyce. Mr Joyce taught English to Austro-Hungarian officers, at a time when Croatia was part of the empire.
You may even want to combine it into a road trip like us,
Rental Cars
searches multiple well-known car hire brands and discovers the deals that suit you the best.
Just north of Rovinj is another delightful town named Poreč, and the Venetian influences are unbelievably noticeable. I suppose with Venice just a short hop across the Adriatic Sea, it isn't surprising.
The view from the bell tower, Poreč
Poreč has a picturesque harbour, lovely cobbled lanes and an incredible mixture of architecture. However, one of the draws for us was the 6th-century Euphrasian Basilica, which is a UNESCO World Heritage Site. It's beautiful inside, and you must venture up to the top of the bell tower, to get a great view across the rooftops of Poreč.
The Euphrasian Basilica in Poreč
Inspired to visit Croatia?
Explore the beautiful country and meander along its incredible coastline.
Croatia really has so much to offer, why not checkout the latest deals on Booking.Com?
(Why not Pin It for Later?)
* This post may contain links to affiliated sites where we earn a small commission at no additional charge to you.