Where to visit in southern Spain
A taster of what you'll discover in the sunshine of Andalusia…
Hopefully, you've seen our last couple of posts on our favourite towns and cities in northern and central Spain. These regions of the country are often less visited, but over the last few years, we've come to love Spain (we're a bit late to the party) and found some incredible places north to south.
The Roman bridge of Córdoba
Now, it's the turn of the beautiful south (that sounds like a good name for a band). We've chosen a few of what some of you may think are obvious locations; however, there are a couple here that you may not have heard of.
Gary and I are usually roadtrippin when we visit Spain, as it allows us the freedom of touring the countryside inbetween.
Although saying that I could easily just jump on a plane now and spend a few days strolling the ancient lanes of Seville or rediscovering the Moorish architecture in Córdoba on a mini-break.
Take a peek at these, I'm sure one will tempt your taste buds.
Ahhh the call of Andalucía, I love nothing more than planning a trip and so often I use the DK Eyewitness books. I find them extremely informative, easy to follow and the pictures and maps tempt you into discovering more.
We used a previous version of this book to plan our southern Spanish road trips, now you can grab the revised copy.
Jerez de la Frontera to give it its long name, ahhh yes, home of the liquid-gold that is Sherry. We have only come to truly appreciate Sherry since our visit to Jerez and found out that it's not just the tipple to be dusted of at Christmas. This is a whole new experience to be appreciated.
Gonzalez Byass Barrels, Jerez
The standout memories I have of Jerez other than our evening listening to the Flamenco guitar in a little Sherry bar were families enjoying themselves around the plazas and streets. People of all ages appreciating each other's company and sharing special moments. There are some wonderful sights to be seen in Jerez's old town, particularly its Moorish Alcázar and the 17th-century cathedral.
Oh, and definitely partake in a Bodega tour around González Byass, the aroma of the Sherry barrels will live with you forever.
(These options are provided by GetYouGuide.Com. We will earn a small commission, at no extra cost to you if you book through our site)
The charming little city of Ronda is high in the Andalusian hills and only around 65 miles (105km) from Malaga, so you could even visit for a day. Although to fully appreciate the feel and delights of Ronda and evening stay is the way to go.
The view from the Mirador de Ronda
You won't believe the incredible views from the top of the Puente Nuevo across the Tajo canyon and the sheer drop to the Guadalevín River below. Straddling this canyon, there are three bridges, from the Moorish bridge at the bottom to the "Old Bridge" in the middle built in 1616. To the "New Bridge" at the top constructed in 1793, they are amazing.
The fountain and Plaza del Socorro, Ronda
Plaza de Toros de Ronda is in the centre of town, I know this isn't to everyone's taste; however, it's a part of Spain's history and culture. And if you're inquisitive like we were, then take a step inside the bullring's museum to discover its deep-rooted history. Or alternatively, just soak up the Spanish atmosphere and enjoy a stroll around the welcoming plazas.
(These options are provided by GetYouGuide.Com. We will earn a small commission, at no extra cost to you if you book through our site)
Seville's special for us. It was sitting in a tapas bar, sneaking a sherry that we decided to share our travels with the rest of the world outside our family. It wasn't our first trip here either - it was actually our third and we'd return any day at the drop of a hat. We cannot recommend this enough. Although my upfront advice would be, if you don't enjoy the heat then avoid high season. Other than that, pack your bags.
Boating at the Plaza de España, Seville
There is so much to relish about Seville, I love it around the old lanes of Barrio Santa Cruz, visiting the incredible Alcázar and cathedral. However; my favourite place to be is admiring the Plaza de España, day and night. On a balmy October evening, there are not many other places I'd wish to be.
During your visit to Seville, head to Triana and wander around its local market, take a climb up the Metropol Parasol, and an absolute must is to take the weight off your feet in a tapas bar (you won't be disappointed).
(These options are provided by GetYouGuide.Com. We will earn a small commission, at no extra cost to you if you book through our site)
Start creating your own Spanish adventure and discover the delights of southern Spain yourself, easyJet & British Airways are just a couple of options.
Oh, another fascinating ancient city in southern Spain is Córdoba, and probably one most of you have heard of, and for a good reason.
Admire the arches in the Mezquita – Mosque–Cathedral, Córdoba
Now, I'm going to say it, but, if you only ever visit one cathedral in your life, you'd be hard pushed to beat Córdoba's Mezquita.
It is breath-taking, and I don't say that lightly, it is one of those places that needs to be seen to be believed.
The sea of columns is incredible, you almost feel like you are looking in a mirror, there are so many.
The view of the Courtyard of the Bars, Palacio de Viana, Córdoba
Córdoba's history is in plain sight; from the Roman Bride to the Alcázar. It's also famed for its floral courtyards and patios that are hidden amongst the white-washed walls. In May each year the city holds a festival and you'll see them in their full glory. Don't worry though, they are actually picturesque all year round. Take a visit to Palacio de Viana and enjoy its 12 patios.
(These options are provided by GetYouGuide.Com. We will earn a small commission, at no extra cost to you if you book through our site)
Have you visited southern Spain and discovered any towns or cities that you really want to share with us, as we'd love to add them to our next road trip?
Úbeda may not necessarily have been on your Spanish radar before; however, this amazing Renaissance city has some incredible architecture. In particular, is the El Salvador Chapel which was built during the 16th-century and stood quite imposing in Vázquez de Molina Square.
The courtyard in front of the El Salvador Chapel, Úbeda
Street after street there are more striking façades, on palaces, churches, the Moorish mosque and even the arcaded Antiguas Casas Consistoriales (old town hall).
It is believed councillors were once witness to the atrocities of the Spanish Inquisitions.
Antiguas casas Consistoriales, Úbeda
Úbeda and Baeza were inscribed together onto the UNESCO World Heritage list in 2003 for their outstanding 16th-century palaces and churches.
Just neighbouring Úbeda is its little sister city of Baeza and even though it is on a smaller scale, it is as equally charming nonetheless. It was so peaceful wandering amongst its cobbled lanes full of elegant Renaissance architecture.
Fuente de Santa Maria, Baeza
Another reason for visiting the Jaén region of Spain is for its beautiful scenery. Stretching out over the countryside are row upon row of olive groves.
The view over the Olive groves
(These options are provided by GetYouGuide.Com. We will earn a small commission, at no extra cost to you if you book through our site)
Last but by certainly no means least is Granada. This a city I'd love to return to as I made one huge mistake here, and that was not to pre-book our tickets to the Alhambra Palace. I know, I know, I can hear you sniggering from here, doh!
A view from the gardens of the Alhambra Palace. Granada
We decided to walk up to Alhambra rather than take public transport, it was a pleasant steep walk, however, when we were queuing and realised the last Nasrid Palace tickets had been sold, we were disappointed, to say the least. But hey, not all was lost, we were still able to purchase a Garden Visit ticket, and even with this ticket, you're able to see a considerable amount. So, we will return one day.
The viewpoint from the Alhambra, Granada
And of course, Granada is not all about Alhambra, there's a whole city to discover too. We came across some wonderful plazas, courtyards and historical buildings. As well as some fantastic tapas bars.
The High Court of Andalusia, Granada
(These options are provided by GetYouGuide.Com. We will earn a small commission, at no extra cost to you if you book through our site)
Discover more of Spain's historic towns and cities and all the picturesque countryside in between? Then jump in a car,  you can do it all on a road trip,
Rental Cars
searches multiple well-known car hire brands and discovers the deals that suit you the best.
We've enjoyed our trips to Spain so much, there are still lots of places we want to visit. Here are a few more southern cities that we'll hopefully get to sometime in the future.
Cádiz

We fleetingly drove through Cádiz on our way to Jerez, and it looked amazing, Once again some incredible architecture and who doesn't enjoy being by the sea?

Murcia

I don't actually know a lot about Murcia, but from what I've seen and been reading on other people's posts, it definitely looks like a Spanish city Gary and I would enjoy.

Gaudix

Now, this place looks interesting, it has troglodyte cave dwellings. Quite an unusual way to live, however, in the heat of the summer I should think it quite pleasant.

Málaga

Perhaps not the sort of location that would first spring to mind, as we're not beach people. Nevertheless, I've heard there's a lovely Moorish Palace and cathedral in the city.
Surely, it's time for another road trip?
* This post may contain links to affiliated sites where we earn a small commission at no additional charge to you.
Inspired to visit southern Spain?
Tour amongst the olive groves of Andalusia visit some incredible towns and cities along the way.
Search for your flights in one easy place with
ebookers.com
and open up a world of options. Over 400 airlines are scanned for your favoured routes and chosen dates.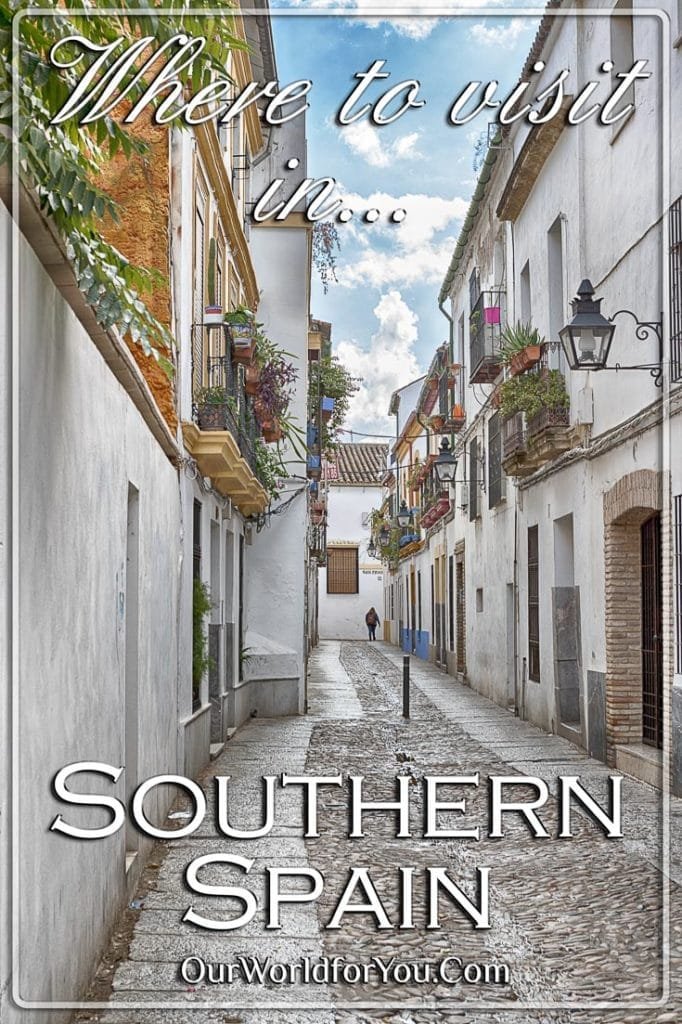 (Why not Pin It for Later?)