by Janis /
14 comments
- Orginally published:10th January 2020
Full of kiss-me-quick nostalgia and seafaring tales
It had been years since I'd last visited the seaside town of Ramsgate in Kent.
You'd think that as I'm a Kent dweller, I'd be visiting a bit more frequently. But so often is the way that we head further afield and miss those special treats on our doorstep.
With Ramsgate's location being just a baguettes throw from France, it has some fascinating history, particularly around its nautical past. From the Napoleonic Wars to the Dunkirk evacuations during Operation Dynamo. Then mix that with a hearty helping of ice-cream and fish and chips, and you have a winning combination.
Why not Pin it for later?
East Cliff Lift in Ramsgate was built in 1910
Our recent visit to Ramsgate was on a bright December day, it didn't quite include the ice-cream; however, fish and chips were certainly 'catch of the day'.
- By Train
You can catch a direct High-Speed train from London St Pancras International station to Ramsgate Station. Which takes around 1 hour 20 minutes, some may take longer so, check the timetable.
- By Car
It's only 20miles/35km from Dover, and 30miles/47km from Folkestone.  It's easy to get to from London, 80miles/127kms, but it make some time to get there and back.
The Royal Harbour, Ramsgate
Granted the honour by King George IV in 1821
A little fact that makes Ramsgate unique is that it is the only Royal Harbour in the UK. It was granted this honour by King George IV in 1821.
Prior to this in 1483 Ramsgate became part of the Cinque Ports confederation and was a limb of Sandwich. The Cinque Ports charter was established pre-Royal Navy in 13th-century, to recruit mariners. Ramsgate townsfolk would have been enlisted to fulfil Sandwich's quota for the Crown.
We have a new little book on our shelves that we delve into when we're heading to the coast.
Packed full of historical facts, and broken down into the different counties of England.  It tells tales of the history of the shoreline that surrounds our country.
Available in Kindle & Hardback editions, it's an excellent addition to anyone's collection who loves the English seaside.
Around Ramsgate's harbour
Explore Ramsgate's nautical heart
I love it that Ramsgate is still a working harbour and the smaller modern-day yachts that are moored in the marina respect this fact. It's a bustling harbour with locals coming and going, scrubbing decks and giving their boats an overhaul.
Ramsgate Harbour and SSMV Starbuck
One of the eye-catching aspects of Ramsgate is the sweeping red brick harbour wall and arches that lead up to the clifftop walk. The arches now form part of the community and are lovingly maintained. They provide a charming location to stop and enjoy the surroundings and perhaps even grab a cheeky beer.
Arches around Ramsgate Royal Harbour
We took a stroll around the harbour as there are so many noteworthy buildings and historical references. It reminds you just how much of a significant role Ramsgate has played in history.
The Sailors' Church and Harbour Mission in Ramsgate
The Sailors' Church and Harbour Mission that was built into the front of the cliff, was constructed in 1878. This place of worship was to provide rest to the men and boys who worked tirelessly in harsh conditions in the English Channel. So often risking their lives.
Visit some of Kent's coastal towns
Kent is not short of picturesque historic towns, particularly along the Kentish coastline., and we have a collection of posts you may enjoy - why not check one out?
Operation Dynamo from Ramsgate
The 'little ships' depart for Dunkirk
During Operation Dynamo in 1940, flotillas of small boats headed over to France for the Dunkirk evacuations. Ramsgate was one of the main harbour towns that thousands of soldiers would have been so grateful to see.
'Sundowner' used in the Dunkirk Evacuations in 1940
In Ramsgate harbour today you can see the 'Sundowner' one of the 'little ships' that crossed the Channel. This boat, in particular, was sailed by Charles Lightoller, the senior surviving officer of the Titanic. He managed to repatriate 130 British Servicemen on a boat licensed to carry 21.
Are you looking for that 'perfick' holiday hideaway to relax in while you discover the Garden of England?
After a day exploring the Kent coast and its many historic castles enjoy one of the handpicked properties and unique retreats at Holiday Cottages.
Explore Ramsgate's Tunnels
Discover a hidden secret
Strolling along Ramsgate's award-winning golden sandy beach, you'll come across Ramsgate Tunnels.
In 1863 a mile-long railway tunnel was built allowing the trains to reach the harbour.
Then as WWII approached this tunnel was extended to a two-and-a-half-mile network of Deep Shelter tunnels. Entrances were dotted around the town, and the air raid shelters provide protection for around 60,000 people.
There are stories of these tunnels becoming a permanent residence for some folk, to find out a little, come and pay a visit.
In 2014 part of the 150-year-old 
Ramsgate Tunnel
 network was opened to visitors, so you can go and take a peek for yourself.
Stroll around the lanes of Ramsgate
Discover Ramsgate's delightful architecture
Now, I have to be honest here, although Ramsgate is going through a process of rejuvenation, it hasn't quite made it to the heart of the town centre. However, it is incredible that you only have to wander one or two streets back and you are surrounded by beautiful Regency, Victorian and Georgian buildings.
All along the cliff walk and promenade are attractive homes with wide bay windows and wrought-iron balconies. All with far-reaching views across the English Channel.
Visiting Ramsgate, you really understand why these English seaside towns were such an attraction during the 19th-century. Sweeping, majestic crescents where once ladies and gents would have promenaded.
The Falstaff along Addington Street
I just love strolling around the residential streets discovering the tiny lanes and finding those little reminders of eras gone by.
Discover more of the Great British Isles, why not jump in a car and tour the country at your own pace. You can do it all on a road trip, 
Rental Cars
 cover all budgets and allow you to pick up and drop off at different destinations.
Discover Ramsgate's style and grandeur
Architecture to be cherished
Heading north around Ramsgate bay and the elegance continues, with more attractive homes and striking architecture. All around Albion Place, Wellington Crescent and Victoria Parade, there are some stunning buildings.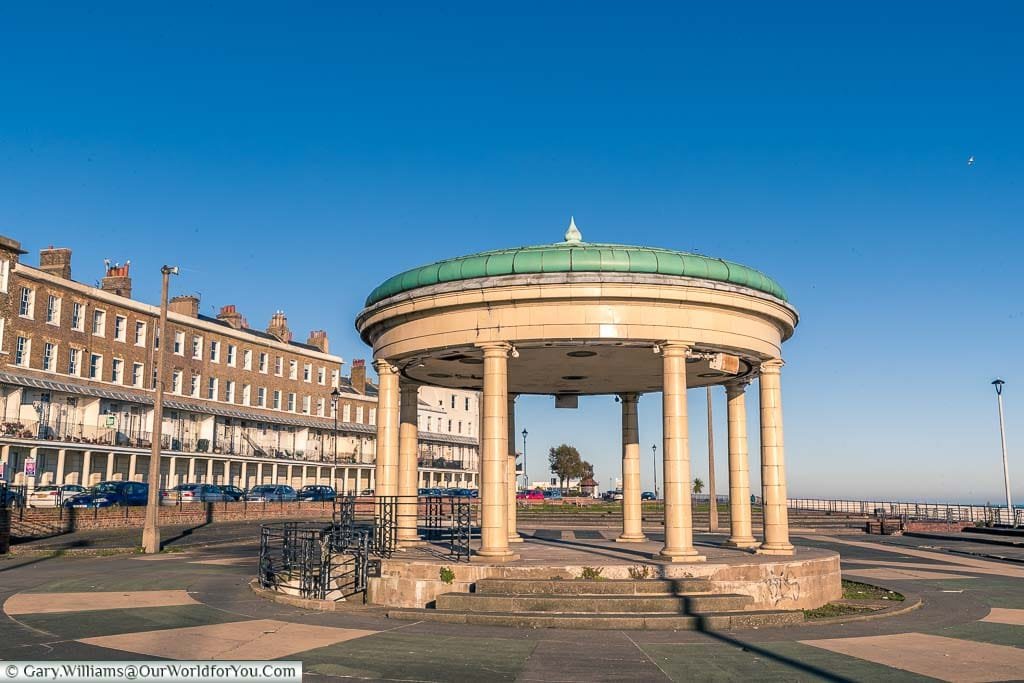 Wellington Crescent and bandstand
Ramsgate can also boast architectural designs by A W Pugin and his sons. St. Augustine's Church and Granville House are wonderful examples of their work. A W Pugin designed many buildings around the UK, none more famous than the Palace of Westminster and Big Ben.
Where to stay in Ramsgate
- The Royal Harbour Hotel - Located within three Georgian townhouses, this hotel offers unique and charmingly decorated rooms. The views across the harbour are incredible.
- The Oak Hotel - This comfortable hotel overlooks Ramsgate's Royal Harbour and just a short stroll to the golden sandy beach.
If you're intrigued by Kent's weird and wonderful history, or all unusual stories around the county, then take a peek at "Kent's Strangest Tales".
You won't be able to put it down, you can pick it up for your Kindle or in good old paperback.
So many Blue Plaques to discover in Ramsgate
In the footsteps of Van Gogh, Darwin and HRH Princess Victoria
Ramsgate certainly has its fair share of Blue Plaques, two of which relate to Vincent Van Gogh. He moved to Ramsgate in April 1876 and was a supply teacher in a small boarding school in Royal Road.
Vincent Van Gogh's residence
Vincent Van Gogh's taught here
I do love how tenuous some of the plaques can be. Charles Darwin stayed in Ramsgate in 1850, also Wilkie Collins, the novelist in the 1870s and Samuel Taylor Coleridge, the English poet in 1830s.
 
Although possibly the most famous of them all is HRH Princess Victoria who resided in Albion Place between September 1835 to January 1836.
HRH Princess Victoria resided in Ramsgate
Head to the 
Visit Ramsgate
 website and start planning your seaside adventure. More on what to do, where to stay and further local history. Another site I found very useful is 
Ramsgate Town
 full of local knowledge and up to date activities in Ramsgate.  If you want to know more about the county, then try Visit Kent.
Only one way to finish a day at Ramsgate
I'll have cod please!
Gary and I had a lovely day strolling around Ramsgate and as we headed back along the seafront who couldn't help ourselves and popped into Peter's Fish Factory.
If you're nearby Ramsgate at Christmas time head to the Royal Harbour, as lots of the little boats are decorated for the festive season.
Ramsgate Royal Harbour at Christmas
Whether you're planning a road trip, plotting a hiking route or cycling one of UK's scenic trails, there's nothing quite like using a tactile paper map.
The Ordnance Survey folk are here to help, with maps, guides, gadgets and more. Take a browse through their vast array of maps and grab your ideal companion for your adventure.
Our YouTube video of Ramsgate
We have created a little YouTube video of Ramsgate. Why not take a look?
Also, why not subscribe to our YouTube channel and get the latest clips as we post them?
* This post may contain links to affiliated sites where we earn a small commission at no additional charge to you.