by Janis /
8 comments
- Orginally published:12th April 2019
A medieval bite into Kent's ancient history
Yep, believe me when I say Sandwich is an English town and not just a lunchtime snack.
Although the good old sandwich does derive its origins from here.
When the 4th Earl of Sandwich was said to have ordered his valet to bring him some slices of meat, tucked in two slices of bread and "eh voila", it all began.
Why not Pin it for later?
How to get to Sandwich, Kent
By Train - You can catch a train from London St. Pancras International direct to Sandwich Station, which takes around 1 hour 30 minutes.
By Car – Sandwich is 82 miles from London, along wither the A20/M20, or A2/M2, and then a series of further A roads.  There are pay & display car parks around town.
Visit Kent's Cinque Ports
Discover Kent's nautical past
The King's Arms Public House
Don't get me wrong, I loved visiting Deal and Rye; where Rye is your picture postcard Medieval town and Deal is your quaint historic seaside town. Sandwich offers that little something different from either.
'Brewers of Sandwich'
Sandwich isn't quite as touristy; however, that isn't due to its lack of quaint half-timbered buildings. The historic town has the real feel of being sustained by its local residents. Coffee mornings in the church, hardware store selling handy DIY items and the chitter-chatter on street corners.
If you're intrigued by Kent's weird and wonderful history, or all unusual stories around the county, then take a peek at "Kent's Strangest Tales".
You won't be able to put it down, you can pick it up for your Kindle or in good old paperback.
Discover Sandwich's quayside tales
Twinned with a friend in France
Although I said, Sandwich is a "Cinque Port", which was a charter established pre-Royal Navy in 13th-century, to recruit mariners. Its ancient town no longer has a direct harbour to the sea, but it's from the quay here on the banks of the River Stour, that Kings and their armies would have headed off to France to war. We're all friends now, and Sandwich is twinned with
Honfleur
in Normandy.
The Quayside, Sandwich
Nowadays, along the quayside, you can take a boat trip to do a bit of seal spotting, a little bit more sedate, I think.
Seal Spotting
Unearth the intriguing architecture of Sandwich
History around every corner
My first reaction when visiting Sandwich was the incredible number of historic buildings throughout the town. The quaint homes and shops are beautifully maintained and from so many different periods in history.
Fisher Gate & Fisher Gate House
The Fisher Gate, along by the quay, dates from 1384 is the only one of the original medieval town gates in Sandwich to have survived. The location of the long-lost Canterbury Gate stood next to Gallows Field, and we can only imagine what went on there.
The Golden Key - Striking architecture
We have a new little book on our shelves that we delve into when we're heading to the coast.
Packed full of historical facts, and broken down into the different counties of England.  It tells tales of the history of the shoreline that surrounds our country.
Available in Kindle & Hardback editions, it's an excellent addition to anyone's collection who loves the English seaside.
The Barbican Gate in Sandwich
Pay your dues for crossing the bridge
Just by the River Stour bridge is the 14th-century Barbican Gate, once a tollgate. From 1759 until 1977, tolls were collected for crossing the bridge. Prices differed depending on the size of your chariot or Landau and how many horses or oxen you had.
The Barbican Gate
Stroll through the Barbican Gate, and you're greeted with even more ancient listed buildings. Just within a stone's throw are three public houses.
The Admiral Owen Public House
The Admiral Owen a 15th-century timber-framed building. The Crispin Inn, which dates from the 16th -century, and across the road on the quay is the Bell Hotel. Extensive restoration has been undertaken over the years; however, there has been a Bell Inn on the quay since the 14th century.
Explore the streets of Sandwich
Where do you discover first?
I couldn't make my mind up which lane to head down first, as they were all so inviting. Strand Street, which runs parallel with the River Stour, is once again lined with half-timbered buildings, immaculately kept homes and little independent shops & cafés.
At the King's Lodging along here, it is purported that King Henry VIII stayed and latterly Elizabeth I.
I know it's a bit of a cliché, but it was like stepping back in time. There didn't appear to be one home or building that looked out of place from centuries gone by.
We got such a warm and friendly feel from the place; on three or four occasions, people in their cars stopped in the road to lets us take photos or video.
The end of Strand Street
Strolling The Butts
The fortification of Sandwich
The Butts - Old Town Wall
Sandwich was historically a walled town; it was due to constant enemy invasion that in 1385 Richard II ordered for Sandwich to be protected; therefore, a Bulwark was erected.

As the barricade was constructed of wood, traces of the structure no longer survive. However, there is a pathway along The Butts by the River Delf, which you can stroll along, passing by the cricket pavilion, where the Bulwark would have once been.
Through the winding lanes of Sandwich
Discover the different architectural styles
We head into the old town centre of Sandwich, passing by the Art Deco Empire Cinema. It's great to see that the cinema is still screening the latest releases.
So many original shopfronts remain in Sandwich; the interiors may have evolved over time; nonetheless, love and care are the main focal point in this picturesque town.
Sandwich Town Square
Take a pew and soak it all in
Sandwich Guildhall is what really catches your eye when you first stroll into "The Cattle Market" main square. The historic building was constructed in 1579, beautifully half-timbered, with characterful stained glass leaded windows. The striking hall is now home to the Guildhall Museum.
This square is lovely just to sit and watch the world go by.
View towards the town square
In the town centre is open Wednesday - Sunday from 10:00 to 16:00 and is free.
You can find out more at their website - Sandwich Guildhall Museum
It's the little things that make Sandwich special
Especially its traditional, independent stores
There are so many quirky street names in Sandwich, Holy Ghost Alley, Paradise Row, Moat Sole and my favourite, No Name Street.
Sandwich's main focus doesn't appear to be on just attracting the tourist, there are a few antique and curios shops and a couple of galleries, but the emphasis is definitely on everyday life. I loved the ironmongers and the traditional Roses Garage, catering for all your automotive needs.
Now, while I say its focus is on the locals, they certainly do not have a shortage of traditional pubs, cafés, restaurants and good old-fashioned fish and chip shops, you're spoilt for choice.
The Market Inn Public House
Inspired into creating your own adventure?
The planning starts here
Your perfect accommodation
Have a leisurely browse through the wide range of options that
Booking.com
offer. From a secret hideaway to an elegant luxury hotel.
The open roads await, pop in your location details, then
Rental Cars
will search well-known car hire brands and discover the deals that suit you the best.
Old Traditions in Sandwich
Ringing the 'Curfew Bell'
There are three churches in the heart of Sandwich town that we came across, St Clement's, St Mary's and St Peter's. In the churchyard of St Peter's, is a touching memorial dedicated to the local Victoria Cross recipient, Augustus Charles Newman.
The Augustus Charles Newman VC memorial
In Sandwich, the Curfew Bell is still rung from St Peter's Church every evening at 8pm, a signal in Medieval times for everyone to go to bed.
We have created a little YouTube video of Sandwich - why not check it out?
Why not subscribe to our YouTube channel and get the latest clips as we post them?
Are you looking for that 'perfick' holiday hideaway to relax in while you discover the Garden of England?
After a day exploring the Kent coast and its many historic castles enjoy one of the handpicked properties and unique retreats at Holiday Cottages.
The ancient Almshouses in Sandwich
A little bit more to discover
Along the street 'Moat Sole' are the Almshouses and St Thomas Hospital, which were built in 1392 and named in honour of St Thomas Becket. The Almshouses were always offered to the poor, and here 12 people would make this their home.
The St Thomas Hospital Almshouses
A Founding Father of America
Remembering Thomas Paine
One of Sandwich's claims to fame is that of the political activist and one of the Founding Fathers of the United States, Thomas Paine.
A Blue plaque marks where Thomas once lived along New Street.

One of Thomas Paine's most significant works was the "Rights of Man" in 1791.
Hiking and cycling around Sandwich
If you fancy discovering the surrounding footpaths and bridleways around Sandwich, head to the Ordnance Survey website. The local OS Map covering the region is no. 150, '
Map of Canterbury & the Isle of Thanet
'.
For a perfect stay in Kent
Base yourself in historic Sandwich
The inner walls of Dover Castle
I would definitely encourage you to choose Sandwich as a place to base yourself while you discover other parts of Kent.
From here you could visit Ramsgate, Margate, Dover Castle, Hythe, Deal and Canterbury.
Most of these towns are also accessible by bus from Deal; my parents have first-hand experience of this. They love using the buses as you meander through tiny villages across the Kent countryside.
- The Bell Hotel – The recently refurbished Bell Hotel is located on the quayside in Sandwich. The elegant rooms offer a beautiful, tasteful feel within traditional stylish surroundings
- The Fleur De Lis Hotel – This traditional, comfortable hotel is located within the heart of Sandwich. They offer pleasant rooms, and a full English breakfast is included in the price.
Home of The Royal St George's Golf Club
A course with a beautiful view
On the edge of the Royal St George's Golf Club
This shoreline of Kent isn't renowned for its sandy beaches, unlike the golden shores of Margate in the north of the county. Sandwich Bay is a very pebbly and large pebbles at that; nevertheless, this is what makes this region of the Kent coastline so unique and incredibly stunning.
The signpost for 'Ham Sandwich'
The quirky side to Kent
I appreciate that not everyone has access to a car, although if you have, then head out to catch a shot of this unique road sign. Nearby Sandwich is a hamlet named 'Ham'. On this old-fashioned street sign, just on the outskirts of the tiny village of Northbourne, the sign points to both, therefore reading 'Ham Sandwich'.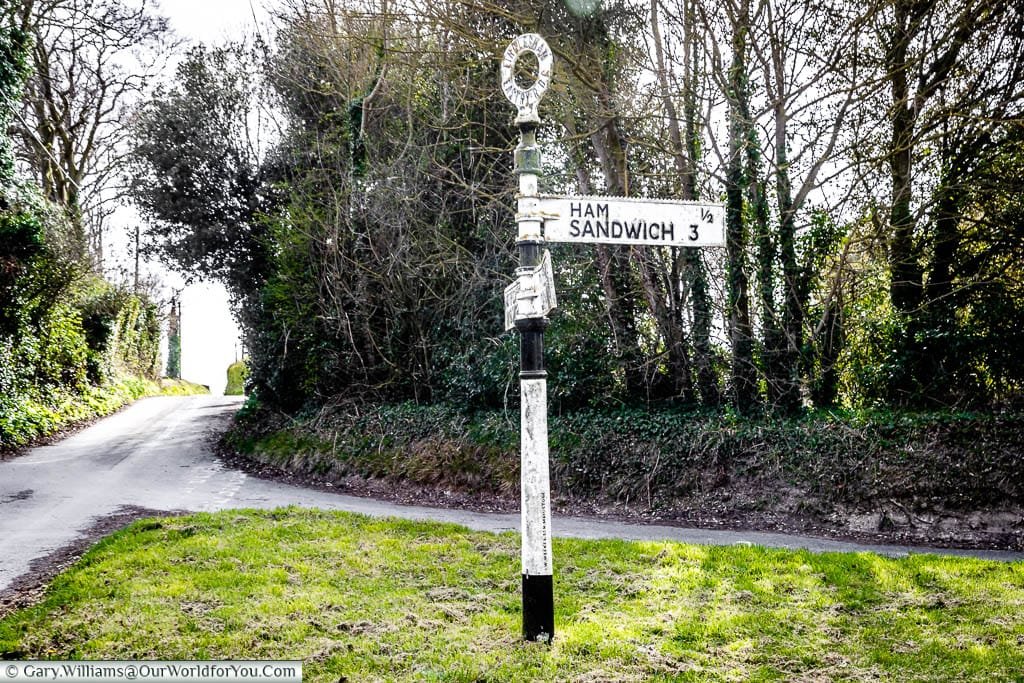 Well ok so, it's not that funny, but I found it amusing.
* This post may contain links to affiliated sites where we earn a small commission at no additional charge to you.