Soooo Many Sculptures & Statues in Oviedo, Spain
All with a story to share
Our 2nd destination on our 2016 Spanish road trip was Oviedo, initially we didn't know a huge amount about the town. 
However, after some Pinterest research we had noticed the large selection of statutes and sculptures dotted around.
Curiosity got the better of us and we went in search of the sometimes elusive figures.
This is probably one of the most popular statues.
A life size figure dedicated to Woody Allen, the American filmmaker/actor, after receiving the Premio Príncipe de Asturias de las Artes.
I love nothing more than planning a trip and so often I use the DK Eyewitness books.  I find them extremely informative, easy to follow and the pictures and maps tempt you into discovering more.
We used this version of the book to plan the northern part of our Spanish road trips.
Statue of San Francisco de Asis, whom the park was dedicated to.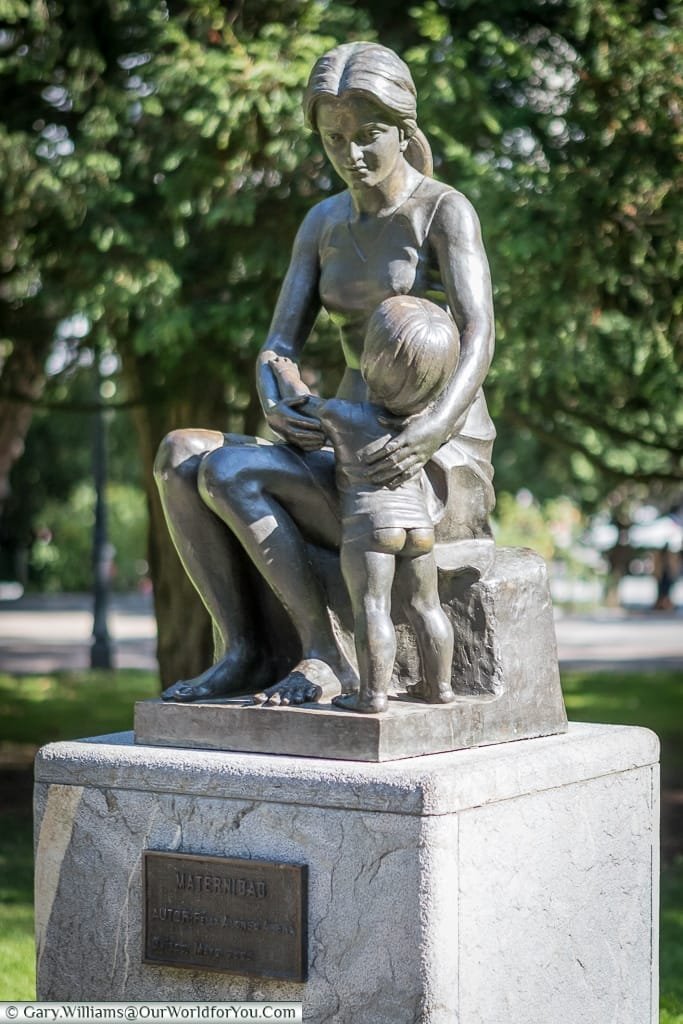 'Maternidad' is a statue by Felix Alonso Arena.
The statue named 'La Torera' is dedicated to Josefa Carrill who was a photographer in Oviedo.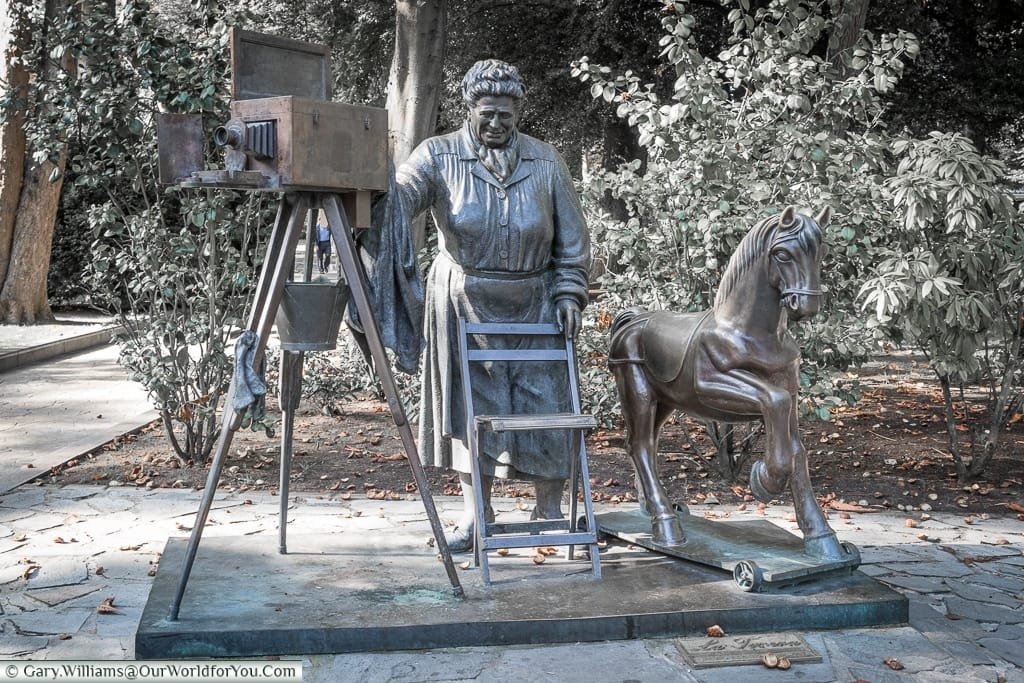 'Mafalda' is an Argentine comic strip character and this little figure is very popular with children.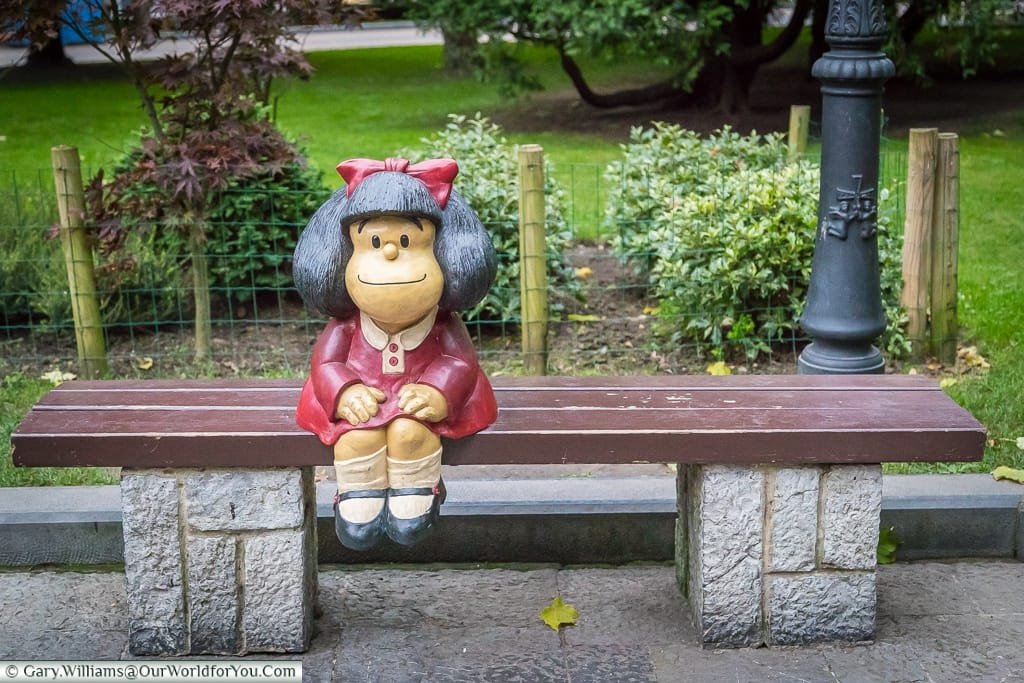 Discover more of Spain, its historic town's & cities, the vast countryside. You can do it all on a road trip,
Rental Cars
searches multiple well-known car hire brands and discovers the deals that suit you the best.
Few steps from the Cathedral
Statue dedicated to the novel 'La Regenta'.
Start creating your own Spanish adventure and discover its historical towns and cities for yourself, easyJet & British Airways are just a couple of options.
Directly in front of the theatre is 'Esperanza Caminando' a lovely bronze sculpture depicting a student engrossed in her book.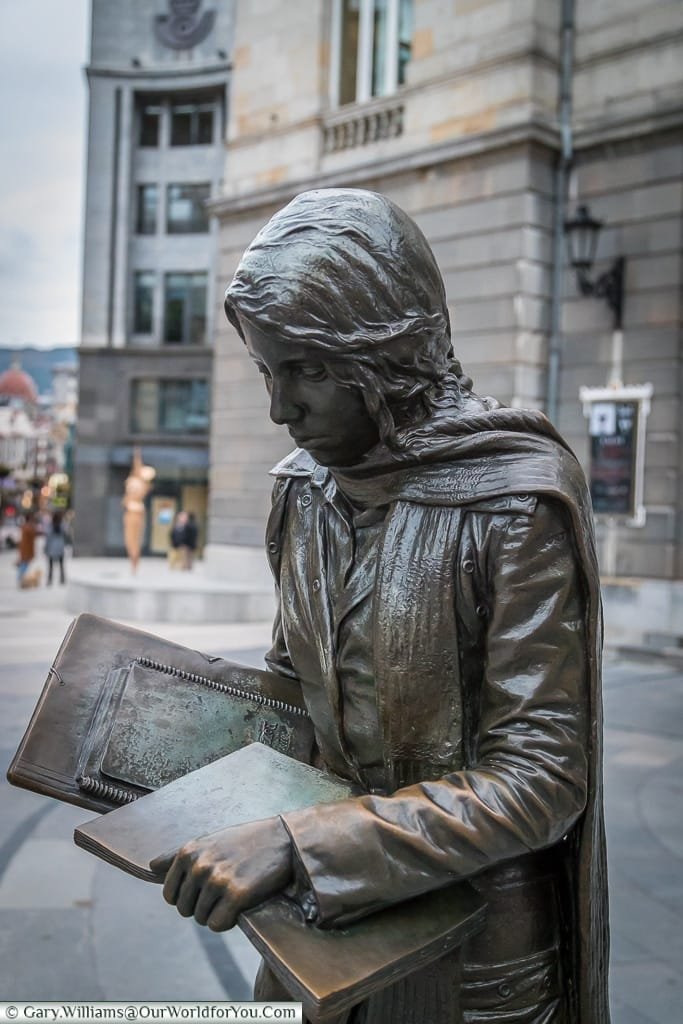 Also in Plaza de la Escandalera is the sculpture named 'Asturcones' made up of 3 Asturcon ponies.
Plaza del Pescado & Trascorrales Square
The beautiful 'Pescadera' figure depicted in this sculpture is deep in thought with fish lapping at her feet.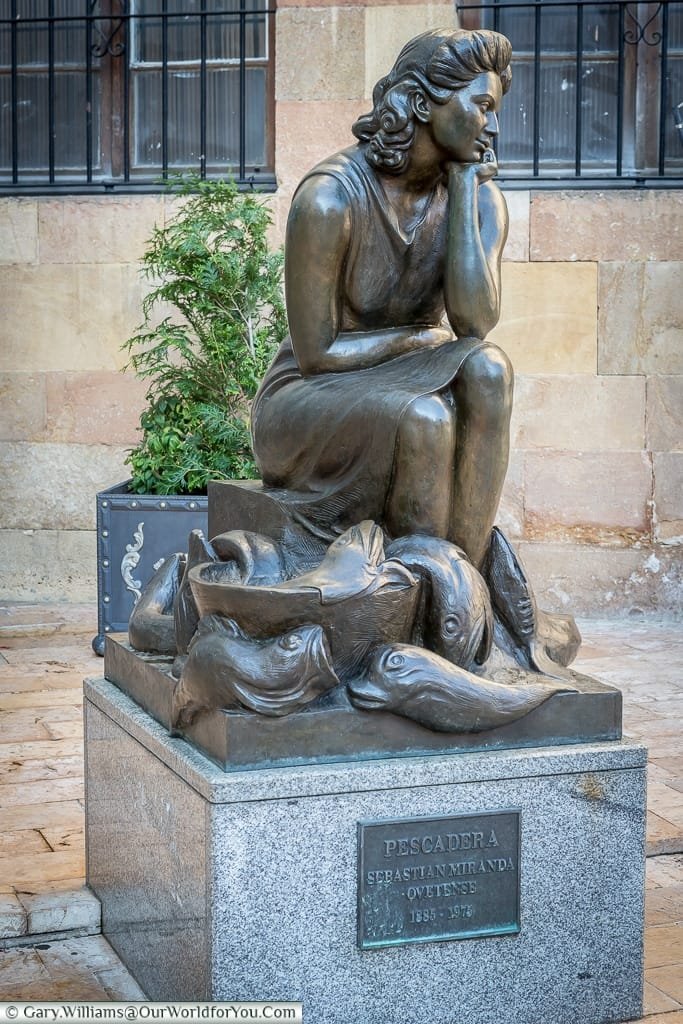 Just opposite the fishwife is 'El Vendedor de Pescado' a bronze fish seller, crouched next to his catch waiting for a buyer.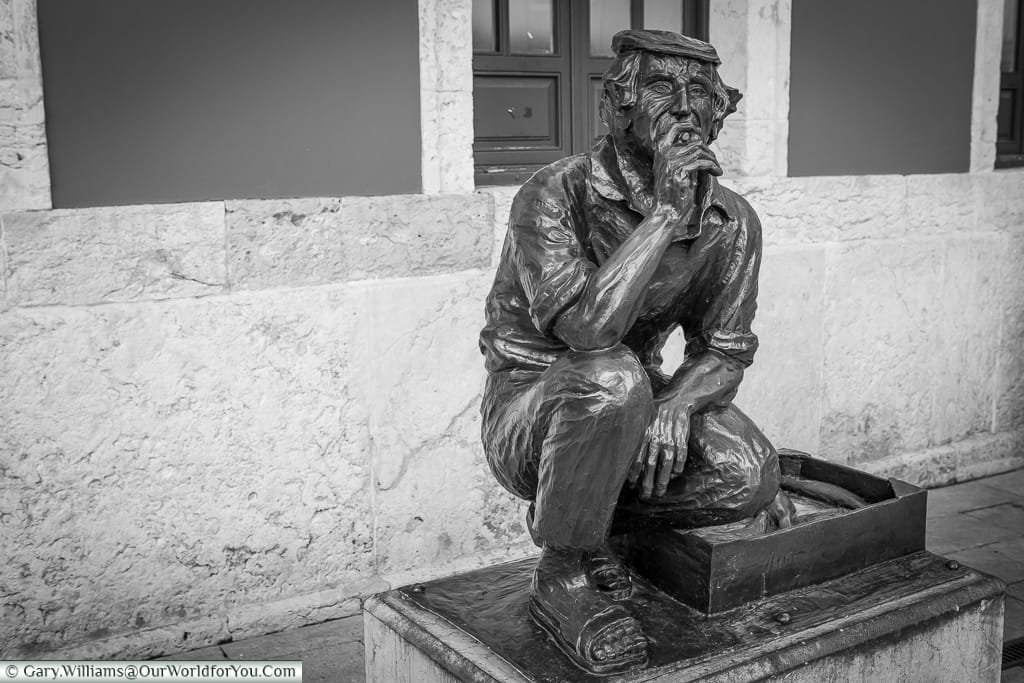 A few steps away is the delightful 'La Lechera' a wonderful bronze detailing a milk seller and her faithful donkey.
This sculpture can be walked between and mixes with day to day life.
In the lovely Plaza Daoiz y Velarde, stands the eye catching bronze sculpture of 'Las Vendedoras del Fontan'.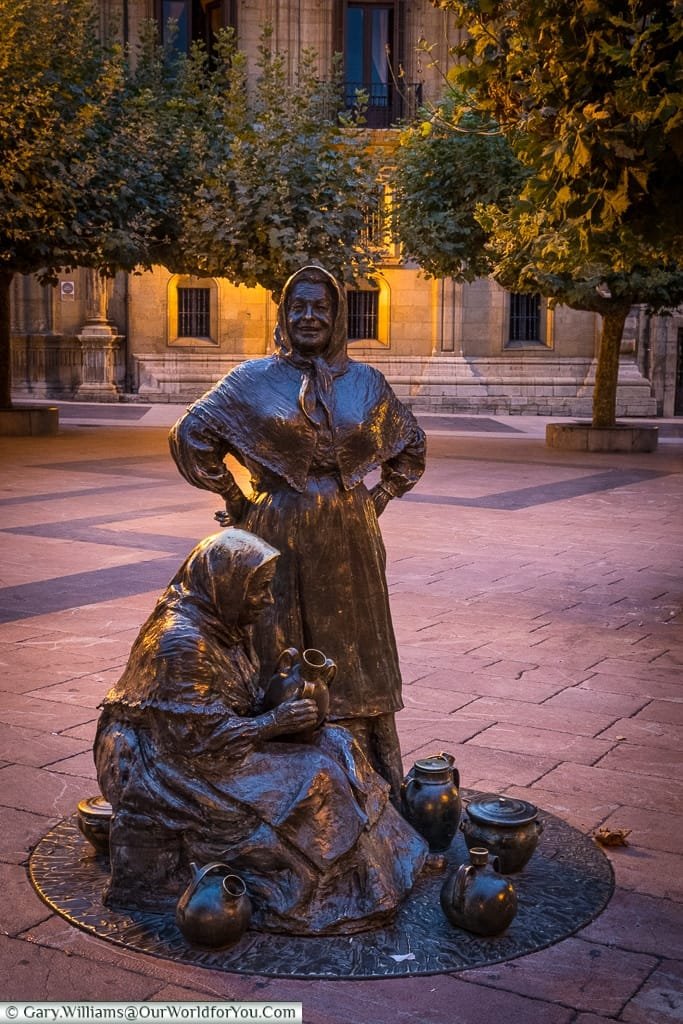 Just a few steps away is 'La Bella Lola' a beautiful lady sitting alone on a bench.
D. Luis Riera Posada, a lawyer and once the Mayor of Oviedo.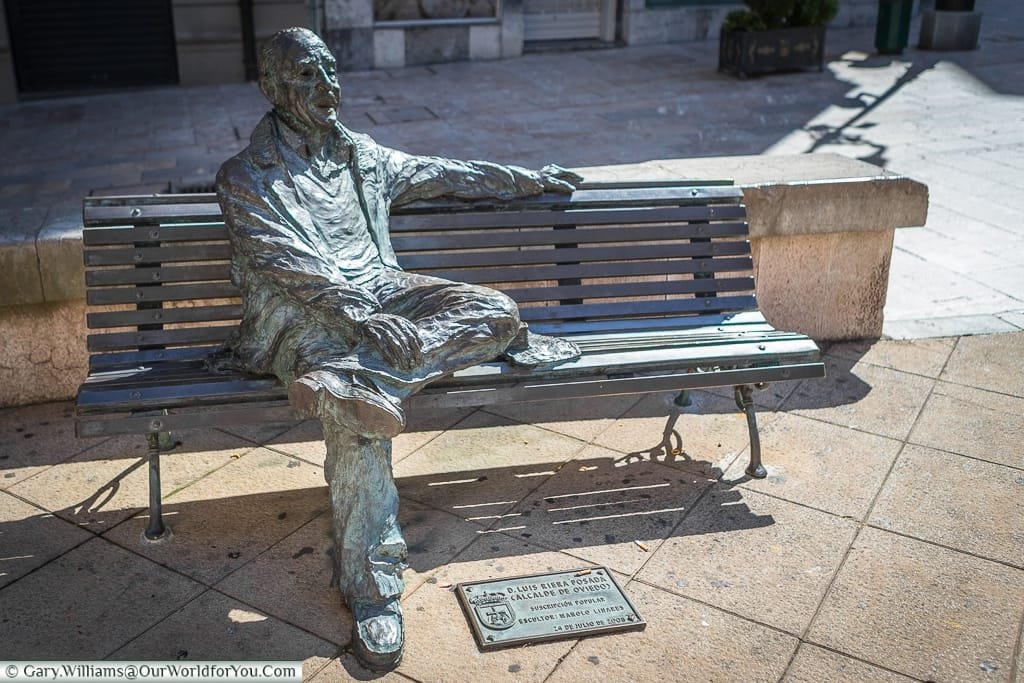 'Mujer Sentada' the 'Seated Woman is located in front of the Old University in the heart of the city.
These are just some we came across, there are certainly more dotted around the city.
 
However, for a town that has so many sculptures we were surprised that they didn't appear to have one dedicated to one of its most famous sons, 'Fernando Alonso', the twice Formula 1 world champion.
 
Oviedo tourism doesn't have a map of these statues, but I think part of the fun is finding them yourself, hidden where you least expect them.
Inspired to visit Oviedo?
Discover some of these statues, plus there more dotted around. However, there's plenty more to Oviedo to tempt you.
Why not checkout the latest deals on Booking.Com?
(Why not Pin It for Later?)