The picturesque 'Capital of the Weald'
Every time we pass through Cranbrook in the heart of Kent's 'High Weald', I'm always astounded at how pretty it is. Black and white half-timbered homes, roses clambering along white picket fences, and local inns just tempting you in for an ale. Does Cranbrook get any more English?
Along the High Street in Cranbrook
To reach Cranbrook, you have to make a slight detour off of the main road. However, that's one of the reasons why it has kept so many of its charming qualities. You have to search it out.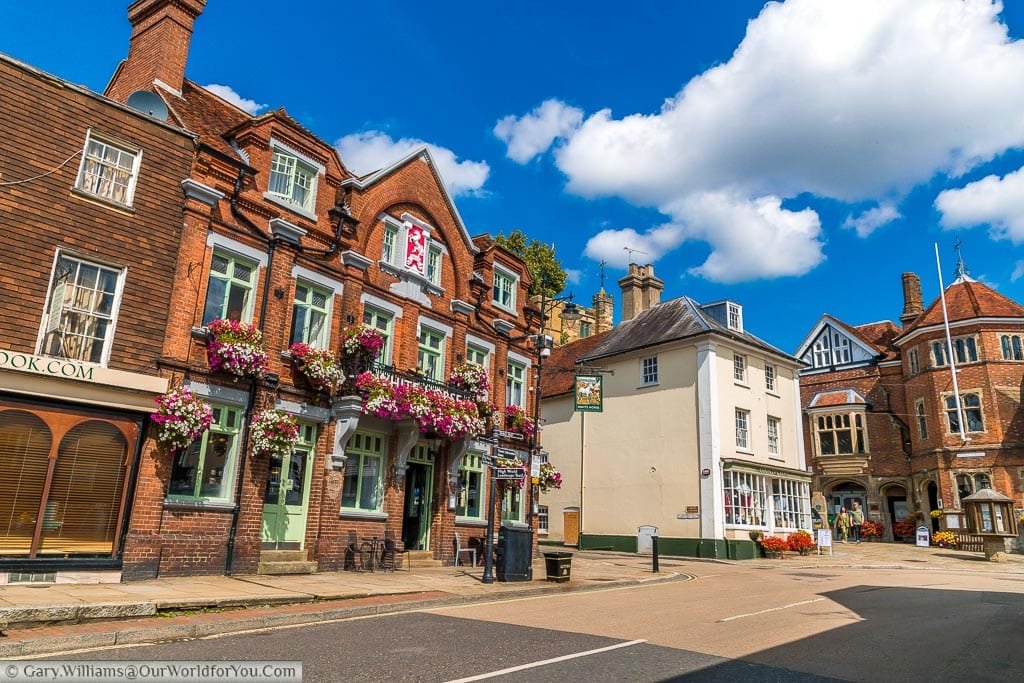 Cranbrook is only around 15 miles (24km) east of the attractive spa town of Royal Tunbridge Wells, so just a hop, skip and a jump away.
The countryside all around this area of the High Weald is beautiful, so it's no surprise that it has been classified as 'AONB' Area of Outstanding Natural Beauty.
Gary and I are fascinated with history, whether it's local or overseas and Cranbrook certainly has its fair share.
The area of Kent that Cranbrook is located in is the 'Weald of Kent'. And it's in this region during the 14th century, that Edward III introduced Flemish weavers.
The Wealden cloth industry then began to flourish, and that's why there are so many eye-catching half-timbered 'Cloth Halls' dotted around the county.
Half-timbered homes in Cranbrook
If you're intrigued by Kent's weird and wonderful history, or all unusual stories around the county, then take a peek at "Kent's Strangest Tales".
You won't be able to put it down, you can pick it up for your Kindle or in good old paperback.
What I also enjoyed about Cranbrook is that the old character of the High Street still remains. Even though a few 'High Street' chains have sneaked in, they have been seamlessly integrated into this wealthy little town.
Independent stores along Stone Street in Cranbrook
You'll find independent boutiques, family-run butchers, art shops, an ironmonger, a cookshop and tea rooms. If you're looking for a quintessentially English town, Cranbrook is it.
Visit some of Kent's coastal towns?
Kent is not short of picturesque historic towns, particularly along the Kentish coastline. Take a peek at some we've visited, Hythe, Deal, Folkestone, Margate and Sandwich.
Along with Cranbrook's half-timbered buildings, you also keep stumbling upon the lovely white weatherboarded dwellings. Many still with their traditional features and quaint little front gardens.
White weatherboarded house along the High Street
Strolling around Cranbrook, you'll probably also spot the Union Windmill. This lovely smock mill stands proud overlooking the town. It was built in 1814 after the Napoleonic Wars and has survived for more than 200 years.
The windmill is open to the public at the weekends during the spring and summer months.
Discover more of the Great British Isles, why not jump in a car and tour the country at your own pace. You can do it all on a road trip,
RentalCars
cover all budgets and allow you to pick up and drop off at different destinations.
St Dunstan's church in Cranbrook is fascinating, it has so many interesting links to the past. It is known locally as the 'Cathedral of The Weald'.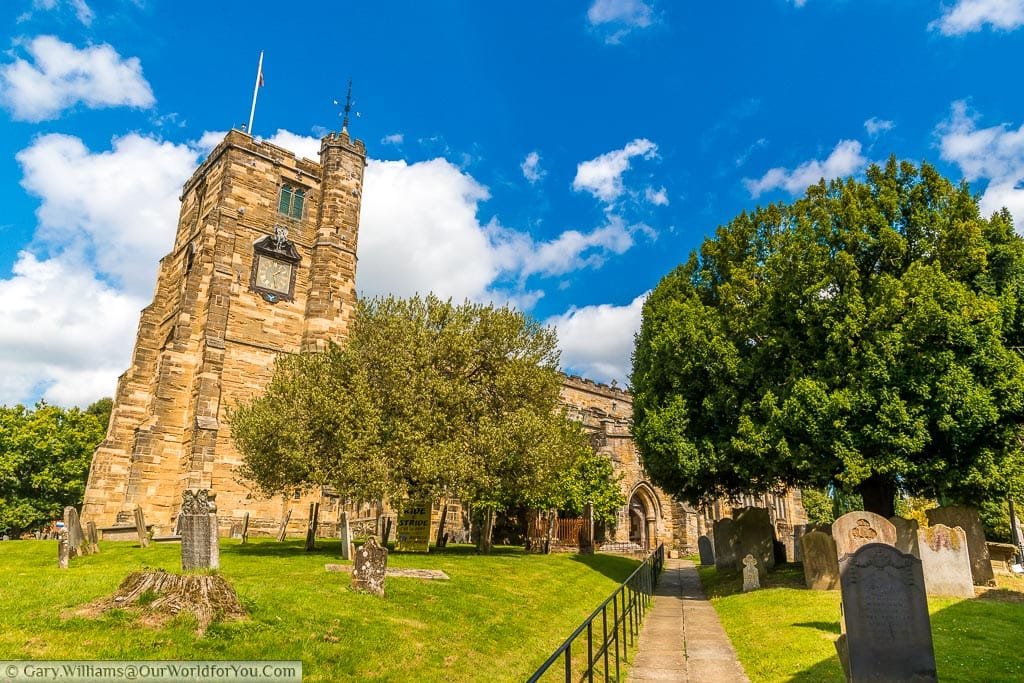 St Dunstan's church, Cranbrook 'Cathedral of The Weald'
Although it isn't actually a cathedral, it echoes the prosperity of the historic town during the growth of the Flemish weaving industry in the 1330's.

Majority of the church dates back to 1550, although there has been a church on these grounds since the 11th century.
St Dunstan's Church tower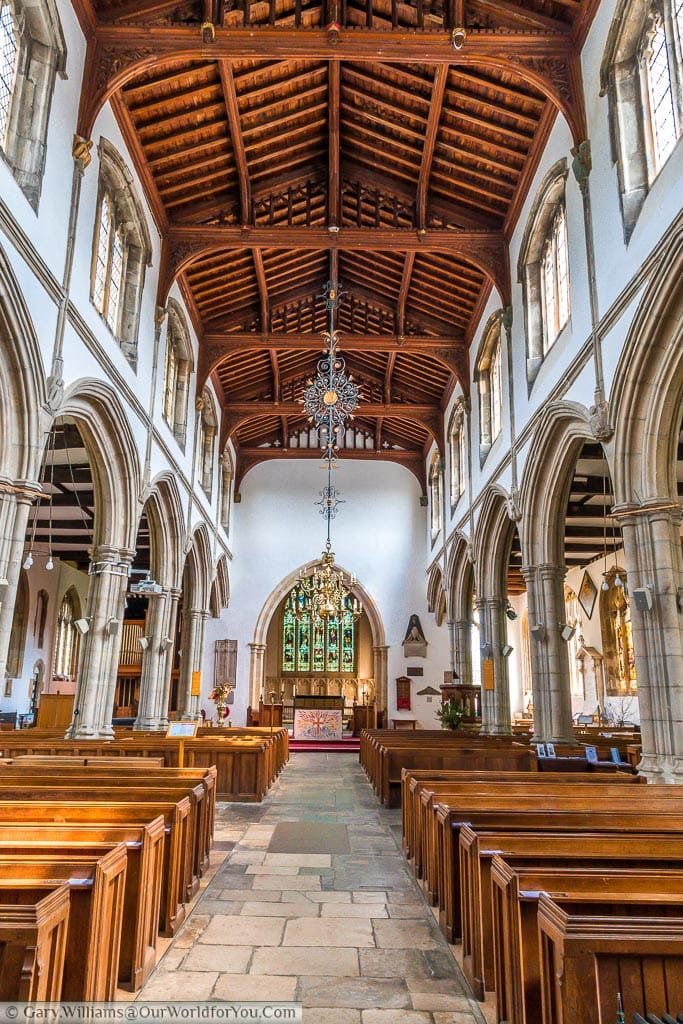 Interior of St Dunstan's Church
Then we come to the tower, which was built around 1425, with the upper storey being added 100 years later. Interestingly the clock mechanism that was installed in 1855 within this tower, is the prototype for 'Big Ben' in London.
Parts of the organ in St Dunstan's church were originally designed for use in the Great Exhibition of 1851 at The Crystal Palace.
If Cranbrook was tempting you, take a look at our post on Tenterden, another jewel in the 'Garden of England', and only 8 miles east of Cranbrook.
The George Hotel in the heart of the town is a late medieval inn. It was initially built as a cloth hall around 1400. It has certainly had a chequered past. As, it has been frequented by many different walks of life over the centuries, from Royalty to ne're-do-wells.
In 1573 Queen Elizabeth I arrived here, and then during the 18th-century smugglers from the notorious Hawkhurst Gang patronised here.
The Hawkhurst gang hatched their plans from many inns around Kent and Sussex, another particular favourite of theirs, was the Mermaid Inn in Rye.
* This post may contain links to affiliated sites where we earn a small commission at no additional charge to you.
Inspired to visit Cranbrook?
The open roads await, pop in your location details then
Rental Cars
will search well-known car hire brands and discover the deals that suit you the best.
(Why not Pin It for Later?)
If you enjoy what you see, and you'd like regular updates then join us for a monthly newsletter.