by Janis /
0 comments
- Orginally published:13th October 2020
Where a London icon pierces the skyline,
and a wobbly bridge stands firm
The St Paul's region of the City of London is like a second home to me. Having worked nearby for 24 years, I've seen so many changes. I know, I know I'm beginning to sound old now. But I must add that some of the architectural improvements were actually for the better.

The soulless, dull grey office blocks of the 1960s are thankfully a thing of the past. And the structures that lay in their footsteps are so much more in keeping with the historic surroundings.

Although, I have to admit a mutiny was nearly on the cards when my favourite bar 'The Dandy Roll' was demolished. If only the walls could talk.
Why not Pin it for later?
Where is St Paul's London
- By Tube St Paul's Underground Station is in 'Zone 1' and is on the Central Line.
Don't forget if you have a contactless bank card, you tap and pay with that.
Discovering London
A little knowledge of St Paul's Station
Continuing on with our mini-series of unearthing the lanes around a tube station, I'm now focusing on St Paul's underground.

St Paul's station is located in the City of London's financial district, which is known locally as 'The City'. This region is bustling Monday to Friday; however, if you visit at the weekend, you'll have the streets almost to yourself.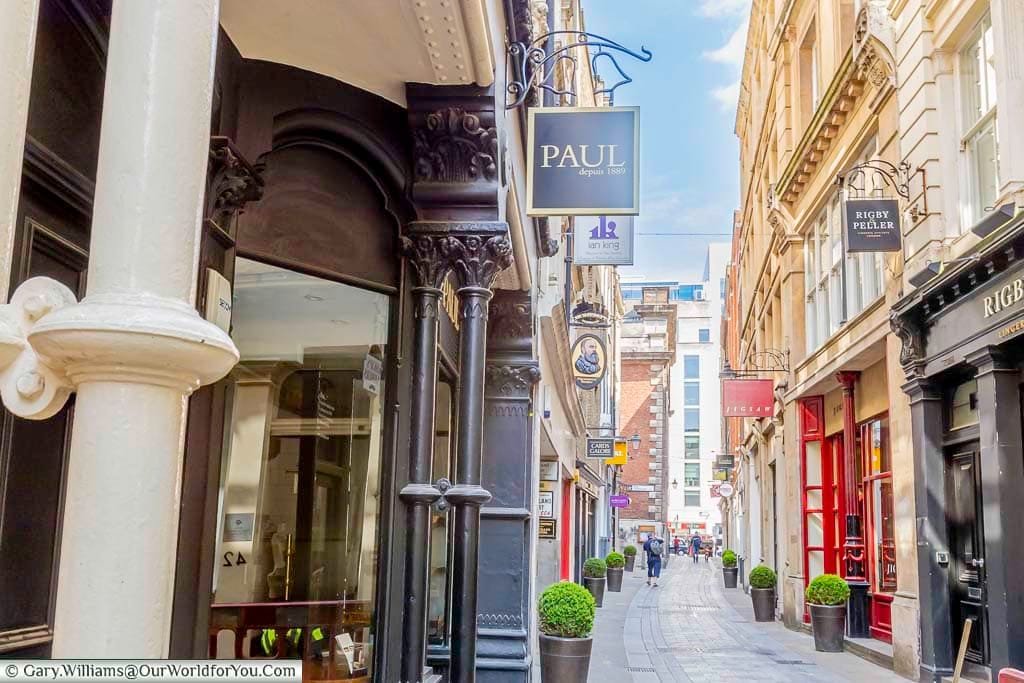 Bow Lane - A short walk from St Paul's Station
St Paul's station threw open its doors on 30th July 1900 and was named 'Post Office'. The reasons for this was firstly that the General Post Office was very close by and secondly that there was already a St Paul's station.

Blackfriars station, a little further south by the River Thames was originally named St. Paul's. To avoid confusion, the underground station was then renamed in line with its sister overground station. Therefore, on 1st February 1937, both tube stations were renamed as they stand today.
A walk through the City of London
Paternoster Square and Temple Bar Gate
Surprisingly I'm not going to start with the obvious historic site, let's turn to Paternoster Square and the Temple Bar Gate.

To enter the City of London centuries ago you would have passed through one of the ornate gates, that safeguarded the city. One of which was Temple Bar Gate, this once stood along the west side of the city's boundaries where The Strand meets Fleet Street.

Take a peek at my post 'From the Bar to the Temple' for a little more insight.
The Temple Bar Gate
Paternoster Square Column and Stock Exchange
The original gate survived the Great Fire of London in 1666. However, as part of the aftermath improvements, Sir Christopher Wren was commissioned to design a Baroque Temple Bar Gate in 1672.

In 1878 the Temple Bar was dismantled, due to the volume of traffic entering the city. Bizarrely it was then purchased and erected on an estate in Hertfordshire, where it remained until 2003.

Due to its historical importance, in 2004 it was restored and re-erected at the entrance of Paternoster Square next to St Paul's Cathedral.
Paternoster Square was redeveloped by 2003 and has become a pleasant square for city-dwellers to enjoy throughout the day. There are some delightful sculptures, the centrepiece being Paternoster Square Column. In 2004 London Stock Exchange was relocated here from Threadneedle Street.
If you've yet to discover London and its ancient history, then let's start planning. I find these DK Eyewitness Travel Guides invaluable. They're extremely informative, easy to follow, and the pictures and maps tempt you into discovering more of those fascinating sites.
You can now grab a recently revised copy of this guidebook, so you won't miss a thing.
A must-see in London
St Paul's Cathedral
Just a 2-minute walk from the underground station you are welcomed by one of London's most iconic sights, yes, St Paul's Cathedral.

It is an incredible structure and one I had the pleasure of seeing every Monday to Friday. Although, unfortunately, you get complacent passing by such icons, and so often take them for granted.
The front of St Paul's Cathedral
Sir Christopher Wren's St. Paul's Cathedral was erected in 1710 following the devastation of the previous cathedral in the Great Fire of London and unbelievably took just 35 years to build.

Although St. Paul's Cathedral suffered damage during the Blitz in 1940 and 1941, luckily the main structure survived.
St Paul's Cathedral and Churchyard
Still dominating London's skyline, the dome stands 365 feet (111 metres) high and has held many noteworthy services. From the funeral of Admiral Nelson, the wedding of Prince Charles and Lady Diana Spencer and the Silver, Golden and Diamond Jubilees of Queen Elizabeth II.
Something free in London
One New Change
One New Change transformed the western end of Cheapside and Bread Street. Especially with its upmarket retail complex, exciting new restaurants and roof-top bar.

The development was designed by the French architect Jean Nouvel, it was constructed in 2010 and is the only large shopping centre in the City of London.
St Paul's from One New Change
The
One New Change roof-top terrace
is free to visit and gives magnificent views across the dome of St Paul's Cathedral and London's skyline. It's open 7-days a week, from 6am until midnight, my tip is to head there at the weekend when there are very few people visiting the financial district.
St Paul's Cathedral from the roof of One New Change
If you want to stay in the heart of the financial district then why not choose the Leonardo Royal London St Paul's (formerly Grange St. Paul's), as we did? A short hop from the magnificent cathedral.
There are plenty of other choices, why not check out Booking.com for something that suits your requirements?
London's Millennium Bridge
With views along the River Thames
As the name would indicate, the Millennium Bridge opened in the year 2000.

Well, it did; however, it was all too brief, as it was open only for a couple of days. Within hours of visitors crossing the pedestrian bridge, a considerable swaying motion was felt, and it was then shut for two years and reopened in February 2002.

Hence why Londoners refer to it as the 'Wobbly Bridge'.
The Millennium Bridge
I personally love the bridge; it has wonderful views along the River Thames. If you head south and look back the sight of St Paul's Cathedral is glorious.

Harry Potter fans may recognise it from 'Harry Potter and the Half-Blood Prince', where the bridge collapses following an attack by Death Eaters.
The view from the Millennium Bridge
The City of London and St Paul's can be very busy on a weekday, with visitors and the city workers. My Advice is to visit at the weekend, and the streets are deserted.
A hidden gem in London
Postman's Park
Now heading away from the River Thames to the north of St Paul's underground station. Stroll along St Martin's-le-Grand, and you'll discover the lush green oasis, which is Postman's Park.

This delightful little park is so easy to miss, but I assure you, you shouldn't.

It was frequently used by 'posties' from the nearby old General Post office, hence the name. However, Postman's Park holds other secrets.
Postman's Park - A hidden gem
It's home to The Watts Memorial, this is a memorial for Heroic Self-Sacrifice and was founded by George Frederick Watts.
Watts fought to have a place of remembrance created, to ensure that the lives of ordinary people would not go unforgotten. Postman's Park was decided upon, and the memorial was constructed in 1900.
Beneath the roofed terrace are glazed Royal Doulton plaques, commemorating multiple acts of heroic bravery, often involving children.

The small gallery displays the ceramic tiles with their touching tales and inscriptions of your everyday person, whose lives were lost attempting to save others.
Quirky London
Little Britain
Just nearby Postman's Park is the street 'Little Britain'. I'm always on the lookout for unusual street names as I love discovering the history and origin behind them.
Little Britain
The name Little Britain is believed to be derived from the Dukes of Brittany who built a house here in the 15th century. During the mid-16th-century through to the early 18th-century booksellers mostly frequented Little Britain. Gradually the merchants headed slightly south to Paternoster Row where it was free to trade their books.

Little Britain is also mentioned in Charles Dickens' novel Great Expectations as the location of Jaggers', Pip's surly lawyer office.
Take a browse through our posts on
Bank
,
Temple
and
Tower Hill
tube stations, to find out what we uncovered in these districts.
A touch of London's history
A look at its Intriguing past
Strolling west of St Paul's tube along Newgate Street, you'll arrive at the church of St. Sepulchre-without-Newgate. You'll probably recognise this little area, as the infamous 'Old Bailey' is just nearby and where high-profile court cases have taken place.
The Old Bailey
However, I'm a little more interested in quirky findings on the corner of Giltspur Street.

Located on the corner of the churchyard and set in the railings, is London's first-ever drinking fountain. Built-in 1859, by the Metropolitan Drinking Fountain and Cattle Trough Association. The cups are still there and chained to the fountain.
London's first drinking fountain
The Watch House
Just around the corner behind the church is Watch House. This was initially built in 1791; however, it was re-erected in 1962 due to WWII bombing.

It is said to have been built to protect the churchyard from body snatchers. With the close vicinity of St. Bartholomew's hospital, surgeons would pay for the corpses to be stolen so they could be used for medical studies.

Don't you just love finding out these strange little facts about London?
We have a little book on our shelves that we sometimes delve into when we're about to hit an area of London.
Packed full of historical facts, and broken down into the different regions of London, it's a great resource to help you see what's hidden in plain sight.
Available in Kindle & Hardback editions, it's an excellent addition to anyone's collection who loves London.
London's Blitz Memorial
History to be remembered
The beautiful bronze National Fire Fighters Memorial is located on Jubilee Walkway, with the Millennium Footbridge stretching out beyond.

The memorial was initially erected as a tribute to the brave men and women who fought against the fires during the Blitz of World War II. Queen Elizabeth The Queen Mother unveiled the memorial on 4th May 1991.

In 1998 it was decided that the memorial would serve as a national monument to commemorate the lives of all firefighters throughout the United Kingdom who were killed in the line of duty.
The Firefighters' Memorial
The St Lawrence and Mary Magdalene Drinking Fountain
A short hop from here is St Lawrence and Mary Magdalene Drinking Fountain. This ornate Victorian drinking fountain was installed in 1866 outside the Church of St Lawrence Jewry by the City of London Guildhall.

During the 1970s the fountain was dismantled into 150 pieces due to redevelopment of Guildhall Yard. It wasn't until a few decades later in 2010 that the decorative fountain was restored and erected at its new home by St Paul's Cathedral.
Please share with us your favourite spots in London that you love to visit.
* This post may contain links to affiliated sites where we earn a small commission at no additional charge to you.