by Janis /
2 comments
- Orginally published:25th August 2020
Where knights once roamed,
and legal eagles flourish
I'm back to one of my favourite haunts in London, and that's Temple. If only these well-trodden alleyways could share their tales of intrigue and power, I'd be captivated for centuries.
I know there are fascinating museums, beautiful art galleries and historical sites to be visited throughout London. However, sometimes just picking out one tiny district in England's capital city and scouting around its streets, can offer so much insight to a local or visitor alike.

London's Temple district escaped the Great Fire of London in 1666. Therefore, a number of the dwellings in this maze of secluded alleyways still remain.

Look up, look down, you'll never know what you'll spot.
Why not Pin it for later?
- By Tube
Temple Station is in 'Zone 1' it is on the
Circle Line and the District line .
Don't forget if you have a contactless bank card, you tap and pay with that.
Discovering London
A little knowledge of Temple Station
Tempe Station, which opened in May 1870, is located along Victoria Embankment, between the stations of Blackfriars and Embankment.
Temple Station Underground
Temple underground was initially named 'The Temple Station' after the historical Knights Templar Church and the Middle and Inner Temples of the Inns of Court. This name didn't catch on; therefore, the prefix was dropped.

Often missed is the observation platform, which is actually on the roof of Temple Station. Head up the few steps to gain a charming view over the River Thames to South Bank.
A walk through the City of London
Temple Church
The ancient Temple Church is a little hidden away within a labyrinth of tiny lanes around London's legal district. However, you won't regret your persistence to find it. This incredible church with its cylindrical design is so synonymous with the Knights Templar.
The Temple Church
The Round was built in the 12th-century by the Knights Templar an order of crusading monks. They would protect pilgrims travelling to and from Jerusalem the Holy Land.
Inside the Temple Church
Looking down inside the Temple Church
The oldest and most distinctive section of Temple Church is the Round, which was consecrated in 1185 and believed to be in the presence of King Henry II.

For a small charge take a little wander around inside, it truly is fascinating.
We have a little book on our shelves that we sometimes delve into when we're about to hit an area of London.
Packed full of historical facts, and broken down into the different regions of London, it's a great resource to help you see what's hidden in plain sight.
Available in Kindle & Hardback editions, it's an excellent addition to anyone's collection who loves London.
A hidden gem in London
Middle Temple and Inner Temple
The Inns of Court, which are north and south of Fleet Street and The Strand fascinate me, I wonder if I was a barrister in a former life?
Middle Temple
The Inns are formed of four professional associations for barristers. The two which are north are; Lincoln's Inn and Gray's Inn and can trace their records back to 1422 and 1569, respectively. Then the Inner Temple and Middle Temple, which I highlight here are south of The Strand.
It's important to note in history that King Henry III set a decree in 1234 that law could not be taught in the City of London. This region of London is just on the cusp of the ancient city, and therefore lawyers would relocate and continue to perform their comings and goings here.
The historic streets of Middle Temple
Strolling Middle Temple
As you stroll through the clandestine gas lit alleys and colonnaded courtyards be sure to keep a lookout for barristers wafting by in their flowing gowns. Or the young legal wannabes, scampering past pushing trolleys loads of secret documents.

It's an eye into an unknown world.
Temple and its legal quarter should be visited between Monday and Friday. Many of the ancient wooden doors are bolted at the weekend when the legal fraternity is closed for business.

Take a peek at my post 'From the Bar to the Temple' for a little more insight.
London on TV
Royal Courts of Justice
Just a hop, skip and a jump away from the Inner and Middle Temples are the Law Courts, or officially the Royal Courts of Justice. You may recognise it from news reports, as this is where significant British legal cases are held.
The Royal Courts of Justice
For centuries the Law courts were located in the magnificent Westminster Hall. It was during the 19th-century that a decision was made to have a building dedicated solely to the Courts of Justice.

Therefore, the grand Victorian Gothic building was commissioned and opened by Queen Victoria in 1882.
Historic London
St Clement Danes church
Adjacent to the Law Courts and sitting on its own island is St Clement Danes church. This beautiful church was designed by Sir Christopher Wren in 1682.
St Clement Danes Church
The Blitz in 1940 caused extensive damage to the church and was not fully restored until 1958. Today it is the central church to the Royal Air Force. Outside stands two statues to RAF's wartime leaders, Arthur "Bomber" Harris and Hugh Dowding.

A little fact for rugby fans, the gentleman who is often credited with inventing rugby, William Webb Ellis, was once rector of the St Clement Danes church.
Do you want to stay in the City of London or the City of Westminster?
Remember the character of each changes on the day of the week and the time of day. Either way, there's another side of Lonon to explore.
There are plenty of choices, why not check out Booking.com for something that suits your requirements?
London on Film
Somerset House
Built-in 1776, Somerset House which overlooks Victoria Embankment and the River Thames is a stunning building. Take a stroll inside to the elegant quadrangle, watch the dancing fountains perform in front of you while relaxing in the sunshine.

Somerset House has been used on many occasions as a filming location, James Bond and Sherlock Holmes have wandered these paths.
On the ice at Somerset House
However, there is one time of the year that
Somerset House
is truly transformed and that is at Christmas time. So, grab your ice skates and knee pads (if you're British) and come and see for yourself.
Take a browse through our posts on
Bank
,
St Paul's
and
Tower Hill
tube stations, to find out what we uncovered in these districts.
London's Tale of Two Cities
The City of London meets the City of Westminster
Yeh, just to make matters a little confusing, London is made up of two cities. The ancient 'City of London' which is home to the financial district, and the 'City of Westminster', where the Houses of Parliament and Buckingham Palace are located.

As you stroll along The Strand, heading east you'll hardly bat an eyelid; however, you have now sauntered into Fleet Street.
The edge of the City of London
Many centuries ago, the Temple Bar gate would once have stood here, to mark the entrance to the City of London. The Baroque gate has since been restored and can now be found in Paternoster Square near St Paul's Cathedral.
Keep an eye out for the cast iron dragons perched high on plinths, these striking silver and red boundary markers are a symbol that you are entering the historic city.
London making the news
Fleet Street
If you were to think of Fleet Street in London, there is one industry that will spring to mind, and that is the British press. All the big boys were once here from broadsheets to tabloids.

It was during the 16th-century that publishers set up shop, supplying documents to the legal trade at the Inns of Court. Gradually more and more printers and publishers appeared and by the 20th-century Fleet Street was dominated by the national media.
Prince Henry's Room, Fleet Street
Fleet Street's History
Today Fleet Street has lost the buzz of the gossiping journalists as the cost of operating on this historic street has sent the larger press rooms elsewhere in London.

However, that doesn't distract from its fascinating past, as there are some gorgeous buildings along Fleet Street, interesting statues, ancient taverns and hidden courtyards.

The sister church to St-Dunstan-in-the-East is here, yep you guessed St-Dunstan-in-the-West.
If you've yet to discover London and its ancient history, then let's start planning. I find these DK Eyewitness Travel Guides invaluable. They're extremely informative, easy to follow, and the pictures and maps tempt you into discovering more of those fascinating sites.
You can now grab a recently revised copy of this guidebook, so you won't miss a thing.
A touch of London's history
St Bride's Church
St Bride's Church at the eastern end of Fleet Street has been on an incredible journey for centuries. It was originally constructed in the 7th-century and has had a succession of churches built on the same site.
St Bride's Church
The Great Fire of London in 1666 left the church in ruins. However, like a phoenix from the ashes, the beautiful 'wedding cake' spire emerged from Sir Christopher Wren's design in 1675.

St Bride's Church continued to battle through The Blitz, and the delightful church spire can still be seen today from miles around.
The spirit of London
City of London Distillery
Sitting at the feet of this charming church along Bride Lane is the City of London Distillery, offering my favourite tipple, gin.
I've still managed to eek out a bottle I bought from there when I worked nearby.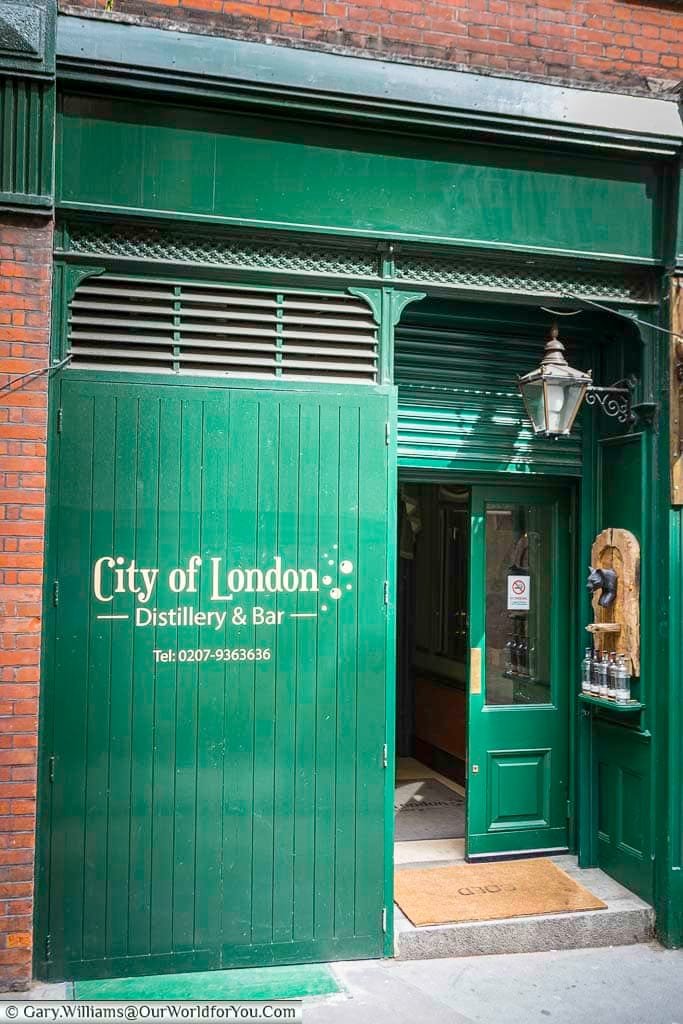 The City of London Distillery
The City of London Distillery threw open its doors in 2012. It began producing gin from its copper stills called Clarissa and Jennifer (named after the British cooks 'The Two Fat Ladies').
There's a bar inside the distillery, so come in pull up a pew and enjoy one of their many delicious flavours.
A taste of London
The Blackfriar and Ye Olde Cheshire Cheese
Keeping with the bar theme, a couple of historic taverns or inns that you may want to search out are The Blackfriar and Ye Olde Watling.
The Blackfriar was built in 1875 on the site of a Dominican friary, a short time later in 1905 it was remodelled by the Arts and Craft movement architect, Herbert Fuller-Clark. The inn is beautiful on the inside and out, I love the friar standing above the doorway overseeing everyone who walks in for a bev.
Incredibly in the 1960s, this delightful pub was going to be demolished. Fortunately, the poet Sir John Betjeman stepped in to lead a campaign to save the historic building.
The Blackfriar can be found opposite Blackfriars station along Queen Victoria Street.
The Black Friar public house
Ye Olde Cheshire Cheese
Heading back up to Fleet Street and we stumble into Ye Olde Cheshire Cheese in Wine Office Court. This inn has heaps of character echoing through its tiny corridors.

Dark wood panelling lines the walls, cosy open fireplaces warms the cockles of your heart, and a maze of tiny rooms and secret snugs lead you up the creaky stairs beyond.

The original tavern was destroyed in 1666 by the Great Fire; however, there was no delay in rebuilding it as the current dwelling dates from 1667.
Ye Olde Cheshire Cheese has had many literary patrons pass through its doors, including Charles Dickens, Sir Arthur Conan Doyle, Mark Twain and Alfred Tennyson, to name a few.
Please share with us your favourite spots in London that you love to visit.
London's little treasures
Keep your eyes open
Is there a more iconic sound on the streets of London than someone shouting taxi to hail a black cab.

There's a lovely bronze statue along Victoria Embankment, by the American artist John Seward Johnson II. Famed for his life-size sculptures capturing folk going about their day-to-day business.
Taxi! - A statue to a city worker
Ohh I love searching out Blue Plaques around London, although this one is brown.
London's blue plaque scheme, which is now run by English Heritage has been in existence since 1866. The programme was originally run by The (Royal) Society of Arts from 1866 to 1901, during which time 35 were erected.
The oldest plaque on Dr Johnson's house
On the wall of no. 17 Gough Square is one of the original plaques and dates from 1876. It is dedicated to Dr Samuel Johnson, one of the most significant literary figures of the 18th century. Dr Johnson was the creator of the Dictionary of the English Language.
The other side of London
Southbank
If you fancy crossing the River Thames at this point, to stroll along the Southbank head over Blackfriars or Waterloo Bridge.
The view over the River Thames
* This post may contain links to affiliated sites where we earn a small commission at no additional charge to you.
Thanks Roma, I love this part of London it fascinates me how the old traditions around the Inns of Court continue. It feels so different at the weekend when it is quiet to a weekday when there are so much hustle and bustle.
Yes, you're right Somerset House is amazing too, I could spend hours just around that part of London alone.