by Janis /
0 comments
- Orginally published:18th October 2022
Experiencing the 'Sparkling Tasting Flight'
It's all about the bubbles on this wine-tasting experience at Gusbourne Estate.

Gusbourne Estate first started planting vines across the Appledore landscape in 2004. At their vineyards in Kent, they lovingly nurture 60 hectares of land with a vision to create the finest vintage wines possible.

In addition to the lush rolling vineyards on the outskirts of the historic village of Appledore, Gusbourne also cultivates 30 hectares of perfect terroir nearby the Goodwood Estate in West Sussex.

The debut vintages from their estate were A Brut Reserve in 2006 and a Blanc de Blancs in 2010.

The 'Sparkling Tasting Flight' is the ideal way to introduce yourself to the wines of Gusbourne and will leave you longing to sample more.
Why not Pin it for later?
Where is the Gusbourne Estate?
The Gusbourne Estate is best reached by car, the public transport options are limited, and maybe unrealistic.
If you're coming via motorway, my choice would be to leave the M20 at junction 10 and head southwest on the A2070 towards Hamstreet. The vineyard is about 3.5 miles along the B2067 Appledore Road and Kenardington Road; Gusbourne Estate is then signposted.
Gusbourne Estate is only 10 minutes from the beautiful town of Rye, so why not combine them in one visit.
It's all about perfection in the bubbles
Timing is paramount
The location of Gusbourne Estate has been perfectly selected and lies at 51 degrees latitude.
Gusbourne principally uses Burgundian clones to grow their Chardonnay, Pinot Noir and Pinot Meunier grapes, the three classic sparkling wine varieties, to produce the perfect finish.
Welcome to Gusbourne
As you can imagine, the timing of the annual harvest is not left to chance, a considerable amount of testing, analysing, and sampling is undertaken at their onsite laboratory. It all begins once the Pinot Noir and Pinot Meunier grapes have almost completed their colour change.

Perfection is fundamental, and everyday counts; the precise timing and weather conditions play a crucial role.
It's then all-hands-on-deck, and every grape is hand-picked at the optimum time. We were informed that this can take around two weeks; however, this is weather dependent as they do not harvest in the rain due to its diluting effect on the juice of the perfect grape.
It appears that the English weather in the southeast yields the ultimate wines in the even years when we've enjoyed beautiful sunshine. Gusbourne experienced an incredible harvest in 2018, 2020 and now 2022.
Gusbourne entrance
In my opinion, English sparkling wines can genuinely give their French contemporaries are run for their money.

Did you know that you can keep sparkling wines of the quality Gusbourne produce for years?
The Nest at Gusbourne
A tour choice for everyone
We booked our Sparkling Tasting Flight mid-week, and we were fortunate enough to have a one-to-one experience in the delightful surroundings of The Nest.

The Nest contains history relating to the neighbouring landscape and its fascinating past. This unique region of Kent lies on the Romney Marsh and has many a tale to tell.
Inside The Nest at Gusbourne
Take a little time to stroll around The Nest, as there are interesting snippets of information on Appledore and Gusbourne Estates. You'll also see the additional wines that Gusbourne have in their collection. They have some exquisite still wines too.

I do love Pinot Noir, so I think that will have to be on my sample list for next time.

Another important ethos of Gusbourne Estate is that they do not mix their vintages, and their grapes are solely produced from Gusbourne vineyards.
Where to stay near the Gusbourne Estate
Romney Bay House Hotel
– This charming hotel is located along a private stretch of the Romney Marsh coastline. Offering sea views, free parking and an on-site restaurant.
The Mermaid Inn
– Located in the nearby Ancient Town of Rye, this wonderfully historic inn dates from the 12th-century. It is overflowing with history, smuggling tales and ghosts.
If you're intrigued by Kent's weird and wonderful history, or all unusual stories around the county, then take a peek at "Kent's Strangest Tales".
You won't be able to put it down, you can pick it up for your Kindle or in good old paperback.
Our Sparkling Tasting Flight experience
A great introduction to Gusbourne
Our sparkling wine tasting experience at Gusbourne embraces four bubbly wines accompanied with a delicious Kentish cheese 'Winterdale Shaw' produced in Wrotham near Sevenoaks and some tasty, crunchy vegan biscuits.
I'll certainly seek out some Winterdale Shaw cheese; it was a perfect pairing.
Winterdale Shaw cheese & biscuits
The Sparkling Tasting Flight starts with the 2019 Brut Reserve. The grape variety in this charming Brut Reserve is 62% Chardonnay, 28% Pinot Noir and 10% Pinot Meunier.

The grapes were hand-picked during September and October 2019. It was a mixed year weatherwise, so a slightly later harvest, it was bottled in June 2020.

The 2019 Brut Reserve was very light in colour and had a lively flourish of bubbles with every sip.
2019 Brut Reserve
2018 Rosé
Our next sparkling wine was the 2018 Gusbourne Rosé, yes, one of those 'even' years of UK summer sunshine. The grape variety in this beautiful blush Rosé is 59% Chardonnay, 23% Pinot Noir and 18% Pinot Meunier.

The grapes were hand-picked during September 2018. It was a perfect year for the vines, and the warmth sustained from June to September; it was bottled in May 2019.

The 2018 Gusbourne Rosé had delicate pink tones and a subtle fruity note; the bubbles are certainly to be relished relaxing in the English summer sunshine.
Inspired into creating your own adventure?
The planning starts here
Your perfect accommodation
Have a leisurely browse through the wide range of options that
Booking.com
offer. From a secret hideaway to an elegant luxury hotel.
The open roads await, pop in your location details, then
Rental Cars
will search well-known car hire brands and discover the deals that suit you the best.
Tasting the 2018 Blanc de Blancs
And the 2018 Blanc de Noirs
The subsequent enchanting sparkling wine we sampled was the 2018 Blanc de Blancs. The grape variety in this delectable white wine is 100% Chardonnay.

The grapes were hand-picked during October 2018. 2018 was a spectacular year for Gusbourne's vines as the southeast basked in the beautiful sun from June to September, and the Blanc de Blancs was bottled in May 2019.

The 2018 Blanc de Blancs was full of so much flavour and had an array of captivating aromas. Its golden shades and delicate bubbles made this one of my favourites as it was extremely soft to drink.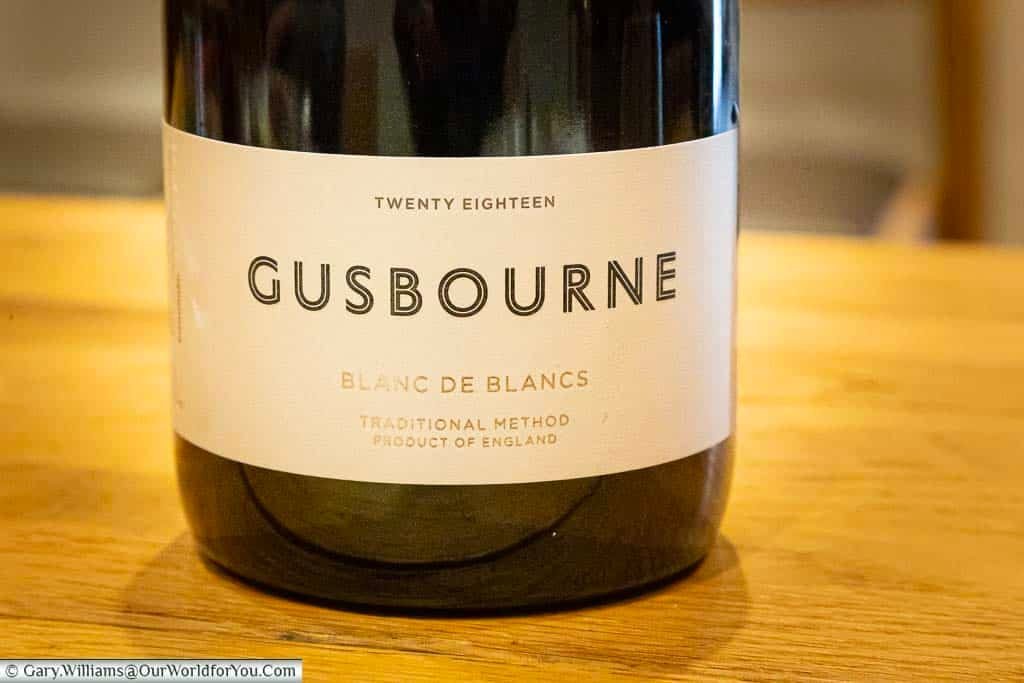 2018 Blanc de Blancs
Our last glass of bubbles was the 2018 Blanc de Noirs; this wine was glorious. The grape variety in the Blanc de Noirs is 100% Pinot Noir and is a credit to the dedication at Gusbourne Estate.
The grapes were hand-picked during September 2018. As previously mentioned, this year kept on delivering fantastic wines for Gusbourne. The Blanc de Noirs was bottled on 23rd May 2019.
The 2018 Blanc de Noirs was ticking all the boxes for me, its soft golden bubbles were bursting with fruity fragrances, and it certainly didn't disappoint in flavour either; the 2018 Blanc de Noirs tasted clean, complex, and chic
Pinot Noir grapes
Our Sparkling Tasting Flight was only meant to last for one hour; however, we weren't rushed at all. With all our questions and chatter, we undoubtedly overran.
Hiking and cycling around Romney Marsh
If you fancy discovering the surrounding footpaths and bridleways around Romney Marsh, head to the Ordnance Survey website.  The local OS Map covering the region is no. 125, 'Romney Marsh, Rye and Winchelsea'.
Alternatively, why not purchase and download the OS Maps App, which covers all of Great Britain.
Self-guided Gusbourne walking tour
From Boot Hill to the Commanders
If, like us, you want to explore more of the Gusbourne Estate and vineyards, then ask at The Nest reception for the Self-Guided Walking Tour map. Not only will you digest all the useful snippets of information in the leaflet, but following the self-guided map will ensure you don't deviate off the route.

The Gusbourne vineyard walk is free to do, and you can even bring your dog with you if you keep it on a lead. Enjoy the pleasant amble at your own pace, and the complete loop should take around 35-minutes.
View across Gusbourne & Romney Marsh
Your vineyard stroll will take you past the lush, flourishing vines in the Boot Hill vineyard and up to the highest point of Gusbourne Estate at an elevation of 40-metres. On a beautiful clear day, you can see for miles; you may also spot the Royal Military Canal below, which runs from
Hythe
, passing through Romney Marshes to within a touching distance of
Hastings
.
Roses planted for signs of mites
The tabs at the end of each row denote the grapes that are grown through each section of the vineyard, PN (Pinot Noir), PM (Pinot Meunier and CH (Chardonnay).

When you reach the far corner of Boot Hill, you'll see a footpath sign for the Saxon Shore Way; this trail starts at Gravesend in Kent and meanders across the countryside for 160 miles to Hastings in East Sussex.
Commanders Chardonnay vines
Strolling diagonally southwest, you'll wander into the Commanders vineyard, planted entirely with Chardonnay vines. At the bottom of the vineyard, we now head northwest to the gate on Snargate Lane. We pop back into Boot Hill vineyard, and you'll spot The Nest, where this mini adventure started.
If you've fallen in love with the county of Kent, we've created a few road trips around the "Garden of England" that we believe you will enjoy too.
* This post may contain links to affiliated sites where we earn a small commission at no additional charge to you.