Visiting Molsheim in Alsace, France
History, charm, wine and Bugatti
There's so much to enjoy about the Alsace region in France, there are the picturesque places of Colmar and
Strasbourg
with their beautiful half-timbered buildings.
The lush rolling vineyards laid out across the countryside like a patchwork quilt. And of course, a Tarte-flambé washed down with a crisp glass of Pinot Gris.
However, for us visiting the lesser known towns and villages is also what appeals, so, our visit to Molsheim was a wonderful find. Yay, we're back on a road trip, oh, and yes Gary did try and gloss over the fact that there was a Bugatti museum here.
A french blue Bugatti car shop sign
As we strolled around the quaint, peaceful streets of Molsheim on a Sunday afternoon, we really felt like we'd found a serene little town, where even the locals wanted to keep it to themselves.
Auberge Vigneronne Winschnutzer
Families enjoying their Sunday lunches laid out across wooden trestle tables, elderly residents soaking up the tranquillity of their rose gardens and native storks soaring overhead. We were going to enjoy this.
If like us, you love visiting different regions of France then this Michelin guide will definitely assist in your planning.
We used a previous version of this book to plan our eastern France road trips, now you can grab the revised copy.
Molsheim is located on the northern end of the Alsace wine route in France, and most definitely worthy of more than a passing glance. We were so pleased this was our first stopover on our "Lakes and Lederhosen Revival" road trip. 
Ask for the wines of Molsheim
We parked up for the day and headed towards the town, passing by a little river that had found a path leading away from the larger River Bruche.
Beyond this was Molsheim's huge 17th-century former Jesuit church.  This was so pleasant already.
Fancy an Alsace wine route road trip?
Sainte-Trinité-et-Saint-Georges
Just letting the streets guide us along, we meandered through all the little side lanes admiring the historical buildings and how they have stood the test of time.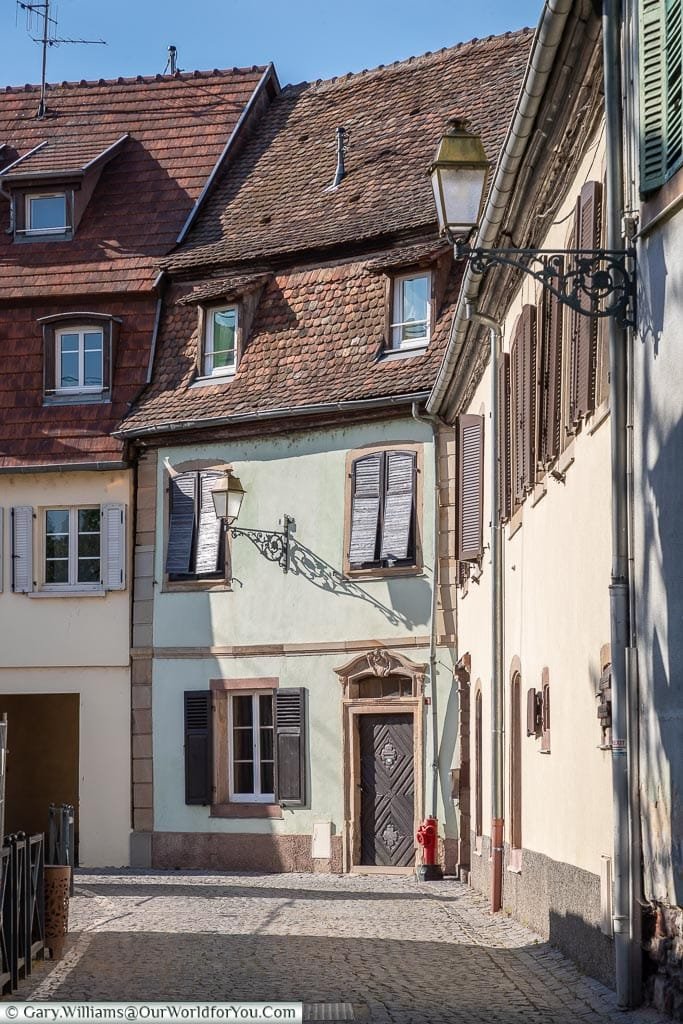 Quaint side streets in Molsheim
With Molsheim having its borders so close to Germany it has swapped between both countries on a few occasions, the last time under German control was between 1940 and 1944. 
Typical Alsatian architecture
It's incredible the number of homes throughout the old town that has survived with the intricate traditional Alsatian style architecture still intact and painted in such charming colours.
Off to the old town square
The old town square within Molsheim is magnificent, your eyes are immediately drawn to the Renaissance La Metzig building. It is so attractive with its stepped roof-line, gables and double fronted staircase.
It was constructed in 1525 and was originally built as a butcher's shop, it's now home to a restaurant.
La Metzig built in 1525 as a meeting hall & the town's butchers shops
Just in front of the La Metzig is the Lion Fountain and quite an attraction with the local children. 
Molsheim old town square with the Lion fountain
A short hop within the same square and you're at the Hôtel de Ville (Town Hall).  I'm not too sure if any French town, large or small is complete without one. Molsheim's Hôtel de Ville is very impressive and kept immaculately, I loved the colours.
A couple of years ago when Gary and I set off on a road trip to Croatia, we stopped overnight in 
Obernai
. This is another beautiful town just south of Molsheim and also on the Alsace Wine Route. 
Enjoying the afternoon sunshine, we stroll further on to the medieval Porte des Forgerons (Blacksmiths Tower), which was once part of the ancient city walls. Molsheim is extremely easy to wander around and a town that the local residents appear to take pride in.
Porte des Forgerons at dusk
On the gate is a historical plaque dedicated to the 3rd Infantry Division who liberated Molsheim on 26th November 1944. 
Well, you knew it was coming, we couldn't visit Molsheim and skip the Bugatti museum. Although, in this museum, you get two for the price of one. As your entrance fee of only €4 (in 2019), also gives you access to the former monastery of La Chartreuse.
Entrance to the Bugatti museum and La Chartreuse monastery
When Ettore Bugatti set up his automobile company in 1909, Molsheim was part of Germany, and a country very much renowned for its car industry. Molsheim has switched back forth three times since then.
I must say that even if you're not a car lover, there's no escaping the fact that the Bugatti certainly has elegance and style.
A Bugatti Stelvio (type 57c)
As you stroll into the small museum, you are greeted with the roar of a Bugatti engine. Lovely historic photos and memorabilia tell the historical story of the life of Bugatti, from its racing cars, road cars and also its aviation period.
Start creating your own French adventure and discover some of these enchanting places yourself. Strasbourg is your nearest airport.  Search for your flights in one easy place with ebookers.com. Over 400 airlines are scanned for your favoured routes and chosen dates.
Discover more of France on a road trip like us, Rental Cars searches multiple well-known car hire brands and discovers the deals that suit you the best.
Or alternatively, jump on Le Shuttle and tour through France under your own steam.
Just beyond another door in the same museum, you enter the former La Chartreuse monastery. This was such a lovely surprise. The monastery had undergone some tasteful renovations and lots of TLC.
A cloister within La Chartreuse
La Chartreuse was used as a monastery during 1598 and 1792; however, it was largely destroyed during the French Revolution.
A bumper herb garden in raised beds had been carefully planted out. The courtyards were full of flowers, and the rooms and workshops that were once used by the monks for day to day living had been turned into a museum.
Molsheim was a delightful surprise, full of character and colour and a delight to visit.
Would you like a little more?
We have created a little YouTube video of Molsheim - why not check it out?
Why not subscribe to our YouTube channel and get the latest clips as we post them?
* This post may contain links to affiliated sites where we earn a small commission at no additional charge to you.
Inspired to visit Molsheim?
The open roads await, pop in your location details then
Rental Cars
will search well-known car hire brands and discover the deals that suit you the best.
(Why not Pin It for Later?)
If you enjoy what you see, and you'd like regular updates then join us for a monthly newsletter.