Glittering Streets of Strasbourg, France
What to see at Strasbourg's Christmas Markets...
...in the 'Capitale de Noël'
Strasbourg - Capitale de Noël
Part of us was looking forward to discovering the changes, but also, we hoped to find still the little familiarities that we fell in love with the first time around.
Strasbourg was our first stop on our 2017 Christmas Market road trip before we headed on to Munich, Frankfurt & Cologne. So, we were having a soupçon of France prior to our wurst fest in Germany.
Our accommodation for the two nights in Strasbourg was at the Mercure Centre. Lovely friendly staffed and welcomed you with a vin chaud, what could be better.
Parking was good. However, security around the Grande Île was extremely high, with vehicles only being allowed to enter before and after Christmas market hours.
The festive atmosphere here is all around the Grande Île, so head in and enjoy the fun.
We visited Place Kléber first to see the amazing Christmas tree, and it indeed is a sight not to be missed.
The height of the tree is astonishing; I think they must have used a crane to decorate it.
They even have a viewing platform for it, so that you can get closer.
Although the centrepiece of Place Kléber is the tree, the lighting and the decor on the Aubette (Orderly Room) are wonderful, it makes such a grand statement.
It's all about the lights
While strolling the streets and lanes of Strasbourg, our outstanding memory is the illuminations throughout the city.
Gingerbread illuminations
It's not just your average twinkling street lights; there are eye-catching themes running all the way through.
One lane was even lined with huge boxed chandeliers.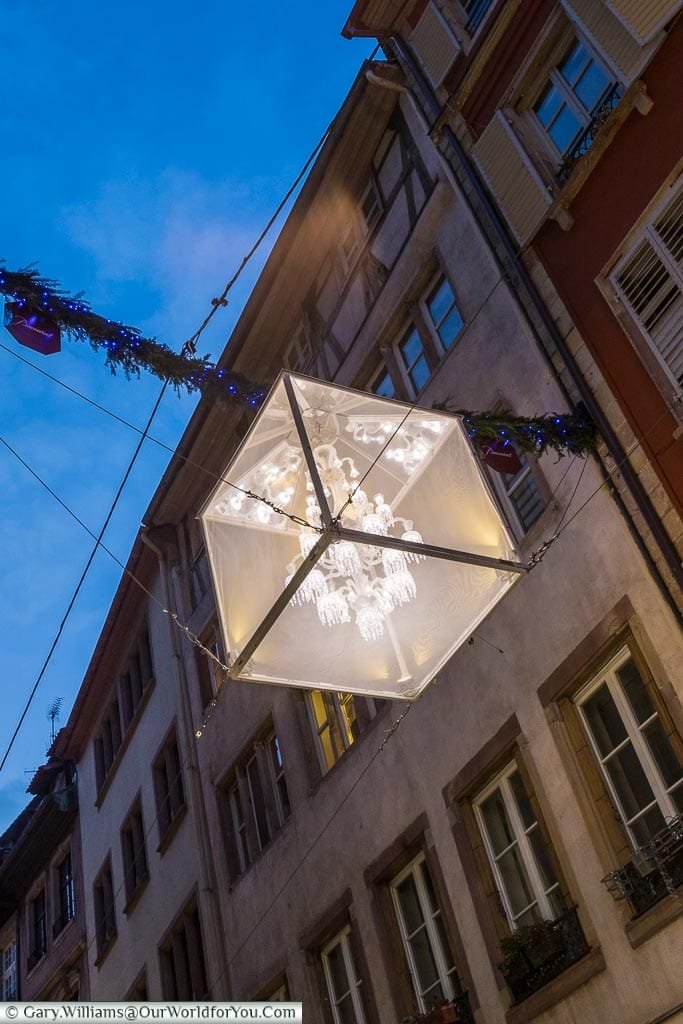 There is no expense spared here for exterior illumination; you're all going to be dazzled while sipping your vin chaud.
There has been a Christmas market held around the Cathedral in Strasbourg since 1570, making it one of Europe's oldest Christmas markets. So, it's not surprising it holds the accolade of Capitale de Noël.
The cathedral as a backdrop to the market
At the feet of the Cathedral are bustling little market huts selling a variety of gifts, decorations and local delicacies, all the while a children's carousel is whirling around.
Take your time and wander around the Place de la Cathedral, and we highly recommend sampling the vin chaud, it's a little bit sweeter than gluhwein but certainly just as warming.
Before we left for Strasbourg Gary and I looked through his photos from 2008, and when we arrived at the vin chaud stall that we remembered visiting nine years ago, the same happy chap was still there. Now that brought a smile to our faces…
Pouring the warming nectar
We always say that the Christmas markets come alive when the sun goes down, however, Place de la Cathedral is stunning day and night.
The Carousel in the market place
The half-timbered dwellings that encircle the square are unbelievable, the care and maintenance taken to keep them looking so beautiful is a tribute to the city.
Your comfy shoes and warm clothing!
The street not to be missed off the square is Rue du Maroquin.
During the festive season, I urge you to stroll up and down here during the day, and in the evening, you won't stop looking high above you at the décor.
Glittering Rue du Maroquin
At the bottom of Rue du Maroquin, we turned left, to follow the river along and come across another market (Place du Marche-aux-Poissons). From memory, we don't believe there was one here in 2008, it had some unusual stalls and had a charming local feel to it.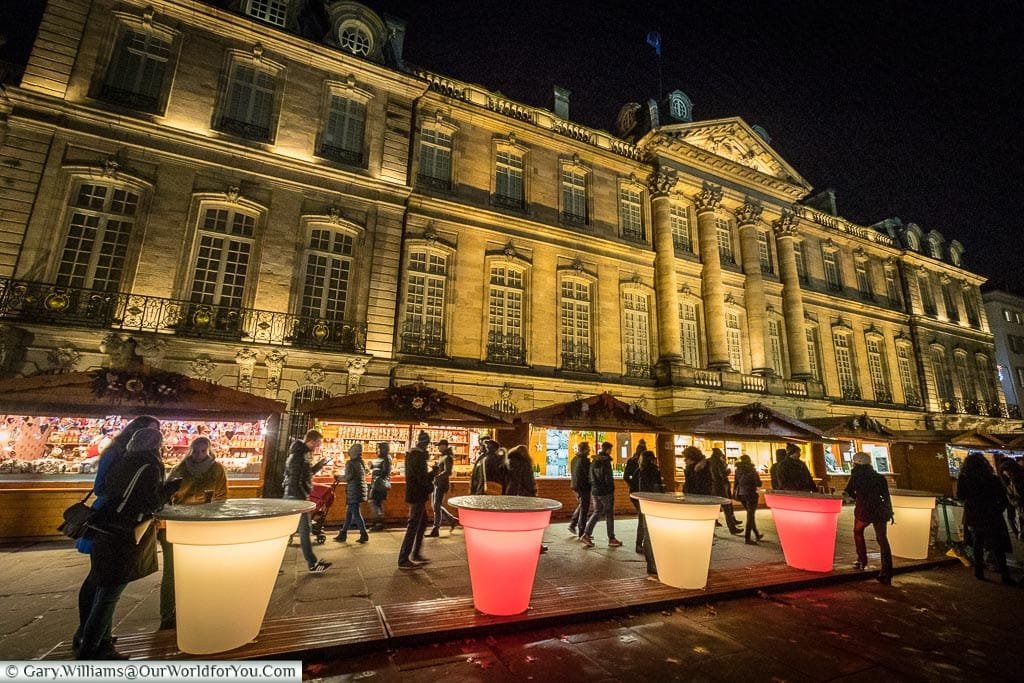 The market at Marche-aux-Poissons
Not quite Christmassed out, there are still more markets to visit. We headed over to Petite France, which will take your breath away at how picturesque it is before you have even reached the festivities.
Wandering through Petit France
Surrounded by waterways and intriguing buildings, small lanes and cobbled streets.
Looking over Petit France
One of the largest markets on Grande Île is Christkindelsmärik, held in Place Broglie. This is a really friendly bustling market and full of colourful gifts and great treats for everyone.
The entrance to Christkindelsmärik
Weaving your way through you'll discover some wonderful stalls, and you won't go hungry around here.
Discover more of Alsace on road trip like us,
Rental Cars
searches multiple well-known car hire brands and discovers the deals that suit you the best.
Every year in Place Gutenberg, Strasbourg welcomes a different country to highlight their traditions around Christmas, this year it was Iceland's honour.
The Blue Tree and the Bear
Visited any French Christmas markets, we'd love you to share them with us?
While in Strasbourg we couldn't resist visiting the Cathedral and its Astronomical clock, which stands 18 metres high and is one of the world's largest.
The cathedral itself is amazing inside and out, and when it is lit up in the evening it looks very serene.
A selection of gingerbread
There are great things to eat around the markets especially if you have a sweet tooth.
However, a visit to the Alsace region of France, would not be complete without enjoying a tarte flambée.
The traditional Alsatian dish of Tarte flambée
It is loved by everyone young and old.
Inspired to visit Strasbourg at Christmas?
Does a vin chaud tempt you? would you like to see the lights? Why not spend a couple of nights to enjoy the sights, smells and tastes of Strasbourg.
Check out the latest deals on Booking.Com?
Search for your flights in one easy place with
ebookers.com
and open up a world of options. Over 400 airlines are scanned for your favoured routes and chosen dates.
(Why not Pin It for Later?)