by Janis /
6 comments
- Orginally published:8th June 2021
A touching tribute to the genius Vincent Van Gogh
The beautiful and modest Saint-Paul de Mausole monastery stands adjacent to the ancient Roman site of Glanum in the enchanting region of Provence in southern France.
If there was ever a place that only happy thoughts pass through my mind, it was here, in the town of Saint-Rémy-de-Provence; it is captivating.
The Romanesque monastery was built during the 11th-century in the foothills of the Alpilles mountains. Over the subsequent centuries, the monastery became a psychiatric asylum.

The resident monks devoted themselves to treating those who required solace and care from the suffering of dementia. Saint-Paul de Mausole, to this day, continues to be a psychiatric health institution.
Why not Pin it for later?
If you love Provence as much as we do, you'll want to start planning your visit now.
I so enjoy using the DK Eyewitness books, as they are extremely informative, easy to follow and the pictures and maps tempt you into discovering more.
We used a previous version of this book to plan our Provencal road trip, now you can grab the revised copy.
Visiting Saint-Paul de Mausole
Arriving at the tranquil monastery in Saint-Rémy-de-Provence
As you wander through the wrought-iron gates of Saint-Paul de Mausole, you instantly feel a wave of gentleness breathe through you. Peace descends as your stroll along the dusty path, dappled in Provence sunshine from the Cypress and Plane trees.
You can make out the demure chapel at the far end of the avenue beside the monastery's prominent square belltower.
Vincent Van Gogh sculpture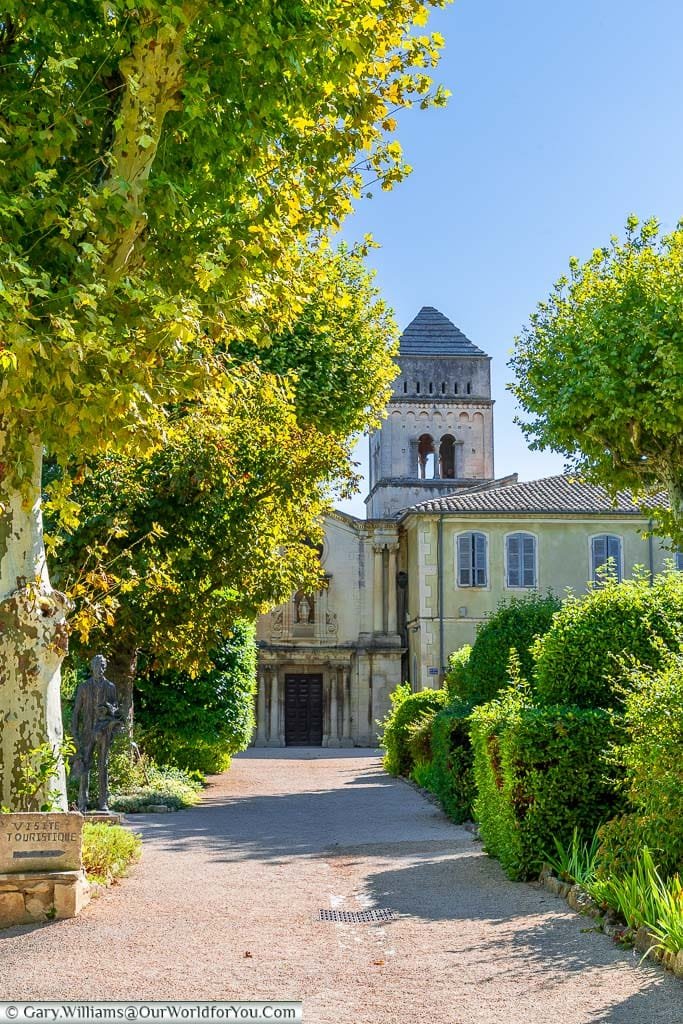 The entrance to Saint-Paul de Mausole
As you approach the chapel, you'll spot the captivating and poignant bronze sculpture of Vincent Van Gogh. In his left arm, Vincent clutches a bunch of freshly picked sunflowers, while in his right, he clasps a single bloom down towards his feet.
We love embarking on road trips, so our preferred mode of transport is always jumping in a car. We find it's the best way to discover a country. 
Rental Cars
 searches multiple well-known car hire brands and discovers the deals that suit you the best.
The arrival of Vincent Van Gogh
His year of strength and creative inspiration
To imply that the genius Vincent Van Gogh was a troubled soul is an understatement; his incredible artwork hides a million stories that we'll never truly comprehend.

Vincent Van Gogh voluntarily entered Saint-Paul de Mausole Asylum from the city of Arles where he was living. Just southwest of Saint-Rémy de Provence. Van Gogh lived in Arles the year prior to arriving in Saint-Rémy and where he hoped to set up an art collective with his often-arrogant friend Paul Gaugin.
The lavender gardens at Saint-Paul de Mausole monastery
Needless to say, this dream never came to fruition, and it was in December 1888 that Vincent Van Gogh severed off part of his own left ear.
Vincent was only at Saint-Paul de Mausole for just over a year. From the 8th of May 1889 until the 16th of May 1890. During this time, Van Gogh was treated with care and humanity by Doctor Peyron, a French Naval doctor, along with the devotion from the nuns and nurses.
Vincent Van Gogh's 'Irises'
Vincent gradually strengthened with his unique treatment. His time in the asylum was one of his most creative and inspirational, producing over 150 works of art.
A few of his pieces were 'The Starry Night' and 'The Irises', the third edition of 'Vincent Room in Arles'.
The tranquil cloister at Saint-Paul de Mausole
Arriving at the peaceful courtyard
When visiting Saint-Paul de Mausole, utmost respect and tranquillity must be shown, as patients are presently being cared for within the monastery. Therefore, it is only partially open to the public.
The courtyard garden within Saint-Paul de Mausole
The collonaded cloister in Saint-Paul de Mausole
You enter the monastery into a shaded and peaceful collonaded cloister. This surrounds the perfectly manicured, symmetrical courtyard garden, with charming French Blue window shutters thrown open to let in the welcoming sunshine.
Where to stay in Saint-Rémy-de-Provence
Hotel Gounod
– We've stayed at this delightful hotel on two occasions and would return again in a flash. Hotel Gounod is centrally located with very welcoming staff, delicious Provençal breakfast in the patio/lounge, and private off-site parking is available nearby.
Hôtel Sous les Figuiers
– Is located along a peaceful street just a short walk from the centre of town. The hotel is fully air-conditioned and you can enjoy the dappled sunshine in their charming garden or laze by the pool. Parking available on-site.
The Vincent Van Gogh Museum at Saint-Paul de Mausole
The stark reality of a troubled soul
The museum for Vincent Van Gogh is located on the first floor, and as you walk up the stairwell, there are incredible works of art for sale, which have been painted by local patients.
At the top of the stairs, you are greeted with the view that Vincent Van Gogh would have seen, the captivating Provence countryside unfolding as far as the eye can see.
Van Gogh's stay at Saint-Paul de Mausole
The rooms dedicated to Van Gogh have been re-created for you to envisage the surroundings and the minimal conditions that Vincent would have been confined to.
Van Gogh had two rooms during his year at Saint-Paul de Mausole; one was his bedroom and the other an art studio.
As you can imagine, it was a very minimal life for the patients, and their possessions were modest too. The bedroom re-created for Vincent was very simple, comprising of a bed, his few belongings and a desk and chair.
Vincent Van Gogh's re-created bedroom
It gave you a profound feeling of loneliness and how delicate life can be.

Just adjacent to Van Gogh's bedroom is a room dedicated to Saint-Paul de Mausole institute and psychiatry history during the 19th-century.

Also, on the stark walls were heart-breaking stories and pictures about some of the patients and how they were cared for and the undertaken treatment. It was very moving and touching.
If you're visiting Saint-Rémy-de-Provence, why not extended your stay and tour around the Provencal countryside. Here's a little post to get you inspired to start '
An Enchanting Visit to Provence
'.
The captivating Provence gardens in Saint-Paul de Mausole
The scent of lavender amongst the French sunshine
We then strolled outside into the gardens at the rear of the monastery, and you instantly appreciated where Vincent Van Gogh acquired his dramatic inspiration. You felt like you had ambled into one of his works of art.
Van Gogh's inspiration at Saint-Paul de Mausole monastery
Rows and rows of bristling lavender balls, elegant Cypress trees marching into the distance, and charred sunflowers were straining to lift their heads from the sun-kissed skies.
Sun-kissed Sunflowers in Provence
Dotted throughout the front and rear gardens are examples of Van Gogh's work while confined to the asylum, and you are drawn into the alluring essence of Provence.
Start creating your own French adventure and discover the enchanting French countryside for yourself. Search for your flights in one easy place with ebookers.com. Over 400 airlines are scanned for your favoured routes and chosen dates.
Or alternatively, catch a Brittany Ferry and tour through France under your own steam.
* This post may contain links to affiliated sites where we earn a small commission at no additional charge to you.
Yes, it was gorgeous, I could have sat in their garden for hours. I do love Provence and Vincent Van Gogh, so this was perfect for me.

Thanks for your comments guys, I hope you are both keeping well.

Janis, I just came across your lovely post. I'll be in the area in April and as I love Van Gogh, I hope to visit the monastery. Your photos are beautiful and your description is touching. Thank you!

Thanks Ellen for your kind words.

I'm sure you'll love visiting the monastery as much as we did, it's where 'The Starry Night' was painted. Hopefully you'll get a chance to explore the nearby Roman city of Glanum too.

I adore the town of St Remy de Provence, I'm incredibly envious.

Have fun!!!

Lois Plotkin

My husband and I plan to visit between 1 and 530, Jun 26. We come on a Viking river cruise. I would like to know , if we can Uber or take a cab from Arles center and to the ship dock afterward. Perhaps we might hire a private driver, if you recommend someone. I speak English and seulement un peu de français malheureusement.

Hi Lois, I imagine this would be possible; however, we don't live in France so I can't say for sure. It's probably best to speak to your Viking rep to clarify this. It's a pity you're not in St Remy de Provence longer as it is a beautiful place.

Enjoy your trip and have fun.

Bon voyage!