by Janis /
2 comments
- Orginally published:19th June 2018
Pick & choose which suits you best.
In recent years Reykjavik is becoming more and more popular. Initially, it was a city break destination and a base from which to tour the Golden Circle, as we did back in 2007.
However, fast forward to 2023, and I now feel the adventurous side is coming out more in people, and often time is limited in Iceland's colourful capital.
Reykjavik is now frequently used as a landing point before heading off on a full Ring Road adventure around the rugged country. Or like us it was the last destination of our 12-day discovery in 2018.
(You can pick-up any part of our Iceland Road Trip at the bottom of this post, along with a map of our route.)
For our accommodation in Reykjavik; we stayed at Skuggi Hotel by Keahotels.
Why not Pin it for later?
The best things to do in Reykjavik
So, what can you fit in?
My first choice would be, and really this applies to most destinations, and that is "hit the streets" of Reykjavik. It's the best way to explore and appreciate the culture of a place.
Pride
Where to stay in Reykjavik
In Reykjavik we chose to stay at the Skuggi Hotel by Keahotels, located in the city centre, just a short stroll to the main sites.
We had a few essential requirements from each of our overnight stays in Iceland, which were:
Breakfast included or available nearby.
Scooby snacks along the way can be expensive.
Parking is a requirement, as this is a road trip after all.
Nearby cafés/eateries, or onsite restaurant for the evening.
Preferably a close-by fuel station; they can be few and far between en route.
Discovering downtown Reykjavik
The heart of Iceland's capital
The main street that runs through Reykjavik city is Laugavegur, along here you'll meet the hustle and bustle of the town day and night. Plenty of shops, cafés, bars and restaurants; a fantastic place to start.
Strolling up Laugavegur
Icelandic Art
Icelandic Fact: Did you know?
That beer was banned in Iceland until 1st March 1989 due to the Prohibition in Iceland, it's now celebrated as "Beer Day".
A Reykjavik must see
They've made it easy
Hallgrímskirkja (the church on the hill) is the centrepiece to Reykjavik and certainly worth a visit. I would urge you to include the full tower experience. It costs ISK 1,000 which is around £7/€8/$9.
Outside the Hallgrímskirkja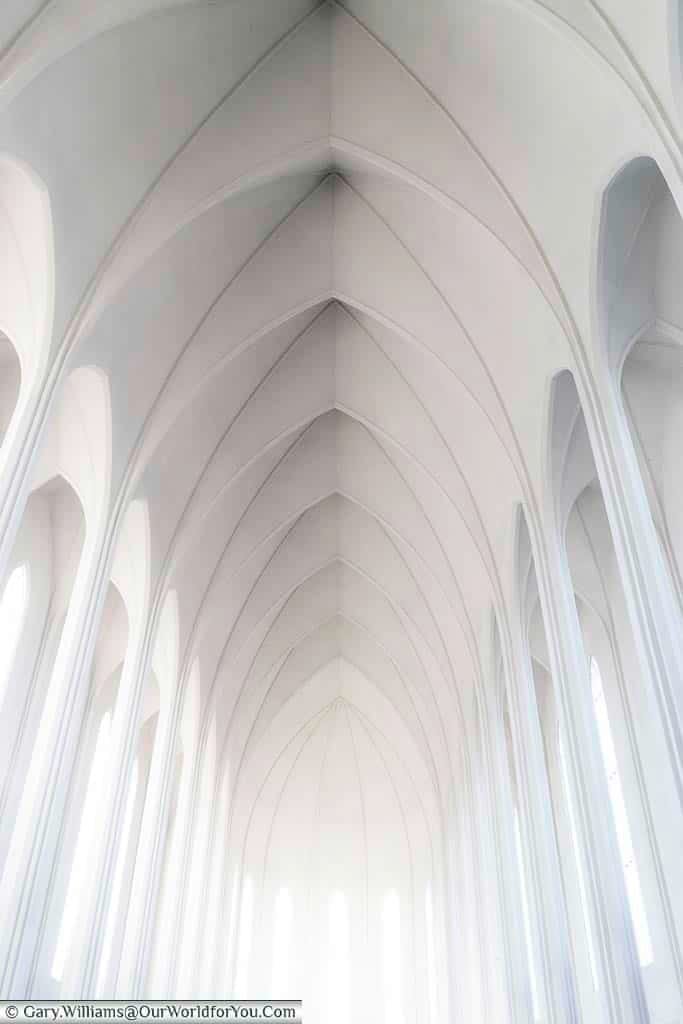 Inside the Hallgrímskirkja
They've even built a lift inside, so you only have a few steps at the top to climb. The view from the 73-meter-high tower is incredible, and you can wander around the top to get the full 360-degree view of Reykjavik city below.
The view over Reykjavik
You'll get unobscured views of the mountains across the ocean and the colourful city centre at your feet.
Places to visit in Reykjavik
Head to the harbour
If time allows, then take a whale watching tour, but wrap up warm, even in the summer months. Not only may you get to see a whale or two, but you'll also catch a glimpse of the local puffins.
Whale watching ships in the harbour
However, if you don't have your sea legs then take a stroll around Reykjavik's working harbour and marina, fishing is a big industry in Iceland.
The Sun Voyager at dusk
You'll come across The Sun Voyager a stainless-steel sculpture by Iceland's Jón Gunnar Árnason, looks very much like a Viking ship. Also, along here is the colourful Harpa concert hall opened in 2011.
The Harpa Concert Hall
Sightseeing in Reykjavik
Into Town
Keeping with the wandering theme, head through Reykjavik's vibrant streets passing all the brightly painted buildings and some interesting statues along the way.
Monument to Jón Sigurðsson
You'll undoubtedly find yourself in Austurvöllur, this is a large public square, which has been the scene of a few protests over the years. Today it's a little more relaxed and where friends and families often gather.
Dómkirkjan í Reykjavík
In Austurvöllur you'll also spot Reykjavik's eye-catching white Cathedral and Parliament House.
Parliament House
If you're tempted to tour the Land of Fire and Ice and would love to discover the whole country, then take a look at this  DK Eyewitness book. This Top 10 Pocket Travel Guide is invaluable, I find them extremely informative, easy to follow and the pictures and maps tempt you into searching for more.
You can now grab the revised copy.
Eating in Reykjavik
Got the munchies?
Well, if you made the incredible decision to visit Iceland, then you'll be aware that it's not going to be cheap to get fed and watered.
Fast food - Icelandic style
Quite popular in Iceland is a hot dog, you won't be the only one to have made that choice.
Queueing for a hotdog
In regards to food prices - We all know in Iceland food & drink can seem expensive. Gary and I found that if you are choosing a restaurant, then the difference between fine dining and convenience is less than you may be used to so you may just as well splash out and enjoy it.
A top Icelandic attraction just outside Reykjavik
The Blue Lagoon
We visited the Blue Lagoon when we first stayed Reykjavik in 2007, we slotted it in, on our way to the airport before heading back to the UK. It's not too far and a pleasant way to relax before your journey home.
The original Blue Lagoon
Don't be caught out, the Blue Lagoon needs to be booked online in advance during busy times. Otherwise, you may not get in or get the time you require. It's become very popular.
The time slots early or later in the day have the cheaper deals.
The things to see in Reykjavik
Street Art
Gary and I love to seek out intriguing pieces of street art, and we found that Iceland, in general, had some incredible artwork, and Reykjavik was alive with it.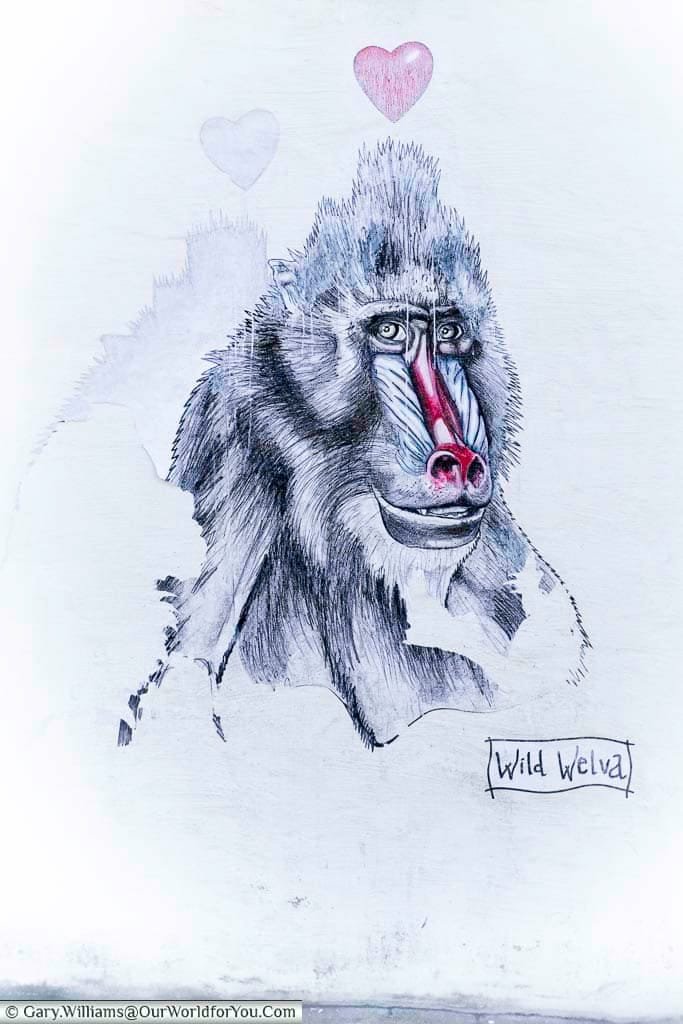 Lovers
Beauty
Performing
Pineapple chunk
Trapped
Head wrapped up
The Octopus
Finding the right car for your Icelandic Road Trip
Discover Iceland's enchanting Ring Road with its rugged landscape or the waterfalls and geysers around the Golden Circle for yourself.
If you want to explore Iceland's F-Roads, you must have a 4x4, but we'd recommend one anyway for the improved driving position, and if the weather turns, you have a touch of added protection.
We recommend Rental Cars as they search multiple well-known car hire brands and discovers the deals that suit you the best.
Where we stayed in Reykjavik
Our stopover
For the one night, we were based in Reykjavik; we stayed at Skuggi Hotel by Keahotels. The hotel is modern, (you can't currently find it on street view). It has underground parking, which was our main reason for choosing it and it was in a reasonably central location.
The buffet breakfast was probably one of the best on our trip, had a really wide range of food. I would stay here again.
Planning your trip to Iceland
So you're planning a trip to the Land of Fire and Ice? There is so much to see and do in Iceland that you'll wish you were staying longer. To ensure you make the most out of your visit, head over to the official website of Visit Iceland for a little help and guidance.
Have fun!
Our Iceland Road Trip
The route
The route that we took today mainly included smooth tarmac and a few hairy moments through a blizzard. We travelled along route 54, 1, 51 & 1 again.
In total, our journey was about 204km (127 miles), and as we were jumping in and out of the car a lot today, it took us about 7 1/2 hours.
Useful tips for driving in Iceland
If you are planning a road trip around Iceland particularly over the winter months you need to be very aware of the ever-changing road and weather conditions.  During winter, parts of the Ring Road may be impassable, and you may not get to areas of the country you intended to.
Regularly check the conditions by using these useful websites and apps, believe me, they will come in handy.
We have also written a post packed with tips for driving in Iceland based on our research and experience than may be worth checking out.
* This post may contain links to affiliated sites where we earn a small commission at no additional charge to you.
Thanks Annette, yes, there was so much street art it was difficult to narrow them down. I do particularly like the ones on the side of the warehouses.