by Janis /
0 comments
- Orginally published:29th May 2018
Day Nine, The Ring Road tour continues.
Just off route one outside Akureyri
Even after nine days of touring Iceland's route 1, the excitement doesn't wane.
We have been spoilt with two nights in Akureyri, including the unplanned detour to the north. This means we have seen the start of this route, albeit heading west to east as we returned to Akureyri last night.
Today we're heading west and immediately pick up Iceland's Ring Road. Straight away, we are at the feet of snow-capped mountains. It's a crisp day today and one of the few we've experienced with ice on the roads.
The direct route to Laugarbakki is around 125 miles or 200 km and would take you about 2.5 hours.  However, we have a detour or two planned because, as we already know, it is all about the journey, rather than the destination on this road trip.
Why not Pin it for later?
Discovering the north of Iceland
It really comes as no surprise, but a fantastic job is done to keep Iceland's roads as clear as possible, particularly the main roads. However, with a snowplough the size of this, I'm not too surprised.
Ready to clear a serious amount of snow
The quiet side of Iceland
Enjoy the fresh air
We know we have plenty of time in hand, and the weather forecast is good today. So, with that in mind it allows us many opportunities, to stop and take in Iceland's incredible landscape.
Remember, when pulling to the roadside, take extreme care. For more information on driving in Iceland, we have a separate post that will provide you with handy hints n' tips to make your journey safe and enjoyable.
We continue to stop along our Iceland road trip and jump out for a stroll; this is just too good to pass by. The landscape changes so quickly when you turn another corner.
The ever-changing landscape of Iceland
We are often met with a landscape like none we've seen before, and that's why it's imperative to take your time and explore. You won't regret it.
Where to stay in Laugarbakki
In Laugarbakki we chose to stay at the Hótel Laugarbakki, which was reasonably remote, we were hoping to see the Northern Lights.
We had a few essential requirements from each of our overnight stays in Iceland, which were:
Breakfast included or available nearby.
Scooby snacks along the way can be expensive.
Parking is a requirement, as this is a road trip after all.
Nearby cafés/eateries, or onsite restaurant for the evening.
Preferably a close-by fuel station; they can be few and far between en route.
The real Iceland
Meet the other side of the country
Our Icelandic journey continues weaving its way across what appears to be an almost deserted landscape; there barely seems to be anyone else on the road here. However, you do pass small farms and the occasional community.
We came across this incredible little church in Víðimýri with a tiny graveyard. The church roof and walls are covered in turf & have been lovingly restored by Iceland's National Museum.
The entrance to the Víðimýrarkirkja church
Víðimýri church dates from 1834 and is only one of three like this that still serves as a parish church today.
It is beautiful to see this traditional way of life continuing to this day. This is not for the benefit of tourists; this is real Iceland.
Around the side of Víðimýrarkirkja
Finding the right car for your Icelandic Road Trip
Discover Iceland's enchanting Ring Road with its rugged landscape or the waterfalls and geysers around the Golden Circle for yourself.
If you want to explore Iceland's F-Roads, you must have a 4x4, but we'd recommend one anyway for the improved driving position, and if the weather turns, you have a touch of added protection.
We recommend Rental Cars as they search multiple well-known car hire brands and discovers the deals that suit you the best.
Enjoying your Icelandic Road Trip
Take it all in
Jumping back on the road again and we're heading west. It seems that in no time, we're stopping again (Actually, it was only about 3 miles).
We arrived at the Stephan G Stephansson Monument, which has off-road parking to allow you to ascend to the stone tribute to an Icelandic poet.
Stephan G Stephansson Monument
This is also an opportunity to take in the stunning landscape. Sure, we're driving through it, but it is good to stop and enjoy the view. It may be a while before we park up again.
If you're tempted to tour the Land of Fire and Ice and would love to discover the whole country, then take a look at this  DK Eyewitness book. This Top 10 Pocket Travel Guide is invaluable, I find them extremely informative, easy to follow and the pictures and maps tempt you into searching for more.
You can now grab the revised copy.
Exploring Iceland on your own terms
And that means the occasional bumpy route
During the planning of our Iceland road trip, we had identified an interesting rock formation we wanted to check out, and with time on our side, we decided to take the slight detour and headed north up the 716 & 717.
Our tarmac road had now turned into a very rutted gravel track. However, the scenery across the frozen lake was worth the juddering teeth.
At the edge of Vesturhopsvatn
The simple truth is you can do as much planning as you want, and we did a fair bit, a mix of Microsoft OneNote & Google MyMaps (You can check out our MyMap for this route, with the places of interest identified), but the world changes and the weather, especially in Iceland, can change those plans.
We were lucky, and today the weather gods were on our side.
Remote living in Northern Iceland
As we are now on a gravel road the speed limit has dropped, but that is not what is going to limit your speed, the terrain will do that for you.
Despite our planning, we came across those Icelandic points of interest signs in the most unexpected of places. Still, we have time to investigate.
There's a place to park and a short climb of Borgarvirki, the site of an ancient fortification that was previously an erupted volcano.
The Icelandic POI sign
The view from Borgarvirki
Another reason to keep the speed in check is the Icelandic Horses - they roam freely. They are also naturally curious, I wonder if they associate the car with being fed.
Iceland horses roaming freely
Are you looking at me?
Useful tips for driving in Iceland
If you are planning a road trip around Iceland particularly over the winter months you need to be very aware of the ever-changing road and weather conditions.  During winter, parts of the Ring Road may be impassable, and you may not get to areas of the country you intended to.
Regularly check the conditions by using these useful websites and apps, believe me, they will come in handy.
We have also written a post packed with tips for driving in Iceland based on our research and experience than may be worth checking out.
Discovering more of Iceland
Take a right onto 711
We're now heading north to Hvitserkur. Once again, those kind Icelandics folks have laid on a free car park, and it's only a short walk to the shoreline.
Hvitserkur
To see the intriguing 15-metre-high basalt rock formation, which, viewed from a certain angle looks like a dragon drinking from the water. Honestly, if you squint, you can see it - does it work for you?
You can also stroll down to the black beach to get a closer look if the tide is out. We didn't, the road was calling.
Close up of Hvitserkur - can you see the dragon?
Iceland's Wildlife
Surely not seals as well
Our Iceland road trip adventure was going from one high to another, not just the natural wonders of the landscape, now we were watching seals frolicking about in the sea at Illugastadhir.
That's not a real seal
We weren't sure that this road was going to be accessible, but I'm so glad we made an effort. From where we parked (and there was only one other car there) it was just a 10-minute walk before we could see the seal's heads bobbing up and down in the water.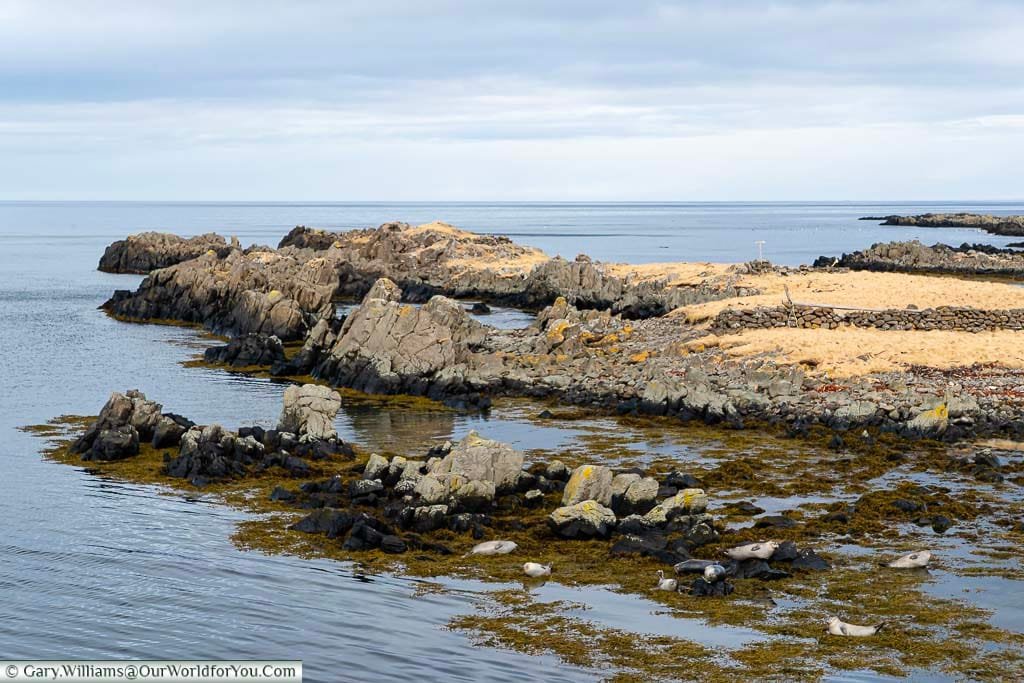 Can you spot them yet?
There were Grey seals and Harbour seals, playing with each other and if that was too much of a struggle they just relaxed on the rocks, all the while keeping an eye on us.
Seals just laying around
There were easily 30 to 40 of them. It was a fantastic sight to see them in their natural environment.
Then, unfortunately, we saw something that infuriated us. The other group of tourists had brought a pair of drones and had taken to the air to capture their moment. However, they showed little regard for the seals and flew close to the colony. It was clear there were young pups in the group, so I can only guess it must have been distressing.
Iceland is a great place to utilise a drone, but please, show some consideration in when using it.
A seal splashing about in the water
Reluctantly we headed on and journeyed south to our hotel for the night at Laugarbakki.
Who's watching who?
Planning your trip to Iceland
So you're planning a trip to the Land of Fire and Ice? There is so much to see and do in Iceland that you'll wish you were staying longer. To ensure you make the most out of your visit, head over to the official website of Visit Iceland for a little help and guidance.
Have fun!
Our Iceland Road Trip
The route
The route that we took today included a mixture of roads, smooth tarmac, gravel & extremely rutted gravel roads. We travelled along route 1, 716, 717, 711 & 72.
In total, our journey was about 261km (162 miles) and with all the stops took us about 7 1/2 hours.
Where we stayed in Laugarbakki
Our stopover
For the one night, we were based in Laugarbakki; we stayed at Hótel Laugarbakki, it was quite remote, so we were hoping to see the Northern Lights. However, they didn't come out to play that evening.
The hotel was comfortable and plenty of parking; however, the onsite restaurant didn't quite live up to their website. They were only serving light meals that night, rather than their full menu.
In search of the Northern Lights
If you are Northern Light hunting, you need to be aware of the sunset & darkness times and the KP Index for the evening. It also requires dark and partly clear skies.
KP Index scale ranges from 0 to 9;
0-2: Low
2-3: Moderate
4-6: A big solar storm is coming
7-9: Highly unusual
You can monitor this via the Icelandic Met Office which is updated around 6 pm.
Every trip Gary and I go on, whether it's a mini-break near or far or a road trip we chose a 'Highlight of the Day', here they are for day 8.
Janis
;
The scenery along the coastal route was amazing, and I love it that it is so peaceful.
Gary; It has to be those tunnels - amazing to drive through. Along with Janis I agree, the scenery was stunning.
Trips to try in Iceland
Something from Get Your Guide?
Why not check out what else is on offer through Get Your Guide.
* This post may contain links to affiliated sites where we earn a small commission at no additional charge to you.