by Janis /
0 comments
- Orginally published:12th June 2018
Day Eleven, Noooo, our Ring Road trip is coming to an end
OK, so a slight play on words, we left Arnarstapi today which is dwarfed by the backdrop of Snæfellsjökull. This is a 700,000-year-old glacier-capped volcano and made famous by Jules Verne in his novel "Journey to the Centre of the Earth".
A signpost monument is dedicated to Jules Verne, showing distances to major cities through the earth's core.
Today, we will be heading along route 54, before rejoining Iceland's Ring Road, Route One.   
(You can pick-up any part of our Iceland Road Trip at the bottom of this post, along with a map of our route and the 'Highlight of the Day' for each of us.)
Why not Pin it for later?
Discovering more of Western Iceland
The Legend of Bárður
However, before we jump into our rental car Etta for the final leg of our Icelandic road trip, we decide to have a better look around.
After a very short (brisk) stroll from the Arnarstapi Hotel and we are at another monument (two in such a small village).
Monument to Bárður at Arnarstapi
This structure stands looking out to sea and is a tribute to Bárður, the leading character in a historical saga and the Snaefellsnes Peninsula's guardian spirit.
Where to stay in Reykjavik
In Reykjavik we chose to stay at the Skuggi Hotel by Keahotels, located in the city centre, just a short stroll to the main sites.
We had a few essential requirements from each of our overnight stays in Iceland, which were:
Breakfast included or available nearby.
Scooby snacks along the way can be expensive.
Parking is a requirement, as this is a road trip after all.
Nearby cafés/eateries, or onsite restaurant for the evening.
Preferably a close-by fuel station; they can be few and far between en route.
The weather in Iceland in March
Boy it's cold
As we stand on the edge of the cliffs, the weather really feels like it is turning for the worst. However, not to be deterred, we head on to see another incredible view along the coastline
Gatklettur at Arnarstapi
Waves crash through the archway, hell-bent on destruction, but still, the black basalt structure holds fast.
In all this 'chaos', birds nest deep within the rock face, shielded from the worst of the Icelandic weather. Occasionally the birds take to the air, before plummeting into the water and hopefully returning with their breakfast.
The shoreline at Arnarstapi
We could spend a lot longer here, but that's been so true of this Iceland's road trip, but the truth be told, the weather looks like quite changeable, and we have plenty more points of interest to see on the way to
Reykjavik
.
Finding the right car for your Icelandic Road Trip
Discover Iceland's enchanting Ring Road with its rugged landscape or the waterfalls and geysers around the Golden Circle for yourself.
If you want to explore Iceland's F-Roads, you must have a 4x4, but we'd recommend one anyway for the improved driving position, and if the weather turns, you have a touch of added protection.
We recommend Rental Cars as they search multiple well-known car hire brands and discovers the deals that suit you the best.
Beautiful sights in Iceland
Búðakirkja
Jumping back in the car Gary and I head onto our next intriguing piece of history. Búðakirkja, one of the oldest wooden churches in Iceland, I can't believe it has too many parishioners attending though, it's a pretty remote part of Iceland.
Búðakirkja
This lovely black church was reconstructed in 1987 on the same spot where the first Búðakirkja was built in 1703.
The church also has to be in the top 25 Instagrammed shots in Iceland (There's no science behind that, just a feeling).
If you're tempted to tour the Land of Fire and Ice and would love to discover the whole country, then take a look at this  DK Eyewitness book. This Top 10 Pocket Travel Guide is invaluable, I find them extremely informative, easy to follow and the pictures and maps tempt you into searching for more.
You can now grab the revised copy.
Exploring more of Iceland
A trip to the beach
It's a relatively short hop from Búðakirkja to our next destination, Ytri Tunga Beach. It's been less than 20 minutes, and we've covered 20km or 12 miles.
It has now started snowing lightly. Is it really beach weather?

Well, we jump out anyway, and we were so pleased we did, as apparently, seals don't care about the weather and they were out and about frolicking and playing in the rough sea.
Ytri Tunga Beach
Spectacular to see; we could watch them for hours. It feels surreal standing on a sandy beach, while it's snowing, watching seals, but fantastic.

This is a different experience from the seal sanctuary we visited on our journey from Akureyri to Laugarbakki. They were at home in their little inlet, and we sort of expected to see them. This was a complete surprise.
Seals swimming off the coast
Those ominous-looking skies seemed to be heading further inland, and the light snow flurries seemed to be getting a little heavier now.
Driving in Iceland
Don't get complacent
As previously mentioned, the weather in Iceland can turn quickly; up until now, we hadn't experienced anything too bad.
However, we continue to travel along the 54 east, and the snow starts to increase. It was also incredibly windy, making the crosswinds even more hazardous. It's amazing how rapid the conditions can change.
The blizzard went on for quite a while; even when heading south, it's surprising how quickly it starts to settle.
Useful tips for driving in Iceland
If you are planning a road trip around Iceland particularly over the winter months you need to be very aware of the ever-changing road and weather conditions.  During winter, parts of the Ring Road may be impassable, and you may not get to areas of the country you intended to.
Regularly check the conditions by using these useful websites and apps, believe me, they will come in handy.
We have also written a post packed with tips for driving in Iceland based on our research and experience than may be worth checking out.
Onto Iceland's Route One
A look at Akranes
We continue on Route 54 until we reach Borgarnes and rejoin the Icelandic ring road - Route One. The weather conditions have been easing, and blue skies are starting to appear. Again, four seasons in one day in Iceland
With the snow behind us, We're heading to our next planned stop in Akranes. It's home to not one, but two lighthouses, and I'm told they are a must see in western Iceland
I'm beginning to think Gary has a bit of an obsession with lighthouses.
The old lighthouse at Akranes
I must admit they are fascinating. The original concrete lighthouse, which was built in 1918, still remains, although it was replaced in 1947 by a larger lighthouse which is regularly open to the public.
As you walk out on the rocky outcrop, on a clear day, I guess you can see Reykjavik; it's less than 12 miles/20km to the southeast. In fact, the views around you extend out over the sea for more than 270 degrees.
The new lighthouse at Akranes
After our brief stop, we head back on Iceland's route one towards the capital, Reykjavik.
Driving into Reykjavik
The hustle & bustle
Now heading into the heart of Reykjavik, the open roads' peace and tranquillity has disappeared. Not that Reykjavik is a huge city, or the traffic particularly busy, but such a contrast from the last ten days, the feeling is palpable.
A view of Reykjavik
Once we arrive at our hotel, the
Skuggi Hotel by Keahotels
, we have another 24 hours to discover Reykjavik, but we're not quite finished yet.
An unusual place of interest in Reykjavik
Did someone say cemetery?
Ok, so my fascination with cemeteries and the stories that they hold continues.
So heading into the centre of the Reykjavik via Route 49, we detour off on Route 40 to make our way to Reykjavik (Fossvogur) Cemetery. Within a corner, there is the Commonwealth War Graves section.
Headstones in the Commonwealth War Graves section
The Cross of Sacrifice at the Reykjavik cemetery
It's now time to head on because there are more places of interest to visit in Reykjavik before the day is out.
Places to visit in Reykjavik
And our final stop
Before we head to the hotel and park up, we detour to Perlan, which now houses an exhibition, a planetarium, a restaurant and an observation deck across the city. It is definitely a place to visit in Reykjavik.
The Perlan
The site was originally the home to a water tower, built in 1939, that fed the city. Over the years, that grew to six. After being replaced in the late eighties, they were converted to become Perlan.
It's time to make the short hop across town to our hotel.
Planning your trip to Iceland
So you're planning a trip to the Land of Fire and Ice? There is so much to see and do in Iceland that you'll wish you were staying longer. To ensure you make the most out of your visit, head over to the official website of Visit Iceland for a little help and guidance.
Have fun!
A must-see in Reykjavik
Hallgrímskirkja
After checking in and a quick refresh, we head out into . We now have around 24 hours in Reykjavik. And we plan to make the most of our last few hours in Iceland.
We couldn't resist strolling up to Hallgrímskirkja, the iconic church on a hill at sunset, as this was our final night.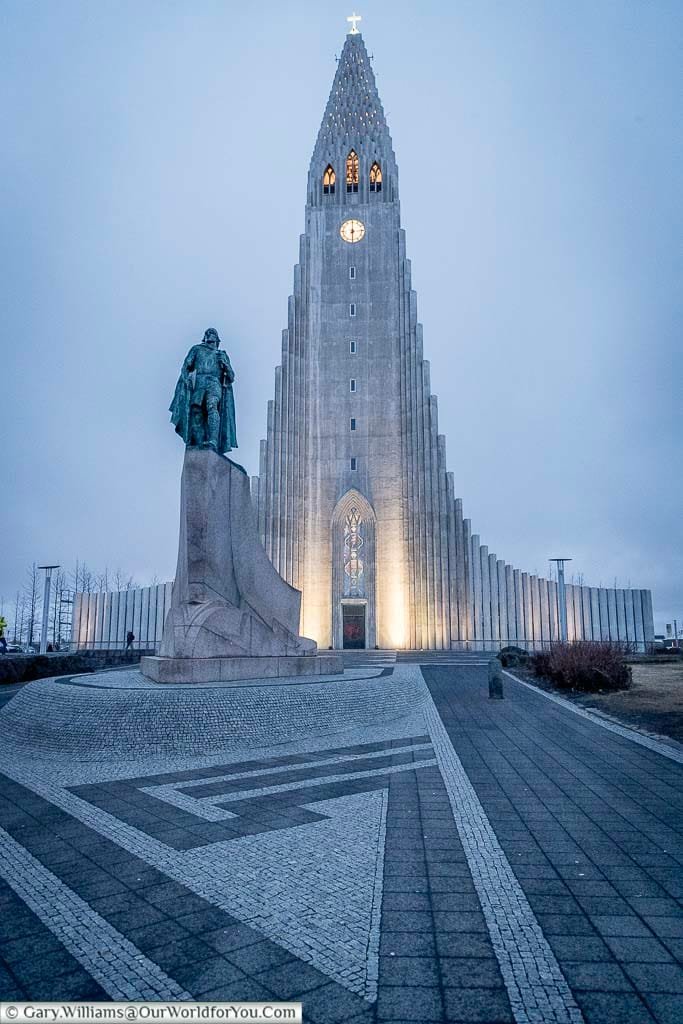 The Hallgrímskirkja at dusk
Where we stayed in Reykjavik
Our stopover
For the one night, we were based in Reykjavik; we stayed at Skuggi Hotel by Keahotels. The hotel is modern, (you can't currently find it on street view). It has underground parking, which was our main reason for choosing it and it was in a reasonably central location.
The buffet breakfast was probably one of the best on our trip, had a really wide range of food. I would stay here again.
We are flying out tomorrow, but not until the afternoon, so that gives us 24 hours in Reykjavik.
There are plenty of things to do in Reykjavik, and plenty of places to see in the quirky capital of Iceland.  Let's see what we discover?
Every trip Gary and I go on, whether it's a mini-break near or far or a road trip we chose a 'Highlight of the Day', here they are for day 11.
Janis; Today my highlight must be seeing the seals frolicking in the freezing cold Atlantic Ocean. I really didn't expect to see them.
Gary; Okay, I guess I'm a little sadistic but I loved the drive. The first section as we left Arnarstapi was beautiful, and the wake-up when we hit Reykjavik reminded me of how peaceful the ring road had been since we left Höfn all those days ago.
Our Iceland Road Trip
The route
The route that we took today mainly included smooth tarmac and a few hairy moments through a blizzard. We travelled along route 54, 1, 51 & 1 again.
In total, our journey was about 204km (127 miles), and as we were jumping in and out of the car a lot today, it took us about 7 1/2 hours.
In search of the Northern Lights in Iceland
If you are Northern Light hunting, you need to be aware of the sunset & darkness times and the KP Index for the evening. It also requires dark and partly clear skies.
KP Index scale ranges from 0 to 9;
0-2: Low
2-3: Moderate
4-6: A big solar storm is coming
7-9: Highly unusual
You can monitor this via the Icelandic Met Office which is updated around 6 pm.
* This post may contain links to affiliated sites where we earn a small commission at no additional charge to you.