by Janis /
0 comments
- Orginally published:3rd April 2018
Day One, Keflavik to Selfoss – And we're off
All the planning and research for our 12 days Icelandic Ring Road road-trip finally came to fruition.
Gary and I encountered so many incredible highlights and wonders on this fantastic trip that it would not be doing the Ring Road justice by condensing it into a couple of posts.
Therefore, for your enjoyment, I will be posting a day by day breakdown of what we shoehorned into our adventure.
Some of you may be organising your own trip across a various number of days. Hopefully, these posts will give you an insight into travel distances, planning and how you can make the most of each day.
Why not Pin it for later?
Returning to Iceland
11 years later
We first visited Iceland back in 2007 for a long weekend in May, and based ourselves in Reykjavik. We hired a car and set out to discover the Golden Circle, geothermal pools, Blue Lagoon and other 'must sees' close by.
I know it's taken us 11 years to return. However, the inspiration we gained from that trip just whetted our appetite for us to discover more.
In Selfoss we chose to stay at the Bella apartments & rooms.
We had a few essential requirements from each of our overnight stays in Iceland, which were:
Breakfast included or available nearby.
Scooby snacks along the way can be expensive.
Parking is a requirement, as this is a road trip after all.
Nearby cafés/eateries, or onsite restaurant for the evening.
Preferably a close-by fuel station; they can be few and far between en route.
Ready to explore Iceland
Fast Forward
Now it's March of 2018, and we're back, our flight landed early afternoon. This meant we could take our time getting to Selfoss, and stop at plenty of sights along the way.
However, before any of that, we needed to pick up our hire car. We chose to use SIXT, one of the brands covered by Rental Cars, which are just a five-minute shuttle bus journey away from the airport (shuttle bus runs every 15 minutes).
Etta, Our chariot for our Icelandic road trip
We had a very smooth transition with SIXT. We particularly wanted a 4X4 as we knew this time of the year the weather can be very changeable, blizzard conditions at times and can also be very icy.
SIXT even gave us a vehicle upgrade for free, which included a built-in GPS system and Bluetooth, so we could enjoy our groovy tunes along the way.
Go for a 4×4 for the reasonable ground clearance it affords you. You can, of course, hire a 2-wheel drive vehicle, but you are not permitted to drive on 'F' roads and other tracks.
Our experience was that even access to certain Points of Interest along roads a regular 2-wheel drive wouldn't get you there. Trust us.
Discovering Iceland
Which Direction?
We choose to complete the Ring Road (aptly named '1') in an anti-clockwise direction.
Mainly because by heading south first we could make our way to the Golden Circle on day 2 of our trip.
Also, this meant we visited the busier sections of Iceland in the south early in the road trip and gradually worked our way around to the more remote parts until we arrived back in Reykjavik.
Janis in the snow
So off we head in our trusty chariot, well equipped for the snow that appeared to have settled only hours before.
If you're tempted to tour the Land of Fire and Ice and would love to discover the whole country, then take a look at this  DK Eyewitness book. This Top 10 Pocket Travel Guide is invaluable, I find them extremely informative, easy to follow and the pictures and maps tempt you into searching for more.
You can now grab the revised copy.
Our first stop in Iceland
Stepping Between Two Continents
From the airport, we join the 44 and then the 425 towards the Reykjanes Peninsula in a south-west direction.
Our first stop for the day is at the 'Bridge Between Continents' Midlina, also known as 'Leif the Lucky Bridge'. It is a 15 metre (50 ft) footbridge in that spans a rift between the Eurasian and North American tectonic plates.
The Bridge Between Continents
You can stroll across it and step between the European and North American plates, and why wouldn't you want to do that?

We had only been in the country a short while, and the biting wind was crying out for me to wear my hat, now where did I put it?
Janis on the bridge between continents
Useful tips for driving in Iceland
If you are planning a road trip around Iceland particularly over the winter months you need to be very aware of the ever-changing road and weather conditions.  During winter, parts of the Ring Road may be impassable, and you may not get to areas of the country you intended to.
Regularly check the conditions by using these useful websites and apps, believe me, they will come in handy.
We have also written a post packed with tips for driving in Iceland based on our research and experience than may be worth checking out.
Experiencing Iceland
What's that smell?
Continuing along the 425 and soaking up the landscape and far reaching views across the North Atlantic Ocean, we head to Gunnuhver Hot Springs.
These hot springs are certainly not for bathing in. With Reykjanes lighthouse in the distance the geo-thermal pools are spewing gases and gurgling mud all around you.
The landscape at Gunnuhver Hot Springs
There are wooden platforms to stroll along that allow you to get very up close and personal with the pools.
As you wander along you are engulfed by the steam and the overriding smell of sulphur. There's no escaping the distinctive aroma.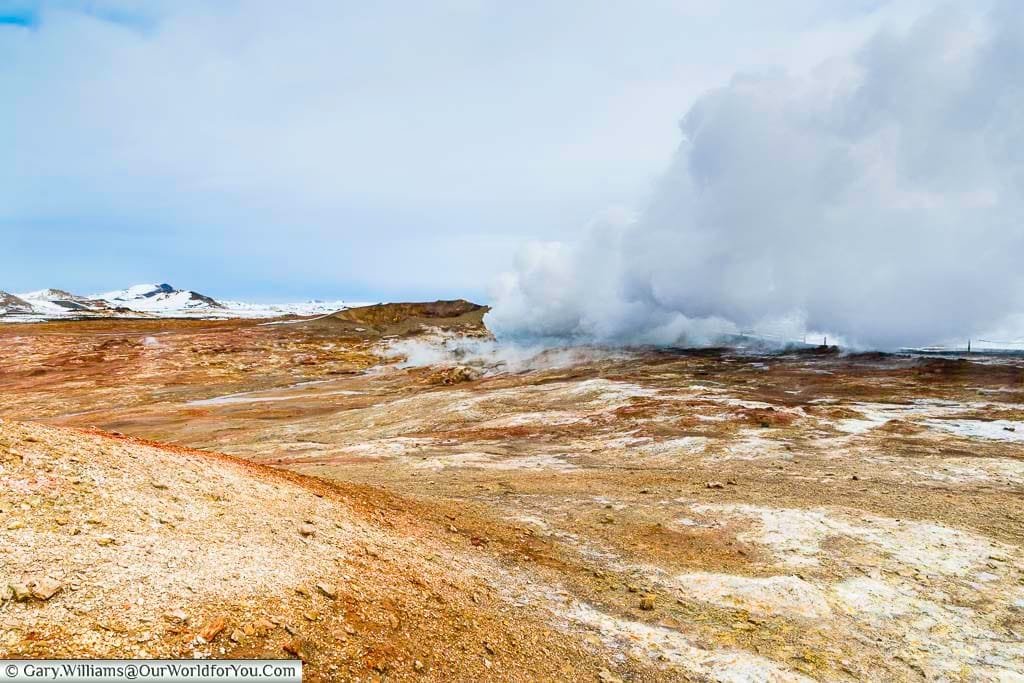 Steam rising from Gunnuhver Hot Springs
We hadn't been off the plane too long, and we had visited our first geothermal pool, what a way to start.
We have created a little YouTube video of Gunnuhver Hot Springs.  Why not take a look?
Also, why not subscribe to our YouTube channel and get the latest clips as we post them?
Gunnuhver Hot Springs & the Bridge Between Continents are both free of charge to visit.
Our first night in Iceland
Off to Selfoss
Continuing along the 425 you now start to head in an easterly direction, and after passing through Grindavik, you join the 427.
There are some beautiful views to take in, waves crashing against the coastline and frozen lakes and pools along the way.
En-route - Grindavik Harbour
The journey time from Keflavik Airport to Selfoss on the route that we took is around 1 hour 40 minutes and 124 km (77 miles) by Google Maps. This is obviously dependent on how many times you stop and the road conditions. We took it leisurely and arrived in Selfoss around 5 pm. So, for us, it took approximately 3 hours.
Finding the right car for your Icelandic Road Trip
Discover Iceland's enchanting Ring Road with its rugged landscape or the waterfalls and geysers around the Golden Circle for yourself.
If you want to explore Iceland's F-Roads, you must have a 4x4, but we'd recommend one anyway for the improved driving position, and if the weather turns, you have a touch of added protection.
We recommend Rental Cars as they search multiple well-known car hire brands and discovers the deals that suit you the best.
Where to stay in Iceland
The choice is yours
Selfoss is a relatively small town but felt quite busy. We chose to stay at the Bella apartments & rooms, which was comfy, had plenty of parking and included breakfast.
Selfoss had a range of restaurants from fast food to gourmet, depending on your taste buds and price range.
However, if you have chosen to visit Iceland you know it is going to be expensive to eat, regardless of where you choose.
As a treat for our first night, we dined at Tryggvaskali, which was definitely at the higher end of the scale. The food was amazing and predominantly local produce.
Fine dining in Selfoss
In most restaurants and bars, you will expect to pay ISK 1,000 (£8/$11/€9) for a ½ litre of local Viking lager. Check out the price for a small beer, it's not normally that much cheaper so it pays to go large.
Tomorrow we will be heading out to discover the Golden Circle, or most of it, plus a few other places we have researched.
We will be returning back to  the Bella apartments & rooms at the end of the day.
Every trip Gary and I go on, whether it's a mini-break near or far or a road trip we chose a 'Highlight of the Day', here they are for day 1.
Janis; Gunnuhver Hot Springs & the gurgling mud pools
Gary; Gunnuhver Hot Springs, the Sulphur smell brought back memories from our first trip.
Planning your trip to Iceland
So you're planning a trip to the Land of Fire and Ice? There is so much to see and do in Iceland that you'll wish you were staying longer. To ensure you make the most out of your visit, head over to the official website of Visit Iceland for a little help and guidance.
Have fun!
Trips to try in Iceland
Something from Get Your Guide?
Why not check out what else is on offer through Get Your Guide.
* This post may contain links to affiliated sites where we earn a small commission at no additional charge to you.