A Visit to Regensburg, Bavaria, Germany
A Medieval Bavarian treat
After our couple of days in 
Augsburg
 we then head east onto the city of Regensburg. En-route we made a poignant visit to 
Dachau Concentration Camp
.  Dachau played a significant role in world history, and it was somewhere Gary, and I had wanted to visit.
It was then onwards to Regensburg, Bavaria's fourth-largest city and a location that perhaps isn't so high on a visitor's radars.
Well, we're going to find out.
I love nothing more than planning a trip and so often I use the DK Eyewitness books.  I find them  extremely informative, easy to follow and the pictures and maps tempt you into discovering more.
We used a previous version of this book to plan our Germany road trips, now you can grab the revised copy.
What to see in Regensburg?
Regensburg is nestled along the banks of the River Danube, and if there's a river to be seen, then this is more often than not our first port of call. I love being near the water.
Regensburg Cathedral from the River Danube
To get the magnificent backdrop of the Cathedral then head north over the old Stone Bridge, towards Stadtamhof.
The 12th-century bridge spans the river with 16 arches, however, due to years of damage and wear and tear it's now closed to traffic.
In Regensburg, three rivers meet, and they are the Danube the Regen and the Naab.
Old Stone Bridge over the river Danube
Significant restoration is ongoing to ensure it remains an icon of Regensburg. 
Start creating your own Bavarian adventure and discover the historic city of Regensburg for yourself. You can fly into Germany's delightful city of Munich.  Search for your flights in one easy place with
ebookers.com
 and open up a world of options. Over 400 airlines are scanned for your favoured routes and chosen dates.
Once over the bridge don't miss the opportunity to visit Stadtamhof, the colourful island in the middle of the Danube. This is a wonderful place to stroll around and has a real feel of mixing with the locals.
Even though Stadtamhof is a stone throw from the historic city centre on the other side of the bridge, it was only incorporated into Regensburg city in 1924.
St Mang Church in Stadtamhof
Strolling back across the bridge towards Regensburg old town, keep an eye out on your left for the
Historische Wurstküche
(Sausage Kitchen). It's next to the attractive Salzstadel, the old salt warehouse.
Historische Wurstküche -Sausage Kitchen
Full of locals and tourists alike the Historische Wurstküche dates from 17th century and has been serving sausages since 1806. It's a fun place to head to, and you'll see smoke puffing from the chimney before you even get there.
Within the cobbled lanes of the Old Town, there are so many historical buildings. Painted in pastel colours and immaculately maintained. Keep looking up as the detail in some of the architecture is incredible.
Take a stroll passing little boutiques, quaint curio sellers, you may even pick up a little souvenir.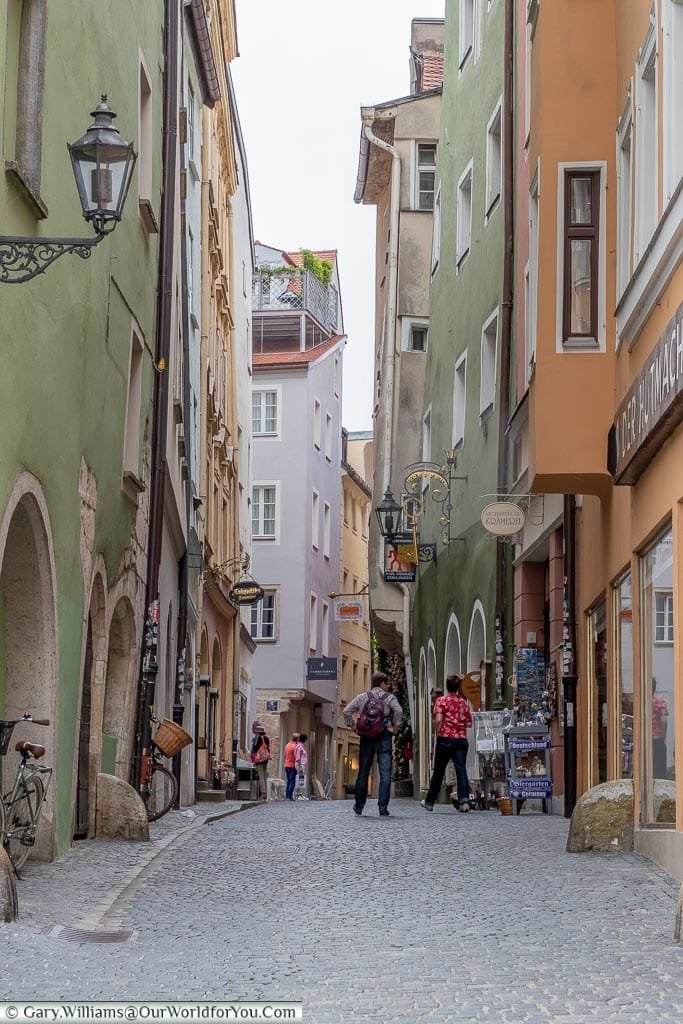 The Pretty lanes of Regensburg
Wiedfangbrunnen – Water well
The eye-catching Goliath House was built around 1260. You won't be able to miss it, as it has a magnificent painting on the front dating from 1573, of the fight between David and Goliath. It is part of the largest mansion in the city of Regensburg.
No German town would be complete without a Rathaus, and Regensburg's is very striking. Head to Rathausplatz, and here you'll be surrounded by plenty of historical buildings.
Town Hall Tower & Ratskeller
Sections of the Old Town Hall date from 12th century, also here is the Town Hall Tower and the Gothic Imperial Chamber building. Within the Imperial Chamber, the Perpetual Imperial Assembly met from 1663 to 1806.
Unfortunately, when we visited Regensburg in 2019, the Old Town was undergoing a lot of restoration work. This meant that quite a few historic buildings were under scaffolding.
There are some truly lovely churches in Regensburg, you must take a peek inside some of them as they are stunning. My Favourite was Saint Emmeram's Abbey, also known as Schloss Thurn und Taxis.
It is absolutely breath-taking inside; the opulence has been taken to another level.
Inside Saint Emmeram's Abbey
Lavish features Inside the Abbey
The principal church in Regensburg and proudly dominating the skyline is the attractive twin spire St Peter's Cathedral. Regensburg Dom is the only Gothic Cathedral in Bavaria and is also home to the world's largest hanging organ.
Inside St. Peter's Cathedral
World's largest hanging organ
Discover more of Germany on a road trip like us, if your unable to bring your own car or are flying into this lovely country give 
Rental Cars
 a go, as they search multiple well-known car hire brands for the best deals.
A few more of Regensburg's squares
Or to give them their correct name 'Platz'. Of course, you could track them down through following a map, but surely part of the fun is just turning a corner, and the colourful squares open up around you.
In the old medieval square of Haidplatz, some beautiful buildings are surrounding the Justice Fountain. The Altstadthotel the 'Arch', the Golden Cross, the Thon-Dittmer-Palais and the New Waag are just a few.
It's a lovely square to take the weight off of your feet, grab a coffee and sit and watch the world go by.
Within Neupfarrplatz, which was once the old Jewish quarter of the city, you immediately come face to face with Neupfarrkirche 'New Parish Church'. This a Protestant-Lutheran church and is the centrepiece of this attractive market square.
New Parish Church within Neupfarrplatz
I really enjoyed passing the time of day in Bismarkplatz, particularly as there was a delicious ice-cream shop just here. Ohh, and of course the beautiful neo-classical buildings at either end of the square.
Haus der Musik in Bismarkplatz
To the south of the square is the music school 'Haus der Musik', which was once a Presidential Palace for the French ambassadors to the Perpetual Imperial Assembly.
Regensburg Theatre in Bismarkplatz
Then to the north of Bismarkplatz is the 19th century Regensburg Theatre, which is the city's oldest theatre. We found that this square had a lovely relaxed local vibe about it. 
There are so many delightful towers dotted around Regensburg, it gives the skyline such a unique view.
There were once three towers across the Old Stone Bridge, now only the south one remains. The south tower was built around 1300 and has undergone several restorations since, and is still extremely striking.
South Tower on Old Stone Bridge
The ancient Porta Praetoria is an incredibly old gateway dating from 179 AD. It is one of Germany's oldest stone buildings and once the entrance gate in the northern wall of a Roman camp.
It would be rude not to! So, now it's time to pull up a stool and enjoy a local beer at the Regensburger Weissbräuhaus, all served with a smile.
Inside the Regensburger Weissbräuhaus
Would you like a little more?
We have created a little YouTube video of Regensburg - why not check it out?
Why not subscribe to our YouTube channel and get the latest clips as we post them?
* This post may contain links to affiliated sites where we earn a small commission at no additional charge to you.
Inspired to visit Regensburg?
Does the Bavarian UNESCO city tempt you?, start creating your own adventure here.
Search for your flights in one easy place with
ebookers.com
and open up a world of options. Over 400 airlines are scanned for your favoured routes and chosen dates.
(Why not Pin It for Later?)
If you enjoy what you see, and you'd like regular updates then join us for a monthly newsletter.