The call of Honfleur, France
10 years had been too long
It was our last day on our
Normandy road trip
, and the whole experience had been fantastic, from beginning to end.
An inspiration for artists, Honfleur
Gary and I were initially going to finish the trip in Alençon, but I was feeling a bit of nostalgia for Honfleur, as it had been ten years since our last visit.
So, we thought what the heck and added an extra day.
We'd often remember the galettes and cider we enjoyed by the harbour side in Honfleur and was looking forward to experiencing it all over again. Well, that's exactly what we did, checked in and parked up for the day, we strolled down to the harbour.
Cidre de Normandy
Don't get me wrong, we always like to try something new, but on occasions, it's really enjoyable reliving old memories, and this one didn't disappoint.
Honfleur's Vieux Bassin is incredibly picturesque, lined with attractive slate-clad buildings peering down onto the harbour, all from differing heights.
The narrow buildings in the harbour
Even with the hustle and bustle that this popular town brings we found a lovely quayside table. Sat down and soaked up the atmosphere, watched the yachts bobbing up and down in the summer sunshine, sometimes life doesn't get any better.
A gallette with Camembert and cream
Fully replenished and with a map in hand, we took to the lanes to rediscover this historical town.
We love visiting France and each region so different from one another. I find the DK Eyewitness Guides really helpful in planning a trip and so often find interesting little snippets of info.
Take a peek at this revised Top 10 Pocket Travel Guide and see what you can discover.
Honfleur is brimming with art galleries, boutiques & restaurants; it's easy to see why this lovely fishing town is so enchanting.
Not only is the Vieux Bassin surrounded on three sides by the striking narrow houses, but nestled amongst them is the Saint-Étienne church, the oldest in Honfleur.
Saint-Étienne church, Honfleur
The Lieutenance which sits at the mouth of the harbour is the only remaining section left from the ancient rampart, as the old harbour was reconstructed to handle the increasing shipping requirements.
Search for your flights in one easy place with
ebookers.com
and open up a world of options. Over 400 airlines are scanned for your favoured routes and chosen dates.
One of favourites ways to kick off our trips is to let Brittany Ferries take the strain, sit back, relax and go with the flow. Enjoy a little bit of France as you sail directly into Caen in the heart of Normandy, or to Le Havre and start your adventure in Honfleur.
Or alternatively jump on Le Shuttle and tour through France under your own steam.
What you must visit while in Honfleur is Saint-Catherine's Church, built entirely of wood by shipwrights. The bell tower was constructed a short distance from the church due to the risk of fire. However, it is quite unusual inside, it feels like a medieval hall, that maybe because it doesn't have a transept, which is quite rare.
Saint-Catherine's church tower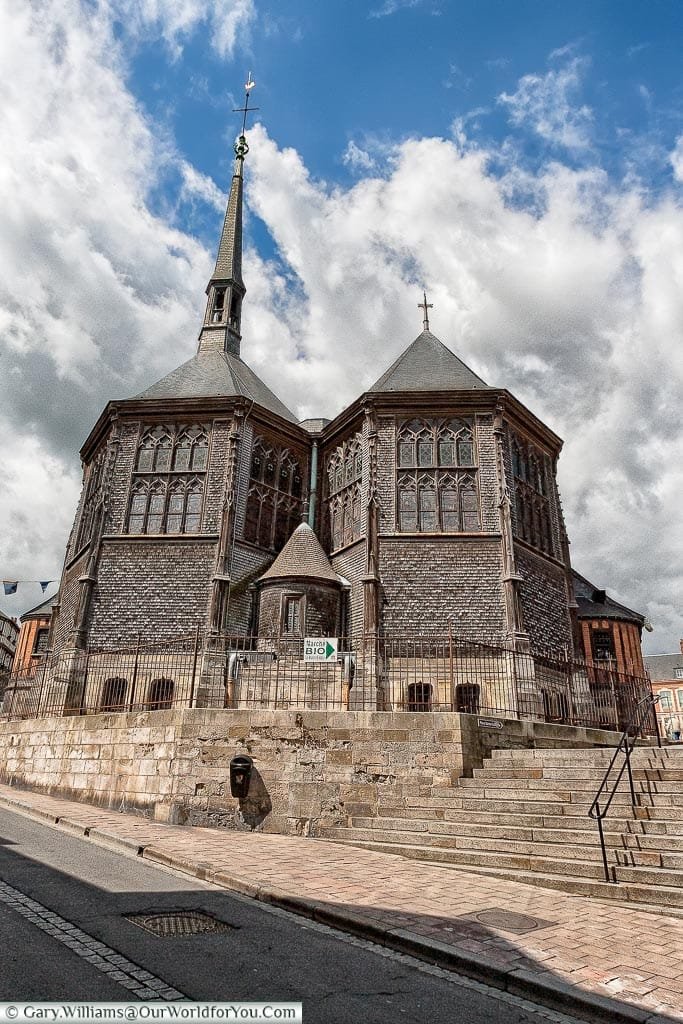 Saint-Catherines - the wooden church
There are some really delightful recreational areas in Honfleur, one in particular that we found was by the traditional open-air wash house which is still fed by hillside springs. You can sit and watch the world go by and sneak in a cheeky ice-cream.
Honfleur has been caught on canvas many times over the years, but its most famous son is the French impressionist Eugène Boudin. There is a museum named after him which house fine arts from various artists including works by Eugène Boudin.
Honfleur certainly is a lovely town to stroll around day and night, wander amongst its intriguing little lanes and soak up the evening atmosphere around the quay.
The harbour at night, Honfleur
I'm pleased we returned to Honfleur, but it has become quite a tourist trap, perhaps it was because we visited mid-July.
Something from Get Your Guide?
Why not check out what else is on offer through Get Your Guide.
(These options are provided by GetYouGuide.Com. We will earn a small commission, at no extra cost to you if you book through our site)
Visited any little French harbour towns in Normandy, we'd love to know?
Inspired to visit Honfleur?
Does a meal by the harbour side appeal to you? a stroll around the lanes? Admire the galleries and pick up your own memento?
Why not checkout the latest deals on Booking.Com?
(Why not Pin It for Later?)
* This post may contain links to affiliated sites where we earn a small commission at no additional charge to you.