by Janis /
0 comments
- Orginally published:30th November 2016
Cologne's Christmas Markets are the ones to visit
All you need to know about this magical German market
If you only ever try one Christmas Market, make it a real German Christmas Market, you really won't be disappointed. We first went to Cologne in 2006, skipped it in 2007 for the sunny climes of Costa Rica and then sampled Strasbourg at Christmas in 2008.
In 2009 we returned to Cologne and have continued to return every year since then, there is something quite magical about it.
Why? We often get asked, return to the same destination time and again, but for us, every year is different.
The markets have continually evolved, and in Cologne, there are numerous Christmas markets sprinkled around the city, all with their unique theme.
Why not Pin it for later?
The ice rink in 2010
Take, for example, the new ice rink in 2013; there are plenty of other examples of subtle improvements year-on-year. The organisers put a lot of effort into keeping this one of the best Christmas destinations you can visit in Germany.
The new ice rink in 2013
Not only do the markets keep evolving, but even the culinary delights have a different twist each year.
 It is sometimes disappointing if you have a favourite and it disappears, but there are always new treats to try.
The Dom towers over the Christmas Market
Cologne hosts one of Germany's most popular Christmas markets, with the Dom Cathedral being the VIP of the party. The Weihnachtsmarkt am Dom, which the cathedral looks down upon, is a festival of little red wooden cabins lovingly decorated.
The centrepiece of this market is the 25-metre tall Christmas tree that has hundreds of tiny lights draped from it, to give the effect of a twinkling parasol folding around you. This is particularly wonderful on a misty evening with darkness drawing in.
We have sooo many memories & keepsakes from our Cologne Christmas market trips that it is a struggle to condense them all.
From the wonderful joyous atmosphere on the streets, to the welcoming locals in the bars. We still have a beer mat that a German businessman wrote upon and recommended a small town for us to visit in Bavaria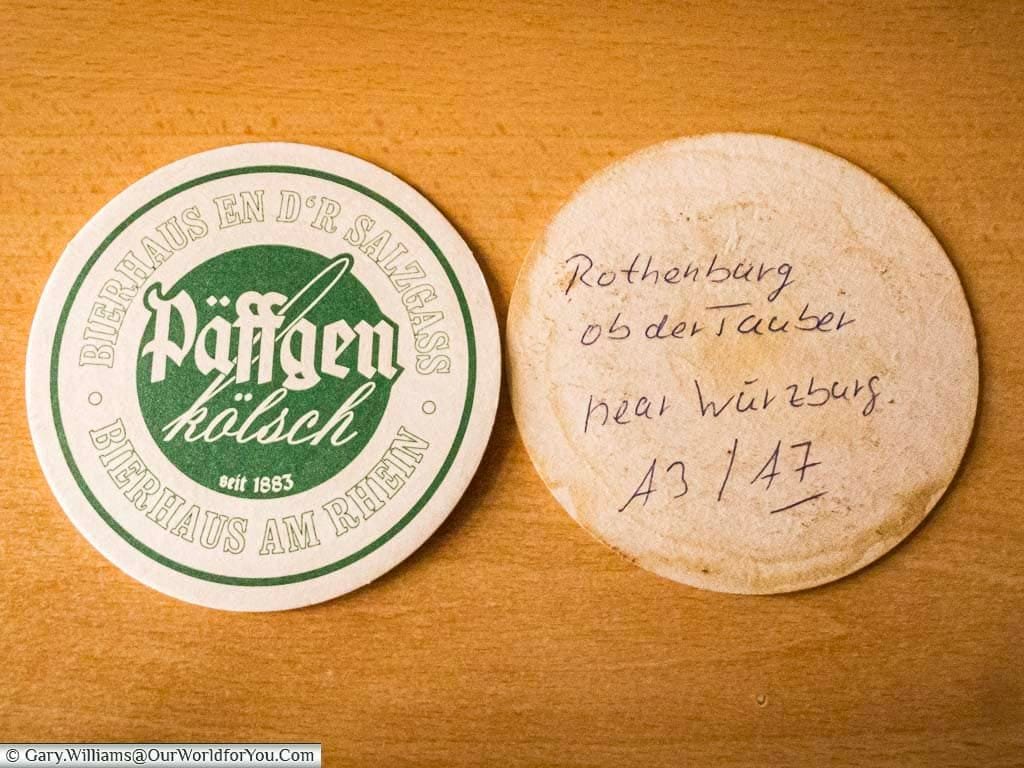 That beer mat
First and foremost, it has to be the markets.
Christmas market at Cologne Cathedral
(Weihnachtsmarkt am Kölner Dom)
The centrepiece for Cologne, as mentioned above, is the Dom market with its impressive Gothic Cathedral. The Cathedral was inscribed onto the
UNESCO World Heritage List
in 1996. Work began on this imposing structure in 1248, but was not completed until 1880.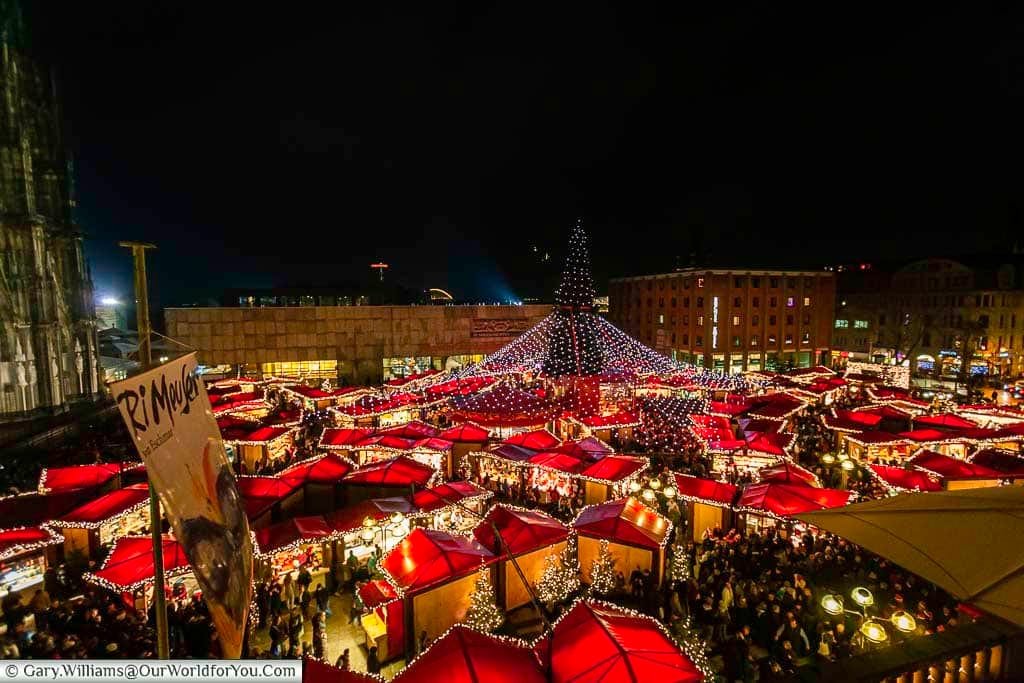 A view over the Dom Christmas market
At Christmas, this square is turned into a sea of red with its 150 stalls.
It is here you can find the stage where various events are held during the season, all free. Grab a Glühwein and listen to Silent Night in the original German.
---
Heinzels Winter Fairytale
(Heinzels Wintermärchen)
The second market on the list, and my favourite, is 'Heinzels Wintermärchen'. A market in Cologne Old Town, also known as 'Home of the Elves'.
This is Cologne's largest market and spreads from Kolner Altstadt to the end of Heumarkt.
Elves everywhere
The elves theme is carried through the whole market, with little beings hanging and appearing from where you would least expect it.
Here you can also find the fantastic ice rink that loops around the statue of Friedrich Wilhelm III.
Cologne's Christmas market ice rink
You can view the ice rink and curling lanes from various points around the market, including the two-storey bar next to the carousel.
Unbelievably, these delightful Hansel & Gretel style wooden cabins are temporary and only used for around 6 weeks of the year.
---
The Market of Angels
(Markt der Engel)
The third market is the 'Market of Angels' at Neumarkt. This is another fantasy-filled market, where you float amongst the twinkling white cabins, being swept along with the atm
The Angel Market
Market of Angels is the temporary home of the Kathe Wohlfahrt store. If you want to look around, arrive early as there are often queues out the door.
It is also where we have our heiße Schokolade mit Baileys at the Engelbar. That is a hot chocolate with Baileys, and if it sounds good it's because it is. Have that after visiting the Kathe Wohlfahrt store or you might end up purchasing more than you planned!
This is also where we pick up our Kolner Stollen, normally a gift or two and may tuck into a Flammeckeuche. (Wait for the 'Pleasures' for more on that.)
Strolling the Angel Market
---
If Cologne is the city for you, and you fancy some
further reading
to ensure you don't miss a thing, grab your travel guide and start planning.
---
Village of St Nicholas
(Nikolausdorf)
Market no. 4 is the 'Village of St Nicholas' located in Rudolfplatz.
This market has been transformed over the last few years and is a magical place for all the family.
The Hahnentorburg gate and Village of St Nicholas
With the Hahnentorburg gate looking down, this smaller market has some wonderful food stalls along with a 'children's workshop' and an extremely large advent calendar.
Advent in Nikolausdorf
The 'Gasthaus' is a great place to meet with friends, enjoy a couple of glühweins, or sneak a quiet one as you pass through.
Sipping the glühwein
---
Cologne Harbour Christmas Market
(Hafen Weihnachtsmarkt) Sub-headline
The fifth market, Cologne's 'Harbour Market' is on the banks of the River Rhine, next to the Chocolate museum and has a distinctly nautical theme.
This market has a swashbuckling feel and a more modern take on Christmas, but equally good fun.
Everything nautical at the Harbour Market
Here you can experience the spiced mulled beer, along with various seafood treats.
When we first came to Cologne, this was a medieval market and a floating market. In later years we saw the addition of a giant Ferris wheel.
The Ferris wheel at the Harbour Market
It shows how the city is not sitting on its laurels.
If it has been a long day, you might want to consider jumping on the 'Dotto' train to take you back to the other markets.
---
Stadtgarten Christmas market
(Weihnachtsmarkt Stadtgarten)
The sixth market is at the Stadtgarten, set within Cologne's oldest park. It has a warm friendly atmosphere, with the cabins mingled amongst the trees.
Around Stadgarden Cologne Christmas Market
We found some different arts and crafts stalls here. It feels like this one is for the locals, less tourist razzamatazz.
There are more Christmas markets that come and go, and some a little further out, for the the latest information, check out the official 'Cologne at Christmas' page
---
Eden Hotel Früh am Dom - This friendly hotel is in the heart of the city centre with and just a couple of minutes walk to Cologne Cathedral.
We've stayed at Eden Hotel on many occasions and it never disappoints. It is owned by the Früh Brewery and has a bustling restaurant in its cellar.
Cologne's Christmas Market Stalls
All the little cabins throughout the city have had so much love and care taken upon them. Equally, the fantastic outfits that the stall holders wear.
Now, what's he selling?
Inside the Alpine lodge
The arts, crafts and gifts that are sprinkled amongst all the stalls are wonderful; it is a Christmas lover's dream.
Arts & crafts stalls in Cologne's Christmas Markets
Row after row of baubles, candles, tree toppers, lanterns, lights, and gingerbread houses, to name just a very few.
---
Food on Cologne's Christmas Markets
A large part of the Cologne market atmosphere is the delicious food and drink. It tastes so much better standing outside laughing and joking in the cold.
Firstly, the array of food is fantastic. It's a sausage lover's paradise, bratwurst, currywurst, feuerwurst, rinderwurst, krakauer and there were more.
Then there are the steaks and kebabs (1/2 metre long). The salmon is a particular treat as this is cooked over wood-burning fires.
Meat and Chicken Kebabs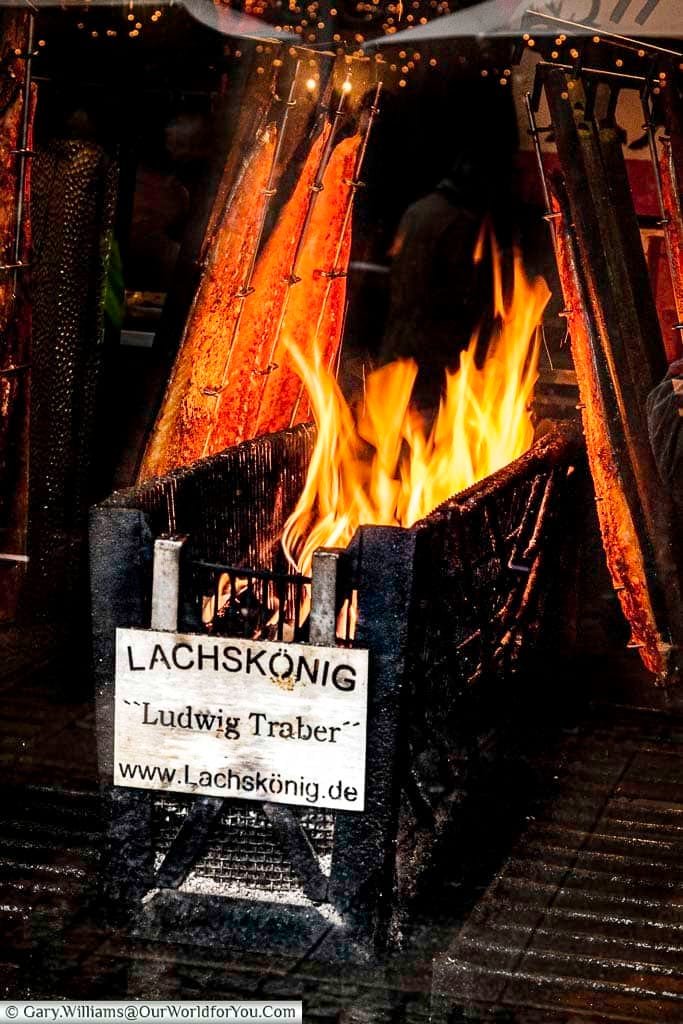 Salmon the traditional way
Then comes the backfisch, flammkuchen raclette, Reibekuchen, sautéed garlic mushrooms, gulaschsuppe, pretzels...
Flammeckeuche to share
If you have a sweeter tooth, try the baked apple, waffles, gingerbread, crepes, strudel or stollen.
Enjoying a baked apple
A waffle selection
---
Drink on Cologne's Christmas Markets
Ohhh and then there is the choice of beverages. Glühwein is a must, you can choose red or white, and if you are feeling brave, you can have it with a shot of rum, amaretto or calvados. This is great on a cold winter evening, standing around hugging your mug.
Socialising in Heinzels Winter Fairytale Christmas Market in Cologne
Sometimes you may want to take the weight off your feet.
Well, the two-storey Gasthaus at the Village of St Nicholas in Rudolfplatz has you covered. It's great a little bit of people-watching
The local beer in Cologne is Kolsch, which is served in 200ml or 300ml glasses. This is sold on the markets as well as in the bars.
At the harbour market, you can try the spiced mulled beer.
Glühwein & hot spiced beer
The drink that is a spectacle to watch is feuerzangenbowle. It is a glühwein with a rum-soaked sugarloaf balanced on top. The sugarloaf is lit, and the alcohol burns and drips into your glühwein.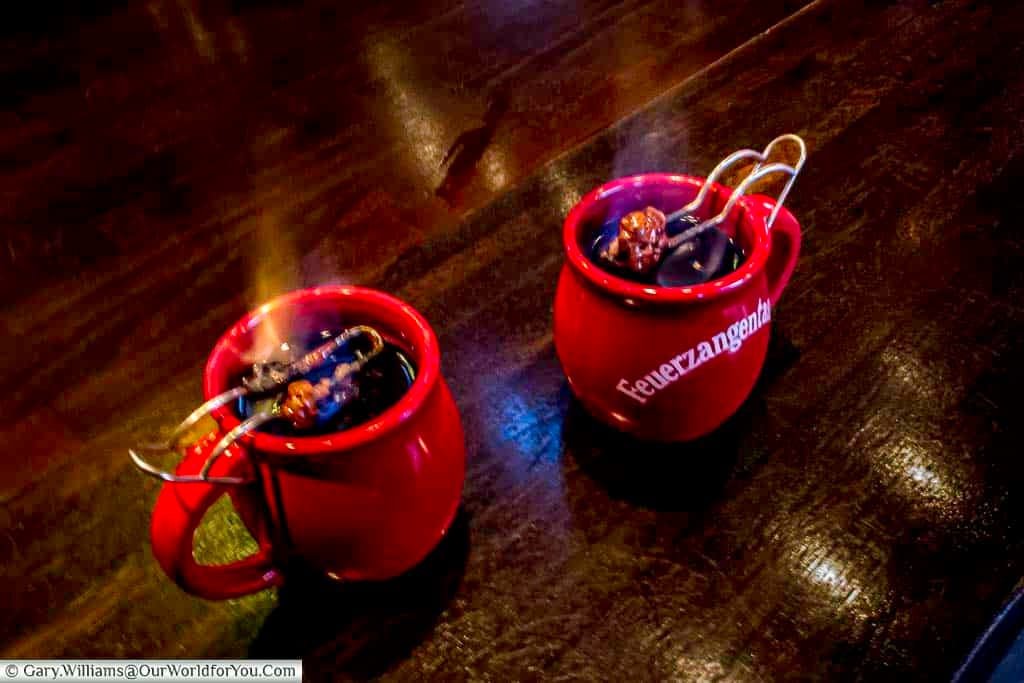 Flaming feuerzangenbowle
The Aierpunsch (egg punch) and Alpenglüher (cherry punch) are a little more unusual for us; still, Gary loves them.
Hot chocolate is also very welcoming; if you wish, you can have this with a shot of Bailey's. We always have our Heiße Schokolade mit Bailey's in the Angel Market.
---
Cologne's Bars at Christmas
The bars in Cologne are very friendly, we have found a few we enjoy, but in
Papa Joe's
you can even enjoy a jukebox with Bavarian music.
Outside Papa Joe's
There is a real buzz about the place, especially when theoompah music begins to play.
Inside Papa Joe's
Every year we visit
Bierhaus en d`r Salzgass
, arriving on the first day around 4:30, and watching as it gets busier & busier. We love to see the barrels of fresh Kolsch popping up through the bar.
There is only one beer, that's the Kolsch, only one size 200ml (around a 1/3 of a pint),
When you've finished another will appear at your table. Your waiter will add another mark to your beer mat, and this goes on until you 'tap-out' by placing your beer mat on your glass.
The great thing about the smaller size is that the beer stays fresher & cooler - plus you can drink at your own pace when in a group.
Inside Bierhaus en d`r Salzgass
(RIP Robert; you won't be forgotten)
---
The whole of Cologne at Christmas
Take time to listen to the bands and street musicians dotted around the city.
And the band played on
The whole city appears to embrace Christmas, and if there is tree or streetlamp, it will be adorned with festive lights.
Beautiful at night
---
Each Christmas market has its own style, each year they change. We have collected many different mugs over years. If we have a glühwein or hot chocolate at home, we choose our memory, bringing back a smile.
Gluhwein in the souvenir mugs
We have a collection of ornaments and decorations we have picked up in our visits.
Our Nutcracker from Käthe Wohlfahrt
Santa Claus in wood from Käthe Wohlfahrt
They range from relatively inexpensive baubles to more ornate products from stores such as Kathe Wohlfahrt.
This is the reason why we opt to drive to Cologne. It gives us complete freedom to buy as much as we want, there are now luggage limits, nor a fear of them being damaged on the journey home.
---
Check out Cologne's excellent
tourist website
for more information, or you can ask us a question by leaving a
comment
below.
A year is a long time to wait.
---
It's not like a normal mini-break
We used to eat in restaurants in the evenings, but in the last few years, we have eaten around the markets, as the food is enjoyable and reasonably priced.
Performing the conga with a bar full of German strangers in Brasserie Täglich Köln.
There have been other moments, but that's the one I will own up to.
I love nothing more than planning a trip and so often I use the DK Eyewitness books.  I find them extremely informative, easy to follow and the pictures and maps tempt you into discovering more.
We used a previous version of this book to plan our Germany road trips, now you can grab the revised copy.
If you wish to fly, it only takes about 1 hour and 15 minutes from London.
You really need to book early as these markets are very popular.
Although all these markets are fantastic to visit during the day, they really come alive in the evenings, don't miss it.
Be warned these markets become extremely busy at the weekends, particularly in the evenings. Children may feel a bit swamped with the crowds.
Dress warm and comfortable; this is essential because it was cold in December.
Germany's Christmas markets are for all ages, don't be put off that it is all for children; it really isn't. We are all big kids at heart…..
Dress warm and comfortable, and don't forget your Santa hat.
Final point, the most remarkable thing about Cologne at Christmas, is the warmth and friendliness of the people.
We'll see you again.
* This post may contain links to affiliated sites where we earn a small commission at no additional charge to you.