Curious places to visit in London
A little different from the norm, if it's not your first visit
You may have visited London time and again, you might even live in London, or like me, worked up in the 'smoke' for many years. However, what I adore about this bustling metropolis, is that I'm always filled with a sense of adventure when we visit.
Little 'n' Large at the Law Courts
The ancient city of London has so many secrets, I just feel the urge to explore more of the unusual and sometimes quirky spots around England's multi-cultural capital.
Gary and I are off to revisit London in a few weeks, and my list of districts to discover and to search out those lesser-known facts and blue plaques is ever-growing.
I have a little knowledge upfront for you, and that's although London is a city and the capital of England, it also has two cities within it. The first is the ancient 'City of London' which the Romans founded in AD 43 and named it Londinium.
The London Troops Memorial in front of the Royal Exchange
This is now the hub of London's financial district and referred to by the locals as 'The City'. Some may question that the financial centre is now Canary Wharf, but, I'm old-school, and I'm having none of that.
Just to throw a spanner in the works, The City is also colloquially known as the 'Square Mile'. Which as you may guess and covers an area of around one square mile, this small region of London is bursting with history and facts.
The Guildhall - City of London
Keep an eye out for those little differences when you wander into the city.
Not only do the street signs and the cast iron bollards alter.
However, if you head along one of the main routes in, you'll be rubbing shoulders with a pair of silver dragons.
The edge of the City of London
Follow the River Thames west, and you'll come to London's second city, and that's the City of Westminster.
Here you'll find all that is Regal about London along with some of London's beautiful parks and the haunts of many a politician and aristocrat.
Statue to Winston Churchill
If you've yet to discover London and its ancient history, then let's start planning. I find these DK Eyewitness Travel Guides invaluable. They're extremely informative, easy to follow, and the pictures and maps tempt you into discovering more of those fascinating sites.
You can now grab a recently revised copy of this guidebook, so you won't miss a thing.
Some Londoners may call themselves cockneys; however, it is believed, that to be a true cockney, you must be born within earshot of the chiming of the Bow Bells.
The Bow Bells are located in the heart of the ancient city, in St Mary-Le-Bow church along Cheapside.
The bell tower of St Mary-le-Bow
You may want to swat up on your Cockney rhyming slang, you never know when you might need it 'me old china'.
Last year Gary and I decided to dig a little deeper into some of London's districts, one of which was Smithfield. Most people will know Smithfield for its meat market, which has been trading for over 800 years.
Catering Meats (Smithfield)
However, just within a few lanes, you'll find England's oldest continually running hospital "St. Barts", founded in 1123. Which astonishingly survived the Great Fire of London and the Blitz. On the outside walls, scars from a Zeppelin raid can still be seen.
Smithfield also has a very dark past, as it's here that many hangings and executions were carried out. One of the most horrific was that of William Wallace in August 1305.
Want to discover more than about London?
We have a little book on our shelves that we sometimes delve into when we're about to hit an area of London.
Packed full of historical facts, and broken down into the different regions of London, it's a great resource to help you see what's hidden in plain sight.
Available in Kindle & Hardback editions, it's an excellent addition to anyone's collection who loves London.
Spitalfields
has gone through a bit of a revival in recent years since the fruit and veg market moved to Leyton. A market has been trading on this site at Spitalfields for over 350 years, and today it emits a different vibe.
Instead, street traders hollering out their veg bargain of the day, there is more a hip, cool and trendy vibe. I certainly don't include myself in the hipster camp; however, the transformation is incredible. It's such a pleasant and friendly place to relax with friends and also pick up a quirky piece of vintage clothing or even replace that lost vinyl.
Now, Postman's Park in St Martin's Le-Grand is a delightful place to retreat away from the world. Although make sure you bring a tissue or two as there are some heart-warming touching tales of kindness here.
Postman's Park - A hidden gem
This little park is home to the Watts Memorial, which is a memorial dedicated to Heroic Self-Sacrifice and was founded by George Frederick Watts.

Watts fought to have a place of remembrance created, to ensure that the lives of ordinary people would not go unforgotten. Under the roofed terrace, take your time to stop and read the glazed Royal Doulton plaques, commemorating multiple acts of heroic bravery, often involving children.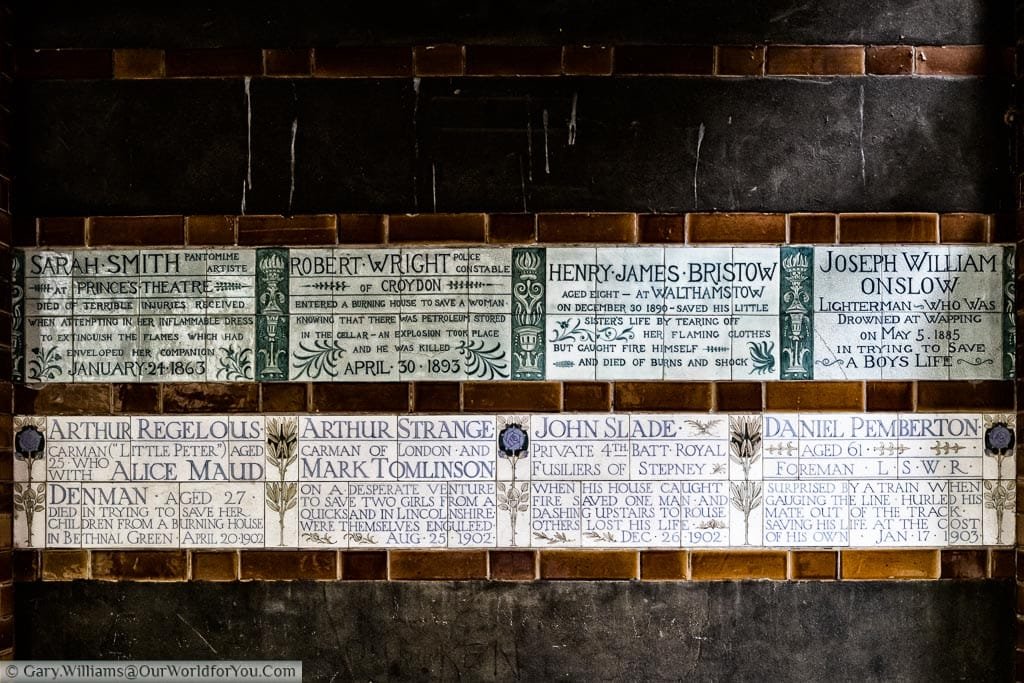 The Memorial to Heroic Self-Sacrifice
If you are heading into London by car on a Sunday, then you'll find there are plenty of free parking spots in the financial district. From here you can either walk or jump on the London Underground to further locations.
I know, surely not another memorial. But, so often these thought-provoking places are located in such wonderful areas. The Tower Hill Memorial stands proud in Trinity Square Gardens, just by the Tower of London.
The tower from Trinity park
The memorial commemorates both men and women of the Merchant Navy and Fishing Fleets, who died during both world wars and have no grave but the sea. Spare some time to reflect on the heroic sacrifices of the 35,839 names that are displayed from floor to ceiling.
A naval sentry at Tower Hill Memorials
Inside the WW1Tower Hill Memorial
Also, in this garden lies a memorial to the Scaffold site once used for public executions, dating from 1381 to 1747. Many of whom were dignitaries and clergymen.
Don't assume that to reach London's top sights you'll always need to jump on a tube, the underground map can be deceptive at times. Head there on foot, you'll see so much more and save money.
A little more upbeat and not too far from Tower Hill is St. Katharine's Dock. At its height, St Katharine's Dock was a grubby wharf, with men struggling to earn a living amongst the muck and grime of life working on the River Thames.
The Marina at St Katharine Docks
It's a little bit different today as the yachts moored in the intimate dock are somewhat more buffed and certainly hold an air of wealth. Often at weekends, there is now an eclectic food market, lively bars and something a bit different from the ancient architecture just a few streets away.
The Dickens Inn in St Katharine Docks
If there are any quirky places in London that you love to chat about, then share with us and drop a
comment
below.
* This post may contain links to affiliated sites where we earn a small commission at no additional charge to you.
Inspired to visit London?
Unearth those unusual spots for yourself, then pack your bag and head to London.
(Why not Pin It for Later?)
If you enjoy what you see, and you'd like regular updates then join us for a monthly newsletter.