A visit to Frankfurt's Christmas Markets
A delight in the Hesse region of Germany
The never ending Christmas market
After Frankfurt, we were then heading north to Cologne.
Frankfurt can trace its Christmas market history back 1393. However, it wasn't until the early 19th century that the Christmas tree was introduced.
The Christmas tree in Römerberg
Now the huge tree takes pride of place in front of the Rathaus (town hall). The tree for 2017 came from a mountain range in Schmallenberg Sauerland.
A selection of meats on the Christmas market
I love nothing more than planning a trip and so often I use the DK Eyewitness books.  I find them  extremely informative, easy to follow and the pictures and maps tempt you into discovering more.
We used a previous version of this book to plan our Germany road trips, now you can grab the revised copy.
Available in Kindle & Paperback editions.
When I did my initial research on the festive season in Frankfurt,
I thought the market was going to be reasonably small.
We had arrived at our favourite time when the sun starts setting, and the stalls are awash with twinkling lights.
So, no time like the present and it was time for a Frankfurter & glühwein.
You don't need a map here, as the markets flow along, immediately you are heading up to Römerberg.
This is a delightful square with half-timbered buildings encircling it and where the tree stands high above.
Adding to the joyful atmosphere is a carousel for all ages and plenty of festive stalls, with different varieties of food and a fantastic selection of glühweins.
Here a local specialty here is apfelwein (apple glühwein) and also brombeerwein (blackberry glühwein), I got Gary an extra topping of cream.
Merry Christmas from Römerberg
Frankfurt has quite an eclectic mix of architecture as you may expect
It is great to see around Altstadt that new buildings which are being erected, are being sympathetically built in line with the past.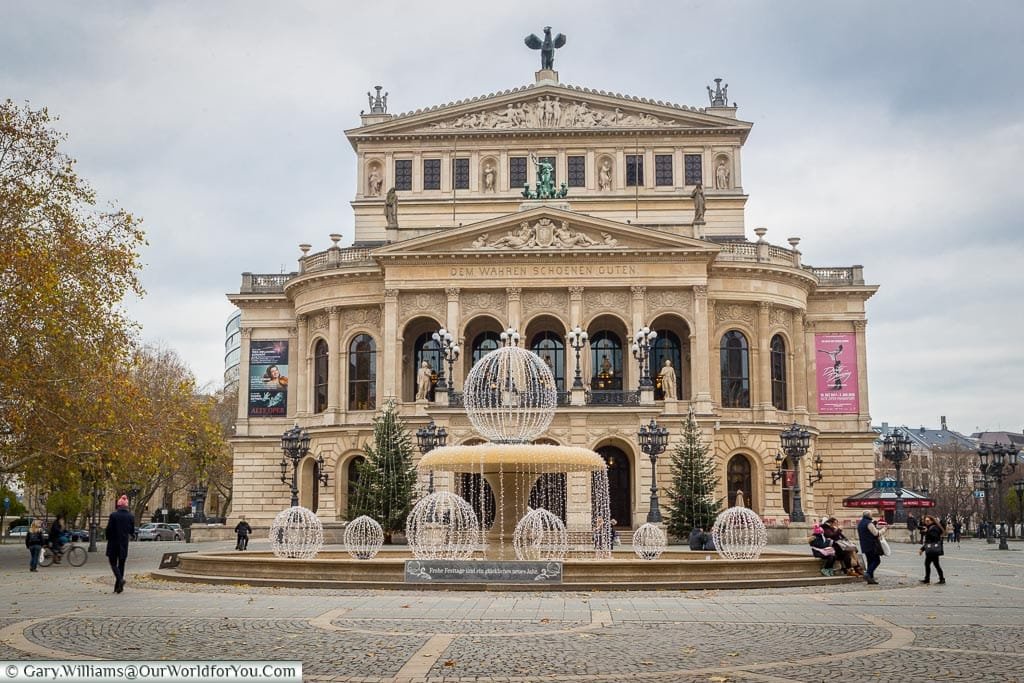 (Why not Pin It for Later?)