Sundown safari drive at Rhino Safari Camp, Lake Kariba, Zimbabwe
Zimbabwe at its best
What an incredible way to end the day…
Sharing the beautiful Zimbabwean sunset with a lone elephant as your companion truly takes some beating.
I warn you now if you love elephants, keep scrolling.
After our first evening 
sundowner cruise
 experience of sitting on a boat on Lake Kariba, watching the sun vanish before us, we're hoping that the two sundown safari drives would match our ever-increasing expectations of this magical environment.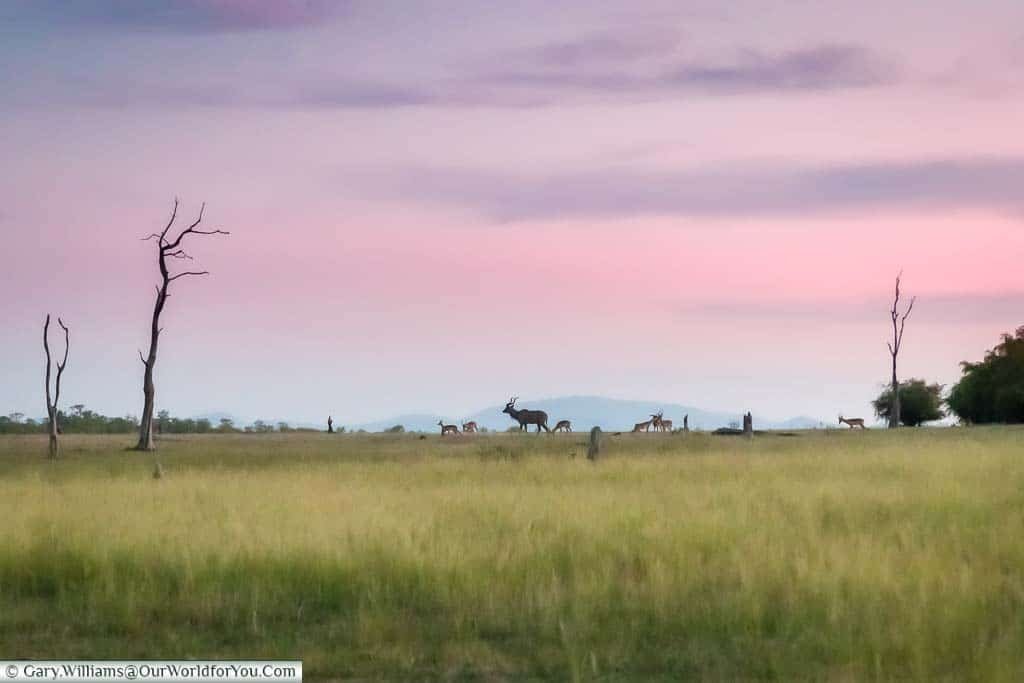 Gary and I were fortunate again that on our first sundown safari drive it was just the two of us and Mark our guide.
Jumping in the back of the open truck, we headed out in front of our lodges and immediately came across a bull elephant. We'd see them saunter by from our room.
An elephant walking through the camp
We sat and watched for a while; however, the elephant had already had his mud bath and was now a lovely ochre colour and was reluctant to take another dip.
We sat and watched for a while; however, the elephant had already had his mud bath and was now a lovely ochre colour and was reluctant to take another dip.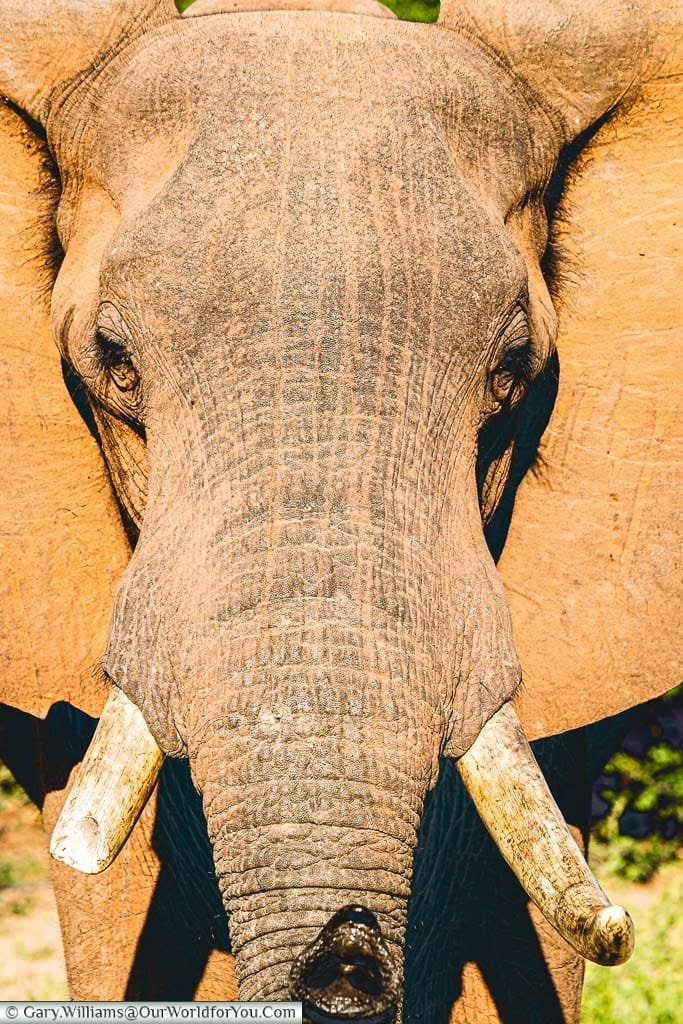 One and a half - close-up
Further along, we watched some impala, but I was still hankering to see one of my favourite animals again, that's the hippo.
On this morning's game drive, we had been lucky enough to see a cheetah, which very few and far between.
Ensure you take a hat and sun cream, you'll need it. Oh, and of course your camera and binoculars.
One and a half - on the move
Matusadona National Park
An African dream
We drove around the bay of the island, which was the first time we had headed in this direction and the evening sky and the view across the pasture and the lake was breath-taking.
It was made all the more special that a herd of elephants graced our view. This place is wonderful, I wish more people would come and experience Zimbabwe for its splendours.
Elephants on an evening stroll
Keeping a close eye on junior
Mark spotted Kudu in the distance, but by the time we had sat and enjoyed the company of the elephants for a while, the Kudu had moved on.
Who could resist this little fella?
All was not lost; my wishes were to come true, and there was a lonesome hippo in the distance. 
I've seen warthogs quite a few times in Zimbabwe, and as you would guess by the name, they are members of the pig family. However, I didn't realise that they lived underground and often sharing their home with snakes. Did you?
The Majestic Hippopotamus
And a grin from ear to ear
More often than not, hippos' trundle into the water when you get close, which is why you should never get between a hippo and the water. Even though they are herbivores, they have no hesitation in killing people. Hippos are the biggest killer in Zimbabwe.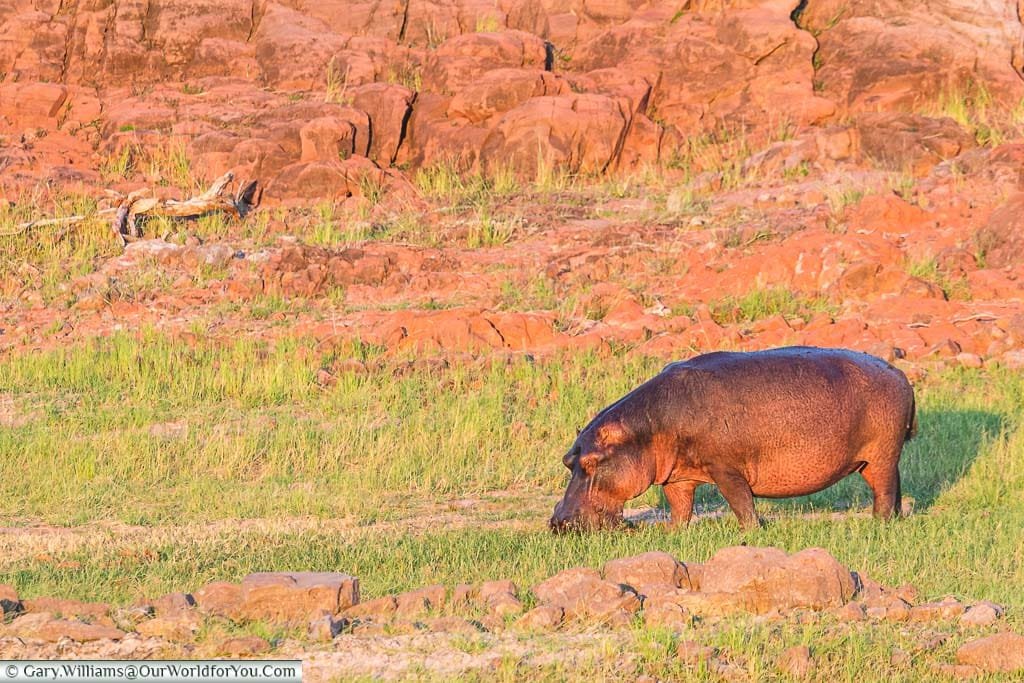 Well, we stopped at a reasonable distance, and it was incredible, to me, these hefty creatures are magnificent and deserve the respect they are given. 
We sat and watched for a while, slowly, but surely it headed to the water and as gracefully as a fully-grown hippo can, slid into the water. 
I struggled to wipe the smile off of my face.
If you're considering an adventure around Zimbabwe, then your in for a holiday of a lifetime. I always find it incredibly useful to plan our trips with the help of a guide book.
Take a look at this informative Bradt guide, it will give you great tips and advice.
The beautiful Lake Kariba
As the evening draws in
Mark then pointed out the pair of Fish Eagles perched high in the tree, they were watching their prey and also keeping a keen eye on us.
A pair of Fish Eagles
The light was beginning to fade, so, Mark then drove us over to a spot between the island and Matusadona National Park.
We jumped out the truck and with our Gin & tonics in our hand we stood and watched the evening sun disappear before us.
Janis and our guide Mark
Though to make the moment even more magical an elephant was enjoying the pasture, just by us and as the evening sky drew in, the elephant sauntered off into the sunset.
Elephant in Silhouette
Believe me, none of this is staged, this experience needs to be seen to be believed. 
Fancy heading to Lake Kariba...
for an unforgettable experience?
Lake Kariba is around 356km (221 miles) from Harare, at present, there are no scheduled commercial flights, so your best option is to drive. Allow 5 to 6 hours for your journey, the roads are tarmac, however, can be slightly hectic at times. But don't let this put you off Lake Kariba is a magical experience.
There are also two tolls en route which are two Zimbabwe Bond each.
Rhino Safari Camp, Lake Kariba
The following evening...
After a refreshing glass of iced tea, we're raring to go for our next sundown safari drive. We're off to see if we can track the buffalo, Tettindra spotted from the mornings bush walk and also see if the lions are close behind.
Rhino Safari Camp before we head out
Moving off Rhino Island and into Matusadona National Park, we immediately see hippos, impala and lots of incredible birds. Lilac crested rollers, Goliath heron, Guinea fowl, and storks.
On safari in Zimbabwe
They remain elusive
Keen to track the buffalo we saw this morning we head out, but it's still about a 45 minutes drive, especially as we want to stop to take photos along the way.
We head to the plain and can see plenty of impalas but no buffalo, we also spot warthogs, but they are very skittish. We head further around and along the riverbed but still no joy, even the big hippo wallowing has moved on.
We keep a lookout for the pride of lions, but once again, no sign. You can't be lucky every time; otherwise, you will take all for granted.
We then head towards the watering hole we stopped at earlier and saw plenty of birds, small crocs on the water's edge.
Take a peek at our Victoria Falls and our Morning safari posts and start creating your own adventure for yourself. 
Search for your flights in one easy place with ebookers.com and open up a world of options. Over 400 airlines are scanned for your favoured routes and chosen dates.
An uncertain African Safari
Some you win, some you lose
The sun is just on the edge of setting, so we head back towards the Island to see if we can watch some wildlife for when it starts to get dusky.
We arrive on the lake's edge just before the sun goes down, there are a herd and a pod of hippos, and also an elephant in the distance. I've learnt that if the hippo is on land, then it's a herd, if they are in the water, then it's a pod.
We are once again able to cherish some memorable moments on Lake Kariba and scenes that will stay with me forever. 
Hippos returning to the water
Quietly chatting within our small group, we enjoy our G&T's, and, in the background, we can hear the honking of the hippos as they make their way into the water.
Janis with hippos in the background
It was nearly dark, and just before we headed back to camp, the stars began to appear.
A video of our afternoon/evening safari
We have created a little YouTube video of our experience - perhaps check it out?
Why not subscribe to our YouTube channel and get the latest clips as we post them?
* This post may contain links to affiliated sites where we earn a small commission at no additional charge to you.
Inspired to visit Lake Kariba?
You really should stay at 
Rhino Safari Camp
; the sunset safari drives will leave you with memories for a lifetime.
Search for your flights in one easy place with
ebookers.com
and open up a world of options. Over 400 airlines are scanned for your favoured routes and chosen dates.
(Why not Pin It for Later?)
If you enjoy what you see, and you'd like regular updates then join us for a monthly newsletter.