Visiting the medieval walled town of Nördlingen, Bavaria, Germany
Sited in a crater along the Romantic Road
Just like its Bavarian neighbours north along the Romantische Straße of Rothenburg ob der Tauber and Dinkelsbühl, Nördlingen is a rare example of medieval town entirely encircled by its historical walls and towers.
Gary and I have visited all three towns, and I'll be upfront with you; Nördlingen isn't quite as jaw-droppingly gorgeous as Rothenburg ob der Tauber and Dinkelsbühl.
However, it has an incredible amount of charm, history, and the crowds are few and far between.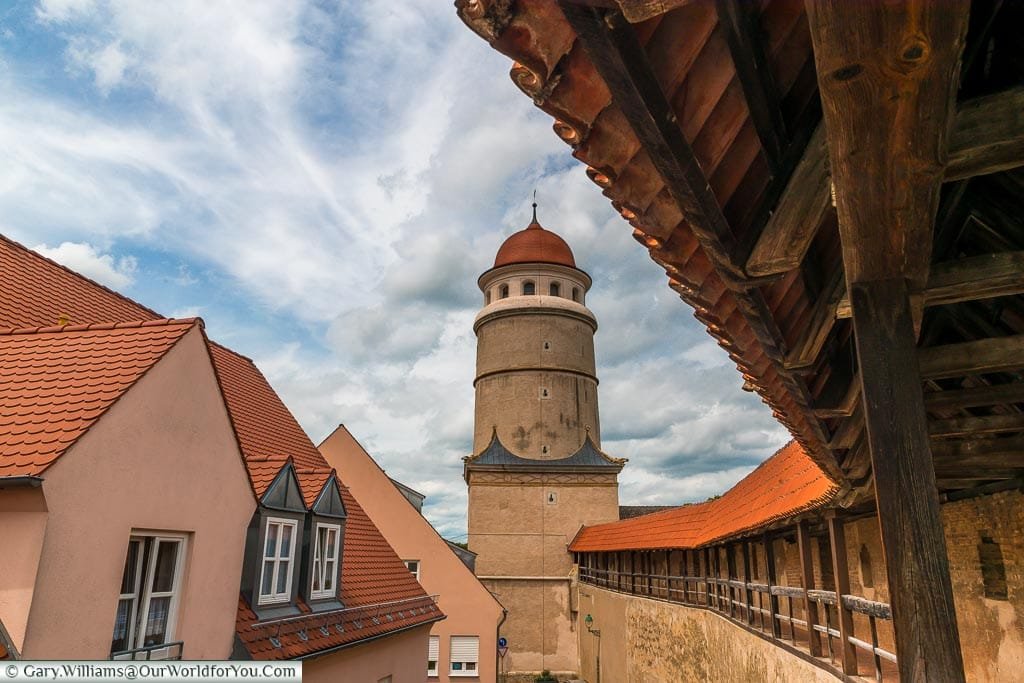 Medieval walls, ramparts and Löpsinger Tor
Nördlingen has the colourful quaint half-timbered buildings and an ancient covered medieval sentry wall but also has the feel of a town that's very much still in the hands of its locals.
The location of Nördlingen is exceptionally unique as it sits in the middle of a giant crater created 15 million years ago. It is believed that the meteorite that hit the earth forming the Ries crater was 1km wide.
Treading in ancient footsteps
We love visiting these historic Bavarian towns, as so often it's not just the beautiful buildings in the heart of the city that have a story to tell. If you wander just a few streets back, this is where daily life unfolds, and some little gems can be found.
So, armed with our map, we set off on a discovery of the historic walled town of Nördlingen to see what we could find within its 3km walls.
The Klösterle, once a Franciscan monastery
Gabled home in Hafenmarkt
We didn't need to wander too far, as right next to our hotel
NH Klösterle Nördlingen
in the centre of town, is the Klösterle. Once a Franciscan monastery, then after the Reformation in 16th-century it was used as a granary.
I love nothing more than planning a trip and so often I use the DK Eyewitness books.  I find them  extremely informative, easy to follow and the pictures and maps tempt you into discovering more.
We used a previous version of this book to plan our Germany road trips, now you can grab the revised copy.
Heading into the Old Town square, there are so many buildings full of character. Immediately you'll notice the striking Gothic hall church, of St George's. Although it's the 90m tower that will catch your attention, which is named "Daniel'. If the mood takes you, you can even climb up it.
Daniel Tower on St. George's Church
Just by the church in Marktplatz is the 15th Century Trading Hall, known as the Tanzhaus. This beautiful hall was mainly used by the Cloth Traders of the town.
The local storks appear to have made the top of the Tanzhaus their home too.
15th Century Tanzhaus – Trading Hall
Then there's the attractive Rathaus, which no German town would be complete without.
This 13th-century Town Hall has been used continually since 1832, by the 'parliament' of Nördlingen.
Take a peek around the back of the Rathaus, and there's an incredible flight of Renaissance style stairs built-in 1618.
If you're tempted with visiting Bavaria, the local
tourism website
gives some handy pointers.
13th Century Rathaus (Town Hall)
Rathaus with external Renaissance stairs
Stroll to the north within the ancient walls, and you'll find the 'Tanners District". Here amongst the peaceful cobbled lanes are half-timbered homes, gabled buildings, and a tranquil stream keeping the watermill turning.
16th Century half-timbered building
Neumühle – Bottom driven watermill
Immaculate homes with the Nördlingen town walls
This is a lovely part of the town and so quiet. The only folk who were around, were groups of archers out and about, on an organised event and locals tending to their gardens.
Picturesque balconies on a local home
Gates, Towers and medieval walls
As I mentioned, one of the unique points of this historic town is the medieval wall that completely encircles Nördlingen. Having thankfully escaped the devastation that WWII inflicted on other cities and villages around the country, you must take to the ramparts a go for a stroll.
St George's church and Daniel Tower
Strolling along the walls
You get a wonderful view across the rooftops of Nördlingen, with the centre point always being Daniel tower. The townsfolk have even made an effort to paint their satellite dishes terracotta colour, so they don't stand out.
Feilturm, this tower was once used as a prison
Spitzturm rebuilt in 1592
Discover more of Germany on a road trip like us, if your unable to bring your own car or are flying into this lovely country give
Rental Cars
a go, as they search multiple well-known car hire brands for the best deals.
Nördlingen to Munich is around 90 miles (155km) or alternatively if you're in Nuremberg, it is only 60 miles (96km).
Stroll around the ramparts
There are so many towers strategically located all around the ancient walls. Various levels of restoration have been carried out over the centuries, one of the towers Feilturm was once used as a prison.
Along with the numerous towers are five gates leading into Nördlingen centre. The Reimlinger Tor is the oldest of the five, parts of which date from the 14th-century. This road leads to Augsburg along the 'Romantic Road'.
Continuing further around the ramparts we come to the Deininger Tor and then Löpsinger Tor. The Löpsinger Tor now houses the 'Townwalls' museum which is displayed over six floors.
To get a bird's eye view of Nördlingen, take a look at the final scene in the 1971 film, Willy Wonka & the Chocolate Factory. As the elevator soars above the rooftops, you'll see Nördlingen below.
Just strolling around the lanes of any village, town or city you come across some unusual things. It's what makes a place unique and memorable. In historical locations like Nördlingen in Bavaria, you never know what you'll find.
Greeting at your front door
* This post may contain links to affiliated sites where we earn a small commission at no additional charge to you.
Would you like a little more?
We have created a little YouTube video of our time in Nördlingen, why not check it out?
Why not subscribe to our channel and get the latest clips as we post them?
Inspired to visit Nördlingen?
Start creating your own adventure and take to the ramparts of this Medieval town.
The open roads await, pop in your location details then
Rental Cars
will search well-known car hire brands and discover the deals that suit you the best.
(Why not Pin It for Later?)
If you enjoy what you see, and you'd like regular updates then join us for a monthly newsletter.