Antiques, boutiques, steam trains & a splash of the English bubbles
Tenterden in the heart of the Kent countryside has everything an old Kentish town should have.
The village green, heritage locomotives, tea rooms and heaps of character.
It's one of those towns that you just want to jump out of your car and go and discover, and in the 'Garden of England' why wouldn't you?
Whether you're planning a road trip, plotting a hiking route or cycling one of UK's scenic trails, there's nothing quite like using a tactile paper map.
The Ordnance Survey folk are here to help, with maps, guides, gadgets and more. Take a browse through their vast array of maps and grab your ideal companion for your adventure.
You would never believe today that Tenterden was once only a couple of miles from the sea. The hamlet of Small Hythe just down the road had a harbour and Tenterden became a Cinque Port, (now the sea is 13 miles away).
Cinque Ports was a charter established pre-Royal Navy in 13th-century, to recruit mariners. Tenterden was a Limb of Rye and Tenterden townsfolk would have been enlisted to fulfil Rye's quota for the Crown.
During the 14th-century Tenterden was also known for its wool industry. Still, today, if you tour around the county of Kent you'll see half-timbered cloth houses, dotted around the countryside.
If you're intrigued by Kent's weird and wonderful history, or all unusual stories around the county, then take a peek at "Kent's Strangest Tales".
You won't be able to put it down, you can pick it up for your Kindle or in good old paperback.
Tenterden is such a pleasure to wander around. The tree-lined road that runs through the centre shields all the little stores and coffee shops and bathes them in dappled light.
It almost feels like you've stepped back in time, white weatherboarded homes, Dickensian style shopfronts and ladies strolling around with wicker baskets.
Welcoming colourful stores and restaurants
There are so many charming antique shops, you just want to go in and mooch around them all. I loved the old-fashioned jewellers, it's great to see all these independent shops still around.
Antiques and collectables
Visit some of Kent's coastal towns?
Kent is not short of picturesque historic towns, particularly along the Kentish coastline. Take a peek at some we've visited, Hythe, Deal, Folkestone, Margate and Sandwich.
A modern-day society like any town always creeps in. However, in Tenterden, it feels like it blends in so well with the picturesque architecture, the older style shopfronts and half-timbered restaurants.
With little alleyways leading off the High Street, you find yourself becoming quite inquisitive. You get the sense that there is a feeling of pride within Tenterden, beautifully kept homes and welcoming restaurants.
Tenterden also has plenty of tea rooms and coffee shops for those weary travellers. Or if you fancy something a little stronger, it has its fair share of inns and pubs.
Half-timbered Lemon Tree Restaurant
While strolling through Tenterden, the graceful St. Mildred's Church will so often be in view. Just a couple of steps back from the High Street and an air of serenity descends around the Medieval church.
A peaceful lane by the Church
The main building of this beautiful church was built during the 13th & 14th centuries. However, the tower which was constructed in 1461 is made from local stone.
You can do it all on a road trip,
Rental Cars
searches multiple well-known car hire brands and discovers the deals that suit you the best.
To really feel like you have stepped back in time, wander down to the Kent and East Sussex Railway. This nostalgic steam railway is kept running by enthusiasts and lovers of all things locomotive.
Steam railway station signal box
The original line through Tenterden Town was only open for around 50 years from 1903 until 1954. It wasn't until 1974 that the Kent and East Sussex Railway decided to give this nostalgic track a new lease of life.
Today you can hop on the beloved steam train, with its historic carriages, and travel the 11.5 miles (18.5km) across the beautiful Kent countryside.
There are 5 stops along the way, which takes around 50 minutes, it's such a pleasurable way to travel.
You can buy your tickets in advance for your trip down memory lane from the Kent and East Sussex Railway.
When you arrive at Bodiam Station, you can jump off and visit the 14th-century moated Bodiam Castle, run by The National Trust.
If time doesn't permit the train journey to Bodiam, you can just purchase a platform pass for £1. This allows you plenty of access by the locomotives. Along with the nostalgic platform and also into some of the old buildings.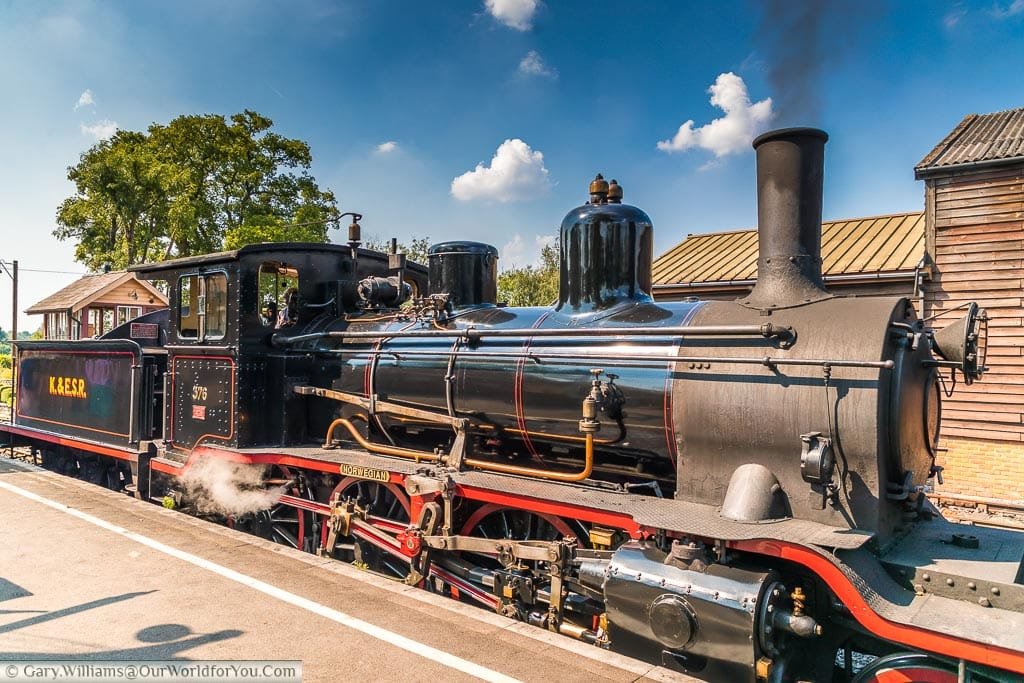 The 'Norwegian' locomotive
Are you looking for that 'perfick' holiday hideaway to relax in while you discover the Garden of England?
After a day exploring the Kent coast and its many historic castles enjoy one of the handpicked properties and unique retreats at Holiday Cottages.
If you've chosen to visit Tenterden in Kent, then you may have heard of
Chapel Down
vineyards. This delightful winery is located just 2 miles from Tenterden town and set in such lush, peaceful surroundings.
Chapel Down Vineyard entrance
Chapel Down's speciality is sparkling wines and is now starting to give France a run for their money. Due to the location in the southeast of England, every year our climate gets slightly warmer.
So great news for the lover of the bubbles.
Grapes capturing the full sun
Bacchus vines nearly ready for harvesting
You can book yourself on one of their guided tours, or even head off on your own and follow one of their self-guided walks.
If you're curious about English wines
Take a look at our post on our tour and tasting at Chapel Down. You can read all about our personal experience on one of their guided tours. It was so informative and relaxed, and I loved the fact they didn't pressure you into purchasing their products.
Would you like a little more?
We have created a little YouTube video of Tenterden, why not check it out?
Why not subscribe to our channel and get the latest clips as we post them?
* This post may contain links to affiliated sites where we earn a small commission at no additional charge to you.
Inspired to visit Tenterden?
Enjoy an overnight stay in one of Tenterden's local inns and spend a full day discovering the town and surrounding countryside.
The open roads await, pop in your location details then
Rental Cars
will search well-known car hire brands and discover the deals that suit you the best.
(Why not Pin It for Later?)
If you enjoy what you see, and you'd like regular updates then join us for a monthly newsletter.