by Janis /
0 comments
- Orginally published:3rd August 2021
Discovering France on four wheels and letting the doyens lead the way
The Paris finale of Le Tour de France has done it again!
While Gary and I are not cyclists, there's something about the Tour de France that is so captivating and magnificent to watch every year. For three enthralling weeks in the summer, we have a date with the dry-witted and polo shirt wearing Gary Imlach to catch the evening highlights of the day's escapades through the French countryside.
Le Tour offers a generous measure of everything there is to love about France. The undulating patchwork quilt of lush vineyards, sunflower sentinels bobbing in the breeze, breathtaking architecture, and the unforgiving mountain tops piercing through the hostile clouds.
Why not Pin it for later?
La Place de la Concorde, Paris
However, the pièce de resistance is the final day of the world's biggest cycling race when the snaking peloton enters the enchanting city of Paris. This is when my yearning to revisit the 'city of love' awakens.

As we watch the road-weary cyclists hurtling their way around the ancient Parisian streets, passing one iconic Paris landmark after another, I just want to pack my bags and jump on the Eurostar.

Yet prior to me tempting you with a soupçon of Paris, let's discover how and why Le Tour continues to inspire us to visit France, all the while we're enriching our own entente cordiale.

The Tour de France showcases its own beautiful country so well, and when Bastille Day arrives on the 14th of July, the whole nation flutters blue, white and red.
More to discover in Brittany
Then a hop east to Alsace
In 2021 Le Tour kicked off in Brest, in the far northwestern region of Brittany. Brittany is a part of France that we haven't really explored too much. So, it was fantastic that the first four days of the Le Tour, we were jotting down some interesting places to add to our France 'bucket list'.
We have visited a couple of locations in Brittany; one was the picturesque coastal port of Saint-Malo, and the other was the medieval town of Dinan.
Dinan's cobbled streets wind their way through a maze of narrow lanes, passing by historic half-timbered shops and restaurants.
What I loved about Dinan is that not only do you have the Medieval old town to discover, but also a delightful quayside lined with beautiful old stone houses and tempting cafés.
When we visited the charming town of Dinan, we stayed at Le Poisson Ivre, which is located along the quayside. It was lovely waking up in the morning listening to the jangling of the masts of the yachts.
Chez la Mere Pourcel in Dinan, Brittany
As avid Tour de France fans, we have been gripped to watching this spectacular event year after year. In 2009 we saw the peloton visit Colmar in the Alsace region, we were smitten, so it was time to head to Colmar and explore the Alsace wine route on a road trip.
Colmar is on the Route des Vins d'Alsace,. Like so many of the stunning half-timbered villages along this trail, it really is a treat to see and experience.
The lush Alsace region in France runs parallel with Germany, which adds a lovely blend of history and cultures from both nations and creates a winning combination.
During our visit to Colmar, we stayed at the Le Colombier. This stylish hotel was perfectly located in the Little Venice district of Colmar. Just a couple of minutes walk into the historical old town.
Exploring the canals of Colmar
If like us, you love visiting different regions of France, then this 'DK Eyewitness Road Trips France' guide will definitely assist in your planning.
We regularly use DK travel guides, and this book is ideal for cross-country road trips through France. Grab yourself a recently revised edition and start plotting your route.
The taste of Champagne in Troyes
Le Tour visits Marseilles
In 2017 Le Tour 'Grand Départ' rolled off from Düsseldorf in Germany; unfortunately for us Brits, it was meant to depart from London. At the time, the mayor of London (Boris Johnson) decided to withdraw from the bid due to funding. Britain's loss, I'm afraid.
La Carousel, Troyes
However, one beautiful town that we did recognise on stage 6 was Troyes, in the Grand Est region. We'd visited Troyes just the previous year on our Champagne road trip.
Troyes is a charming place to visit, all through its historic cobbled streets are picturesque timber-framed buildings, enticing cafés and a delightful quayside to strong along by the Canal du Trevois.
We've visited Troyes on a couple of occasions, firstly staying at Hôtel la Maison de Rhodes & Spa, a luxury hotel full of character and located in the heart of Troyes.
We also stayed at Maison M Troyes, a delightful 19th-century guest house situated along the quayside, so just a short stroll to the centre of town. Both of these accommodations had on-site parking.
The view over Marseille
The cycling entourage also passed through Marseilles in 2017, another city we'd spotted from our travels.
I just love the way the whole country appears to embrace this gruelling cycle race. Folks young and old frantically waving flags, local farmers ploughing Tour de France motifs into their wheat fields, it's such a unique event, c'est manifique!
If you wish to wake up to a lovely view of Marseille marina each morning then book your stay at Radisson Blu Hotel Marseille Vieux Port. Located on the quayside with plenty of restaurants and cafes on your doorstep.
Our French road trips frequently start from the UK, we catch Le Shuttle from Folkestone in Kent, et voilà 35 minutes later we arrive in Calais.

However, there are regular flights to Paris and beyond; take a look at ebookers.com. Then pop in your location details, and Rental Cars will search well-known car hire brands and discover the deals that suit you the best.
Explore the historic city of Amiens
Stroll the waterways in Annecy
Bizarrely in 2018, I think the Tour de France was stalking us, as we had stayed at six of the stage locations, two of which were that year. Amiens,which was stage 8 in the Somme department of France and Annecy in Haute-Savoie from stage 10.
If you are interested in history, especially WWI history, then Amiens and its surrounding countryside are fascinating, and at times, a touching place to visit.
For a centrally located hotel stay at the Mercure Amiens Cathédrale. It's just a short stroll to the Old Town and has France's largest cathedral on your doorstep.
La Place du Don, Amiens
Search for your flights in one easy place with
ebookers.com
and open up a world of options. Over 400 airlines are scanned for your favoured routes and chosen dates.
The scenery in and around Annecy is incredibly stunning, with mountain views across the shimmering opal shades of Lake Annecy and tiny ancient winding lanes weaving along the waterways.
Annecy is a charming town to visit all year round, wonderful for outdoor activities, tempting local markets. If you love fondue, it's a speciality of the region.
Cycling around Lake Annecy
Our accommodation for the three nights in Annecy was at the ibis Annecy Centre Vieille Ville Hotel. The location is fantastic, just a few steps and you are right in the heart of Place Sainte-Claire in the Old Town.
There's a public car park right next door, so great, if like us you're on a road trip.
Reminiscing the 2019 Tour de France
One more captivating French town after another
During the Tour de France of 2019, the entourage hot-footed it to nine locations we'd visited. In the iconic Champagne town of Épernay, it would have been rude not to raise a glass to them, the cities of Reims, Nancy and the Alsace towns Colmar and Mulhouse.
La Place Stanislas, Nancy
During our visit to the historic city of Nancy, we stayed at the luxury 17th-century
Hotel Des Prélats
. The hotel was a short stroll to Stanislas Place, and the rooms were beautifully decorated throughout.
Then Le Tour proceeded to weave its way south via our familiar haunts of Toulouse, Nîmes,
Pont du Gard
and Gap. Gary and I couldn't stop reminiscing; we were recollecting delightful roadside cafés, the stunning architecture we'd visited and the welcoming people we'd met along the way.
The Pont du Gard
If the Pont du Gard is on your wish list, then you must stay in Avignon, which is just 17 miles (27.4km) east. The
Hôtel de l'Horloge
is centrally located and stylishly decorated with antique furnishings. Parking is nearby in a public car-park.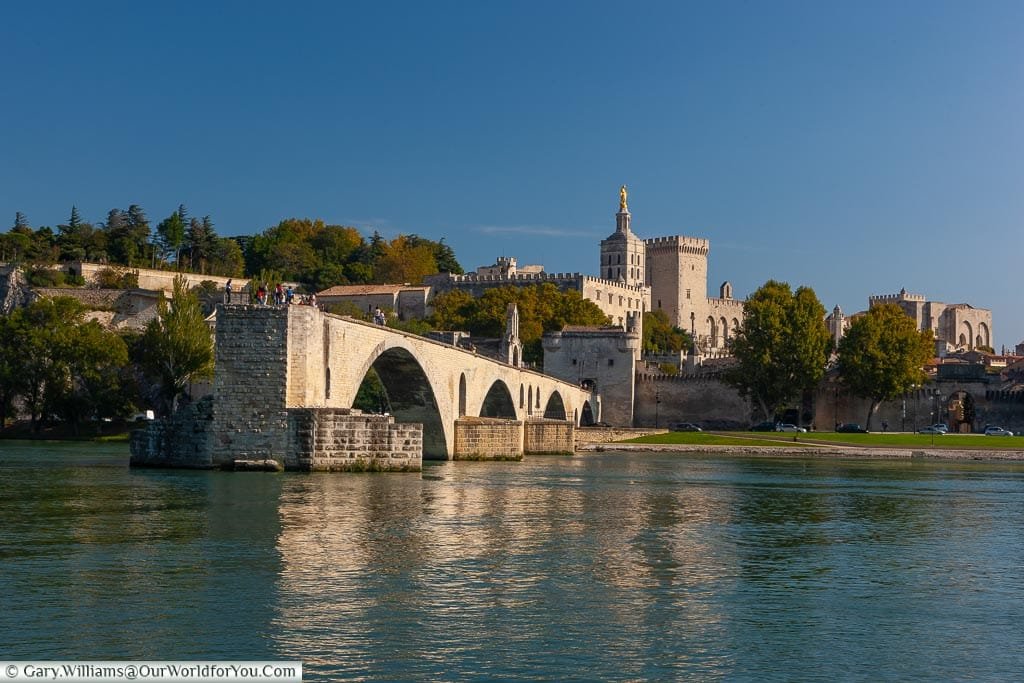 12 UNESCO Sites to visit in France
by Janis on  10 May 19
Grand Départ from the streets of Nice
With a visit to Millau Bridge and gastronomy from Lyon
As you would expect, Le Tour of 2020 was going to be different. It was postponed until the end of August, and the Grand Départ ventured off from the vibrant French Rivera city of Nice.
Watching from the comfort of our sofa, it's very easy to admire the beautiful scenery. Though I can't imagine many of the guys who were hurtling their way along the Promenade des Anglais could soak up the Mediterranean vibes.
If you're heading to Nice, we can highly recommend staying in the beautiful town of Villefranche-sur-Mer just around the bay. Our accommodation for the four nights we were in Villefranche-sur-Mer was at the luxury seafront Welcome Hotel. The location is out of this world.
A view over the coast of in Nice
As we couldn't hop aboard a Brittany Ferry or pack up our car and jump on Le Shuttle for our regular French cultural fix, we journeyed vicariously through the Tour de France in 2020.

We remembered our crossing of the Millau Bridge in the Occitanie region and an unfortunate food poisoning experience that Gary had, which I won't go into.
La Viaduc de Millau
The next stop that we recognized was Île de Ré on the far western coastline of France. This attractive island is located off the shores of La Rochelle in the Bay of Biscay.

During the second week of Le Tour, the peloton had headed east again and visited what is often referred to as 'the belly of France', Lyon.

Wow, this attractive city has some incredible food, and it's not just Lyonnaise potatoes. Lyon has exceptional produce on its doorstep, along with delectable wines. The wine-growing region of Beaujolais is just north of the city.

Although I did make a bit of a faux pas when I chose the local dish of Tablier de sapeur, not realising it was tripe in breadcrumbs. That'll teach me to learn more French.
Le Tour never fails to deliver that spark
From the heights of Mont Ventoux to wine lanes of Saint-Émilion
We now bring ourselves peddling like crazy into 2021, and thankfully the whole glorious event went ahead as planned, well, nearly. After a shuffling of dates and the fact that the Grand Départ was meant to leave from Copenhagen, Denmark (rescheduled for 2022), it went reasonably smoothly.
As mentioned, Le Tour departed in Brest, Brittany and weaved its way relentlessly across the glorious and often unforgiving French countryside. Passing through old haunts and new, with Grand Tour doyens and young whipper-snappers at their heels.
For stage 11 on Le Tour, the race headed to the mountains and tackled Mont Ventoux not once but twice. We ascended Mont Ventoux a few years ago during our Provencal road trip; however, our climb was on four wheels and not two. Oh boy, it was steep, especially when you glance out of the side window and see a vertical drop.
During our road trip around Provence, we based ourselves in the charismatic town of Saint-Rémy-de-Provence. We've visited St Remy twice and on both occasions we stayed at Hotel Gounod. However, they can get booked up quickly so, an alternative that we considered is the delightful Hôtel Sous les Figuiers. Just a short walk from the centre of town, with parking available, this is certainly one for our next visit.
Atop Mont Ventoux
Stage 13 took us to two more familiar haunts, for us and for the Tour de France. They are Nîmes and Carcassonne, home of the medieval citadel, Cité de Carcassonne.
Nîmes in the Occitanie region of the south of France is rich with history and especially Roman history. It has a stunning Roman amphitheatre that dates from around 70 AD and is incredibly well preserved.
If you'd like to dig a little deeper into the city of Nîmes, then consider staying at the centrally located Royal Hôtel. Beautifully styled rooms, often with quirky designs.
The end of stage 13 arrived at the UNESCO fortified city of Carcassonne. This incredible structure consisting of two outer walls and 53 towers can be spotted for miles across the beautiful French countryside.
The Arènes de Nîmes
The penultimate stage of Le Tour, prior to the grand entrance into Paris, is to the picturesque medieval city of Saint-Émilion in the Nouvelle-Aquitaine region.
This charming little commune may be ringing bells with you, and that's chiefly as it is famous for its amazing wines. Saint-Émilion has some fascinating history amongst its tiny little lanes, heading up through the winding streets. The scenic views across rolling vineyards are enchanting.
Looking over St-Émilion
So, let's park the car and stay for the night and savour the exquisite wine. The
Au Logis des Remparts
is located in the heart of Saint-Émilion and offers tranquil gardens and an outdoor swimming pool.
We love embarking on road trips, so our preferred mode of transport is always jumping in a car. We find it's the best way to discover a country. If you fancy starting your French adventure at a leisurely pace, have a browse through the deals
Brittany Ferries
have to offer.
Paris will always inspire me to travel
Arriving at the crème de la crème of France
21 stages and 2 rest days later, the world's biggest cycling race rolls into the captivating city of Paris. And the stage is set for the most iconic ending to a sporting event there is, arriving at the Champs-Élysées.
A view up the Champs-Élysées
I can't imagine in my wildest of dreams what feelings pass through the minds of these incredible athletes. Especially for the guys that have embarked on this gruelling journey for the first time.

After circumnavigating France for three weeks, then turning the corner at Place de la Concorde onto the cobbles of the Champs-Élysées and seeing the spectacular sight of the Arc de Triomphe for the first time must be exhilarating and emotional both at the same time.
The Louvre, Paris
There's something about Paris that squirrels its way deep inside you and will never fail to leave me yearning to return once more.
Is it the beautiful Parisian architecture, the evening strolls along the River Seine, the amusing surly French waiters or the delightful cuisine served at street-side cafés? I truly can't put my finger on it; it's a culmination of so many of Paris's little eccentricities and imperfections that J'adore Paris.
We've visited Paris on a couple of occasions and love staying near the Île de la Cité. For an indulgent treat, we stayed at Melia Paris Notre Dame, a stylish hotel just a short walk from Notre Dame Cathedral. It's a fantastic location and surrounded by delightful cafés and restaurants.
Auberge de la Reine Blanche, Paris
So, after 3,414.4km, which equates to 82 hours, 56 minutes and 36 seconds in the saddle, Tadej Pogacar from Slovenia is crowned the 2021 winner of the legendary yellow jersey.
* This post may contain links to affiliated sites where we earn a small commission at no additional charge to you.