75th Anniversary of the D-Day Landings, Normandy, France
Our own journey of remembrance
6th June 2019, marks the 75th Anniversary of the D-Day Landings, and the region of Normandy will be commemorating this pivotal time in history. As part of our Normandy road trip in 2017, Gary and I spent a couple of days touring this historic coastline.
The bay at Arromanches - or Gold Beach
We based ourselves in Caen but equally you could choose the famous tapestry city of Bayeux.
Personally, whether you're a history buff or not, this is an area that young or old should try and visit. At times for me, reading some of the personal stories and sacrifices of the armed forces brought me to tears.
We love visiting France and each region so different from one another. I find the DK Eyewitness Guides really helpful in planning a trip and so often find interesting little snippets of info.
Take a peek at this revised Top 10 Pocket Travel Guide and see what you can discover.
When we first visited Pegasus Bridge in 2007, we were free to wander around the bridge without visiting the Memorial Pegasus Museum. It's now accessed via the museum.
The museum starts inside, and as you wander amongst the exhibits catching up on so many interesting facts and stories of how Operation Overlord unfolded. Soon you are in the open air with Pegasus Bridge standing in full glory.
Up close - Pegasus Bridge
It was along here that the soldiers first stepped foot on Normandy soil, in the early hours of 6th June 1944. Pegasus Bridge straddled the Caen Canal, and it was key that it was captured, it was within a matter of minutes that the area was taken.
The original bridge now stands in the museum after being replaced in 1994.
Allow yourself a couple of hours, sure you can fly round quicker but there's plenty to see and take in.
To the Beaches, first, stop 'Sword'
We visited the Memorial Pegasus Museum on our way into Caen. The following day we set out to tour the coastline. Travelling east to west our first "landing" stop was Sword Beach, north of Caen.
On 6th June 1944, it was mainly British troops that came ashore here and soon took surrounding villages. Caen itself was proven to be more of a stronghold.
Our day trip from Caen took us all day, and we could have spent a lot more time along the route.  The distance covered was around 135miles/215kms
Just another Normandy beach
When you stand on the beach today it's incomprehensible what took place 75 years ago, young lads heading into the unknown.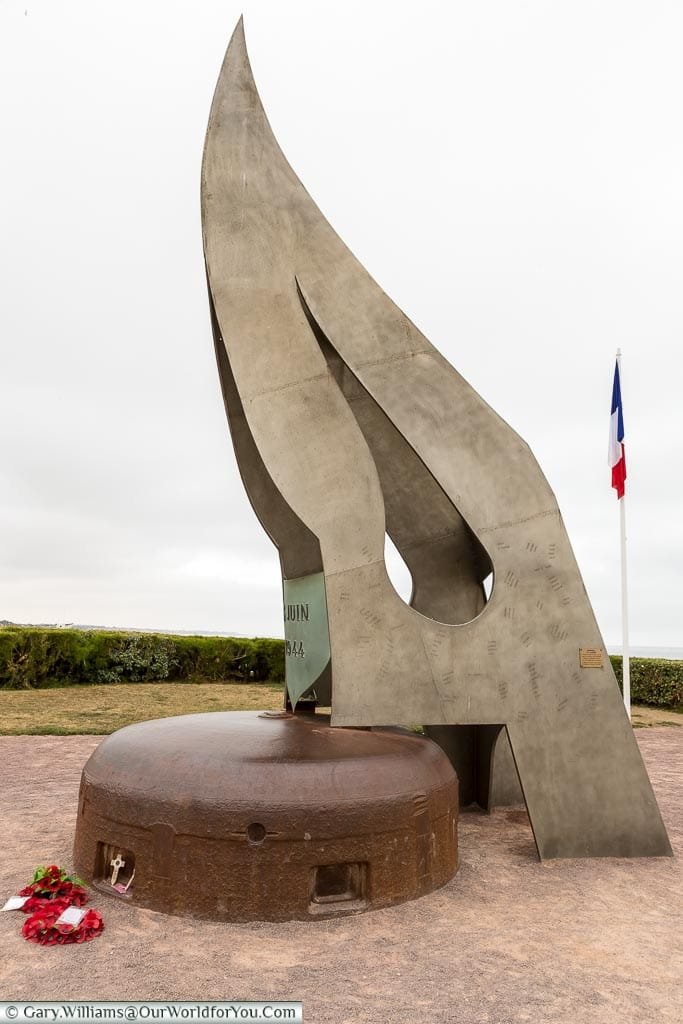 Statue to Piper Bill Millin
The morning we were there it was a little murky but so peaceful. The beach was almost deserted, just a few locals going about their everyday business, walking their dogs and chatting to their friends and I'm sure occasionally reflect on events gone by.
Hugging the coastline as much as possible, passing through small towns we arrive at Juno Beach. Dotted all along the way you are able to see memorials of remembrance, evidence of past atrocities and touching personal tributes.
The flags of the liberators at Juno Beach
The invasion on Juno Beach was under Canadian leadership and they although they made incredible in-roads into France on D-Day, they suffered significant losses.
Waiting the attack, Juno Beach
Lt. W. A. "Cosy" Aitken's namesake bunker, can still be seen on the beach.
You must make a point of taking a stroll up to the memorial, passing the fluttering flags and look out across the seascape beyond.
Looking out over Juno Beach
The Mulberry harbour in the distance
As we continue our mini-road trip west, we arrive at Gold Beach, and this was one that stopped me in my tracks. We drove up to a high point that overlooked Arromanches Bay, and I was astounded to see so much of the artificial Mulberry Harbour, still holding solid in the sea, after all these years.
Port Winston around Gold Beach
"Port Winston', named after Winston Churchill, was preconstructed in the south of England and hauled across the English Channel and assembled in situ.
Even though it was temporary, it landed around -
People enjoying Gold Beach today
An incredible feat of engineering, and for Gary and I, one not to miss.
Omaha landing beach is doubtless one of the most poignant of the five beaches and holds a very memorable place in our history, particularly American history.
The troops that landed here suffered relentless attack, all the while climbing the slopes of the French coastline to secure the enemy from behind.
The coastline at Omaha Beach
There was a huge loss of American life on Omaha, and a just above the shoreline overlooking the beach is a remarkable cemetery dedicated to the loss of those lives during WWII.
Families at the Normandy American Cemetery and Memorial
When you first lay eyes on want appears to be a never-ending sea of symmetrical white crosses, you'll be catching a lump in your throat, it is so touching. The occasional little Star-spangled banner fluttering in the breeze is the only thing that distracts your eye.
Headstones as far as you can see
The cemetery contains 9,380 graves and a memorial wall dedicated to the missing lists 1,557 names. A little rosette marks the names of those since recovered and identified.
There's a fantastic visitor centre at the Normandy American Cemetery, it's open all year round, and it's free of charge to visit.
You may even recognize the cemetery from the opening & closing scenes of 'Saving Private Ryan'
The most westerly of the five beaches is Utah Beach, and as we arrived the sun started to shine, making it even more of a struggle for us to visualise what these guys met upon landing.
Utah beach and its surrounding landscape were also predominately used by the American forces, particularly for their airborne divisions. Thankfully, the loss incurred here never met with the extent of Omaha.
What caught my eye was the effort that had been made to keep the history alive. Some lovely bronze statues set amongst the sand dunes and even a landing craft. Also, here and directly on the beach where the troops disembarked, is the Museum of Landings. Which chronologically takes you through the fascinating story of D-Day.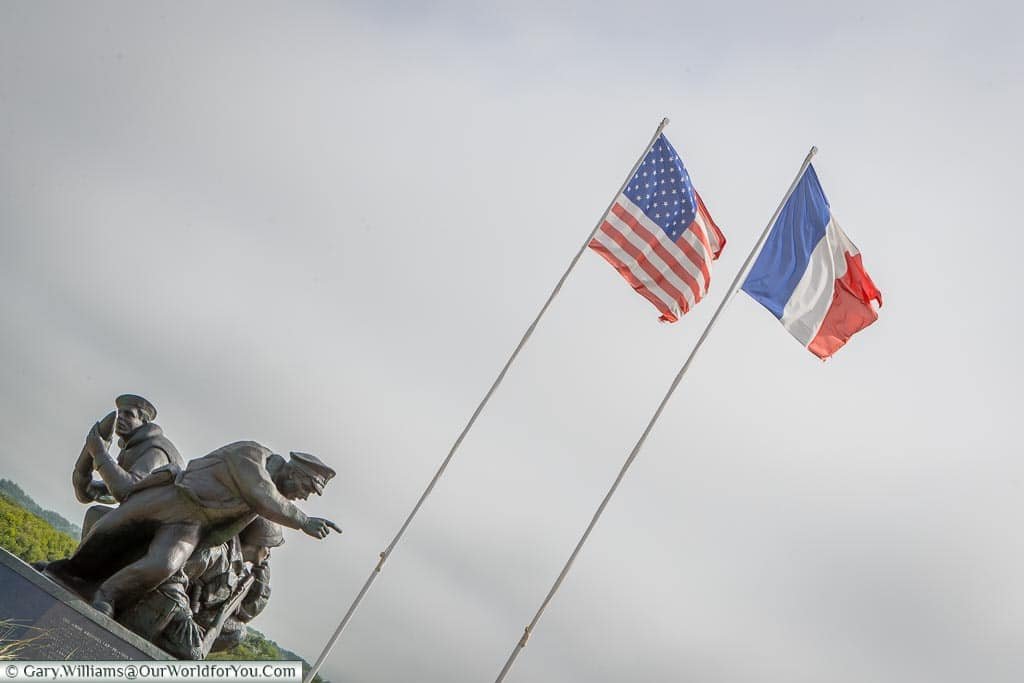 For anyone that has travelled to this region of France or further north, you'll know, how frequently you'll be passing a war cemetery. Whether it is from the First or Second World War, there are just so many as a reminder of selfless sacrifice.
The imressive Étaples Military Cemetery
We have visited quite a few over our years of travelling through France and Belgium.
Last year as a remembrance to the local men in our village of Eccles (Kent), who lost their lives in WWI, we headed across the channel to discover their last resting places.
The Eccles War Memorial and Clock.
As we were on our own WWII pilgrimage, we decided to visit the Bayeux War Cemetery & Memorial. This the largest Second World War Cemetery in France for Commonwealth Soldiers.
The Bayeux cemetery with the Cathedral in the background
Along with the Commonwealth soldiers, there are over 400 German headstones. As you would imagine it is a very peaceful place, however; it always surprises me how few people there ever are at the CWGC cemeteries.
Many nations headstones in the cemetery
Opposite the war cemetery is the Bayeux Memorial which has over 1,800 names etched upon it and is dedicated to the soldiers with no known grave.
Memorial to those who have no grave - Bayeux
Something from Get Your Guide?
Although we did this as part of our own road trip, there are other options - why not check out what get your guide has to offer?
(These options are provided by GetYouGuide.Com. We will earn a small commission, at no extra cost to you if you book through our site)
Do you have any of your own personal stories you'd care to share with us? We'd love to hear about your ancestors.
Inspired to visit the D-Day Landing beaches?
Like us, base yourself in Caen and not only discover the coastline head inland to enjoy the full Calvados experience.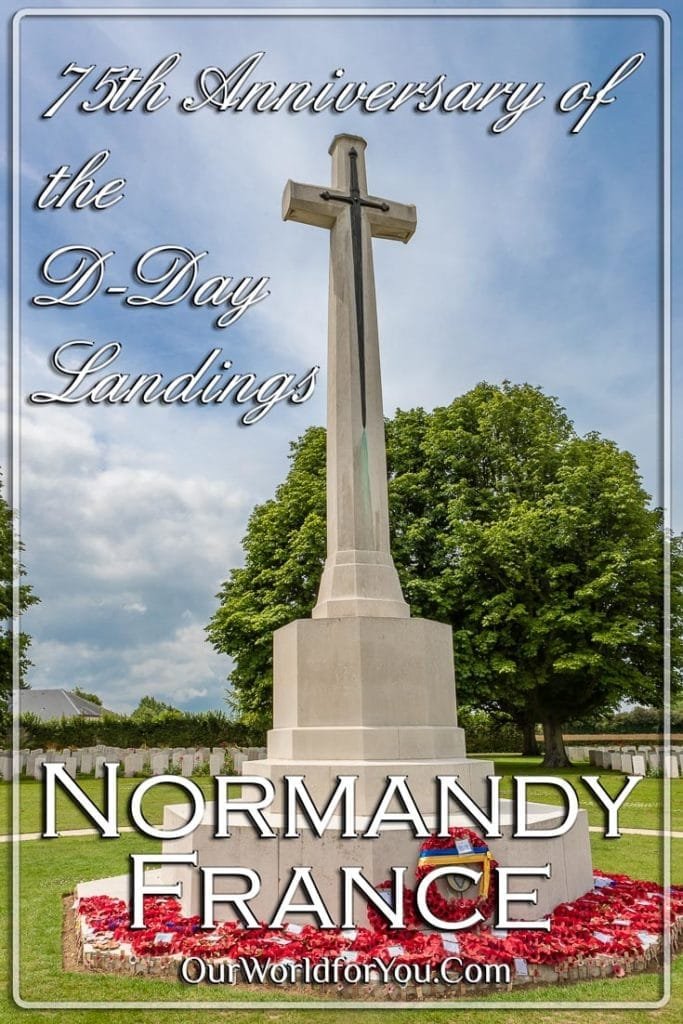 (Why not Pin It for Later?)
* This post may contain links to affiliated sites where we earn a small commission at no additional charge to you.