Amongst the historical lanes of Rouen, France
So, we were off on a Normandy road trip; there is so much to explore & discover in this region that we chose Rouen as our first base, the capital of Normandy.
Cathedral of Notre Dame, Rouen
We caught Le Shuttle to Calais, which is then around 132 miles (212km) to Rouen, if you go direct – but try telling Gary to do that.
Rouen's striking centre piece is the Gothic Cathedral of Notre Dame, consecrated in 1063 in the presence of William the Conqueror. Notably, it also contains a tomb for Richard the Lionheart, which within rests his heart.
Richard the Lionhearts tomb
Owing to its age, location and its amazing size 'Our Lady of Rouen' has suffered over the years due to natural and man-made disasters.
It's a really interesting Cathedral to wander around particularly to see L'Escaliere de Librairie (The Booksellers Staircase), which once led to the cathedral's library.
Lescaliere de Librairie -The Booksellers Staircase
Statues inside the Cathedral
And, the almost life size line of statues that have been removed from the cathedral's fascia waiting for restoration.
However, I think the Cathedral's modern day must see, is the amazing light display that is projected on to the huge façade. Every evening at 11pm from June through September, families & friends gather to be awed by the display.
2017's theme is William the Conqueror & Joan of Arc, the display lasts around 25 minutes and is repeated at around 11:30pm.
Here is a clip to give you a bit of a taster.
Check out the Rouen Website for more information of this fantastic display.
Although crowds start to gather around 10pm, we headed over at 10:55pm and had a great view. An added bonus is that it is free!!
Maid of Orléans – A little bit of history
Joan of Arc, whom you have probably heard of, played a significant part in Frances' history, during her short life in the early 15th century.
After successively upsetting the English army, she was captured and tried.
It was in Rouen where she was imprisoned in a keep (now known as Joan of Arc Tower) during her trial.
The site of the pyre for Joan of Arc
Joan of Arc was then executed by being burnt at the stake in 1431, at the very young age of 19.
In 1920 Joan of Arc was made a saint by the pope at St Peter's Basilica, Rome.
The open roads await, pop in your location details then
Rental Cars
will search well-known car hire brands and discover the deals that suit you the best.
The Gros-Horloge or Great Clock is a striking 14th-century astronomical time piece, but I think it may be difficult to set your watch by, as it only does one revolution every 29 days.
It's housed within an elegant Renaissance arch & it has one of Europe's oldest working mechanisms.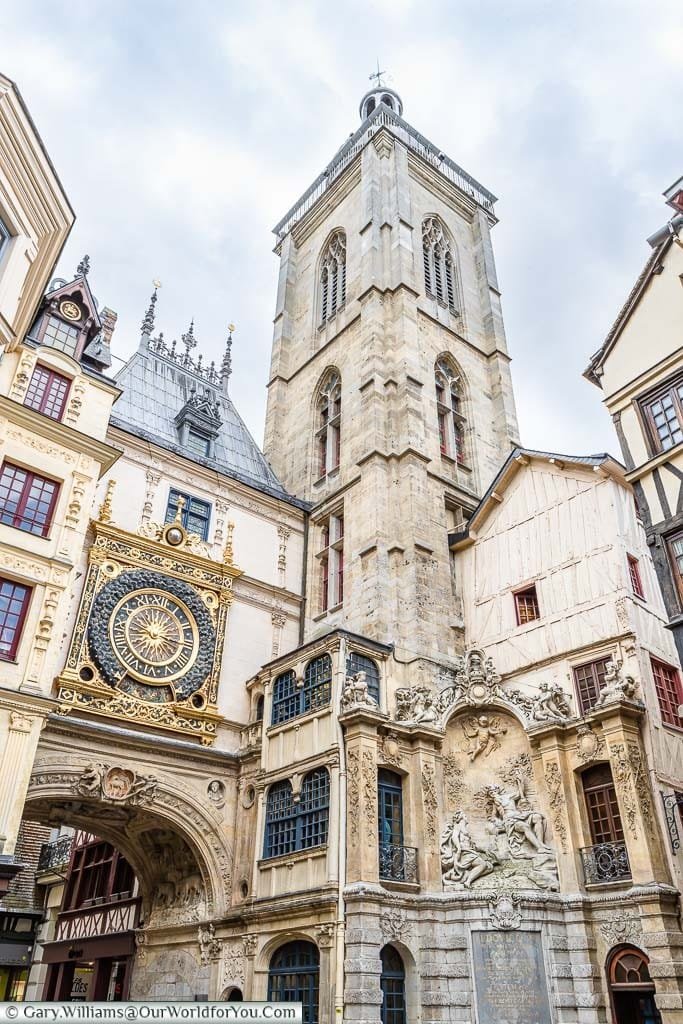 We love visiting France and each region so different from one another. I find the DK Eyewitness Guides really helpful in planning a trip and so often find interesting little snippets of info.
Take a peek at this revised Top 10 Pocket Travel Guide and see what you can discover.
There is no better way of exploring a town than on foot; you wouldn't want to miss out on any of it. Rouen has a wonderful surviving array of half-timbered buildings, which it gives Troyes a run for its money.
Along the cobbled lanes and alleyways are some great little shops and cafes, just teasing you to wander in and take a look.
Rouen has a pleasant bustling atmosphere about it. It's easy just to sit back in one of its many cafés or bars and just enjoy listening to the locals, but our French is so bad we're limited to a few phrases and the odd "Merde!".
Within Rouen, there are so many interesting pieces of architecture from many different periods.
All within a fairly short stroll of each other, you will find the ornate Gothic Palais de Justice, the striking Church of Saint-Maclou and the Hotel de Ville next to the Abbey of Saint Oeun.
Abbey of Saint Oeun, Rouen
Be sure to find one of the tranquil little parts of Rouen, that make this such an appealing city.
You certainly won't be short of evening entertainment in Rouen, but make a little detour away from the obvious squares and wander down Rue Eau de Robec.
Along this floral lane runs a river where locals sit and enjoy an evening with friends.
Rue Eau de Robec
Along this floral lane runs a river where locals sit and enjoy an evening with friends.
Would you like a little more?
We have created a little YouTube video of our time in Rouen.
Why not subscribe to our channel and get the latest clips as we post them?
Something from Get Your Guide?
Why not check out what else is on offer through Get Your Guide.
(These options are provided by GetYouGuide.Com. We will earn a small commission, at no extra cost to you if you book through our site)
Visited Rouen? or do you plan to? The rich historical city has so much to offer.
* This post may contain links to affiliated sites where we earn a small commission at no additional charge to you.
Does it's rich history tempt you? or the charm of it's lanes. Or the thought of fine French food & wine.
Why not check out the latest deals on Booking.Com?
(Why not Pin It for Later?)
If you enjoy what you see, and you'd like regular updates then join us for a monthly newsletter.