I really enjoy art, and personally one of my favourite art movements is 'Impressionism', the likes of Degas, Renoir, Cezanne and of course Monet.
So, to be so close to the Claude Monet's house and the infamous gardens with the water lily pond, was a must to visit.
A picture of Claude Monet
Claude Monet lived at this wonderful family residence for over 40 years from 1883 until his death in 1926.
You can easily see why he fell in love with the dusty pink house, swathed in green shutters and set within such tranquil surroundings, it's so idyllic.
Through the gardens to the house
The population in the village of Giverny around the time would have only been about 300 residents. (Although still pretty quiet today, once all us visitors had disappeared).
Arrive as early as possible, it gets busy, and there can be long queues.
As you wander through the rooms in Monet's house, you do get a sense of a lived-in family home. The salon-studio was a particular favourite of mine, with examples of his works covering the walls.
You get a feeling when you walk into the large sunny dining room and the blue & white ceramic tiled kitchen, that home life was important to him and his wife.
But it's not until you wander up to the floor above that you truly get to appreciate the beautiful views looking over the walled floral garden below.
Looking down on the gardens
Not only was Claude Monet a fantastic painter he was also a pretty keen gardener.
Evidence of this can be seen amongst the masses of flower beds in the Clos Normand (walled garden).
The open roads await, pop in your location details then
Rental Cars
will search well-known car hire brands and discover the deals that suit you the best.
Then the pièce de résistance, the water lilies and the infamous Japanese bridge and creeping wisteria, flanked by the weeping willow.
I know there are crowds around, but it is still peaceful, as everyone wants to be transported to that serene setting in Monet's paintings.
Peeking through to the lily pond
Weaving along the paths the planting is amazing, and the fragrance from the flowers are uplifting.
Wandering around the main pond, the theme remains oriental, and there is an incredible swathe of bamboo.
We love visiting France and each region so different from one another. I find the DK Eyewitness Guides really helpful in planning a trip and so often find interesting little snippets of info.
Take a peek at this revised Top 10 Pocket Travel Guide and see what you can discover.
Once you've visited Monet's home, take a stroll through Giverny village.
It's mainly pedestrianised and is a pleasant walk with a very 'arty' theme about it, as other artists resided, here not only Monet.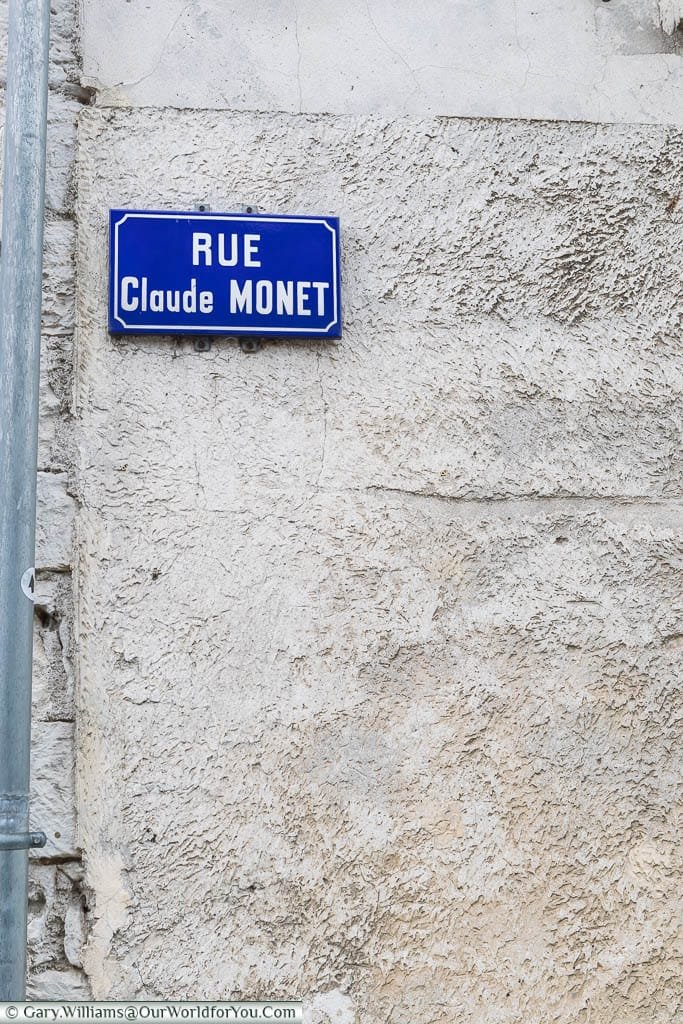 Rue Claude Monet
You pass by some lovely French homes & boutiques, and you can also visit the Museum of Impressionism.
Gary knows me all too well, and I never pass up the opportunity to visit a historical cemetery. So, we make our way to Sainte-Radegonde Church at the end of the village, as this is the final resting place of Claude Monet and his family.
I particularly enjoyed the visit to Giverny & Monet's home & if you are also a fan then be sure to squeeze it into your Normandy visit.
Would you like a little more?
We have created a little YouTube video of our visit. It's just under 3 minutes - why not have a quick look?
Why not subscribe to our channel and get the latest clips as we post them?
Something from Get Your Guide?
Why not check out what else is on offer through Get Your Guide.
(These options are provided by GetYouGuide.Com. We will earn a small commission, at no extra cost to you if you book through our site)
Visited Giverny? Was it as you exepcted? You can easily see the inspiration Monet had for some of his most famous works.
* This post may contain links to affiliated sites where we earn a small commission at no additional charge to you.
Inspired to visit Giverny?
We used Rouen as our base for exploring the region.
Why not check out the latest deals on Booking.Com?
(Why not Pin It for Later?)
If you enjoy what you see, and you'd like regular updates then join us for a monthly newsletter.