Our visits to the Italian Lakes
Where beauty, style and elegance converge
Oh, where to begin? This region of Italy is stunning, with its glistening opal waters to the icing sugar topped mountains reaching high beyond.
The Little Habour at Limone-sul-Garda
Our love of the Italian Lakes began in 2015 when we toured Lake Maggiore and its Borromean Islands. Then onto Lake Como where Gary and I, cherished a relaxing day together on a hired motorboat and cruised amongst the mountainside harbours and the elegant, opulent villas.
The view north over Lake Como
Then in 2019 we hit the open roads south journeying from the UK and toured the winding lanes and bored out arched tunnels around Lake Garda.

James Bond "eat your heart out"

I know there is so much more to see and do around the Italian Lakes; however, this is just our taster of 'bellissima nord Italia'.
Just imagine it, the roof of your car is down, sunglasses donned, wind in your hair, and the dulcet tones of Dean Martin, yes, 'That's Amore'. Does it get any better?

This is precisely what we did when we arrived at Lake Como, yes, I know, it sounds a bit cheesy but, it had to be done.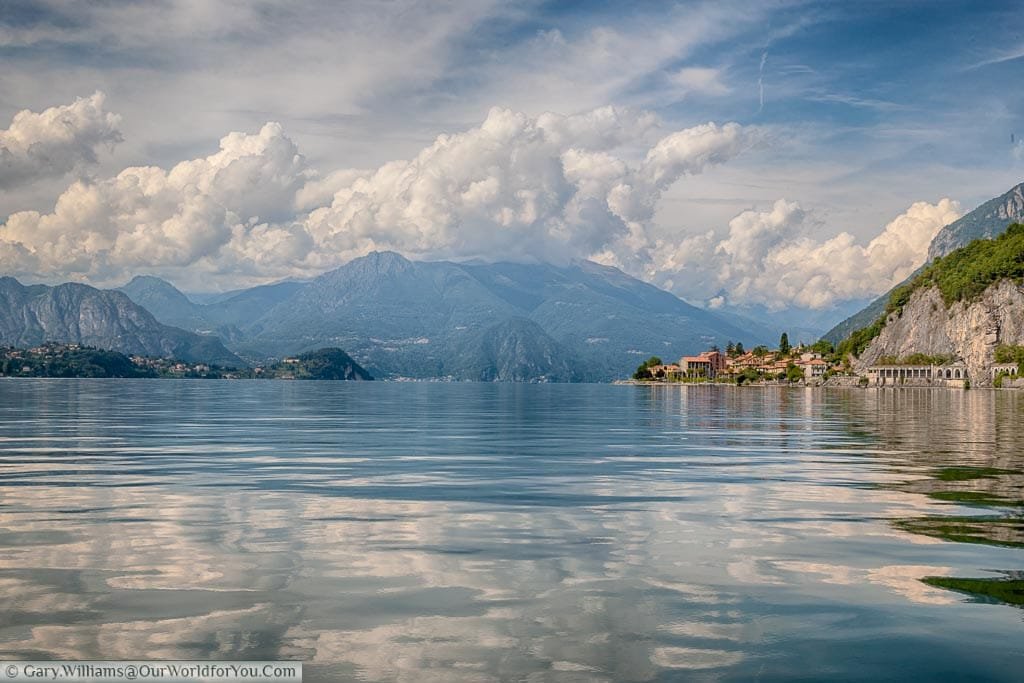 There are so many locations to choose from around Lake Como; however, we selected to base ourselves in Menaggio. Menaggio is centrally positioned on the western shores of Lake Como. If you don't arrive by car, this location gives you the flexibility to hop on a ferry and tour to other towns and villages. Bellagio and Varenna are just short distance across the lake.
Menaggio is a charming, picturesque little town, we found it a delight to return back to of an evening. Take a stroll through the colourful lanes, enjoy a promenade along the lake shores and then endure the delicious decision of where to eat your freshly cooked pasta.
If you're hooked like us and want to tour around the beautiful Italian Lakes in northern Italy, then take a look at this DK Eyewitness book.
This Top 10 Pocket Travel Guide is invaluable, I find them extremely informative, easy to follow and the pictures and maps tempt you into discovering more.
I must admit hiring the motorboat to tour around Lake Como was one of the highlights of the trip. It wasn't cheap; however, it was Gary's birthday, and we made a day of it.
 
We took our own Prosecco and packed lunch and just cruised around the lake, soaking up the magnificent scenery and admiring the multi-coloured steeped villages along the way. Take a look at our post 'Splashing about on the Lake'.
A town on the edge of Lake Como
Try and hire the boat for as long as possible, you'll be amazed at how quickly the time disappears. Bobbing along without a care in the world becoming overwhelmed by how incredibly beautiful and large Lake Como is. And just feeling like a film star.
At the controls on Lake Como
Talking of feeling like a film star, you can even play 'spot the stars villa'.

As you can imagine with a backdrop like the Italian lakes and the exclusivity and privacy that it bestows. Quite a few of these exquisite villas are owned by the rich and famous.
The Villa del Balbianello on Lake Como
Although for any James Bond or Star Wars fans you may recognise 'Villa del Balbianello'. This incredible villa was in Casino Royale and Star Wars 'Attack of the Clones'. You can even go and take a closer look inside.
We hired our boat from AC Boat Rentals in Menaggio. They were very professional; we were able to book online and for the AS 530 ENICA which we hired you didn't need a licence.
The northern region of Lake Garda is breath-taking, the mountainous backdrop is a sight to behold.
 
We based ourselves in Limone-Sul-Garda on the north-western shores of Lake Garda. Personally, I believe it was one of the prettiest and most picturesque locations around the lake.
An evening view over Limone-sul-Garda
The narrow lanes winding their way down through the old town to the harbour front were delightful. As the name suggests, this charming lakeside location had terraces of lemon groves, steeped around the bay.
The quaint little harbour of Limone-sul-Garda
Like so many of Lake Garda's waterside towns, the streets are so narrow that they are exclusively for pedestrians, although you may see the odd scooter passing by. Which makes it feel even more unique.
 
I must admit that Limone-Sul-Garda can get quite busy with visitors during the day, as it has regular tour boats and ferries arriving. However, as evening falls the quaint fishing harbour and the charming lake view restaurants, ease to a slower pace. This is when you can enjoy your Aperol Spritz.
Gary and I were also surprised at the restaurant prices, you could easily find high-quality homemade pasta and pizzas at around €8 to €10 with a vista to die for.
Have you heard of Trento?
If you're visiting Lake Garda, why not allow an extra day and head north to the city of Trento. It is a beautiful city, not too many visitors have heard of it. It's overflowing with incredible architecture and some delicious family-run restaurants.
Touring around Lake Garda
Exploring Lake Garda is pretty easy from Limone-Sul-Garda, as you can always catch ferries and head off on around the lake. We spent a leisurely afternoon visiting the striking harbour town of Malcesine just across the lake.
The town of Malcesine on Lake Garda
However, if you fancy a little adventure of your own, fire up your Quattro and hit the road and tour the lake under your own steam. There's nothing quite like driving through mountainous tunnels, that twist and turn with spectacular mountains views ahead.
The Audi RS5 parked up beside Lake Garda
We spent a day jumping out at different towns and viewpoints to soak up this region's incredible history and architecture. We do wish we had more time, as three nights was not enough.
We managed to complete a whole loop of the lake; however, we had to pick and choose which places to stop at. There are so many delightful towns, and you just can't help yourself wandering off in different directions to discover more.
Strolling through Salò on Lake Garda
When driving around the lakes, make sure you travel clockwise. This will ensure you'll always be hugging the shores of the lake and experience unhindered views.
During our visit to Lake Maggiore, we based ourselves at Stresa on the western shore of the lake. (I've just realised we always seem to be located on the west side of the lakes, a bit strange).
I'm not too sure if we were just lucky, however, this was another wonderful place to be situated. As not only does it have a picturesque town full of charming eateries, but it also has some beautiful islands in the bay to go and explore.
A motor launch on Lake Maggiore
You have various options when visiting Italy if you're travelling from the UK. Firstly, you can jump in your car and hop on Le Shuttle, this is our preferred option. As we love a road trip and touring the Italian Lakes gives you so much freedom.
Alternatively, if you are flying in, head direct to Milan, and check out the deals on Rental Cars they cover all budgets.
The Borromean Islands are made up of three islands and two small islets. During our stay in Stresa, we visited the Isola Bella and Isola dei Pescatori (also known as fisherman's island).
 
Trips out to these islands run regularly through the day, they can get busy so head out as early as possible However, they are truly beautiful to visit.
Isola Bella from the Lake
Isola Bella was once a small fishing village and then from 1631 to 1671 after the purchase by the Borromeo family, the island was transformed into a magnificent Palazzo with baroque gardens.

The ornate terraced grounds are stunning and planted with such vivacious colours. Be warned you may also be rubbing knees with a few elegant white peacocks.

Also, head down inside the palazzo caves they are like grottos.
The gardens of Isola Bella
Isola dei Pescatori is quite a tiny island, it is only 375 metres long and 100 metres wide. As you can imagine, both of these islands are only navigated on foot, so all their produce arrives via boat.
Isola dei Pescatori on Lake Maggoire
If you plan on enjoying lunch here, arrive early. Or like us just take a stroll around, it has some very quaint buildings along its one cobbled central lane and some beautiful views across the lake.
We headed out and about in our car during one of the days at Lake Maggiore. We explored all around the beautiful lush mountainous countryside then onto Lake Orta.
Lake Orta is a beautiful lake, and even on a busy day, there were plenty of quiet spots to be found. We strolled into Orta San Giulio on the eastern shores of Lake Orta, and it was such a lovely calming experience.
Piazza Motta in Orta San Giulio
Cobbled lanes weaved before us and tiny fishing boats were perched along the water's edge. Then out in the middle of the lake was the eye-catching Isola San Giulio, another small island and full of so much character.
Isola San Giulio on Lake Orta
I would just like to add that Gary and I have only visited the Italian Lakes in either June or September. I fully appreciate that the lakes can get extremely busy during high season. However, if time permits, these were really pleasant months to travel. Not too hot and not too overcrowded.
* This post may contain links to affiliated sites where we earn a small commission at no additional charge to you.
Inspired to visit the Italian Lakes?
Don't just take our word for it, start planning your delicious adventure today.
Why not checkout the latest deals on Booking.Com?
The open roads await, pop in your location details then
Rental Cars
will search well-known car hire brands and discover the deals that suit you the best.
(Why not Pin It for Later?)
If you enjoy what you see, and you'd like regular updates then join us for a monthly newsletter.