by Janis /
0 comments
- Orginally published:30th November 2021
Exploring Aachen, Münster and Cologne's festive markets
If you've been following our German Christmas markets tales and adventures over the years, then you'll know how much we love visiting Cologne at Christmas.
Now that the green light has been given on Germany's Christmas markets for 2021, we're heading back. During this visit, we are not only topping up our Cologne Christmas experience, but we are also visiting the historic cities of Aachen and Münster.
We visited both Aachen and Münster in west Germany during Autumn in 2019. Gary and I were so taken at how pretty the old towns were that it would only be a matter of time that we head back during Yuletide.
Also, whenever we chatted to the locals in both Aachen and Münster, they kept saying that we had to return at Christmas; it was enchanting.
Why not Pin it for later?
You need to wear your FFP2 face masks in the Christmas markets unless you are eating and drinking. In bars and restaurants, you will need to present your COVID vaccination passport, and also you may be required to show your international passport or photo ID.
Where we're visiting at Christmas in 2021
How to get to Aachen, Münster & Cologne
- By Air
Start creating your own German adventure and discover the ancient history amongst the charming city streets.
Search for your flights in one easy place with ebookers.com. Over 400 airlines are scanned for your favoured routes and chosen dates.
- By Car
If you're venturing from the UK, jump on Le Shuttle and tour Germany under your own steam.
Alternatively, it's so easy to visit on a road trip. Rental Cars searches multiple well-known car hire brands and discovers the deals that suit you the best.
Discover Germany's local history
Charlemagne and Tower Keepers
With the idea of combining three of the things we love, history, Germany, and Christmas, it goes without saying that exploring any city during Yuletide will be captivating.
Aachen has centuries of ancient history, and evidence of Roman settlements have been unearthed and preserved in the city. Aachen was once a very prosperous spa town, and the eye-catching colonnaded Elisenbrunnen is now the façade of what would have once been a prominent Roman thermal bath.
The Elisenbrunnen in Aachen
Charlemagne (Charles the Great), the first Holy Roman Emperor, also fell in love with Aachen and had a palace built within the city located near the Roman baths.

During the early Middle Ages, Charlemagne united the majority of western and central Europe and was called the "Father of Europe" for this unification.

Charlemagne also had St Mary's Church constructed in Aachen, between 793 and 813, which later became Aachen Cathedral. Charlemagne died in 814 and is buried in a golden shrine in the octagonal chapel.
Inside Aachen cathedral
When we visited Münster in 2019, we were given the opportunity to climb the 75-metre tower of St Lamberti Church and visit the Tower Keeper. The tradition of Münster's Tower Keeper has been upheld for over 630 years. The sought-after post is now in the safe hands of Martje Saljé, the first lady to hold the position since 1383.

Each evening (except Tuesday), Martje sounds the "tower horn" every half an hour between 21:00 and midnight. This is to reassure the Münster residents that all is well and that no enemies are approaching or imminent fire.

I'm looking forward to hearing the horn blast out over the rooftops of the Christmas cabins while we're sipping a steaming hot mug of glühwein.

A little bit of gruesome history relating to St. Lamberti Church are the three hanging cages on the outside of the steeple.

In the mid-16th-century, Anabaptists tried unsuccessfully to convert Münster from Catholicism to Protestantism. Their bodies were then hung on display as an act of warning to the town.
St. Lamberti Church, Münster at night
The three iron Anabaptist cages
Oh yes, Cologne, it must be the spiritual home of Eau de Cologne. The original fragrance was created by the Italian perfumer Johann Maria Farina in 1709; the history of Farina can be found at the Fragrance Museum.
The Eau de Cologne that you'll see dotted around the city of Cologne is 4711, with its distinct bottle and label colouring. It was also developed in the 18th century and is still being produced today; and is one of the oldest fragrances in the world.
A nostalgic bottle of 4711 makes a fantastic Christmas gift.
4711 -The smell of Cologne, Germany
German Architecture to treasure
Explore Germany's UNESCO sites
We can't wait to see how Aachen Cathedral is going to embrace the Christmas festivities; it is going to create a magnificent backdrop.

Aachen Cathedral is now a UNESCO World Heritage Site and was the first monument in Germany to be honoured with this status in 1978.

As mentioned, the bones of Charles the Great are encased in the Karlsschrein within the original chapel. However, Aachen Cathedral was later extended in 1414 with the Gothic chancel for the 600th anniversary of Charlemagne's death.

The Cathedral is glorious inside and out.
Aachen Cathedral
Opposite Aachen Cathedral is Aachen Rathaus; within this market square of 'Katschhof', a magical part of Aachen's Christmas Village resides.

The imposing Gothic style Rathaus (Town Hall) dates from 1330 and is the seat of Aachen's Lord Mayor. We only had a short amount of time to discover the Rathaus in 2019, so hopefully, we'll explore a little more and this time.
Aachen Rathaus
All around Münster's town hall are beautiful examples of stunning architecture. The gothic Rathaus was lovingly restored during the 1950s back to its original mid-14th-century character.

I can just imagine how spectacular these crow-stepped gabled rooftops are going to look at Christmas time. When the sun begins to set, the lights start to twinkle, and the festive tunes are being played; it's going to be enchanting.

It's within Münster's "Hall of Peace" in 1648 that the Spanish-Dutch Peace Treaty was ratified. The same year the Thirty Years' War ended with the signing of the Peace of Westphalia.
The Münster Rathaus at dusk
Kölner Dom is a magnificent sight to see and sits so proud, dominating Cologne's skyline. The grand gothic spires pierce the air and stretch 515 ft (157 m) aloft.

To obtain the perfect view of the Cathedral and Hohenzollernbrücke, stroll across The Rhine and glance back; it looks incredibly wonderful of an evening.

Cologne Cathedral is also a UNESCO World Heritage Site and is free to visit. During the build-up to Christmas with all the Weinachtsmarkt red cabins at its feet, it looks captivating.
The Dom towers over the Christmas Market
COVID safe access to the German Christmas markets
You need to be 2G compliant, which means vaccinated or recovered. You will need to provide your valid vaccine passport QR code and potentially your international photo ID.
In Aachen, a wrist band is issued when you prove your 2G status and this will be valid for each day you are in Aachen's Christmas markets. There are also police spot checks as you stroll around the markets.
In Münster, you are required to provide your COVID vaccine passport and you may also be asked for a photo ID at each food and drinks stall. Security spot checks also occur.
In Cologne, your hand is stamped once you have provided 2G validation and this is valid throughout Cologne's Christmas markets. Spot checks also regularly take place. Bars and restaurants may not accept the 2G hand stamp, so you will be requested to provide your valid vaccine passport and photo ID.
Strolling the ancient lanes of Germany
Quirky charm to be found
What I especially found charming in Aachen was its delightful bronze fountains and statues. They bring a quirky and charismatic feel to the city and have their own individual tale to tell.

Strolling amongst the cobbled streets always brought a smile to my face as you never knew what was going to greet you around the next corner.
The Circle of Money Fountain in Aachen
The picturesque street I loved strolling along in Münster was Prinzipalmarkt. All the gabled fronted buildings had character, and the arched colonnade truly gave a sense of tradition and elegance. The Christmas season decorations and sparkling lights are going to look fantastic.
Prinzipalmarkt, Münster at night
Bicycles getting festive
When visiting Cologne at Christmas, it can sometimes get very busy. Just wander a few lanes back from the markets, and you'll experience the city at a more relaxed pace.

It's so pleasant ambling along the shores of The Rhine; it gives a lovely, peaceful perspective on the bustling city.
Herings im Martinswinkel
I love nothing more than planning a trip and so often I use the DK Eyewitness books.  I find them extremely informative, easy to follow and the pictures and maps tempt you into discovering more.
We used a previous version of this book to plan our Germany road trips, now you can grab the revised copy.
Tempting German specialities
From the gingerbread to the Brauhaus
Well, we already know what delicacy we'll be loading up our luggage with from Aachen, and that's Aachener Printen, particularly from Klein. We first sampled this delicious gingerbread from one of the Christmas stalls in Cologne.
Their gingerbread is so moreish and comes in many varieties, soft, hard, plain, iced, covered in chocolate and with a spattering of nuts, too, if that's your go-to topping.
Additionally, with Aachen's unique location in Europe at the border triangle in Dreiländereck, you can hop, skip and jump between Germany, Belgium and the Netherlands, all in a matter of seconds.
So, with this in mind, I'm curious to see if any culinary influences from Belgium and the Netherlands creep into the Christmas Markets. There's always time to enjoy a freshly baked crisp waffle or two.
I think we may have to sneak into Aachen's oldest inn, "Am Knipp", which dates from 1698; it would be rude not to.
Klein Aachener Printen
There's something really comforting about discovering a local brauhaus that is welcoming and warm when you enter. The smiling faces on the staff and the hearty German meals they offer will always win me over.
My favourite inn that we found in Münster was Altes Gasthaus Leve, Münster´s oldest inn. It has been serving its patrons since 1607, and the food was delicious; they do very traditional meals, but that's what I loved.
Keep an eye out for the ales from the local brewer Brauerei Pinkus Müller, which dates from 1816.
Altes Gasthaus Leve, Münster´s oldest inn
It's the regional differences that we adore discovering when we visit Germany, and Gary is never one to shy away from trying something new. Whether it's the wide array of bratwurst, flame cooked salmon, pork knuckle or weird and wonderful skewers, between us, we'll give most things a try.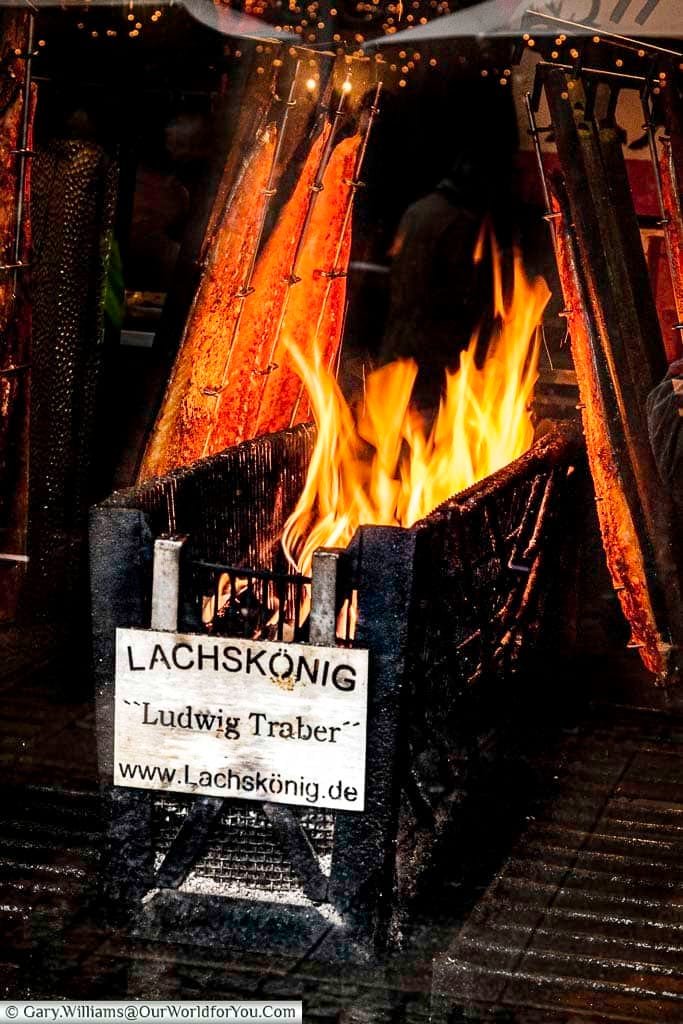 Salmon the traditional way in Cologne
Meat and Chicken Kebabs from Cologne
Revisiting an old friend 'Cologne'
The themed markets are the star of the show
As mentioned, Gary and I have been visiting Cologne at Christmas time for many years now, and we have witnessed some stunning changes.

Cologne just takes the themed markets to another level. Whether it's the captivating, red-roofed cabins encircling the towering Christmas tree in the shadow of Kölner Dom or the elves hopping across the snowy rooftops of Heinzel's Winter Fairy-tale, you are transported to an enchanting world.
The ice rink at Cologne's Christmas Markets
We love watching the ice skaters teetering around the edges or the local youngsters mastering a pirouette; it's all a joy to watch.

Our advice to you is don't hesitate to visit any of Germany's Christmas Markets, they are so welcoming. And what we especially love is that they are aimed at every age; Christmas is not just for the small kids, it's for the big kids too.
Entrance to the Home of the Elves in Cologne
This trip has been planned in partnership with Aachen Tourismus and Stadt Muenster in exchange for an honest review and an account of our personal experiences.
* This post may contain links to affiliated sites where we earn a small commission at no additional charge to you.