Where to visit in northern Spain
A few of our Spanish treats
Spain's a country that Gary and I have been discovering more and more over the last few years. To be perfectly honest we wish we had have put the 'over touristy' myth to rest long before now. Spain is beautiful, with lots of incredible places to visit off of the main tourist trail.
The Zaharra Pintxos bar in the corner of Plaza Nueva, Bilbao
We've found that the north of Spain has so much to offer and we just want to continue to uncover more. Whether it's in the Basque Country, Asturias or La Rioja, the food and wine are amazing.
With time on your hands, you could also make some of these northern Spanish towns into a road trip
As I'm sitting here now, I'm trying to conjure up an excuse to return, mmmm now let me think!!!!
So where do I start?
I love nothing more than planning a trip and so often I use the DK Eyewitness books.  I find them extremely informative, easy to follow and the pictures and maps tempt you into discovering more.
We used this version of the book to plan the northern part of our Spanish road trips.
Perhaps Oviedo wouldn't be the first place that would spring to your mind, but certainly one I would recommend to you. Oviedo is the capital of Asturias and has some incredible architecture and local charm. Stroll around the cobbled streets of the old town and you'll discover so much history. Wandering through some delightful Plazas, a particular favourite of mine was Plaza del Fontán.
La Regenta and Cathedral at night, Oviedo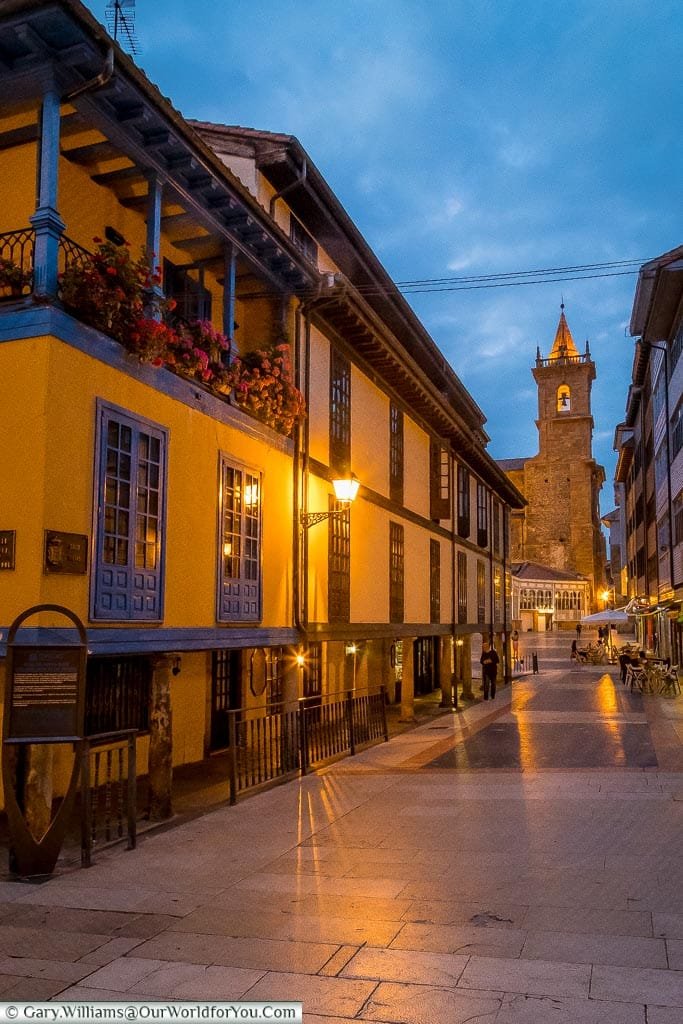 The view along Plaza del Fontán, Oviedo
However, what you'll be amazed at, is how many bronze statues are dotted around the town, they're wonderful. Each with their own little story, you just can't resist touching them.
I'm sure when you visit Oviedo you won't be able to resist the Sidra (cider), the pouring of this local tipple is an art in itself, just don't stand too close! (you've been warned).
It's great fun that you won't mind joining in with and you may also want to try the pulpo (octopus), you can have this in cider too.
We have created a little YouTube video of cider being poured in Oviedo, a truely unique experience.
Why not subscribe to our channel and get the latest clips as we post them?
So we've a few posts you may be interested in;
Ahhh the pintxos, yes, we're now in the Basque region, and it's the little differences that make travelling so enjoyable.
Pintxos at the Mercado, Bilbao
Bilbao sits in the Bay of Biscay and is one of those places that ticks so many boxes. Don't be put off that it's a busy port town, that part of the city is a few miles further around the bay. You want to head into the old town and the narrow medieval streets in Casco Viejo.
The Art Nouveau and Art Deco architecture dotted around the city are amazing, with wrought iron balconies high above you. Don't miss taking a stroll along the river. Not only will you get to visit the Guggenheim museum, wandering further around you can pop into the Art Deco Mercado de la Ribera for a taster of the pintxos.
'Las Siete Calles' or the historical 'Seven Streets'
The architecture has to be admired in Bilbao, Spain
If it's a local tipple you're after, then try the Calimocho/Kalimotxo which is red wine & coke, with ice. Don't knock it until you've tried it!!
Kalimotxo or Calimocho - red wine & coke
Once again we have a few posts that may be of interest to you;
Start creating your own Spanish adventure and discover the delights of northern Spain yourself, easyJet & British Airways are just a couple of options.
There's just something about Santander that makes you want to join the local families and take a promenade along the seafront. Listening to the children enjoying themselves and the different generations exchanging stories.
You'll want to immerse yourself in all that is Spanish in Santander, the elegant homes, charming Bodegas, delightful tapas, and a glass of red wine. Take me back there now.
Amazing architecture, Santander
We've just the one posts on Santander;
If you wander into the tapas bars and order a drink to consume inside you are often given free tapas. If you sit outside and place your order, the portions will be larger; however, you will you pay for the tapas.
Santillana del Mar, Cantabria
On the route of the Camino de Santiago (ok, so we didn't walk it) is the ancient little town of Santillana del Mar. Dating back to the Middle Ages, you'll love the shiny cobbled narrow streets and the many historical ochre buildings that are so lovingly maintained.
Torre de Don Borja, Santillana del Mar
You'll feel like you've stepped back in time and wouldn't be surprised to see silent pilgrims passing through.
Highlighting the way, Santillana del Mar
The watering hole, Santillana del Mar
Now, I've added Burgos to my list as I'm disappointed that we didn't spend longer there ourselves. Although, in the couple of hours that we were there, we were so impressed. The cathedral is incredible, and such a centrepiece to the town; however; it certainly doesn't detract you from the other architecture around the old town.
The Arco de Santa María, Burgos
Ohh and of course like any Spanish city/town/village the parks and plazas are always a treat to head to for the relaxing family atmosphere.
Paseo del Espolón, Burgos
Discover more of Spain's historic towns and cities and all the picturesque countryside in between? Then jump in a car,  you can do it all on a road trip,
Rental Cars
searches multiple well-known car hire brands and discovers the deals that suit you the best.
León certainly was a treat in more ways than one and a fantastic Spanish city to add to your mini-break or road trip list.
You'll see one of the few Gaudi structures outside Catalonia, an imposing cathedral, a basilica and ancient Roman walls. This is just the start, take a stroll through the Plaza Mayor and around the narrow lanes that weave around the old town
The view from our room over Plaza Mayor, León
Ohh and don't get us started on the tapas bars, which are continually trying to offer tapas free of charge with a glass of wine.
León is on one of the main routes along the Camino de Santiago, so you'll see weary pilgrims around the city resting their tired feet.
The resting pilgrim, León
The Arco de la Cárcel, León
León Cathedral is one of the three most important cathedrals, along The Way of Saint James (El Camino de Santiago), along with that of Burgos and Santiago de Compostela.
Mmmmm La Rioja, a region renowned for its delightful wine and Logroño a city renowned for its array of tapas.
Logroño has a history dating back to the Romans, so there's plenty of ancient landmarks for you to stroll amongst. All the while keeping a beady eye out for the amazing street art that Logroño has.
Well travelled - Street Art, Logroño
However, if you decided to visit Logroño, then you're probably aware of the street Calle del Laurel. In the few narrow streets that surround this area, there are around 50 taperías for you to indulge upon. All with differing tapas, some contemporary, some traditional, but go with the flow, try one or two then move on.
The evening on Calle del Laurel, Logroño
Gary drinking a Vermouth, Logroño, Spain
This is by no means a definitive list, we've still places we want to see. Here's a few more places that we will get to sometime in the future.
San Sebastian

Renowned for its food culture and its distinctive Basque heritage. Plus there's the lovely La Concha bay too.

Pamplona

No, not for the running of the Bulls, but to experience the city without the distraction of the festival of San Fermín.

Zaragoza

The drawn here has to be Cathedral-Basilica of Our Lady of the Pillar, but as we've discovered there's always more among the lanes of the old town.

Santiago de Compostela

The final destination of those who have completed the Camino de Santiago. Again the history and heritage will be the big draw here.
So, what have we missed? Where else must we not miss if we're in the north of Spain?
Inspired to visit Northern Spain?
Tour amongst the rolling hills and visit some incredible towns and cities along the way.
Search for your flights in one easy place with
ebookers.com
and open up a world of options. Over 400 airlines are scanned for your favoured routes and chosen dates.
(Why not Pin It for Later?)
* This post may contain links to affiliated sites where we earn a small commission at no additional charge to you.