Christmas Markets, here we come again!
We just can't resist the lure of twinkling markets
2017 will be our 10th year at visiting Cologne at Christmas.  I understand that those of you who have never been, must think, "why do you keep returning?"
Entrance to the Home of the Elves
Well other than it is a wonderful time of the year.
It is just great fun and a fantastic atmosphere.
What we love about the German Christmas markets is that the festivities are for the young, and the old.
There are revellers of all ages enjoying themselves.
You really need to book early as these markets are very popular.
For us, our Christmas Market adventures are always turned into a road trip, although living in the southeast of the UK this does make it a little easier.
Koln Christmas Heart Decoration
However, we enjoy the freedom of bringing back whatever we like.  Whether that's stocking up on gingerbread or grabbing a tree topper from Käthe Wohlfahrt, it's all possible and could prove to be a bit challenging with baggage restrictions.
Carefully selecting the Lebkuchen hearts at the Christmas Markets
Toy soldiers and more at the Christmas Market
Now even for us, five destinations were a little bit of a push, so not let it be said we are defeatists. This year we are visiting four. Although we do plan on spending a little more time in London, as we only spent a few hours last year
Of course, Cologne must go on the list, it just wouldn't be right otherwise, but it's going to be our final destination. Each year this city offers something new, and we'll revisit some of the old haunts too.
These markets become extremely busy at the weekends, particularly in the evenings. Children may feel a bit swamped with the crowds.
Not just Germany this year
For 2017 we are adding Strasbourg (I know it's in France, but why should the Germans have all the fun) and it was 2008 since we were last visited this ancient tradition.

We're really looking forward to see if we can feast on the markets, or if this is a reserve of the German Markets. Will we be exchanging bratwurst for tarte flambée?
Avenue of Angels, Strasbourg, France
Each year in Place Gutenberg a different country is invited to add a touch of their local traditions and delicacies, in 2016 it was Portugal, who will it be for 2017, I think it could be Iceland?
The Carousel in the market place, Strasbourg, France
Then we wiggle on to Munich, to discover their cultural differences. Then start heading north and stop in Frankfurt, before continuing onto Cologne.
You must stay for the evening
Although all these markets are fantastic to visit during the day, they really come alive in the evenings, don't miss it.
With each city or town, we have been to, there has always been local specialties, so it's going to be fun seeking these out for the new locations.
Three in a bun, Nuremberg, Germany
In Nuremberg it was "Three in a Bun" or "Drei im Weggla" & their own Glühwein made with blueberries. Rothenburg ob der Tauber, has schneeball and these you can get all year round. Stuttgart, they were flame grilling mackerel, which we had only previously seen salmon.
Two different glühweins, Nuremberg, Germany
The prune man, Nuremberg, Germany
Gingerbread from Nuremberg, Germany
So, what will Munich & Frankfurt have to offer?
Apparently each year at Marienplatz in the centre of Munich, advent music is performed live every evening at 5.30 p.m. from the balcony of the Town Hall. So we'll certainly be listening out for that.
After a little bit of research, I have found out that Frankfurt's Christmas market is famous for a number of traditional Christmas delicacies, including Bethmännchen, small almond biscuits, a local tipple of hot apple wine with cinnamon and cloves. Also Quetschemännchen, colourful figures made of nuts and dried plums.
Another unique feature is the Honey House on St Paul's Square, a 300-year-old timber frame building, is assembled every year especially for the market.
A wonderful window display, Rothenburg ob der Tauber, Germany
We are all big kids at heart
Germany's Christmas markets are for all ages, don't be put off that it is all for children, it really isn't.
It's about the friendliness
Truthfully, it's not all about the Christmas markets, we do love Germany & its hospitality. We have visited on other occasions, in particularly on our Lakes & Lederhosen road trip, when we toured along parts of the Romantic Route. Then more recently when included Baden-Baden as a stopover on our Croatian road trip.

So, for us it gives us a fantastic opportunity to discover more of Germany.
We have had some fantastic memories over the years, which we continually look back on. However, one that stands out for us was the year we took my parents and it snowed, that really was unforgettable.
Enjoying a baked apple on the Christmas Markets
Dress warm and comfortable... essential.
Visited a Christmas market, where were your favourites or do you have any recommendations?
Inspired to visit the German Christmas markets?
Search for your flights in one easy place with
ebookers.com
and open up a world of options. Over 400 airlines are scanned for your favoured routes and chosen dates.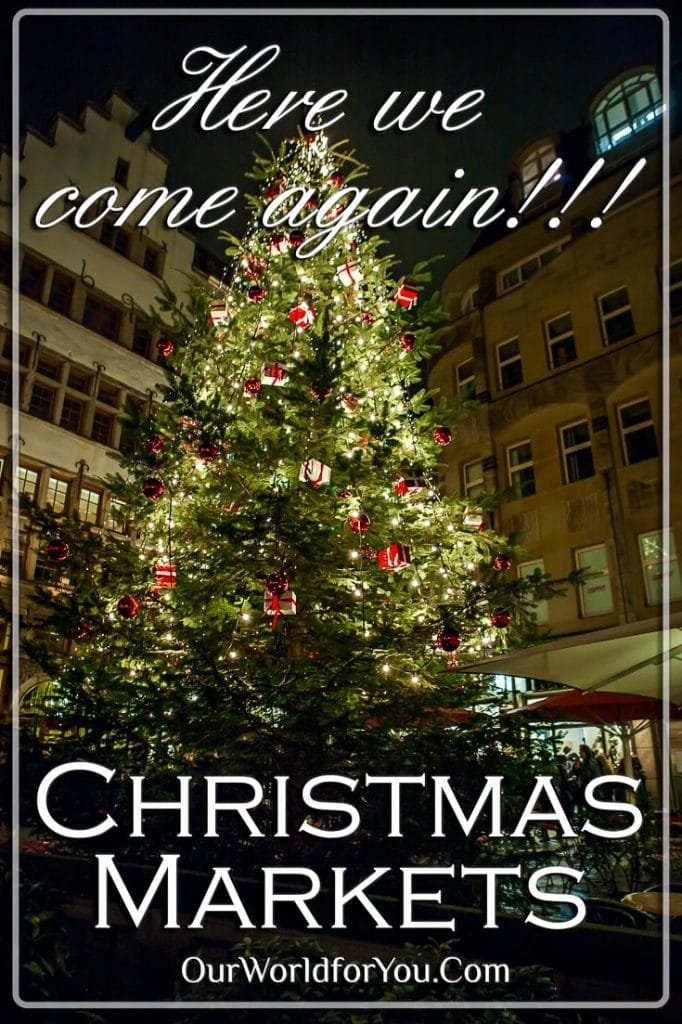 (Why not Pin It for Later?)