by Janis /
0 comments
- Orginally published:21st April 2020
A little slice of London
All within a hop, skip and a jump
There is so much to see and do in London that often we stroll past a location or a historic site and may not even be aware of its significance.
Therefore, if you're like me and love delving further into districts to find that little something different. Then take a stroll nearby Tower Hill tube station to see what you can discover within a short walk.
It goes without saying that you will recognise a couple of these landmarks and locations; however, a few others you may not.
Why not Pin it for later?
Where is Tower Hill in London?
How to get to Tower Hill?
Tower Hill Station is on the Circle Line and the District line
Don't forget if you have a contactless bank card, you can tap and pay with that.
Discovering London
A little history on Tower Hill station
Tower Hill comes under the London Borough of Tower Hamlets. However, it is literally within a stone's throw of the City of London, the financial district.

A few of these spots I've mentioned below venture into the City of London.
Tower Hill Underground Station
Tower Hill station opened in 1967 on the site of the original Tower of London station. This station was only open for two years between 1882 and 1884 when it served trains on the District Railway.

A new station was built which then served both the now District Line and the Inner Circle line, which is now the Circle Line. I hope you're keeping up.

This small area of London has some incredible history, which effortlessly brings us to our first stopping point.
London's Roman History
The London Wall
A section of the ancient Roman Wall that once encircled the City of London can be found just nearby Tower Hill station.

Very little of this 3rd-century wall now remains; however, if you head along Cooper's Row, you'll find a segment. It would have been a considerable feat of engineering, as the wall once stood around 9ft wide, 20ft tall and was 2 miles in length.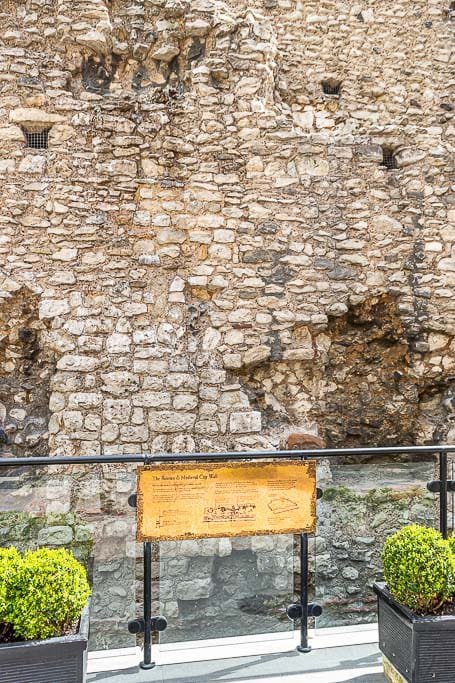 A section of the Roman London Wall
Part of the ancient Roman wall near Tower Hill Station
We have a little book on our shelves that we sometimes delve into when we're about to hit an area of London.
Packed full of historical facts, and broken down into the different regions of London, it's a great resource to help you see what's hidden in plain sight.
Available in Kindle & Hardback editions, it's an excellent addition to anyone's collection who loves London.
A walk through London's history
Tower of London
You couldn't arrive at Tower Hill and not visit the Tower of London. It is such an iconic sight on the London landscape.
View of the Tower of London from Tower Bridge
It incredibly has over 1000 years of history for you to discover, and it is so beautifully kept. You'll be able to march along the ramparts, see the legendary Crown Jewels, and also take a tour with a Yeoman Warder or Beefeaters, as they are also known.

This Royal Palace has witnessed many prisoners and executions in the past, one of its most well-known being Anne Boleyn. The second wife of Henty VIII was executed in the Tower of London in 1536.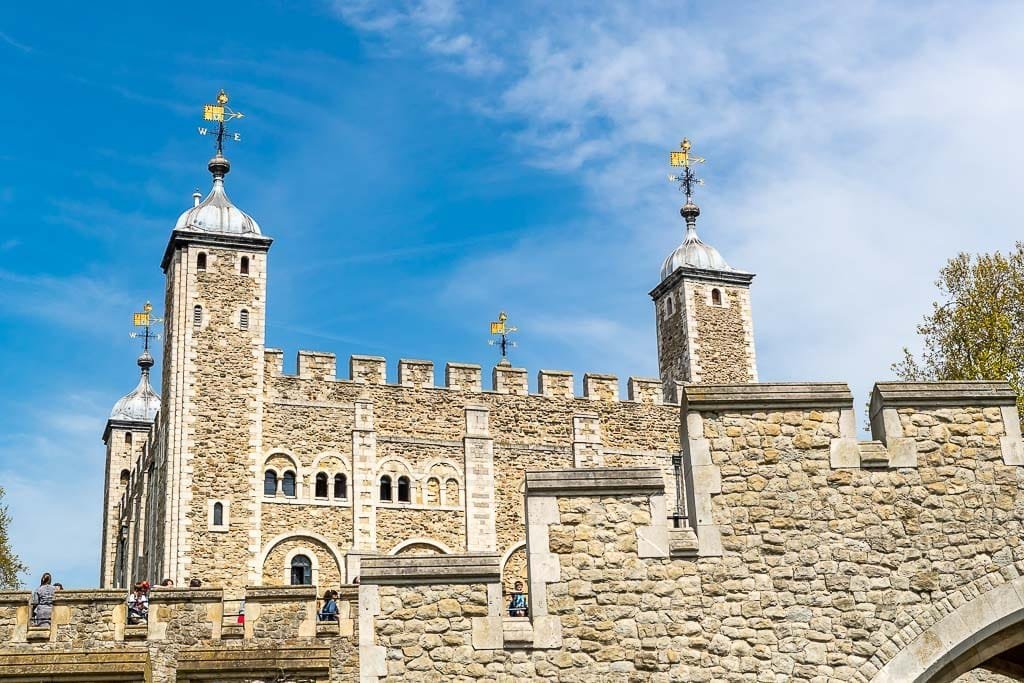 The 11th-century White Tower in the Tower of London
A must-see in London
Tower Bridge
Tower Bridge is by far my favourite landmark in London. I have a bit of affinity with the River Thames as my father and grandfather both worked on the river.
Tower Bridge was opened in 1894
Every time I see it, I have to just stop and admire it, it is incredible. It opened in 1894 and is a bascule bridge. Consequently, when larger boats need to pass through, all vehicle and foot traffic is stopped, and the impressive bridge opens up.
The iconic Tower Bridge
There's a fantastic exhibition in Tower Bridge and if you can handle heights, then head to the top walkway and stroll across the glass floor. You'll be 138ft (42 metres) above the river.
A hidden gem in London
St Katharine Docks
St. Katharine Docks in the heart of London is a true oasis and so often missed. From the early 19th-century and then for over 100 years, St. Katharine Docks was used commercially.
St Katharine Docks nearby by Tower Bridge
The docks and surrounding warehouses became heavily damaged during WWII and remained derelict until the 1990s. Today though it is a wonderful place to stroll around and socialise with friends.

It's full of small boats, bustling bars and restaurants and has such a relaxing vibe.
The Tower hill district sits on the edge of the City of London, London's historic financial district.
There are plenty of choices, why not check out Booking.com for something that suits your requirements?
Remembering London
Tower Hill Memorial
Just next to Tower Hill station is The Tower Hill Memorial. It is quite a touching memorial and a lovely tribute to the Merchant Navy and Fishing Fleets.
The memorial was unveiled by Queen Mary in 1928, for the seamen who lost their lives in WWI. Although now it also commemorates the losses from both World Wars.
Tower Hill Memorial, overlooking the Tower of London
The moving words on the monument states that it honours those 'Who gave their lives and have no grave but the sea'. There are an astounding 35,800 names on the memorial.
Relax in London
Trinity Square and Gardens
Trinity Square Gardens is not only home to the Tower Hill Memorial mentioned above, but it also a lovely little place to sit and take in the pleasant surroundings.

Overlooking the gardens is Trinity House, for James Bond fans you may recognise this building from Skyfall.
Trinity House overlooking Trinity Gardens
On a more morbid note, it is also within these gardens that public executions were carried out. A little memorial garden has been laid on the site of the scaffold.
Site of the scaffold
Many of the executed were high-profile people from Archbishops to Earls to Dukes. These public executions were undertaken during the late 14th-century through to the mid-18th-century.
Please share with us your favourite spots in London you love to visit.
A touch of London's history
St Olave's Church
This lovely little church on the corner of Hart Street and Seething Lane is one of the smallest in the City of London and was built in 1450.

The Medieval church was lucky enough to survive the ravages of the Great Fire of London in 1666.
St Olave's Church
Samuel Pepys, the diarist, lived nearby and regularly worshipped at St Olave's church. When he died in 1703, he was buried next to his wife in the nave.

The Great Plague of London broke out just a few streets away, and 300 victims were interred in the tiny churchyard.
If you've yet to discover London and its ancient history, then let's start planning. I find these DK Eyewitness Travel Guides invaluable. They're extremely informative, easy to follow, and the pictures and maps tempt you into discovering more of those fascinating sites.
You can now grab a recently revised copy of this guidebook, so you won't miss a thing.
Peaceful London
St Dunstan-in-the-East Church Garden
Last but by no means least is the tranquil gardens in the derelict ruins of St Dunstan-in-the-East. This peaceful little haven located along St Dunstan's Hill is in the bustling heart of the City of London.
However, you'd think you were a million miles away.
St Dunstan-in-the-East Church Garden
Tranquil open-air garden in St Dunstan-in-the-East Church
St Dunstan-in-the-East Church was originally built in 1100; it had been repaired many times over the subsequent years. The Great Fire of London severely damaged it in 1666 as Pudding Lane, where the fire is believed to have started, is just a short hop away.

The shell of the church and churchyard has been transformed into a fantastic open-air garden for everyone to enjoy. With rambling shrubs clambering through arched windows, a trickling fountain where the nave once stood and plenty of benches to escape to.
* This post may contain links to affiliated sites where we earn a small commission at no additional charge to you.