by Janis /
0 comments
- Orginally published:8th December 2020
Then we'll bring the German festive fun to home
Gary and I had made plans to visit Germany for the Christmas festivities for 2020, and just like a lot of other people, our adventures were scuppered.
However, not to be defeated at this jolly time of year we decided to bring a small piece of the German Christmas markets to our home in the south-east of the UK.
Although with the best will in the world, creating an ice-rink or a festive carousel was just one step too far.
So, with the glühwein warming up and the Christmas jingles awakening the soul, let's throw on our Rudolph hats and start enjoying a little slice of Germany at home.
Why not Pin it for later?
The German Christmas Markets
Incredible festive fun for all the family
The more we visit Germany, the more we love it, and it's such a beautiful country to see all year round. Although, my favourite time has to be at Christmas, when families and friends, young and old don their festive hats and venture out onto the twinkling streets.
It appears that most German towns, cities and villages during this yuletide period, dust off their Christmas Market cabins and welcome locals and visitors with open arms.
A decorated gingerbread stall in Stuttgart's Christmas Markets
There are so many reasons why we return year after year, and it's not all about the glühwein and bratwurst, although that certainly is one of the factors.
Every German Christmas market has a theme, whether it's angels, gnomes, Santa, or it's all about the surrounding architecture the tale weaves its magic amongst the cabins.
The attention to detail, love and care that is given is incredible. The Heinzelmännchen market in the heart of Cologne Old Town takes the gnome theme to another level.
While you're standing on the sidelines of the ice-rink hugging your steaming mug of glühwein, gnomes are chugging along above your head on a ski lift.
Gnomes everywhere at the Cologne Christmas Market
Well, I must say, the overhead Christmas display that surprised me the most, was the flying Santa in Hamburg. Gary and I were standing in one of the glühwein cabins chatting to a family we'd just met. Suddenly we could hear Father Christmas delivering a Christmas message.

We stepped outside, and there was a sleigh soaring above the market with Santa sitting inside. I initially thought it was a mannequin and the yuletide message was a recording. Still to my astonishment, there really was Santa sitting in the sleigh.

I can hear you saying, ohh yes really, how many glühwein's had you consumed. Honestly, we'd just had the one, it was only 4 o'clock in the afternoon.
Santa really does fly in Hamburg
Over the years that we've been visiting Germany's Christmas markets, they just seem to get better and better. The stallholders and organisers are so imaginative with the choice of wonderful gifts and unique decorations.

The issue is now that we end up buying more decorations for us than we do for our families. You can never have too many lanterns and baubles, in my opinion.

The sight that I always love to see at the Christmas markets is an ice-rink. Not all towns and cities have them; however, they do come in all shapes and sizes.
Skating around Friedrich Wilhelm III in Cologne's Christmas Markets
You can always spot the Brit when it comes to ice-skating. We're usually the ones gripping onto the side of the ice-rink trying not to do the splits on the ice, while our knuckles have changed colour to ashen white.
I must be honest; Gary and I are more spectators now. As the humiliation that Gary endured once by being rescued by an ice skating rabbit has left him scarred for life.

The best temporary ice-rink that we've seen is definitely Cologne, as it winds its way past festive cabins and around historical monuments. It really is a delightful place that families and friends flock to.
The ice rink in front of the Ferris Wheel in Berlin's Christmas Market
Although the ice-rink in front of the Rotes Rathaus in Berlin is pretty impressive with its colourful lights, the market is known as 'Berliner Weihnachtszeit'.
I love nothing more than planning a trip and so often I use the DK Eyewitness books.  I find them extremely informative, easy to follow and the pictures and maps tempt you into discovering more.
We used a previous version of this book to plan our Germany road trips, now you can grab the revised copy.
The German Christmas market traditions
Carousels, nutcrackers and smokers
It's such an uplifting feeling when you wander into a German Christmas market, whether it's your 1st time or your 101st time, it will always bring a smile to your face.

It's also the familiarity that I love, it wouldn't be the same if you didn't see the traditional nativity display or the central towering glistening Christmas tree.
Gathering in Markplatz at Christmas in Rothenburg ob der Tauber
The twinkling lights that bedeck the plump tree and the pine needle aroma bring the memories flooding back.

The local choristers and often a brass band serenade us as we stroll the festive stalls and without even noticing your singing along to your favourite Christmas carols.

Usually, through the German markets, you'll see the traditional wooden Christmas Pyramids. We purchased a similar one of these charming pyramids nearly 20 years ago and still use it today.
A full-size Christmas Pyramid in Munich
They are made of wood and often have a nativity or Christmas scene within a few of the descending tiers. Candles are placed in holders and as they begin to burn the warm air slowly spins the blades above, and the carousel starts to turn.

The pyramids began as small displays for your home; however, now you'll see them throughout the markets made into decorative stalls and often selling delicious German snacks below.
Our Käthe Wohlfahrt Christmas carousel
The other fun ride you'll regularly see in the Christmas markets is the vintage carousels, with the elegant prancing horses or old classic cars.

The carousel may be enticing the younger generation on board. Still, you can see the twinkle in the eyes of the big kids amongst us and can't resist the sound of the carousel organ melodies.
The vintage carousel in Düsseldorf
If you have ever visited a German Christmas market, then I'm sure you will have stumbled upon a Käthe Wohlfahrt store. There are now even temporary pop-up stalls in some of the larger towns.

Käthe Wohlfahrt shops are fatal for me, as I always end up buying something. Whether it's one of the traditional wooden nutcracker soldiers or the enchanting smokers, that when a scented pyramid candle is placed inside, the room feels with Christmas fragrance.
Book your hotel in Germany
Our Nutcracker from Käthe Wohlfahrt
Santa Claus in wood from Käthe Wohlfahrt
It wouldn't be the same if a traditional gift wasn't smuggled into our car to bring home.
Nutcrackers, smokers and so much more
If like us you love the traditional wooden Christmas decorations that are given pride of place in your home each year, then take a peek at the Käthe Wohlfahrt store.
These delightful decorations and gifts can be shipped worldwide, so I'm writing my list now.
Just a few points to note;
You really need to book early as these markets are very popular.
Although all these markets are fantastic to visit during the day, they really come alive in the evenings, don't miss it.
Be warned these markets become extremely busy at the weekends, particularly in the evenings. Children may feel a bit swamped with the crowds.
Dress warm and comfortable... essential.
Germany's Christmas markets are really for all ages, don't be put off that it is all for children, it really isn't. We are all big kids at heart...
The German Christmas market food
There's so much more than Bratwurst
Ohh, where do you start with the German market snacks? There can only be one place, and that's the 'bratwurst'.

I must admit the first couple of years visiting the Christmas markets we headed to a restaurant for our meals in the evening. Now we can't quite understand why we didn't enjoy the delicious options from the market stalls.
Selecting your sausage at the Angel Christmas Market in Cologne
There are so many choices and even grazing on and off during the day, we never seemed to try everything we wanted. German cuisine is quite filling at times, so with the best will in the world, you'll need to pick and choose.

So, what delicacies did the German Christmas markets have to offer?

Okay, there is undoubtedly a love for the good old bratwurst or sausage, I must admit I find the German sausages a bit lighter than the British banger. But then again, the German sausages always seem to be double the size of ours, which sort of defeats the object.
Food, glorious food at the Christmas Markets
I wouldn't call myself a bratwurst connoisseur, I'll leave that to Gary, I'm sure in a former life he was German.

The choice of sausages is incredible, I love seeing them on the huge circular roaster being spun around for everyone to feast their eyes upon.

There's Krakauer, currywurst, rostbratwurst, weisswurst, Käsekrainer, and Nürnberger mini sausages to name just a few.
Bratwurst and Currywurst in Bremen
One of the best things of all about the humble bratwurst is the price, they are so reasonable.

Keeping to the savoury theme, one of my favourite market foods is Flammlachs. Which is half a whole salmon angled over an open wood fire. The salmon is then crumbled into a bun with crispy lettuce and a delicious sauce, my mouth is watering now.
Traditional German Wursts to your door
If you have become hooked on the delicious traditional German sausages, we have found a supplier in the UK 'Sausage Man', who will deliver to your front door.
Not only do they offer your favourite sausages like bratwurst, Krakauer, Käsekrainer, Nürnberger minis and frankfurters. You can also pick up the curry sauce to re-create your currywurst at home. Oh, and why not grab a couple of pretzels while you're online.
We've tried them, and they are delicious.
A smoking grill in Cologne
If fish is your go-to dish, then often, you'll see the market stalls selling backfisch, which appears to be quite traditional with the locals.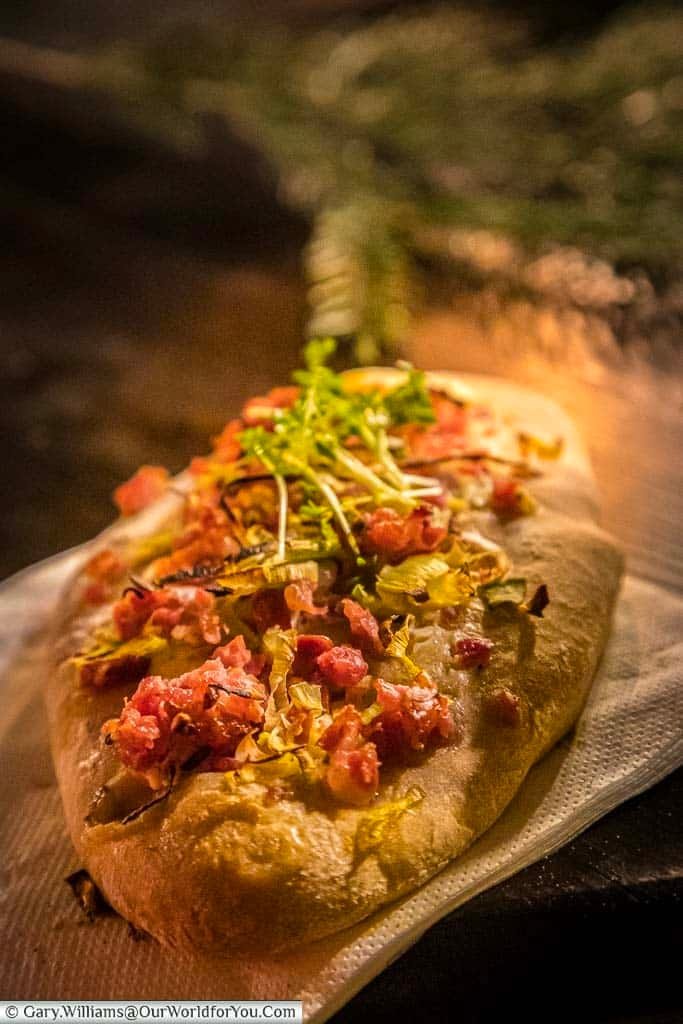 Oh Flammbrot - in Rothenburg ob der Tauber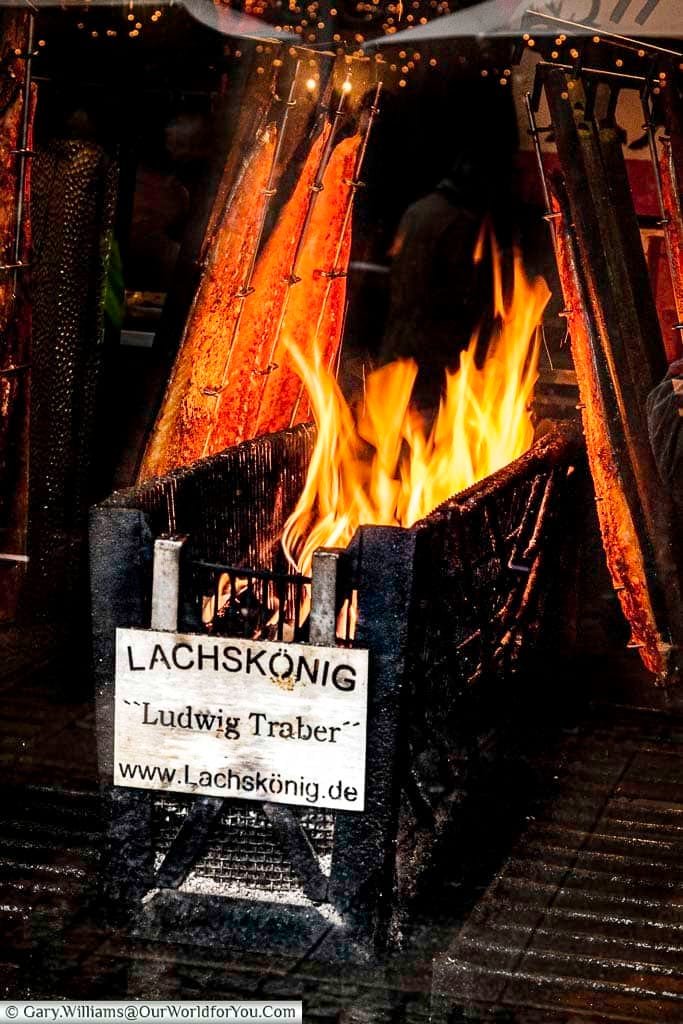 Salmon the traditional way in Cologne
It's just fun trying out all the different dishes, some you'll love and some you may give a wide berth to next time. Keep an eye out for the foot-long turkey skewers, the cheesy raclette, tarte flambe, reibekuchen and one of my favourites the hearty gulaschsuppe.

Ohh and let's not forget the go-to favourite the knotted pretzel.
Amazing Pork in Cologne
Ok, now it's time to move on to the sweet treats.
 
One of mine and Gary's favourite is the gingerbread or Lebkuchen, we always bring some home every year to enjoy. Often each town or city may a have a slight twist on the flavourings and spices. The one that we have come to love is Aachener Printen.
Aachener Printen for sale at the Dom Christmas Market in Cologne
The gingerbread that we love is from the German city of Aachen. Which is sold on the Christmas markets in Cologne too. We visited Aachen in 2019 and couldn't resist bringing some home.
Although we've now discovered that the Aachen printen bakery, 'Klein' offers a worldwide online service. So, in these strange old times, we can now have this delicious snack delivered to home.
When strolling amongst the festive cabins, an aroma that always sings to me is the intoxicating smell of sweet roasting nuts. It reminds me so much of the Christmas stalls, and we always grab a cone or two to munch on while we're soaking up the atmosphere.
The nut seller in Nuremberg
If you have a sweet tooth, you will be in your element on the German Christmas markets. You'll almost feel like you are eating one of your 5-a-day with the fruit kebabs, hey, but don't tell anyone they are covered in chocolate or toffee.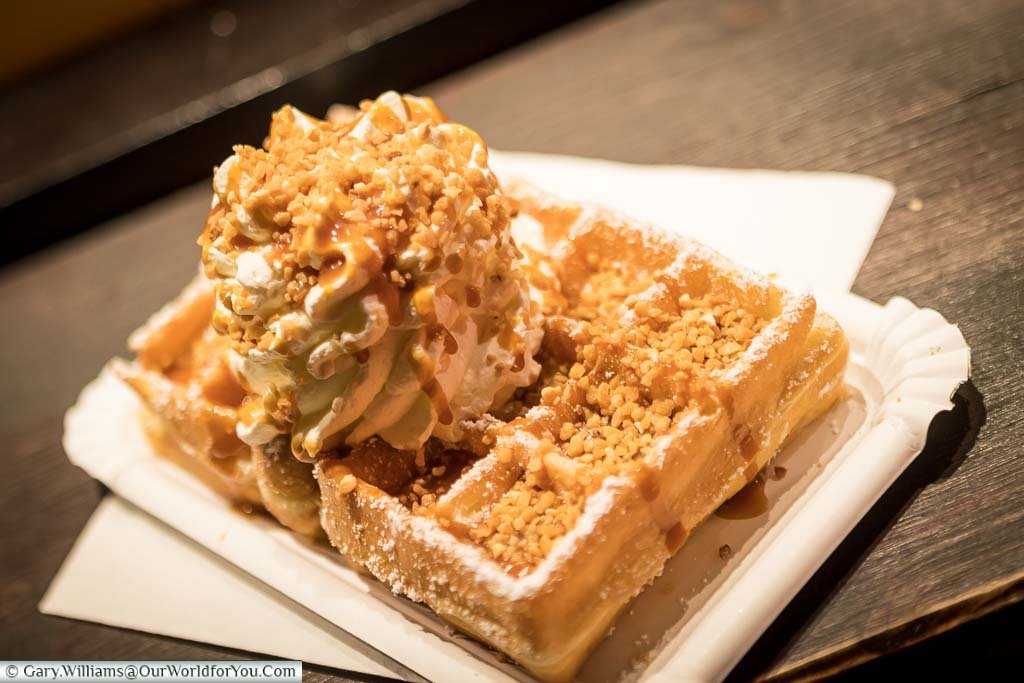 A waffle with cream and nuts in Cologne
Then there are the sweet baked apples and delectable crepes, the towering cream-topped waffles and of course the marshmallow filled chocolate kisses.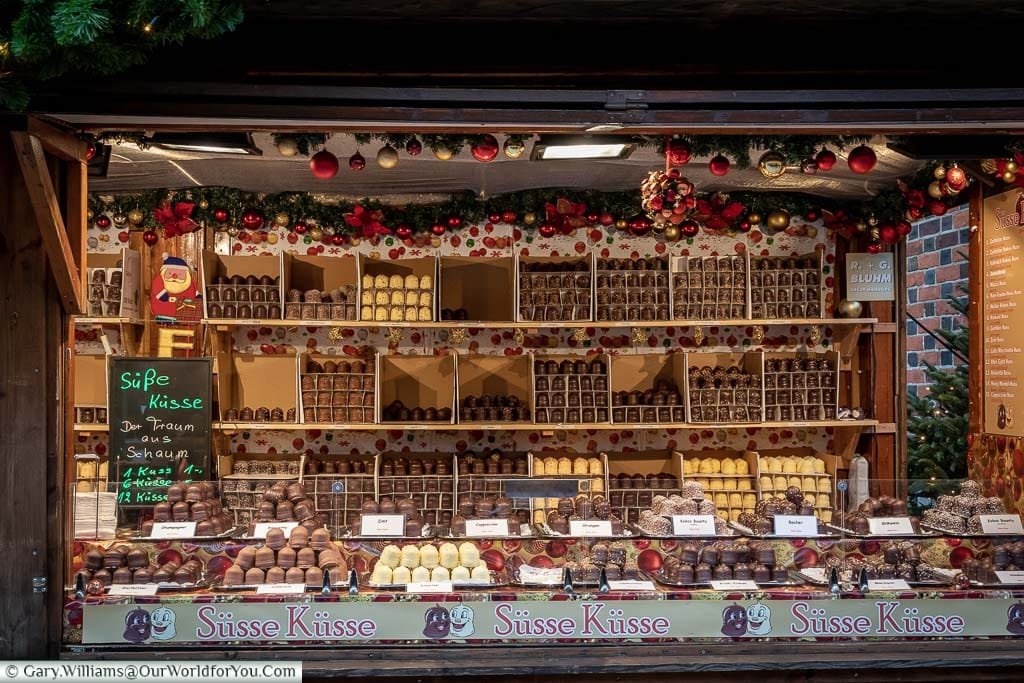 Stall of chocolate kisses in Hamburg
Start creating your own German Christmas Market adventure. Search for your flights in one easy place with ebookers.com. Over 400 airlines are scanned for your favoured routes and chosen dates.
Or alternatively, like us discover a few of Germany's Christmas markets on a road trip. If you're venturing from the UK, jump on Le Shuttle.
Although, if you're unable to bring your own car or you are flying into this lovely country give Rental Cars a go. They search multiple well-known car hire brands for the best deals.
The German Christmas market drinks
Glühwein, hot chocolate, glühwein, eierpunsch, glühwein and more glühwein
Yes, the yuletide tipple on the German Christmas markets has to be glühwein. Whether it's red, white, fruity, spicy or a kinderpunsch, you must try it.

And what makes this delicious festive drink even better is that it is imperative to be drunk out of a Christmas mug. As mentioned, each town usually has a theme weaving through its Christmas market, and the mugs are no different.
Cheeky little gnomes in Cologne
We have bought a few over the years, they are quite irresistible. Although I do believe some dedicated revellers buy one from each market.

If you're feeling a little adventurous, you can also add a shot of your chosen spirit (in moderation of course). I enjoy a rum with the red glühwein and a Calvados with the white, just to warm the cockles of your heart.
Weiß and regular glühwein in Düsseldorf
Another warming drink that we always have on the German Christmas markets is a rich hot chocolate. Ohh it's delicious, and as a little treat, we sometimes add a shot of Baileys. This heartwarming drink is one you can easily create at home.

A couple of other tipples to look out for are eierpunsch also known as eggnog topped with cream. Then there's also Kirschglühwein or alpenpower, this beverage is made from cherry brandy and one that Gary loves. These are not served at every drink stall so you may need to search them out.
Eggnog and glühwein
If the traditional German Christmas tipples are not for you, then you'll always be able to enjoy a local beer. Germany is renowned for its beers and what I particularly like, is that in some regions that they are served in a moderate 0.2-litre cylindrical glass measure.
When we visit Cologne, we always enjoy a glass or two of the traditional Kölsch. When you have had enough just pop your beer mat on top of the glass, and you'll be on your way.

This isn't just unique to Cologne a lot of cities will brew their own version of beer. In Düsseldorf they brew a beer named Altbier it is brewed by 5 different microbreweries around the Altstadt.
The brewers are Schumacher, Schlüssel, Füchschen, Uerige and Brauerei Kürzer.
Gluhwein & hot spiced beer in Cologne
As it's Christmas, you can also sample some of the local beers and ciders warm on the festive markets. The Harbour market in Cologne and a couple of the markets in Munich and Nuremberg had these delights on offer.

One tipple not for the fainthearted is Feuerzangenbowle. Not only is it red glühwein, but it also has a lump of sugar balanced on top of the mug, which has been soaked in rum and then set alight.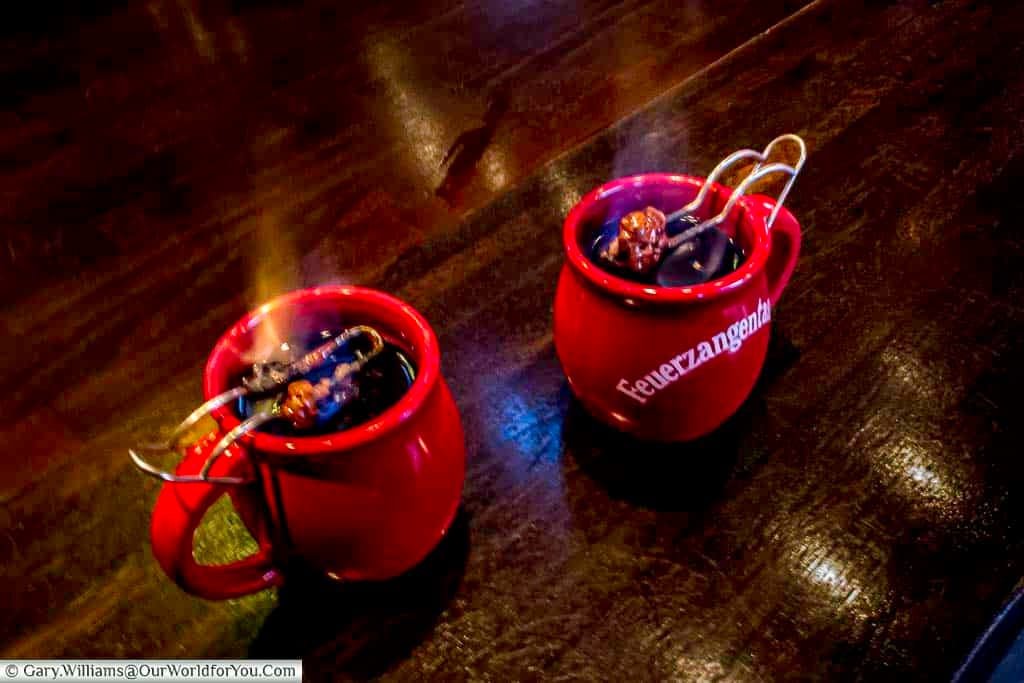 Flaming feuerzangenbowle
Stand back and let the flames die-down, while the sugar dissolves into your glühwein below.
Auf Wiedersehen Germany, we are excited for 2021 when hopefully we will be visiting Münster and Aachen and yes more gingerbread.
* This post may contain links to affiliated sites where we earn a small commission at no additional charge to you.