Public Art found on our travels – Part 2
Musicians, Mermaids and Matadors
Los Raqueros, Santander, Spain
When travelling Gary and I are always on the lookout for unique pieces of street art or public art.
It's surprising how much is out there, and over the years we appear to have stumbled upon quite a few. We've already written one post on street art, and this is now our second post on public art.
In my first post on public art, I touched on what Gary and I believed to constitute as public art.
As there may be a differing of opinions, I think I'll put that debate to bed and just enjoy them.
Afterall the public art that we've come across is usually a bit of fun.
In this post, I've chosen a selection of art that caught our eye, and that symbolises a town or cities local traditions, history or even an emblem that represents their heritage.
The "Town Musicians of Bremen" is a fairytale published by the Brothers Grimm.
It's a tale of four ageing animals, a donkey, a dog, a cat and a rooster.
After a lifetime of hard work, they decide to run away from their nasty owners and head to Bremen to become musicians.
The story has a happy ending, although they don't make it to Bremen.
The Town Musicians of Bremen
You'll see this delightful emblem dotted around throughout the city and it just makes you smile.
Staying with Bremen, we stumbled upon these little fellas.
The Sögeschweine sculptures are a bronze herd of pigs being led by their shepherd to market.
In medieval times the pigs would be herded along this street from their farms, "pig street" today is named Sögestrasse.
Just as a bit of local knowledge, Bremen is actually pronounced 'Breemen".
Then onto Aachen, which is an extremely historic spa city and has a magnificent
UNESCO
cathedral. In Aachen, they had a lovely fountain which continually spiralled depicting the "Kreislauf des Geldes", the "money cycle".
Kreislauf des Geldes - the "money cycle, Aachen
The bronze figures located around the fountain depict how money changes hands through different walks of life. Whether it's greed, begging, investment or a little girl receiving pocket money.
The Bronze Puppenbrunen "Doll Fountain" was really charming, you could interact with it too, as it had flexible joints and limbs.
The individual bronze figures dotted around the fountain were each depicting a different element to Aachen's culture.
Bronze Puppenbrunnen with hinged limbs
I love nothing more than planning a trip and so often I use the DK Eyewitness books.  I find them  extremely informative, easy to follow and the pictures and maps tempt you into discovering more.
We used a previous version of this book to plan our Germany road trips, now you can grab the revised copy.
Lisbon, where our love of Portugal began.
 
One of the areas of Lisbon I loved was in and around the Carmo Covent, sitting high above the city. This emotive convent was devasted during the 1775 earthquake that was recorded as 58.5 to 9 on the Richter scale.
 
In the Largo de Carmo was this friendly bronze statue of O Cauteleiro, a lottery ticket seller.
O Cauteleiro – the lottery ticket seller, Lisbon
Salinero statue – the salt harvester, Aveiro
Heading to Aveiro, a vibrant, colourful town located along a lagoon on the Atlantic coast. This friendly town is historically known for its seaweed harvesting and also for its salt production. An interesting piece of art in one of Aveiro's squares is a statue to the Salinero (salt harvesters).
Further north in the Minho region of Portugal is Pont de Lima. In this picturesque town, there were many bronzes located around the town. One I particularly liked was nearby the Medieval bridge, and it depicts the hard-working farmers in the fields.
A monument to farming, Ponte de Lima
Our recent new found love is Portugal, it is such a beautiful country. While planning our trip, I used the DK Eyewitness books. I find them extremely informative, easy to follow and the pictures and maps tempt you into discovering more.
We used a previous version of this book to plan our north to south Portuguese road trip, now you can grab the revised copy.
Murano is famed for its glassmaking, and there are lovely shops all around town selling pieces large and small. OK, I'll own up I did buy a pair of glass earrings, I still treasure them.

As we strolled around the island and its waterways, we came across 'The Comet Glass Star'.
This was incredible, and the sun caught it magnificently.
The Comet Glass Star, Murano, Venice
Ahh yes, the stunning city of Florence, what a wonderful place, so much so that the Historical Centre is UNESCO. It is here that the Il Porcellino (piglet) is located, although it is a boar, next to the local market 'Mercato Nuovo'.
 
The boar's snout has been rubbed for good luck so many times it almost looks like it has been polished. While the rest of its body is tarnished.
Porcellino sculpture, Florence
If your heading off on your own Italian adventure, than grab a copy of this DK Eyewitness book. I love planning road trips and these guides are so helpful. I find them extremely informative, easy to follow and the pictures and maps tempt you into discovering more of the back roads.
We used a previous version of this book to plan our Italian wanderings, now you can grab the revised ccopy.
We now head to Spain, the north to be precise the stylish city of
Santander
. Take a promenade along the Paseo de Pereda, and you'll come to the eye-catching sculpture of 'Los Raqueros.'
These four figures are dedicated to the children of Santander, who struggled to make a living from the docks at Puertochico.
Still, in northern Spain, we visited Logroño in La Rioja region.
This historic city is on the Camino de Santiago route (the Way of St. James). Where pilgrims are heading to Santiago de Compostela.
 
You'll see so many dedicated people young and old passing through, each with their own individual reason and tale to tell.
Keep a lookout for the scallop shell that they carry, this is a symbol that they are following the route.
Camino de Santiago hiking statue, Logroño
Taking a path south, we arrived at Granada in Andalusia. Granada is famed for its stunning Alhambra Palace which sits high on the hills overlooking the city. Also, in my opinion, Granada has some fantastic tapas.
 
However, it is here that we saw the smart statue of a Flamenco Dancer. You can catch flamenco dancing in bars in the city, although it is the neighbourhood of Sacromonte where you may hear the enchanting sound of the Flamenco guitars from behind closed doors.
The Flamenco Dancer, Granada
Still, within Andalusia, we headed to the historic hilltop city of Ronda. This is an incredible place with its tiny lanes lined with whitewashed walls and the breath-taking views across the El Tajo gorge.
 
Also, Ronda is well known for its history of bullfighting, and the Plaza de Toros de Ronda is said to be one of the oldest bullrings in Spain. I appreciate that this is not to everyone's taste; however, in the past, it has played a rich part in Spain's culture.
 
Outside the bullring are bronzes to two matadors from the Ordóñez family, who were from Ronda. These following in the footsteps of the other Ronda family synonymous with bullfighting, the Romero's.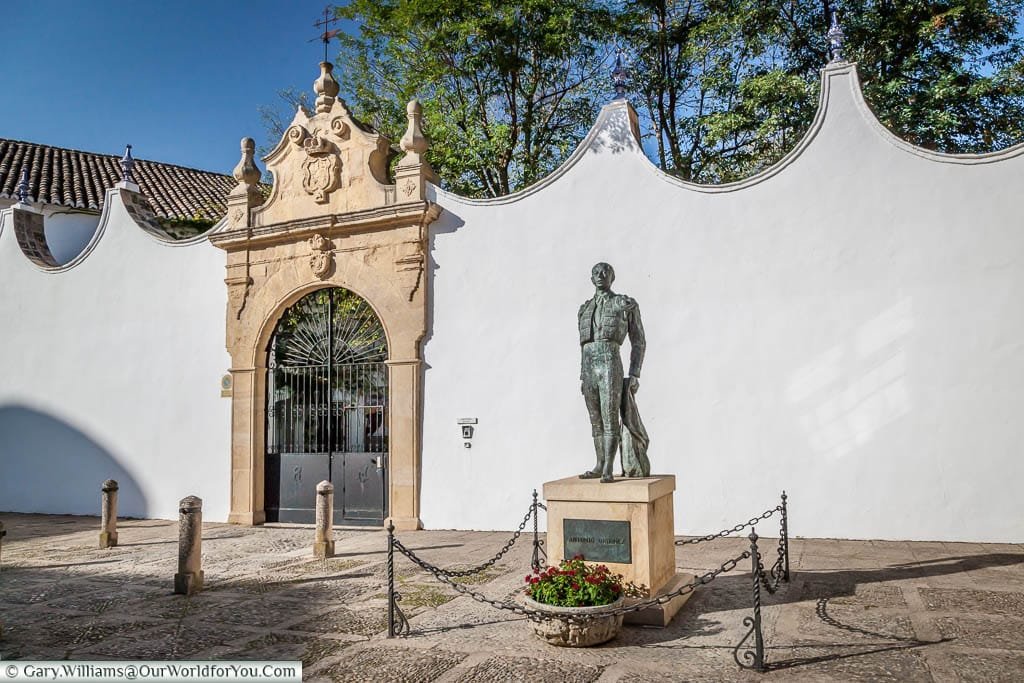 The matador outside the bullring in Ronda
There are so many incredible places to discover in Spain and I love planning road trips. I often use the DK Eyewitness books, I find them extremely informative, easy to follow and the pictures and maps tempt you into searching for more.
We used a previous version of this book to plan our Spanish road trips, now you can grab the revised copy.
Here I've chosen some more public art that typifies a location, I'll start with the sun-kissed city of Monaco in the south of France.

Gary and I are big Formula 1 fans, so it's no surprise that when we headed to the Côte d'Azur, we included a visit to Monaco. While completing a very slow lap of the Grand Prix circuit, we came across this wonderful bronze of Juan Manuel Fangio and his Mercedes Benz.
The Fangio monument on the streets of Monte Carlo, Monaco
One that is a little nearer to home and close to my heart is London. I worked in the financial City of London for 27 years, so I have some great memories of strolling around here.
 
There are so many iconic sights and sounds in London. However, a word that you'll so often here while walking through the streets of London is 'Taxi', when somebody is trying to hail a black cab.
Taxi! - A statue to a city worker, Blackfriars, London
Heading across the Norwegian Sea to 'the land of fire and ice' we arrive in Iceland. Reykjavik to be exact. Iceland is a truly breath-taking country, and if you get the opportunity to tour the complete Ring Road, I urge you to do it.

Nonetheless, if you are visiting Iceland's fascinating capital, then take a stroll along the waterfront to see 'Solfar' or 'Sun Voyager'. This beautiful steel sculpture resembles a Viking long-ship. It is so photographic with its snow-peaked mountains as a backdrop.
The Sun Voyager at dusk, Reykjavik, Iceland
Keeping to the sea theme, let's jet over to Copenhagen in Denmark. Here we visited the icon of Copenhagen 'The Little Mermaid", this lovely bronze has been perched on the rock since 1913.
The Little Mermaid is based on the fairy-tale by Danish author Hans Christian Andersen.
I'm probably not the first person to say this, but she was a lot smaller than I thought she was going to be. Although saying that I don't actually know the average size of a mermaid.
The Little Mermaid, Copenhagen, Denmark
When we toured the Netherlands on a road trip, we decided to visit a few harbour towns, one of which was Hoorn. This picturesque town became extremely important during Hollands 'Golden Age'. Although somewhat quieter now; however, it really is a charming place to visit.
 
While strolling the canals and harbour, we spotted three bronze boys. This lovely piece of art is named 'Java Ho!'. The three cabin boys are from a novel by Dutch author Johan Fabricius, which tells of their adventures while sailing off to the Dutch East Indies.
Lastly, if you've made it this far then, you have arrived along the Adriatic coastline, to the city of Split in Croatia.
The ancient lanes of Split and the Diocletian Palace are fascinating to discover.
 
However, prior to wandering deep within the walls, take a stroll to the Golden Gate on the north side of the old town. Standing 28 foot (8 ½ metres) tall is the statue of 'Gregory of Nin'.
This giant bronze to the Medieval Bishop has had his toes rubbed so many times for good luck that they are now smooth and shiny.
The Bishop of Nin, Split, Croatia
Have you discovered a town that embraces public art, drop us a comment below as we'd love to take a look?
Search for your flights in one easy place with
ebookers.com
and open up a world of options. Over 400 airlines are scanned for your favoured routes and chosen dates.
(Why not Pin It for Later?)
If you enjoy what you see, and you'd like regular updates then join us for a monthly newsletter.
* This post may contain links to affiliated sites where we earn a small commission at no additional charge to you.