Public Art found on our travels – Part 1
Novelists, ladies and spiders
We wrote a post a short while ago on Street Art we'd found on our travels. This then led to a bit of a discussion then a debate then an argument, on what you'd say was street art, public art or statues.
Poppies from the clifftop, Folkestone, Places to visit in Kent, Visit England
Needless to say, it is still up for contention, and who is really to say which is right and which is wrong.
Surely as the old adage goes 'you like, what you like' and does it need to be pigeon-holed anyway. Personally, I love art in any form.
So, boxing gloves aside I've chosen some of our favourite pieces we've seen on our travels.
Though, lo and behold, I had quite a few to choose from, as I'm always asking Gary to take more photos. Therefore, this 'Public Art' post is going to be a two-parter.

Authors, Poets and Artists
While visiting the historic Roman city of Pula, on the Adriatic Sea in Croatia, I didn't expect to see James Joyce sitting outside a café.
During the Irish novelist time in Pula he taught English at a nearby school. His scholars were Austro-Hungarian naval officers, at a time when Croatia was part of the empire.
The statue to James Joyce, Pula, Croatia
While strolling through Canterbury High Street in the southeast of England, we came across a sculpture to the English author Mr Geoffrey Chaucer. Not that this was a complete surprise as he is famed for 'The Canterbury Tales'.
This is a collection of 24 tales around individual pilgrims' journey's, to Thomas Becket memorial in Canterbury Cathedral. Chaucer was the first writer to be buried in Poet's Corner at Westminster Abbey.
The Canterbury Tales monument, Canterbury
Strolling past Lisbon's beautiful 'Brasileira' the Art Nouveau coffeehouse. You'll do a double-take when you see the bronze figure of the poet, Fernando Pessoa sitting amongst the clientele.
The local Portuguese poet used to frequent Brasileira regularly along with other writers.
The statue of Fernando Pessoa outside A Brasileira, Lisbon, Portugal
Amazingly this lovely piece of public art of Antoni Gaudí was not in Barcelona. It was sitting outside Casa de Los Botines in León, northern Spain. One of the few buildings designed by Gaudí outside of Catalonia.
 
You can share a seat with Gaudí himself and sit and watch the world go by. People also liked to leave flowers on his bronze sculpture.
A monument to Antoni Gaudi on a bench, León, Spain
A young lady that left us far too soon at the age of 27 was the incredible singer Amy Winehouse. This beautiful piece of art can be touched and admired by all.
 
Created by Scott Eaton, this bronze statue was unveiled in 2014 and is located in Camden Market in north London.
Amy Winehouse statue in Camden Market
There are no prizes for guessing whose characters were dotted around the lovely town of Stratford-upon-Avon, yes, William Shakespeare's.
 
There are some wonderful bronzes in the parks and gardens; however, the ones I really liked was the 'Jolly Jester' from Shakespeare's play "As you like it". Also, the little sculptures perched on top of a lamppost, "Bottom" the Ass from "A Midsummer Night's Dream" and "Topol" from "Fiddler on the Roof".
The Jester, Stratford-upon-Avon
Bottom & the Fiddler, Stratford-upon-Avon
When we visited the windmills of Campo de Criptana across the wide-open Spanish plains in La Mancha, we saw a statue of Don Quixote.
This energetic character is brought to life by the author Miguel de Cervantes. You can just imagine him ready to fight off the stretched-out arms of the windmills, with his side-kick Sancho Panza.
Don Quixote, Campo de Criptana, Spain
There are so many incredible places to discover in Spain and I love planning road trips. I often use the DK Eyewitness books, I find them extremely informative, easy to follow and the pictures and maps tempt you into searching for more.
We used a previous version of this book to plan our Spanish road trips, now you can grab the revised copy.
Now, would you say that a town or city signs are public art? Well, I think I do, as I feel that if it is something that you or I could touch or interact with, then it's a winner.
And who doesn't love having their photo taken next to the "I Love Nice" sign, certainly not me? In the sun-kissed city of
Nice
in the South of France, there is no escaping its popularity. Especially when it has the spectacular view of the Côte d'Azur beyond.
Last but by no means least is
León
, the picturesque city in northern Spain. León is a fantastic city to visit as the tapas is incredible, and so are the prices. You also feel like it hasn't entirely made it onto the tourist must-see list yet.
Our recent new found love is Portugal, it is such a beautiful country. While planning our trip, I used the DK Eyewitness books. I find them extremely informative, easy to follow and the pictures and maps tempt you into discovering more.
We used a previous version of this book to plan our north to south Portuguese road trip, now you can grab the revised copy.
It's all about the Ladies
When we headed to the Champagne region of France for a road trip, we chose to base ourselves for a couple of nights in the charming town of Troyes.
 
Troyes is full of half-timbered houses and some eye-catching public art too. This elegant lady was just crying out for some company.
La dame au chapeau – on the bench in Troyes
The kissing girl, Alkmaar, Holland, Netherlands
In Alkmaar in the Netherlands, it wasn't all about cheese here, this cheeky little Dutch girl was teasing passers-by for a kiss on the cheek.
 
A piece of public art a little closer to home in the Kent seaside town of Margate is a shell lady. Margate is synonymous with Chas and Dave, and also JMW Turner. This lovely lady is Mrs Booth, the English artist's landlady while he stayed in Margate.
Mrs Booth in shells, Margate, Kent
I couldn't leave out the beautiful ladies at Ronda in Andalusia, Spain the 'Dames Goyesca of Ronda'. Every year since 1954, Ronda holds an annual fair in September and several ladies from Ronda are chosen to be Dames Goyescas.
 
These women represent the ladies seen in Francisco de Goya's paintings and is regarded as a great honour in the town to be chosen.
A statue to the Dames Goyesca, Ronda, Spain
Discover search out those unique pieces of public art for yourselves? You can do it all on a road trip,
Rental Cars
cover all budgets and allow you to pick up and drop off at different destinations.
I love these town maps they are so touchy-feely and are great for children to interact with. We've seen quite a few of these bronze maps on our travels, and we particularly noticed quite a few in Germany.
The one in the Bavarian city of Regensburg can be found nearby the Historische Wurstküche (Sausage Kitchen) next to the river.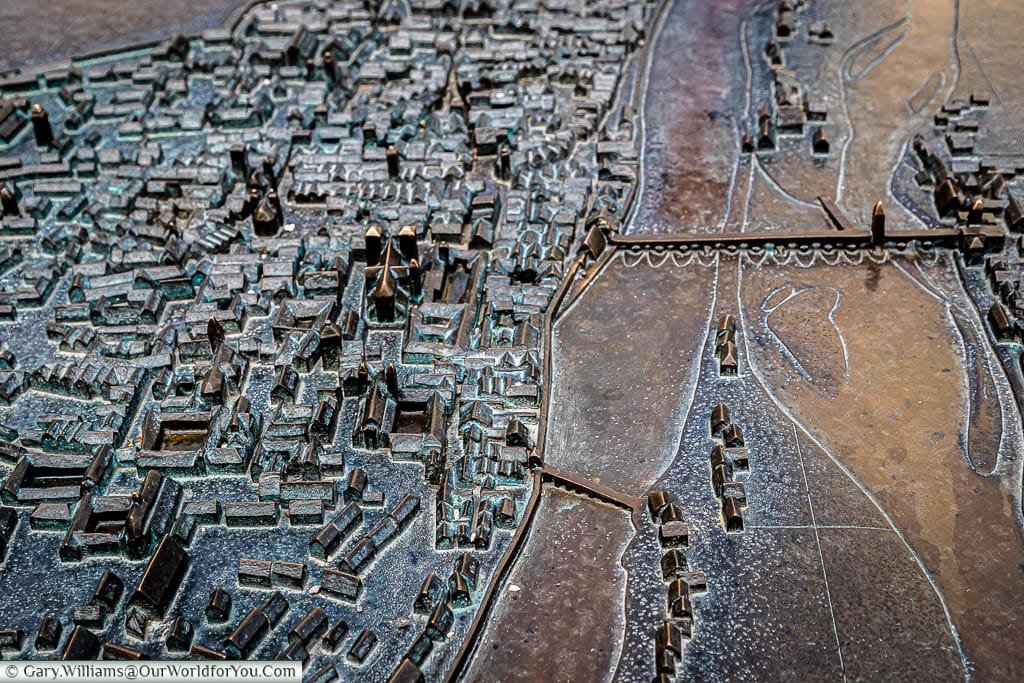 One can also be found in
Heppenheim
, in the wine-growing Hesse region of Germany. A stroll up through the old town is a must here, as when you reach the historical square, you'll be astounded how stunning it is.
Have you discovered a town that embraces public art, drop us a comment below as we'd love to take a look?
Public Art, part of everyday life
We've found a few towns and cities that have truly embraced public art, and the ones we selected are Folkestone (England), Oviedo (Spain) and Rotterdam (Netherlands).
Considering Folkestone is more or less on my doorstep in the southeast of England, I'm surprised I hadn't returned sooner.
 
Folkestone on the Kent coastline is home to the UK's largest urban contemporary art exhibition. It is accessible 24 hours a day and 365 days of the year.
Rug People – by Paloma Varga Weisz
Another Time XVIII" by Antony Gormley
The urban art exhibition is on display through the whole town and currently, there are 74 artworks to be found, by 46 artists.
The amount of public art that is on display in
Oviedo
is unbelievable. Honestly, you'll be tripping over it, with the incredible number of pieces here. So much so I wrote a post just on Oviedo's
sculptures and statues
.
La Lechera, Oviedo, Spain
What I loved was that it is so accessible to everyone, you could have a seat next to them, give them a hug, have a selfie or just sit and admire them from a distance.

While you're in Oviedo be sure to look out for the Sidrerias and the unique way that a glass of cider is poured out.
Rotterdam
is another city that has truly taken public art to its heart. Once again dotted here and there through the town are some fantastic pieces. Some a little more obscure than others, take this Santa for example, is he really holding what I think he is?
Santa with a suprise, Rotterdam, Netherlands
Cascade - Public Art, Rotterdam, Netherlands
If you're thinking of heading of to the land of tulips and cheese, then grab this DK Eyewitness guide to help with your planning.
I find them extremely informative, easy to follow and the pictures and maps tempt you into discovering more.
Something a little different
It's wonderful when you witness those pieces of art or a pictorial display that you have discovered either unintentionally or intentionally, that truly stay with you.

It could be slightly debatable whether these are public art; however, it is undoubtedly a public display for all to enjoy free of charge.
The story of the Cathedral in lights, Reims
Different phases of the story of Reims
The cities would project a story of their ancient history across the towers and façade of their magnificent cathedrals.
 
It was amazing, and they would last around 30 minutes each.
The Maman bronze spiders that are located at various cities around the world are incredible sculptures. We visited the Maman outside the Guggenheim museum in
Bilbao
.
Maman outside the Guggenheim, Bilbao, Spain
However, we've also been lucky enough to see one of the other permanent pieces, and that was in Ottawa, Canada in 2010.
Maman outside the National Gallery of Canada in Ottawa, Canada
Ahh, last but by no means least one of my favourite pieces.
I loved this beating heart at the historic town of Troyes in France.
During the day it glistened by the fountains in the sunshine, and by night Le Coeur de Troyes came alive and pulsated into the evening.
* This post may contain links to affiliated sites where we earn a small commission at no additional charge to you.
Pack your bags and start on a road to discovery?
Search for your flights in one easy place with
ebookers.com
and open up a world of options. Over 400 airlines are scanned for your favoured routes and chosen dates.
(Why not Pin It for Later?)
If you enjoy what you see, and you'd like regular updates then join us for a monthly newsletter.