by Janis /
0 comments
- Orginally published:25th January 2022
Remembering history, everyone has a tale to tell
I know what you're thinking that perhaps it's a little unusual to write a post on cemeteries and places of burial. However, I find that there is something so incredibly fascinating and thought-provoking about visiting a cemetery or churchyard.

The intriguing stories that lie behind the headstones bring history to life. Rich or poor, young or old, or the guy from down the street, everyone's tale should be heard.

Whenever we travel, either locally or overseas, it's now got to the stage where Gary is keeping an eye out for the nearby cemeteries or graveyards for me. I knew it was only a matter of time before I won him over.

The places and people mentioned here are just the tip of my cherished, hidden iceberg.
Why not Pin it for later?
The Commonwealth War Graves Commission
Meticulously preserving our history
The Commonwealth War Graves Commission, also known as the
CWGC
, lovingly manicure and maintain all our families war graves throughout the world. The CWGC oversees the war graves in around 23,000 locations in more the 150 countries and territories worldwide. From tending to the row upon row of breath-taking headstones in the memorials of the Somme to the intimate roadside cemeteries with a handful of graves. Each and every one are just as important.
The cross of sacrifice on the top of Tyne Cot
Gary and I have often visited the memorials across Belgium and France. We will continue to show our gratitude where others paid the ultimate sacrifice. On the anniversary of WWI, we embarked on our own little pilgrimage for the fallen in our village of Eccles in Kent.
Tyne Cot Cemetery in Belgium is the largest that the CWGC maintains. This touching cemetery has 11,961 WWI Commonwealth servicemen and women buried or commemorated within it, of which a staggering 8.373 of these are unidentified.
The Thiepval Memorial
Two significant cemeteries and memorials to visit in France are Etaples Military Cemetery with casualties from the First and Second World War and Thiepval Memorial with the fallen from the First World War. These memorials are important to visit; however, the tiny remote cemeteries are equally significant.
During our visit to Iceland a few years ago, we headed to a cemetery in Reykjavik to pay our respects. Iceland was under Allied occupation during WWII and had considerable air and naval forces based there.
Chatham Memorial – Under a brooding sky
Keeping with the naval theme, we live near Chatham and its historic naval dockyard. So, it was important to us that we visit
Chatham Naval Memorial
; we have previously visited
Tower Hill Memorial
in London. At Chatham, the memorial identifies 18,654 casualties who have no known grave but the sea. The location is very poignant and sits high on a hill overlooking the River Medway.
London's "Magnificent Seven"
An answer to churchyard overcrowding
During the 19th-century, London's parish churchyards reached levels of overcrowding which were causing health and hygiene issues throughout the city. The only way to alleviate the problem was to create larger suburban cemeteries. The inspiration behind the London development was the graveyard in Paris, Père Lachaise Cemetery.

The first of the seven London garden cemeteries were opened in 1833 in Kensal Green. Kensal Green still conducts burials and cremations today. It is located along the banks of the Grand Union Canal and covers 72 acres.
Kensal Green photo - Tomb of Major General Sir William Casement, K.C.B.
There are many touching mausoleums and headstones here from Charles Blondin the Niagara Falls tightrope walker to Isambard Kingdom Brunel the ingenious engineer. In more recent years the cremations of Freddie Mercury, Alan Rickman, Ingrid Bergman, and Gary Rhodes have taken place here, although their ashes were cared for privately.

We have also visited West Norwood Cemetery, which opened in 1837. It is the last resting place of the cook Mrs Beeton, renowned for her household management books. Also, in West Norwood, a terracotta mausoleum can be found; this is the family vault of the "Doulton" family, famed for its Royal Doulton.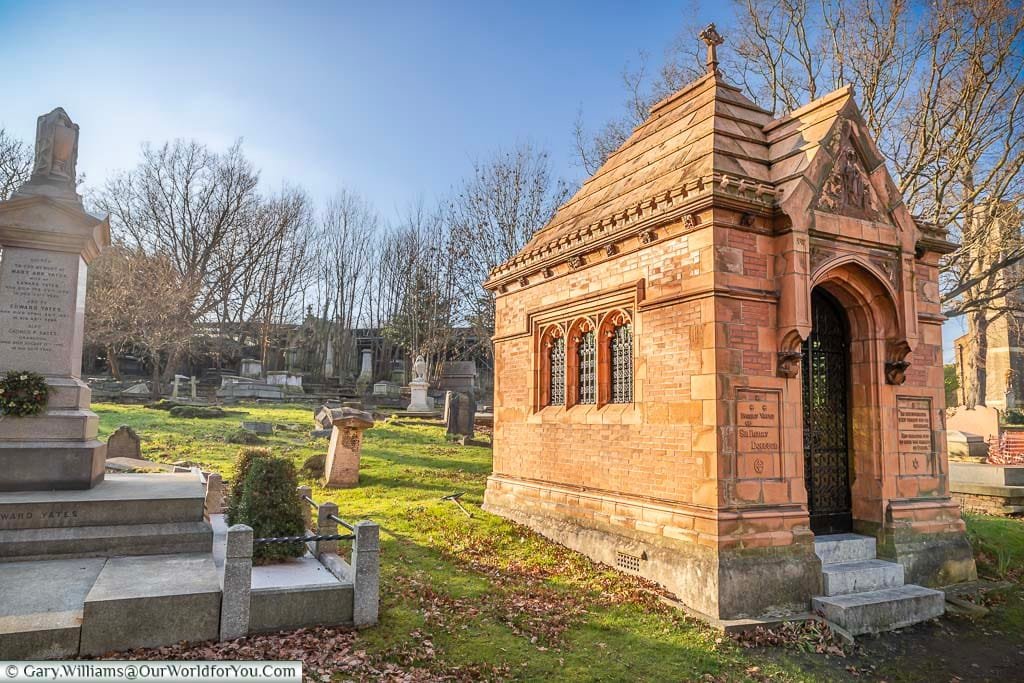 Sir Henry Doulton's mausoleum
Next is Brompton Cemetery, created in 1840, which has been used in various movies, including Guy Ritchie's "Sherlock Holmes" and "Mission Impossible: - Rogue Nation".

However, it is where the headstone of the Suffragette Emmeline Pankhurst can be seen, along with bare-knuckle pugilist John Jackson.
Emmeline Pankhurst's resting place
Nunhead Cemetery is the fourth of the seven London cemeteries also consecrated in 1840. Nunhead and West Norwood are the only two cemeteries south of the River Thames.

Amongst the narrow, winding lanes of Nunhead Cemetery, you'll discover a very touching tribute to nine young boys who lost their lives in a boating accident. As well as a 10-metre-high obelisk dedicated to the "Scottish Political Martyrs".
The Anglican Chapel at Nunhead
We still have three of the "Magnificent Seven" to visit, Abney Park, Tower Hamlets and probably London's most famous cemetery, Highgate.
We have a little book on our shelves that we sometimes delve into when we're about to hit an area of London.
Packed full of historical facts, and broken down into the different regions of London, it's a great resource to help you see what's hidden in plain sight.
Available in Kindle & Hardback editions, it's an excellent addition to anyone's collection who loves London.
Visiting the Normandy Beaches
Utah, Omaha, Gold, Juno, and Sword
We planned a road trip around Normandy in northern France a few years ago. Sections of the trip were inland around Rouen, Caen and Alençon; however, one region, in particular, we wanted to explore was the Normandy D-Day Landing beaches.
The beaches look so peaceful and serene today, that it's hard to imagine the atrocities our military troops encountered during World War II. We toured all along the D-Day Landing beaches of Utah, Omaha, Gold, Juno, and Sword, stopping many times along the way.
Pegasus Bridge in its new home
We headed to Pegasus Bridge, where our soldiers first set foot on Normandy soil on 5th & 6th June 1944. Visiting the incredible museum created, full of personal stories and touching tributes.

While touring the northern coastline, we visited Bayeux Cemetery and the Normandy American Cemetery high above Omaha Beach. This American Cemetery, like so many others, stops you in your tracks, as it is breath-taking to see white crosses lined up symmetrically over the landscape as far as the eye can see.
The Omaha Beach D-Day Memorial
- Our accommodation for the four nights in Caen was at the Hotel Restaurant Le Dauphin et Le Spa du Prieuré.
The Hotel Restaurant Le Dauphin et Le Spa du Prieuré in Caen is reasonably central and just a short stroll across to the charming Place Saint-Sauveur.
This hotel has free onsite parking if you are driving, although the spaces are limited.
- Our accommodation for the three nights in Rouen was at the Mercure Rouen Centre Champ de Mars.
The hotel's location is about a 10 to 15-minute walk to the heart of the old town, an ideal place for discovering Rouen as its surrounding towns & villages.
If you are driving, this hotel has a chargeable underground car park with direct access to the hotel.
Discovering ancient Ossuary's
In Hythe, Kent and Évora, Portugal
Ossuaries are such intriguing places and a little eerie at the same time. I've yet to visit the Catacombs of Paris, but it's on my must-see list. Nonetheless, the two that I have seen are Hythe in Kent and Évora in Portugal.
Skulls in the Ossuary
The ossuary in Hythe is in St. Leonard's Church. The crypt was created when the chancel was extended across a section of the churchyard. Therefore, the graves were dug up, and the skulls and bones were preserved.
There are four arched alcoves within the crypt, where a total of 1,022 skulls have been delicately placed. Along the length of the vault is a single stack of bones and more skulls; it is believed that the number of individuals represented is around 2,000.
Hythe ossuary has Britain's largest and best-preserved collection of ancient human bones and skulls. The earliest known reference of this ossuary is in the 17th-century.
Inside the Chapel of Bones
The ossuary we visited in Portugal was in the ancient town of Évora in the Alentejo region. The catacombs here are referred to as the Chapel of Bones and was created by three 16th-century monks. The monks wanted to convey that life was transient, so they unearthed the bones of about 500 monks from cemeteries and graveyards around Évora.

The bones and skulls are painstakingly positioned against the chapel's walls and placed into the pillars amongst the arched ceilings. It's extraordinary but also quite captivating.
A few famous names
From Renoir to Spike Milligan
We've also discovered headstones and memorials of some well-known folk during our travels near and far. Here are a few that we sought out.
The first is for Pierre-Auguste Renoir, the famous French impressionist. Renoir's grave is in the picturesque village of Essoyes in France, and beautiful memories of Renoir can be seen throughout the streets.
The cemetery where Renoir lies with his wife and family is a reasonably small place and very unassuming. Although I love the simplicity of it.
Renoir gravestone
Wilfred Owen's Headstone
The headstone that we visited in Ors in France is that of the poet Wilfred Owen. Owen's headstone is a Commonwealth War Grave as the author lost his life fighting in World War I. Unfortunately, Wilfred Owen died one week prior to the Great War ending in November 1918, aged just 25.

Not too far from Ors is the city of Amiens in northern France and where the famous author Jules Verne lived. Not only did we visit Jules Verne's house, but we also headed slightly out of town to visit Verne's gravestone.

Jules Verne wrote the captivating novels Around the World in Eighty Days, Twenty Thousand Leagues Under the Sea, & Journey to the Centre of the Earth.
Jules Verne's headstone
Spike Milligan's headstone
A little closer to home in East Sussex in the small village of Winchelsea is the grave of Spike Milligan. The highly talented British-Irish actor was born in India and is renowned for his comedy and poetry, amongst many other things.

The words written in Gaelic on Spike Milligan's headstone read "Dúirt mé leat go raibh mé breoite", translating to "I told you I was ill".
Cecil John Rhodes burial site
During our trip to Zimbabwe a few years ago, we visited Matobo National Park just outside Bulawayo; it's a magnificent place and so serene. While exploring the national park, we headed up to "World's View", the burial site of Cecil John Rhodes.

There is a mixed reaction around Cecil Rhodes; however, his request to be buried at Matobo Hills was granted. It was the first time a white man was given the Matabele royal salute.

The view from the top is absolutely breath-taking.
A few other cemeteries from our travels
Venice, Salzburg, Paris, and Marathon
If there's a cemetery to be found, I'm sure I'll track it down, and Venice was no exception. Unbelievably in Venice, their cemetery has its own island, and you can get to it by waterbus. So, on the way to visit Burano and Murano, we stopped off at Isola di San Michele, the Cemetery Island.

Approaching the island, you'll notice how isolated it is and that it's entirely surrounded by an ornate wall. We had a little wander around the tranquil footpaths and respectfully admired the historic Italian crypts and mausoleums.
Cimitero di San Michele, Venice
When we were in Salzburg, Austria, I didn't expect to see a cemetery in the middle of the historic old town, so my inquisitive mind drew me to the gates and beyond.

It fascinates me how different nations and faiths respect their loved ones. In St. Peter's Cemetery in Salzburg, at the foot of Festungsberg mountain, they had dug crypts and catacombs into the side of rockface; it was astonishing.

The headstones here were so different from what I had seen before; they were made of wrought iron and so detailed and personal.
Carved into the hillside
There was no way that Gary and I would visit Paris and not head to Père Lachaise Cemetery. My only issue with this cemetery is that it is vast, situated across 110 acres, and tiny little gravestones are peeking out from everywhere.
It's a beautiful tree-lined cemetery; even the pathways have little street signs to make it slightly easier to navigate. I don't believe the actual number of people buried here is known. Still, it is estimated to be over one million. A few of the famous names that rest here are Jim Morrison, Edith Piaf, Chopin, and Oscar Wilde.
At an entrance to Père Lachaise Cemetery
Last but by no means least was the sparse and remote cemetery at Marathon in Texas. We were just chatting to one of the locals, and they suggested that we head up to the cemetery and take a look. It was so clear to see the differences between how the Protestants and Catholics respected their loved ones.

Although the two graveyards were in the same area, they were noticeably distanced from one another. With the Catholic crosses and headstones so simple, the Protestants ensured their family members' graves were adorned with vibrant flowers.
A vibrant memorial of life
* This post may contain links to affiliated sites where we earn a small commission at no additional charge to you.