by Janis /
2 comments
- Orginally published:18th February 2020
Reminiscing about Lake Garda, Bavaria and beyond
When the opportunity arose of heading to northern Italy for a travel conference, our first thought was, oh yes, this just shouts for a 'road trip'. Our second thought was this could be similar to our Lakes and Lederhosen road trip in 2015, which we loved.
Though; this return trip enables us to discover even more locations en-route. With the conference being held in the northern Italian city of Trento, it was just a short hop, skip and a jump from Lake Garda. So, that's one location pencilled in.
Then our minds wandered and we both said we'd like to discover more of Bavaria in southern Germany. Consequently, after some deliberation, the destinations were coming together. Of course, we couldn't pass through France and not stay for a night. Therefore, Alsace was calling, and we settled on Molsheim.
Why not Pin it for later?
Nördlingen in Bavaria
During our stay at Limon Sul Garda, we took a boat trip to another stunning lakeside town
Malcesine
. Malcesine is on the eastern shoreline of Lake Garda and although you can drive to the town, arriving by boat is the way to go.
A visit to Malcesine, Lake Garda, Italy
With the striking 13th-century Castello Scaliger, gradually coming into view and the colourful homes perched on the lake's edge, it looked idyllic. As you stroll along the cobbled lanes, you are greeted by a beautiful harbour and Venetian-style architecture.

I understand why the Italian Lakes are so popular.
---
Italy often gets a bit of a reputation for expensive food; however, in our experience it wasn't the case.
We dined in a couple of restaurants right at the water's edge of Lake Garda and were paying around €8 to €12 for fresh pasta or a pizza. Which considering the incredible views, I thought was fairly reasonable.
---
Prior to us visiting
Augsburg
we'd read about the Fuggerei. What I hear you say? Yes, the Fuggerei, it's a quaint social housing settlement and was the first of its kind in the world. Founded in 1521 by "Jacob Fugger the Rich", it is still occupied by 150 Catholic residents. However, it is also now a museum.
Herrengasse in the Fuggerei, Augsburg, Germany
It's such a charming little place. Full of manicured homes which are so uniformly laid out, in the exact same colour. With Wisteria clinging to the walls and climbing roses clambering over the doorways.

The residents still continue to pay the original annual rent of a Rhine Guilder, (which today is 0.88 Euros).
---
---
Now, as the name would suggest, Limone Sul Garda has a history with lemons, and we wanted to find out a little more.
We'd spotted high across the town, tall wooden frames nestled against the edge of the mountains. So, we went in search.
The Lemon House
The renovated 18th century La Limonaia del Castel, was such a pleasure to stroll around.
Terrace after terrace of citrus trees, wooden poles are slotted across the main beams for the lemon branches to stretch out amongst as the fruit dangles in the sunshine.
---
Regensburg
is a delightful city, located along the banks of the River Danube and crammed full of medieval history. So much so that its ancient city centre is a
UNESCO World Heritage Site
.
Wiedfangbrunnen – Water well in Regensburg
Saint Emmeram's Abbey, Regensburg
All around Rathausplatz it's so attractive, lovely squares, charming architecture and some great cafés and restaurants. Regensburg also has some wonderful churches, although the one that blew me away was Saint Emmeram's Abbey, also known as Schloss Thurn und Taxis. It was breath-taking inside; I just didn't expect it to be so opulent and lavish.
---
I love nothing more than planning a trip and so often I use the DK Eyewitness books.  I find them extremely informative, easy to follow and the pictures and maps tempt you into discovering more.
We used a previous version of this book to plan our Germany road trips, now you can grab the revised copy.
---
To shorten our journey back to the UK, we left Bavaria and stayed at
Heppenheim
, in Hesse for an evening. We were aware that this small region of Germany was famed for its winegrowing, so we were keeping a lookout for it rolling vineyards.
Marktplatz in Heppenheim, Germany
Nonetheless, I wasn't expecting Heppenheim's Marketplace to be so stunning. It's reasonably small with an attractive fountain in the centre. However, the impressive town hall and timber-framed houses that encircle it are astounding. It is so pretty.
---
 Peschiera del Garda at the southern end of Lake Garda
We also jumped out at Salò, along the lake's western shores. Salò was recommended to us by a local, and I'm so pleased we visited. The old town is full of narrow lanes and elegant colourful buildings. What I loved was the stroll along the promenade, passing the tempting bars and cafés.
---
Embark on your own Lakes and Lederhosen adventure, you'll be amazed how easy it is to tour around by car. If you're flying in check out ebookers.com.
Then pick up a car from Rental Cars, they cover all budgets and allow you to pick up and drop off at different destinations.
---
Bugatti Museum and monastery
Gary kept this one quiet, yep, a car museum.
I didn't realise that Molsheim was not only famous for its wine, but also the home of the elegant Bugatti.
The museum itself was reasonably small, but that didn't stop us from popping in and catching up on its fascinating history and its exhibits.
What was also interesting is that included in your ticket price was the entrance to an ancient former monastery named La Chartreuse.
It has now been lovingly restored, and you can enjoy the delightful herb and fruit gardens, as well as the museum within the monastery.
---
Why not browse at the other destinations we visited on our trip. Catch the ancient walled town of
Nördlingen
and then
Miltenberg
which has half-timbered buildings as far as the eye can see.
---
Is there a better way to unwind for the day, than relaxing by Lake Garda and sampling the local Limoncello spritz? As it's all things lemony in Limone Sul Garda, instead of Aperol, Limoncello is used in its place.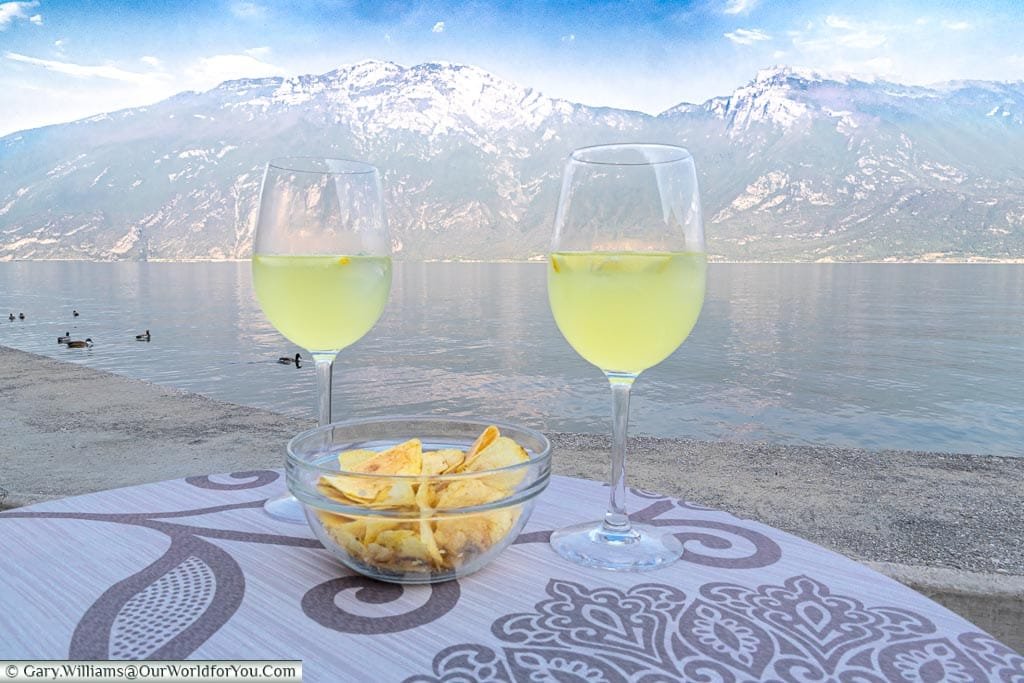 Two glasses of Limoncello Spritz,
I must say it works very well.
---
---
Spend more time around Lake Garda
In hindsight, we could have spent at least another day around Lake Garda. It is incredibly beautiful, and there are so many interesting towns and villages to visit around the lake.
---
A local recommended to us to visit the Sanctuary of Montecastello by Tignale, as the views from the top were incredible. We knew it was going to be a bit of a hike; however, a little more than I expected.
A view from the sanctuary of Montecastello across Lake Garda
The views across Lake Garda were stunning, but I completely forgot that in Italy you cannot enter their churches if you are wearing shorts. So, unfortunately, we couldn't enter the sanctuary.

Oh well, one for next time.
---
---
Tolls, vignettes and Low Emission Zone (LEZs)
France – In France you pay the tolls as you go, and I recommend using a credit card as it is a lot quicker and simpler passing through.
Austria – If you are going to use the motorways in Austria, you will need a vignette. Annoyingly the shortest duration ticket is 10 days and is costs around €9.
Germany - Be aware that some German towns and cities have Low Emission Zones. Therefore, you will require a sticker for the windscreen of your car, to signify which category your car emissions fall into.
We found the following websites useful; also, you can apply online in advance for the sticker for €6 (2019). The Urban Access Regulations in Europe details all the European emission zones and the Senate Department for Environment is where you can purchase you Germany LEZ sticker.
* This post may contain links to affiliated sites where we earn a small commission at no additional charge to you.
It's bizarre it didn't really feel rushed and Gary loves driving. He felt like James Bond touring around Lake Garda. We wanted to mix up the trip with a bit of history, culture, and some delightful food and I think we ticked all those boxes.
We really enjoyed Regensburg, although our timing wasn't great as there quite a few improvements taking place around the old town. But hey it had some beautiful architecture.